As a first-time parent, you are likely to ask yourself a lot questions especially when it comes to buying an accessory. What is it good for? How long will it last? Can I just get one of them? A very common cause of confusion is the bassinet vs. pack n play debate. Between a pack n play and a bassinet, which one is the best for a baby?
You probably already know that a newborn usually spends a better part of their day (and night) asleep, even though it may not feel that way sometimes. So, it's worth taking your time when you're deciding where to put your little one to sleep.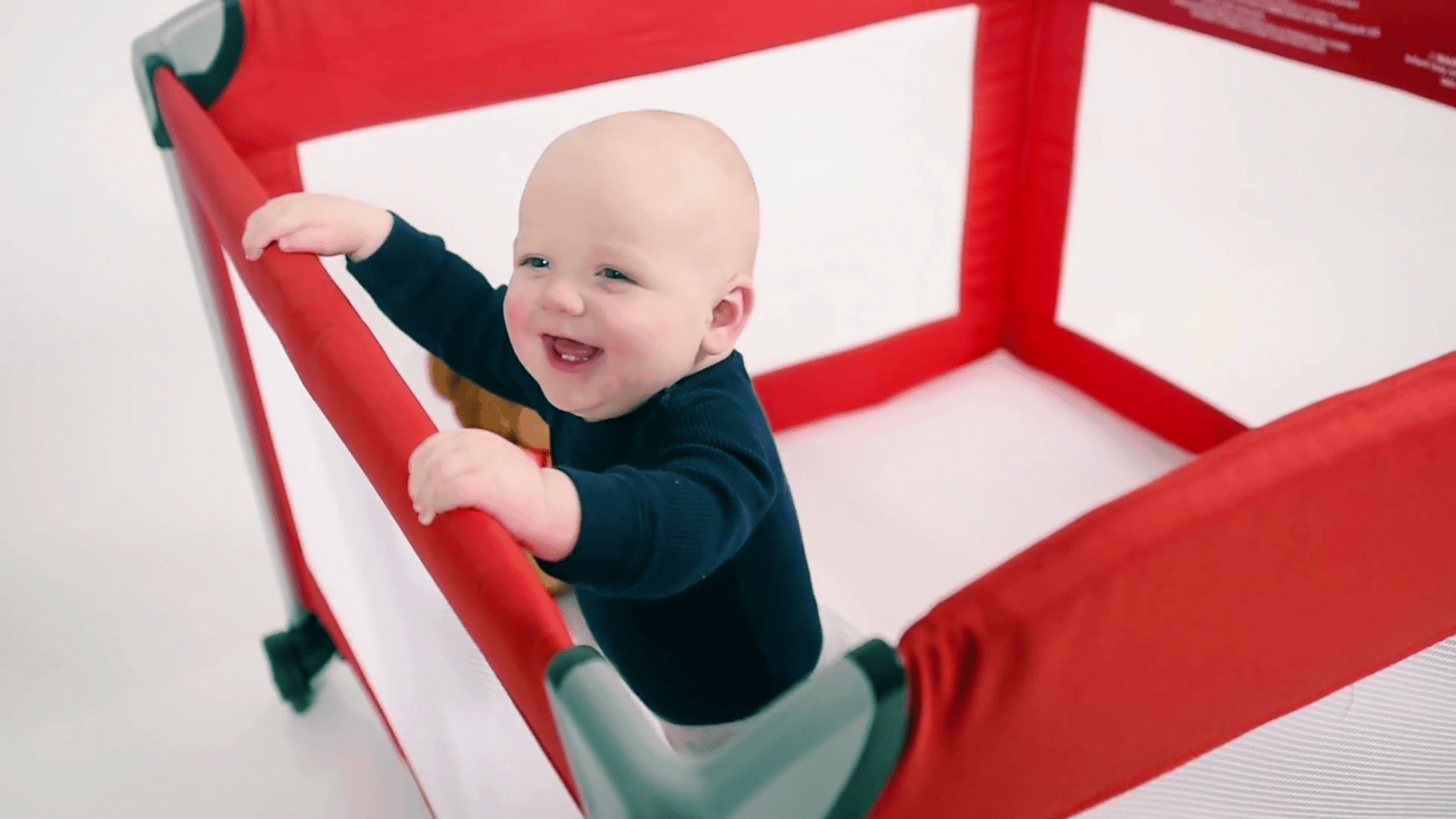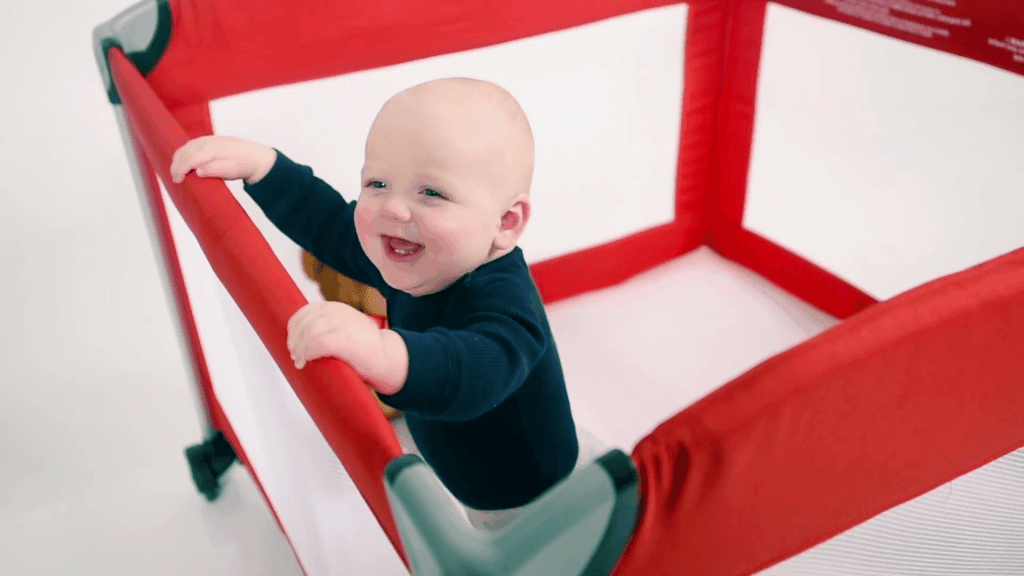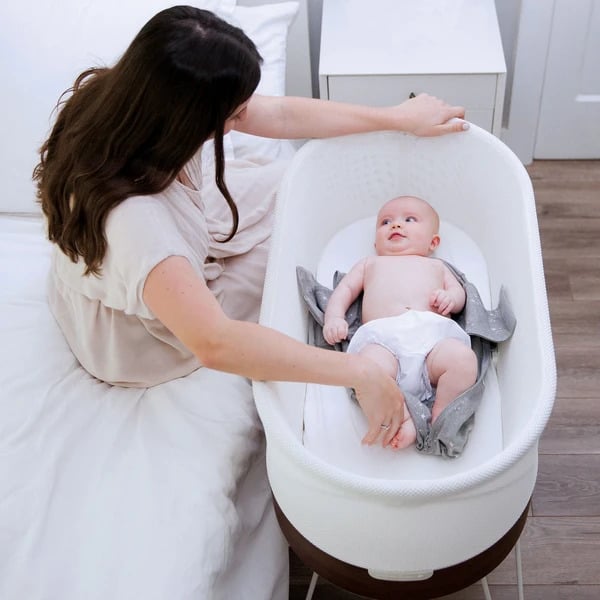 The options of infant sleeping spaces available in the market today are numerous. From cribs, cradles, mini-cribs, travel cribs, bassinets, pack n plays … the list is endless.
The most common question I get from parents these days is regarding whether on not they can use a pack n play (or travel crib) instead of a bassinet. Some parents swear by a bassinet while others prefer a pack n play. So, which one is the best one for you?
Let's jump in and learn more about these two.
The difference between a Bassinet and a Pack n play or travel crib
A bassinet is a small and cozy sleeping area specially designed for a newborn. It's usually fairly small and made for younger babies. The bassinet often has a handle and a stand or wheels for easy portability and a canopy to cover your baby.
Bassinets provide a snug space for a newborn to nap or sleep. And since they are extremely light and easy to carry around you can place your little one to nap in any room in your house no matter where you are or what you are doing.
With a bassinet, you can easily monitor your child as you go on and about your daily chores: be it cooking, washing dishes or doing the laundry.
Bassinets are small in comparisson to a travel crib and can only be used by infants for their first 3 to6 months of life depending on the size and weight limits.
On the other hand, a pack n play is a multipurpose kind of baby gear that can be used as a baby crib, porta-crib, play yard, or it can also be used in place of a bassinet. Some pack n plays even come with a small bassinet that attaches to the top.
Pack and plays are usually bigger than bassinets and your baby can use them until the toddler stage. Some pack n plays are approved for unsupervised sleep but some are NOT. Please read the manual carefully before making your decision.
Pack n plays and travel cribs can also be used for travelling. They are perfect to have your baby sleep or nap when on the road.
The Graco pack n play is the original, but there are many other brands that make similar travel cribs with so many options and sized to choose from. We put together a complete guide for the best travel pack n plays as well as the best portable cribs to help you decide.
Now that we have an idea of the differences between a pack n play and a bassinet, let's have a more in-depth look at each one.
What Is A Bassinet?
A bassinet is made with all the sleeping needs of a newborn in mind. It is a small, cozy, and easy to carry baby gear that is 100% safe for your baby to sleep in.
Although the size of a bassinet varies from one model to the other, they are generally small and will take up a very small space in any room. This makes them perfect for use as co-sleepers.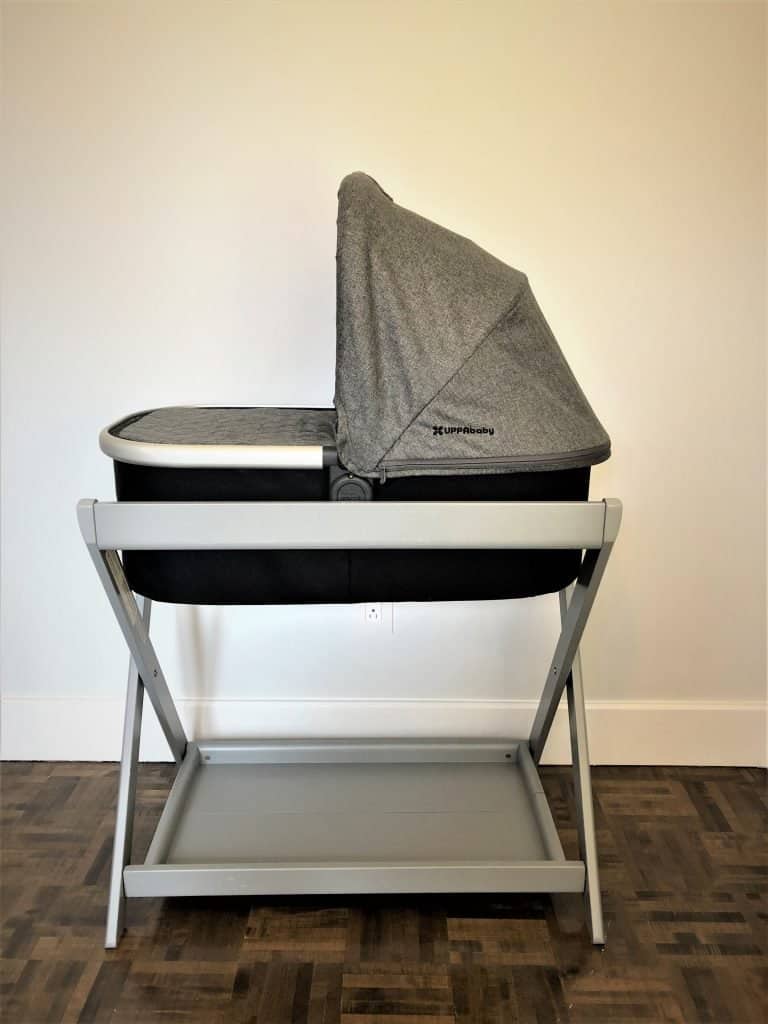 Generally, bassinets have an approximate length of 2.5 feet and a width of 1.5 feet. But don't let their small size fool you, bassinets are perfect for newborns.
To begin with, they are extremely portable. This makes it easy to move with your baby from one room to another even when they are deep asleep.
If you're not a first-time parent, you'll agree with me that newborn diaper changes and feedings at night can be such a daunting task. Anything that makes it any easier will come in very handy.
With a bassinet, you can place your baby next to your bed. You won't have to walk across the room to pick them up when they wake up at night. Plus, sometimes, all they need is a simple tap on their backs which you can do at the comfort of your bed.
On top of that, because bassinets are not as deep as cribs or pack n plays, you do not have to bend to pick your baby.
And according to the American Academy of Pediatrics guidelines for safe infant sleeping practices, a parent should sleep in the same room with their baby preferably until they are one year old.
Thus, a bassinet is very convenient especially if your bedroom does not have a lot of space. Plus, with a bassinet, your baby will sleep next to you making late-night feedings and diaper changing less tiring.
Pros of the bassinet
Take up very little space
As explained above, bassinets are small and are almost the size of a newborn. This makes them cozy and perfect for small spaces.
On the other hand, pack n plays are large and are almost the same size as a baby crib. They need you to have a spacious room.
Newborns and infants need you to keep a close eye on them at all times. Plus, they'll spend a better part of their day sleeping.
Therefore, there is a need for a safe and comfy place for your baby to nap. It's even better if the sleeping space is easy to move from one place to another.
Luckily, a bassinet is extremely light and easy to carry around. Most options include a handle and wheels to make movement easier. Other options can be folded easily and stored in a small bag.
Cons of the bassinet
Newborns outgrow them quickly
Bassinets are only big enough to hold a baby up to a maximum of approximately six months or until they begin to roll over (whichever comes first). After that, you'll need to move your baby to a sleeping crib.
Bassinets are made with one main use in mind: sleeping. They cannot be used by a baby to play or to toss and roll around.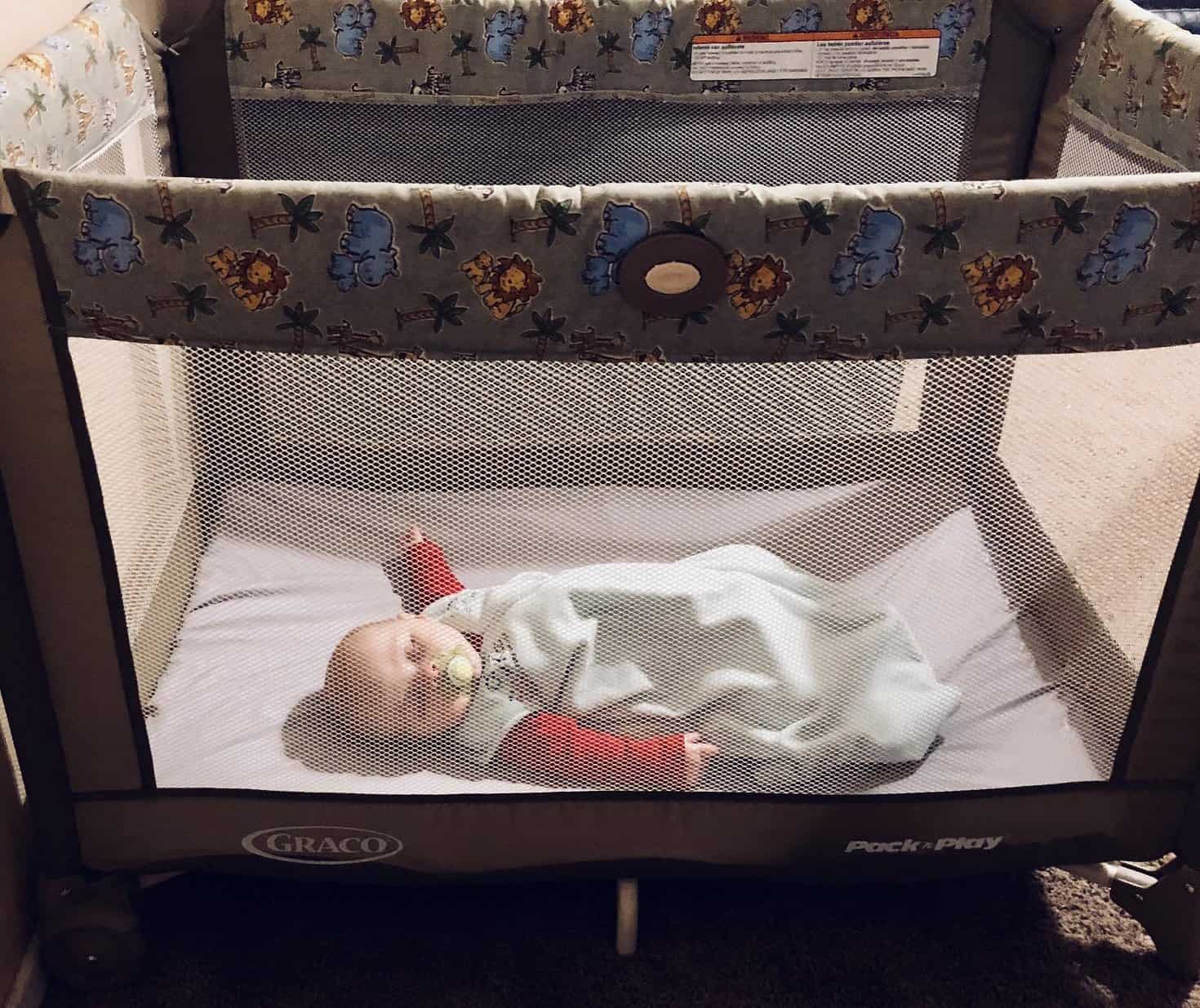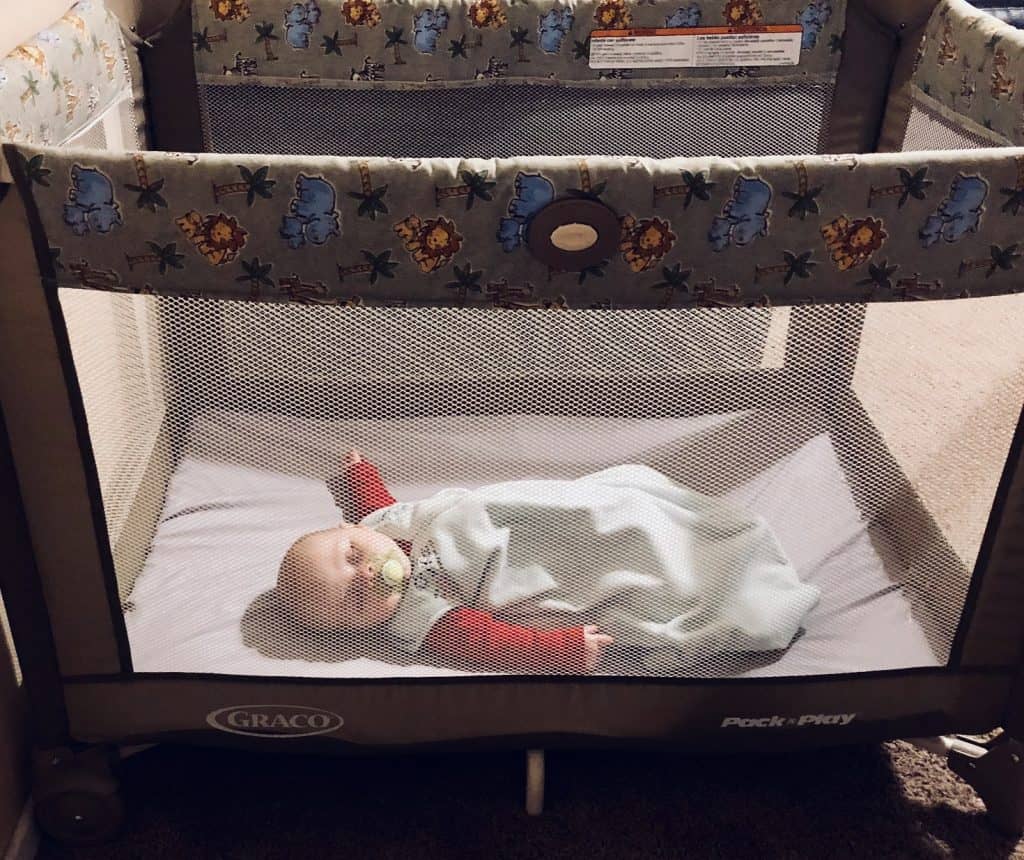 What is a pack n play?
A pack n play can be referred to as a multifunctional baby gear that is made with all baby needs in mind. It can be used for resting, napping, or playing.
Some pack n play include a bassinet, organizer for your baby essentials, a changing table, and toys for your baby to play with.
Because they are only slightly raised from the ground, pack n plays are normally very stable to withstand the tossing and jumping by your toddlers.
The materials used are durable and firm while the sides are made with mesh to ensure you can easily monitor your baby as they play, nap, or relax.
Most pack n plays are slightly smaller than a full-sized baby crib and will have a length of approximately 3 feet, a height of 3 feet and a width of 2 feet.
Pros of the pack n play
Gives value for your money
A pack n play is an affordable and all-inclusive baby gear
You can use your pack n play as a baby crib, playpen, or you can fit a changing table and a bassinet which makes it a complete nursery for your baby.
Cons of the pack n play
Most options of pack n play need a lot of space. They are almost as big as a typical full-sized baby crib.
Although pack n plays are marketed to be light and easily portable, they are not as light and easy to carry. Packing away some pack n plays can be challenging and time-consuming.
The expression "travel crib" and "pack n play" are sometimes used interchangeably but they are not always exactly the same product. Check out our detailed comparison of travel cribs vs pack n plays.
Bassinet vs pack n play for baby sleep
Baby sleep is important for both parents and baby. This statement is even more important if we are talking about changing the routine and being out of the house. Both bassinets and pack n plays are safe sleep options for you baby but each of them stands out slightly differently.
Bassinets are perfect for your little one to sleep and nap while they are not yet moving too much, rolling over or sitting up on their own. This means that you're lucky if you get 5 months of use from a bassinet. There are travel bassinets out there that are perfect for taking with you on the road but many models are not travel friendly.
A travel crib on the other hand will serve you for years to come. They are larger and more cumbersome than bassinets but at a certain point, the bassinet will not be large enough for your baby to sleep in and you will need to graduate to a larger option.
Bassinet or a pack n play – which one is the best choice for parents?
Now that you have seen the difference between a bassinet and a pack n plays, which one is the best one for you?
Check out my SNOO review; considered as one of the best bassinet!
If your budget allows, it is best to have both. This is because although a bassinet is only ideal for use during the first few months of your baby's life, it will come in very handy during those early days.
On the other hand, if you have to settle on one of the two, a pack n play may be the most cost-effective option. It is versatile and is large enough for your baby to grow in to.
I hope this article helps you in making an informed choice of what fits your needs best.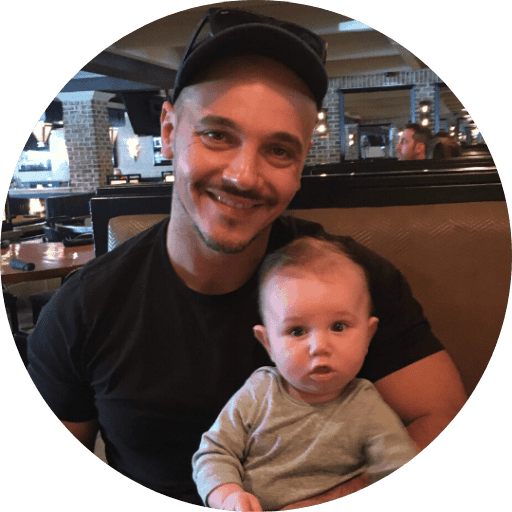 Paul is a passionate dad who founded Upside Dad to share his parenting journey with other new parents. He graduated from Concordia University and worked as a test engineer for over a decade. Paul loves dad jokes and craft beer.
Learn more about Paul and Upside Dad here.