Travel crib vs Pack n Play, what's the difference between them? Don't they serve the same purpose? Not quite! Deciding which one is best for your family and your baby isn't that hard, but it takes some research.
We've taken the time to try both of them in different situations and feel that both have a place in the life of a new parent.
In the end it boils down to your lifestyle and what you plan to use it for.
To help you make up your mind, we have compiled this detailed comparison for you. We've included the breakdown of a pack n play and a travel crib, the pros and cons of each, and much more.
Let's dive straight in.
What Is A Travel Crib?
You are probably familiar with the standard baby cribs. Perhaps, you even have one set up in your nursery.
Measuring roughly 28 inches by 52 inches, conventional cribs are larger and sturdier. They are designed to be placed in a fixed position and are cumbersome to move from one place to another. For this reason, standard baby cribs are not the perfect solution for parents traveling with their children.
On the other hand, travel cribs are specially designed to meet the needs of a parent who is traveling with their child.
A travel crib resembles a small baby crib. But, the difference is that a travel crib is designed to fold down into a small size that is easy to carry.
Travel cribs are light and highly portable. They are also easy to set up and collapse. This makes them the perfect choice for use when traveling.
Some parents even use travel cribs in place of the regular baby crib since they are smaller, multipurpose and will take up less space in the home.
A few travel cribs are also rated for outdoor use but our experience shows that you should be careful choosing where to place your travel crib outdoors. WE suggest sticking to hard, dry surface and staying away from grass or moist areas.
We have tried and reviewed a number of travel cribs so we compiled our favorites along with a buyer's guide to help you make the best choice. The winner was the Lotus travel crib.
Pros And Cons Of Travel Cribs
Pros
The mattress is thick and comfy enough for your baby to sleep in the whole night
Lightweight
Highly portable. Most options pack down to a small backpack or suitcase
Have breathable mesh walls
Easy to assemble and collapse
Cons
Often cost more than pack n plays
Initial set up can be a little tricky. But, with practice, it becomes quicker and easier
I've complied my favorite travel crib in this comparison post.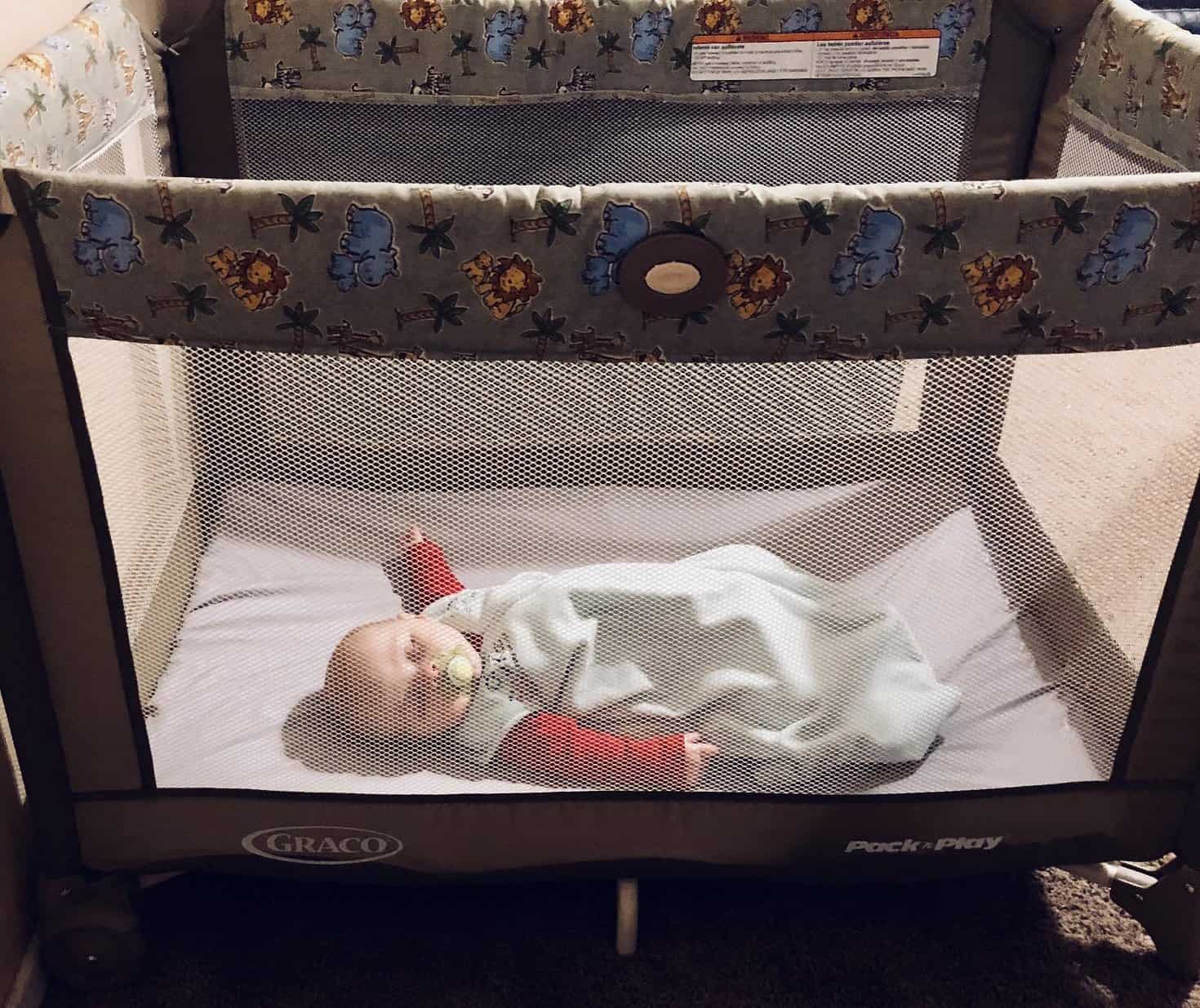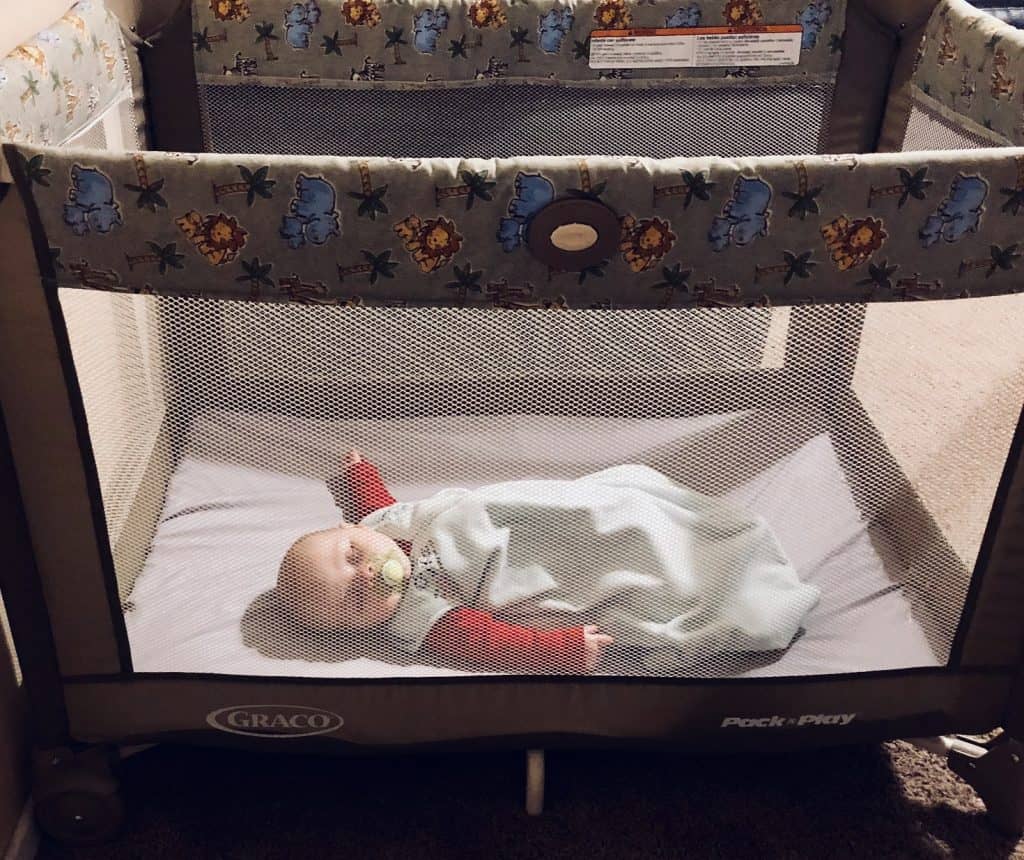 What Is A Pack 'n Play?
A pack n play also looks like a travel crib. It is smaller than a standard-sized baby crib and also lighter. However, a pack n play has a heavier frame and much more solid structure than the travel crib.
Pack n plays are designed for your child to relax, nap, or play around in. You'll find that some options also come with a detachable bassinet to place your newborn to sleep. These bassinets are usually only rated for 15lbs. Once your baby outgrows it, he can safely be placed in the bottom section of the pack n play.
Because pack n plays are a little heavier and much more solid than travel cribs, they are perfect for use around the home. They will offer the perfect space for your baby to nap, relax, or play in as you do laundry or other chores around the house.
Also, pack n plays can be used outdoors. The breathable mesh sides help to create a safe space for your baby to play without feeling lonely as they can still see you.
While pack n play comes with a mattress, it is often thin and most parents feel it is not the comfiest place for a baby to nap in. It is however not suggested that you change the mattress or add any sort of cushion to the pack n play.
Also, due to their weight and more complex setup, parents prefer to use travel cribs instead of pack n plays when traveling.
At home, our pack n play lived in our living room on the main floor for about one year. We used the changing table multiple times per day as well as the main pack n play bottom section to place the baby for short periods of time when we were alone and needed to complete a chore of some kind.
It also worked wonders as a toy storage area when there were too many toys scattered everywhere.
We have tried and reviewed a number of pack n plays so we compiled our favorites along with a buyer's guide to help you make the best choice. The winner was the Joovy New Room2.
Pros And Cons Pack 'N Play
Pros
Easy to set up and disassemble
Cheaper than travel cribs
Most include accessories such as a changing table and a bassinet
Mesh sides for easy monitoring of your child
Cons
Often heavy and the weight makes them not very portable
The mattress is thin and hard. Great for sleep safety but sometimes not for long night sleeps.
Pack N Play Vs. Travel Crib: Which Is Best For Sleep?
When debating on the best option for your baby to sleep in between a pack n play and bassinet, we would suggest thinking about comfort first. AS a general rule, travel cribs offer the most comfort thanks to a thicker and comfier mattress as well as less structural pieces under and near the sleeping area.
Most mattresses of pack n plays are very thin, firm, and hard. They also have hard structural tubes that pass under and on the four corners. Even though you can use if for extended sleep, we have come accross many babies that don't adapt well to it for full night sleep.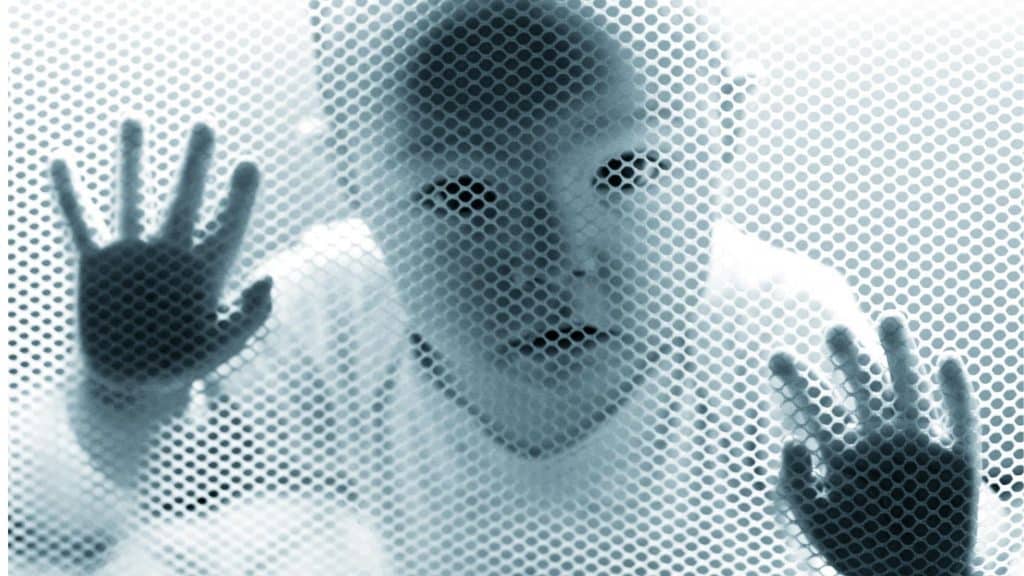 Because of that, we do not recommend it for long overnight sleep and like to stick to naps.
On the other hand, travel cribs are designed to work as a baby crib away from home. Thus, their mattress is plush and comfy for your baby to sleep in throughout the night.
However, some pack n plays come with a bassinet. Others include additional accessories such as changers and storage pockets. Therefore a pack n play would come in very handy for a family with a newborn.
Our son used the pack n play bassinet for 90% of his daytime naps during the first 2-3 months of his life. The pack n play bassinet was the perfect spot for naps allowing us to watch him while he napped no matter where we were in the house.
During the first few months, most parents don't feel comfortable putting a tiny, fragile baby in a large sleeping area such as the bottom of the pack n play or a travel crib. In this case, the pack n play bassinet offers new parents the best option.
Here is a great video showing some of the differenced to consider
Pack N Play Vs. Travel Crib: Which Is Best For Play?
Play for a child is synonymous with dirt and stains. Babies are messy. They'll drool all over the space, spill stuff, and perhaps smear their food on their playing space. That's why the perfect playing space for your child should be easy to clean.
And since pack n plays are designed for play, their manufacturers also factored in all your cleaning needs.The surfaces are made of non-absorbent materials that are very easy to clean. Also, most of their covers can be wiped clean with a damp cloth.
Pack n plays also offer the structure and sturdiness you will need for your child to grow and play in. The entire playard is connected by solid posts and they are usually perfect for kids that are a little older and have some weight to throw around.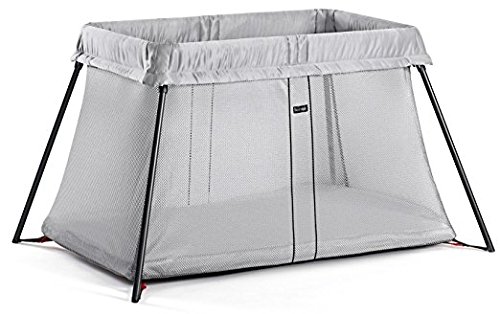 Thus, a pack n play would be the perfect choice for play. However, travel cribs are being continuously improved each day. Some travel cribs, such as the Baby Bjorn Travel Crib, have a removable, completely machine washable cover but still don't offer the sturdiness you may be looking for.
Pack N Play Vs. Travel Crib: Which Is Best For Travel?
Traveling with a baby by itself is already stressful. All of a sudden you need to pack a whole luggage just to bring your little one's stuff and on top of that you also need to bring his bed along. This means you'll need to keep your luggage to the minimum weight and size that you can.
Pack n plays are heavier and bulkier than travel cribs. So, a travel crib is the most convenient option for pretty much any travel situation. Their lighter weight and smaller size makes them much more portable.
Some can even fit in a backpack that you can carry-on to an airplane.
Is A Travel Crib Safer Than A Pack N Play?
Major manufacturers of both pack n play and travel cribs have to adhere to strict safety guidelines to prevent SIDS. So, you can rest assured that the majority of pack n plays and travel cribs are safe for your baby to nap, relax, and play in.
We strongly suggest staying away from unknown manufacturers without certifications. Remember that your baby will be sleeping in there and his safety is of utmost importance.
Whether you are using a pack n play or a travel crib, all you need to do is to follow all the general safe sleep guidelines from the AAP and CDC. Always place your baby to sleep on his back, never use any accessories such as wedges in the cribs and remove any loose fitting sheets or blankets.
To Wrap Up – Travel Crib or Pack n Play?
Are you still unsure of whether you want a travel crib or a pack n play? Both of them are safe for your baby and are fairly easy to assemble and disassemble.
And even though the pack n play weighs more than the travel crib, it can be used both indoors and outdoors.
Thus, the ideal choice still depends on your preferences and needs. But, if you can afford to have both, the convenience of having a pack n play and a travel crib is unmatched.
Pack n play for home and travel crib on the go 😉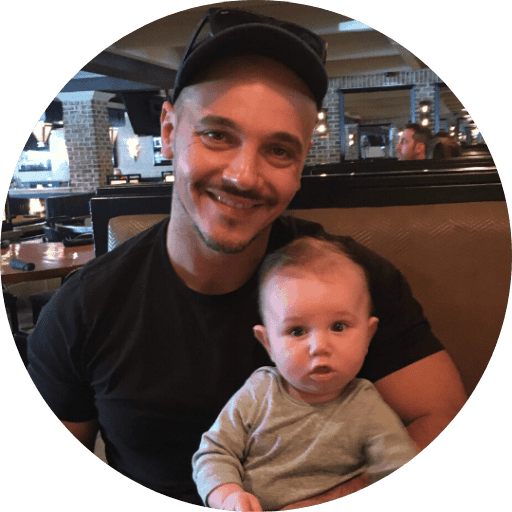 Paul is a passionate dad who founded Upside Dad to share his parenting journey with other new parents. He graduated from Concordia University and worked as a test engineer for over a decade. Paul loves dad jokes and craft beer.
Learn more about Paul and Upside Dad here.