If you own or plan on getting a travel crib, this question will most probably cross your mind once or more: Can my baby sleep in a travel crib?
One of the most overwhelming things you'll have to deal with as a new parent is putting your baby to sleep. If you travel a lot or are planning a trip, it will be even worse.
Luckily, there are multiple ways to get your baby used to not only sleeping away from home but also making sure he is comfortable no matter where you put him to sleep. If you end up at a hotel that provides guests with a full-size crib, that's a bonus.
But there's a problem.
You see, most hotels provide cribs that are a little smaller than the standard size and sometimes not as comfy as the crib you have at home. In some instances, hotels will even provide a beat up pack n' play which is barely suitable for play, nevermind sleep.
So, if your baby is older and heavier or just a picky sleeper, they may not adapt well to the crib provided by the hotel.
Bring your own crib for peace of mind
A great solution to the uncertainty would be to carry your travel crib during any trip. It will make your trips to grandmas, beach vacations, or even to a friend's party less stressful.
But if you do buy and bring your own "crib", is it even safe for your baby to sleep in a travel crib?
Popular brands such as the lotus travel crib, babybjorn travel crib, and the Graco travel crib (just to name a few) are some of the most common ones on the market today and they are all approved for sleep.
But regardless of the brand you pick, ensure it meets all the American Safety Standards. The mattress should fit well in the travel crib. It shouldn't leave any spaces on the edges. On top of that, the crib should be well made, firm, and strong enough to withstand your baby's activity levels.
Where Can You Use A Travel Crib?
Are you afraid that buying a travel crib might be a total waste of money? You might be surprised to learn that investing in a quality travel crib might be the best parenting decision you'll ever make.
Travel cribs are extremely versatile. They are usually designed for use by a baby aged 0 to three years.
What's more, a travel crib can be used virtually anywhere. If you are looking for a safe and comfortable place for your baby to play and relax in as you do the dishes or prepare dinner, a travel cot can come in handy.
Are you stressed about your trip to grandmas with your newborn baby? Some travel cribs come with a bassinet attached. Thus, your baby will have a secure, comfy, yet familiar place to sleep on the go. And the best ones are super easy to pack up, take with you and set up.
Some parents also prefer using their travel cots as the regular baby cribs. This is more common for parents who travel often. The advantage is that even when you are on a vacation or away from home, your baby can sleep more easily since they are already used to sleeping in their travel cribs.
Is It Ok For A Baby To Nap In A Travel Crib?
Yes, it is okay for your child to nap in a travel crib. If your chosen portable crib is approved for night sleep, it's also perfectly safe for naps.
We bring our travel crib everywhere and our son is able to fall asleep within minutes in it because he's comfortable in it and feels safe. I once tried putting him to sleep in my brother-in-law's pack n play and it was a huge failure. He screamed and cried for close to 30 minutes and we decided to abort the mission.
What's more, sleeping in a travel crib comes with its share of benefits.
Consistent and familiar nap place regardless of the location
Has your baby started sleeping throughout the night? Sleep training is a major parenting challenge, but it works.
One surefire way of conquering this challenge is by allowing a consistent naptime. This not only refers to the time of the day that your baby goes to sleep but also the place you put your child to nap. Unfortunately, you cannot achieve this using a conventional crib as they are heavy and not easily portable.
That is where travel cribs save the day. Travel cribs are portable, easy to assemble and disassemble. You can easily carry it to the backyard, kitchen, or in the back of your RV during your random road trips.
Portable cribs often cost a fraction of the amount needed to get a complete full-sized baby crib. Yet, the travel crib has so many uses.
A travel crib not only acts as an ideal place for your baby to nap on the go, but it can also be used as a play-yard. In case you want to go about your daily chores without having to worry about mischief by your toddler, just place them in their travel crib with their favorite toys and you are good to go.
Is It Safe For Baby To Sleep In A Travel Crib?
Any parent will agree that safety is the most important aspect to have in mind when it comes to any baby gear.
That's why you need to ensure that the baby travel crib you purchase meets all the American Safety Standards.
On top of that, ensure that you choose a travel crib that is designed to fit with the age of your baby. Some types of portable cribs are smaller and are only ideal for infants. Thus, if your baby is bigger, you'll need to choose one that is designed for toddlers.
Another common question amongst parents is if they can place their newborn to nap in a travel crib. Of course, you can; as long as your travel crib conforms to all safety standards!
Most travel cribs are safe for use from newborn till age 3. However, you must always check the age and weight recommended by the specific manufacturer.
Also, remember the basic safety recommendations to prevent crib deaths. Always place your baby on their back, no loose sheets or blankets allowed as well as any other accessory. Per the AAP's recommendations, parents should share the same room but sleep on different beds as their baby for a minimum of 6 month and up to 12 months.
Do not forget to remove all beddings, toys, pillows, and cot bumpers in your travel crib when putting your baby to nap or sleep. Failure to do so puts your child at a higher risk of suffocation.
As a safety precaution, also avoid placing the travel crib next to windows. This is because your child may be tempted to play with your curtains which may result in strangulation.
The Bottom line
There are many options for places where you can place your baby to sleep. One safe, comfy, versatile, and economical option is a travel crib. Your baby can sleep or play in it both at home and away from home.
We have reviewed multiple travel cribs and posted our top 5 here to make your decision easier.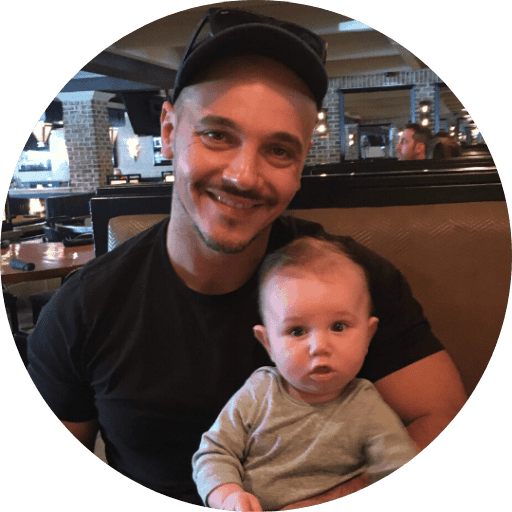 Paul is a passionate dad who founded Upside Dad to share his parenting journey with other new parents. He graduated from Concordia University and worked as a test engineer for over a decade. Paul loves dad jokes and craft beer.
Learn more about Paul and Upside Dad here.