Figuring out the DOs and DON'Ts of traveling with the SNOO is a real pain, and there's little to no information on the topic out there.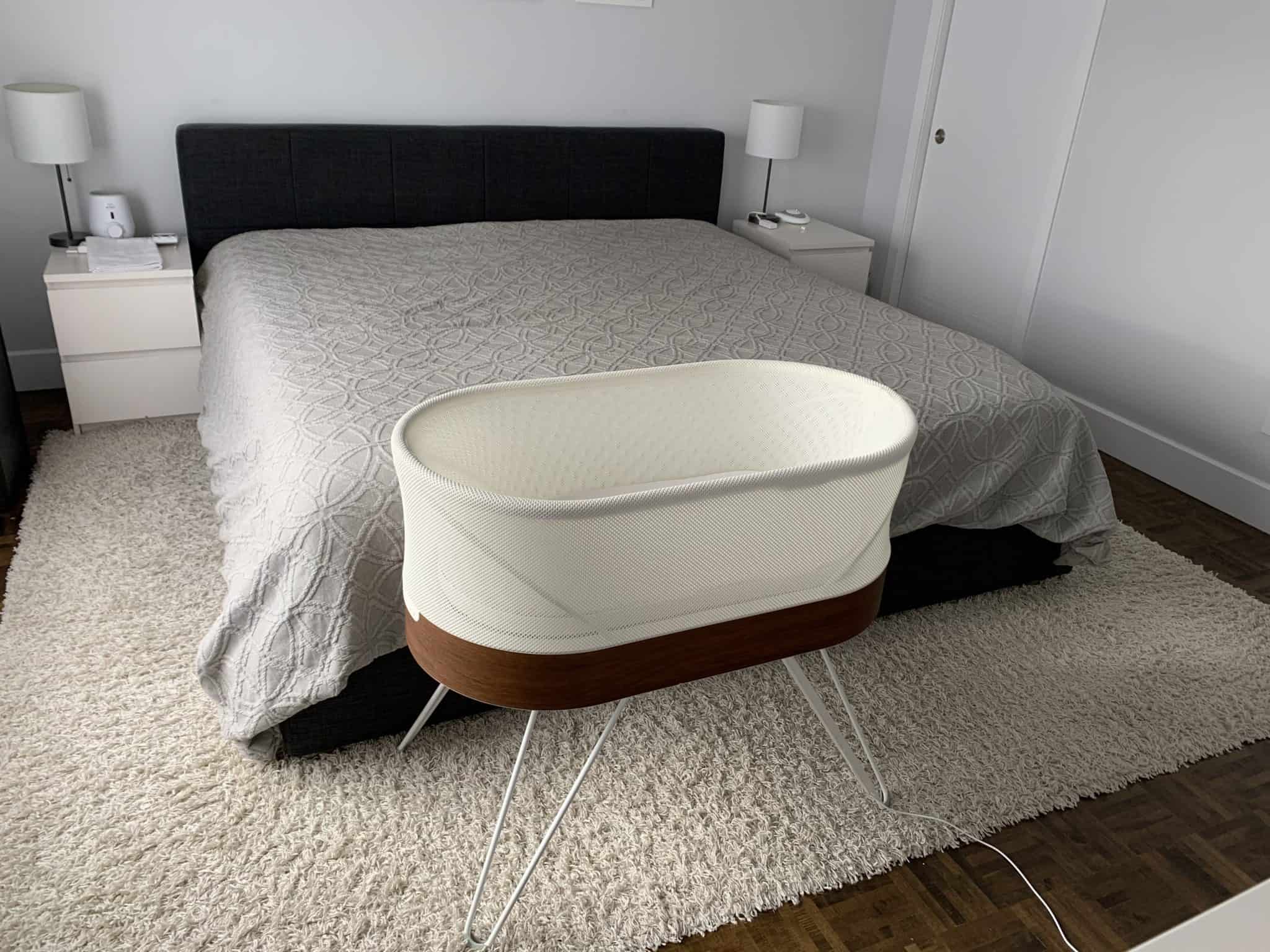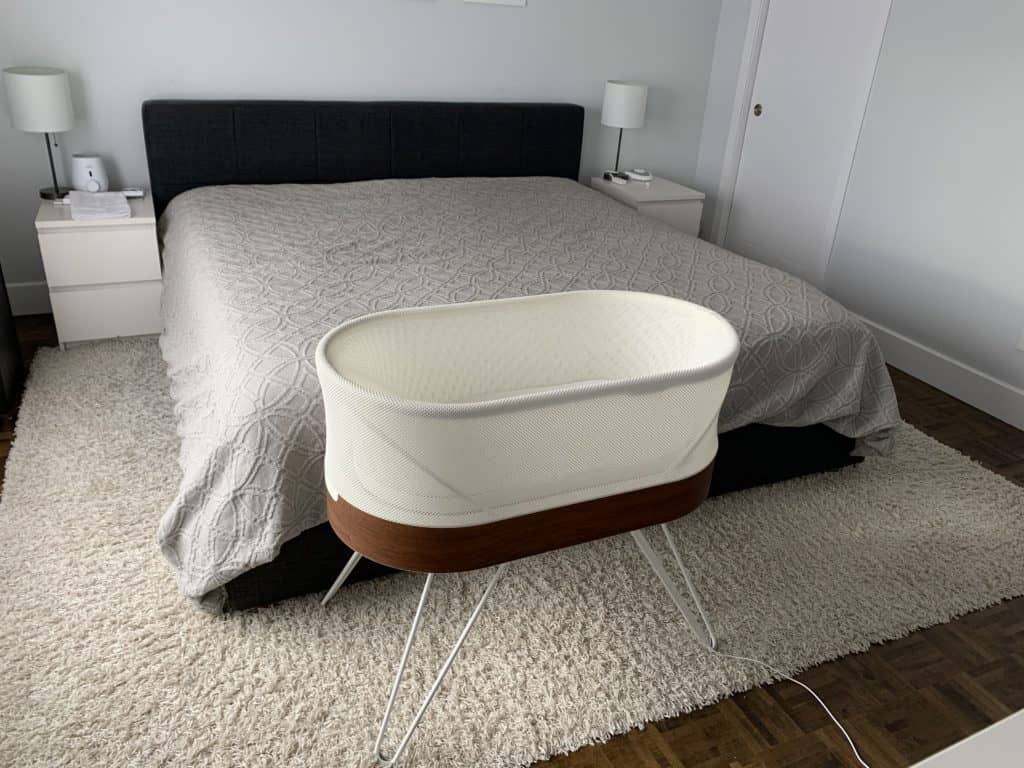 That's why I decided to write this guide up and put everything I learned about the SNOO over the years of writing about it to good use.
I'll go over all of it – from car travel and flying to renting and shipping the SNOO directly to your vacation spot.
Should I travel with SNOO in the first place?
Traveling without the SNOO is not just about the vacation. It's about maintaining or breaking the healthy sleep habits that form in most babies sleeping in the SNOO.
If that happens, not only will it mess with your vacation, it will also mean re-adjusting once they do get back to their SNOO.
A word from Happiest Baby
According to the maker of the SNOO bassinet, they've seen a few "rules of thumb" that should help you with the decision.
In their experience, most babies slept well on a trip without the SNOO as long as:
The trip is on the shorter side – no more than a week.
The baby has been sleeping in the SNOO for 1-2 months before the SNOO.
You don't break the swaddling pattern (swaddle with Sleepea or the SNOO sack).
My advice on traveling with your SNOO
If you plan a trip that ticks the three boxes above, you're probably fine without the SNOO, but I wouldn't just pack and leave. If you're leaning towards leaving the SNOO at home, my approach would be to test the waters and have a backup plan. 
Try leaving the baby out of the SNOO for a day, just to see how they react.
Call up Happiest Baby and ask how long it would take for a SNOO to get to your location if things don't go as planned. This can be the difference between one restless day and a ruined vacation (you can see my guide on the SNOO rental process here).
Is bringing SNOO on your trip worth the hassle?
I would say it absolutely is. In my experience, parents who dismissed bringing the SNOO were those whose baby was calm on the trip. You won't find anyone saying it's not worth it if their baby cried and woke every hour.
Any of my long-time readers know that I'm a SNOO fanboy, and with good reason. This thing changed our lives – you can see our story and complete SNOO review here.
How to car travel with the SNOO
I'll take a concise approach to get some much-needed clarity. Let's do some car travel math.
A few facts to keep in mind when planning your trip:
When packed, SNOO takes up about 8 cubic feet. The SNOO shipping box (aka. outer box) is 22 x 17 x 37 inches, and it's designed to be repacked (this means you can pack the SNOO down to this size for your trip).
The trunk capacity of a mid-size family car (like the Honda Accord) is about 16 cubic feet.
The trunk capacity of a compact SUV (like Toyota Rav4) is typically in the 25-35 cubic feet range.
The trunk capacity of a large SUV for families (like the Chevrolet Suburban) is over 40 cubic feet.
Note: The trunk capacity stats above are for upright seats. These will more than double with one row of seats folded down.
Takeaway about SNOO & car travel
A repacked SNOO will take about half the trunk of a mid-size family car, 25-33% of a compact SUV, and about 20% of a large family SUV.
Naturally, these numbers will change depending on the trunk dimensions of a specific car, and if you carry other bulky stuff, it might not fit. Think about your car trunk and plan before you even get to packing.
How to fly with the SNOO
If you're flying with the SNOO, your best bet is flying with Southwest with the SNOO repacked into its original box. It will cost you $125 less.
You can see a detailed repack explanation on the Happiest Baby blog here.
How I did the cost math
For this analysis, I used baggage policies and fees of the top 3 US carriers (Southwest, Delta, and American – according to the 2018 report of Bureau of Transportation Statistics).
All three carriers have policies in place that put the SNOO in the category of oversized luggage category.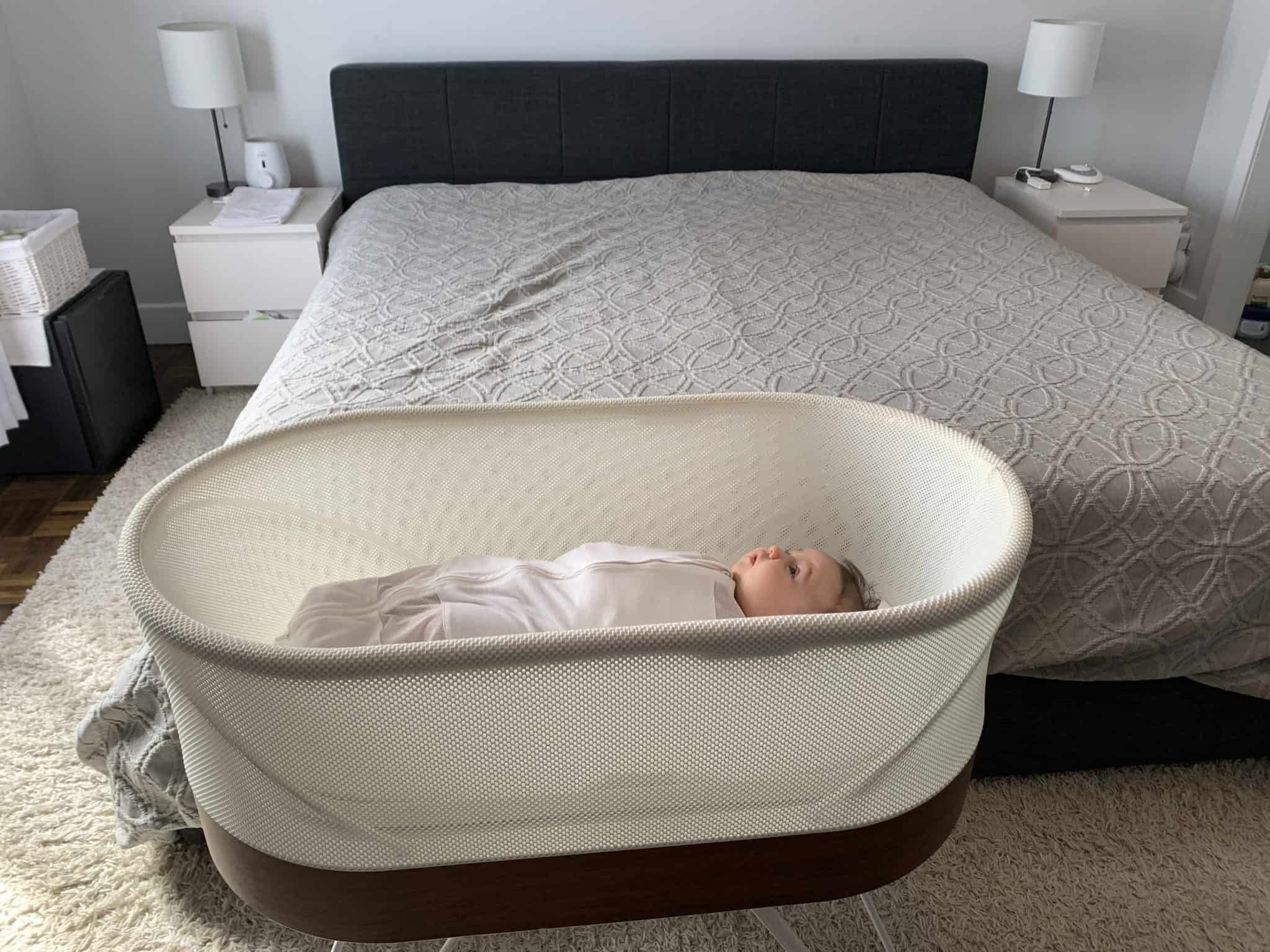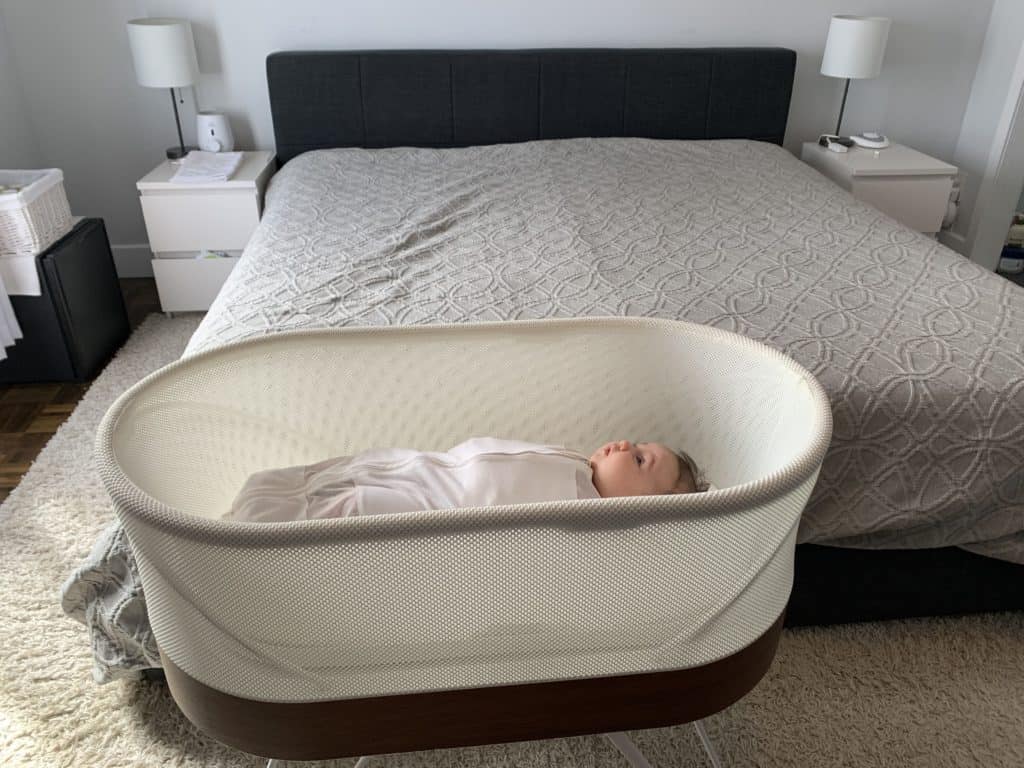 The weight of 50 lbs is on the upper limit, but that's moot because the "maximum size" is 62 inches (length + width + height). That's why I'll only analyze the size of the package.
With 76 inches total, SNOO is over the "regular" luggage limit but not over the absolute limit, meaning all three major carriers will accept it as checked luggage.
These are their limits and fees for oversized luggage:
| | | |
| --- | --- | --- |
| Carrier | Oversized luggage range (inches) | Extra cost ($) |
| Southwest | 62-80 | 75 |
| Delta | 62-109 | 200 |
| American | 62-126 | 200 |
Conclusions about flying with SNOO
SNOO falls just under the upper limit for Southwest, a few inches more and you wouldn't be able to get it onto their flight. Their fees are substantially lower for a package the size of SNOO bassinet ($75 compared to $200 with Delta and American).
So, if you're OK with traveling low-cost, Southwest is the way to go. If you're not, the cost of flying the SNOO out will be about 30% lower than having one shipped to your location (more on that option in a minute).
Note: This analysis is for information purposes, and the costs might change. Always check the website of the carriers or call them up before buying a ticket.
General guidelines for flying with your baby
Carrying the SNOO comes with its challenges, which is what this guide is about. That's why I won't get into the details of flying with a baby, but just list a few tips that will make it easier.
Offer your baby a bottle a few minutes after take-off, and as soon the descent starts (when the captain announces it). Sucking will help equalize the pressure in their ears.
Get to the airport earlier when traveling with a baby – leave time for the handling of the extra luggage (like SNOO box)
Wipe down your seats thoroughly (for obvious reasons)
Once settled, clean your hands to minimize germ transfer in-flight. Do it each time you get up and touch stuff around you.
Swaddle the baby, place them on their stomach or side and give them a pacifier.
If they get restless and the seatbelt sign is off, you're more likely to calm them down by walking up and down the aisle and swinging them gently than just by shushing them in the seat.
Be meticulous with your carry-on – if you're in doubt about including something in your carry-on, it should probably go in. Some of the essentials are diapers, a change of clothes (both for the baby and yourself), baby Tylenol, expressed milk or formula, diaper cream, and a thermometer.
Mentally prepare yourself for a crappy flight, both literally and metaphorically – this one sounds like a cliche, but I'm OK with that because it's crucial.
Shipping SNOO to your vacation spot
The most convenient way to have a SNOO on your vacation is to have one shipped to your destination.
This option has its PROs and CONs, and I'll go over them below. But, ultimately, it will come down to whether you're OK with spending more.
PROs and CONs of renting SNOO for a vacation
PROs:
Convenient – you don't have to pack your SNOO and take up 30-50 % of your trunk space with it. If you make the arrangements, it can be in your room when you get there.
You're not risking damaging your own bassinet while traveling. It's a load of your mind, which is what a vacation should be
CONs:
Added cost – you pay for the minimum rental period of one month plus additional fees – reconditioning and return shipping. In total, it will cost you around $300.
They might keep your deposit – when you rent the SNOO, Happiest Baby charges the fees I listed above and a refundable deposit fee ($99 at the time of completing this). If you damage the bassinet in any way, they keep your deposit.
There's planning involved – you can schedule your shipping, and the SNOO will go out within two days. Depending on where you're shipping, it might take up to 5 work days to get there. Since you're renting it for a month, you can plan for the bassinet to be at the hotel when you arrive.
Unpacking and repacking – I'd advise carrying the SNOO in its original box. But if it's your bassinet, you can choose to carry it assembled or just by taking the legs off. If renting, there's no way around unpacking, assembly/disassembly, and repacking.
Bottom line – if you're OK with spending extra, it's totally worth it.
Related reads:
If you're still hesitant…
I know it can be too much to plan a whole trip around carrying the hefty SNOO box.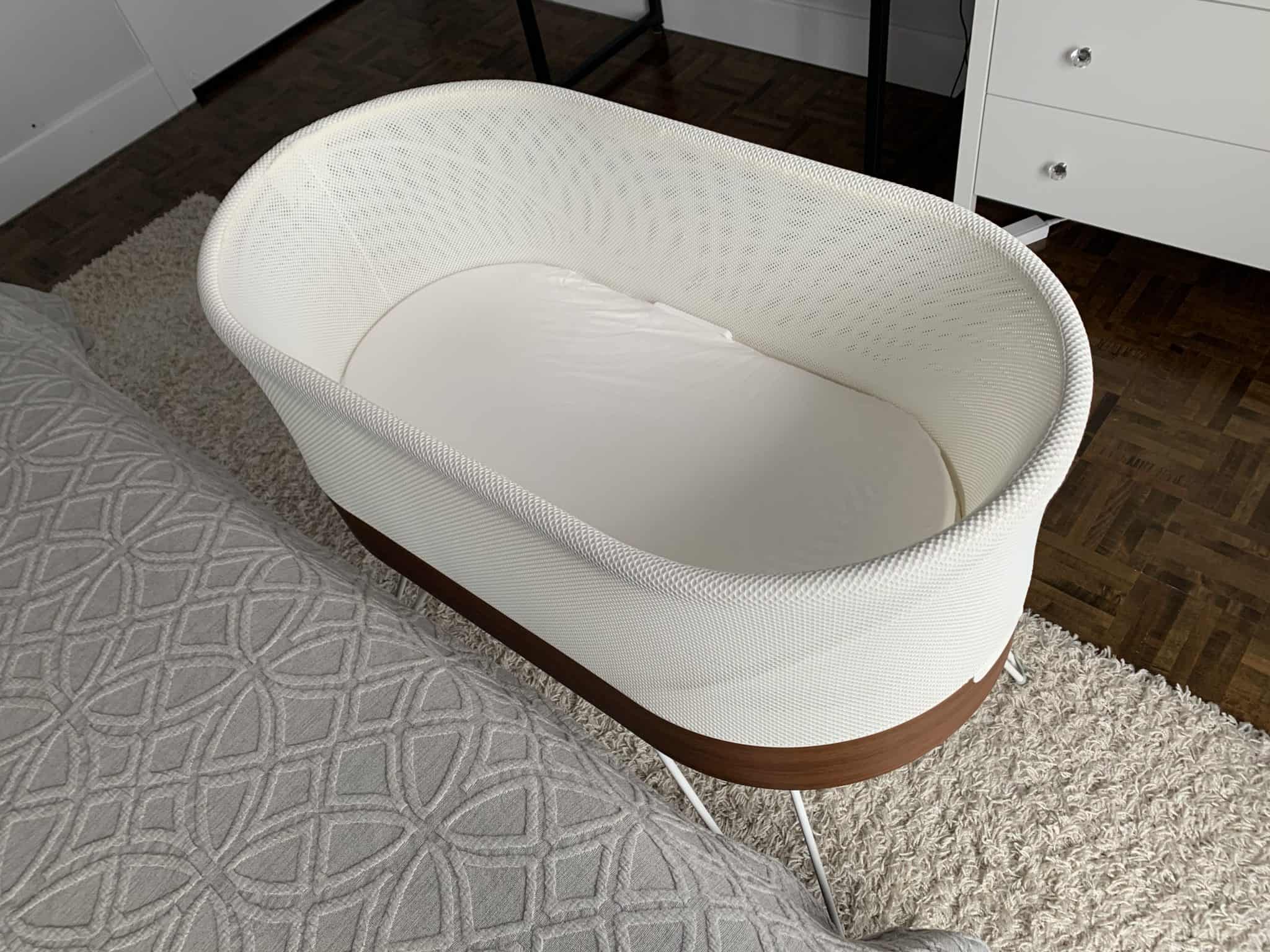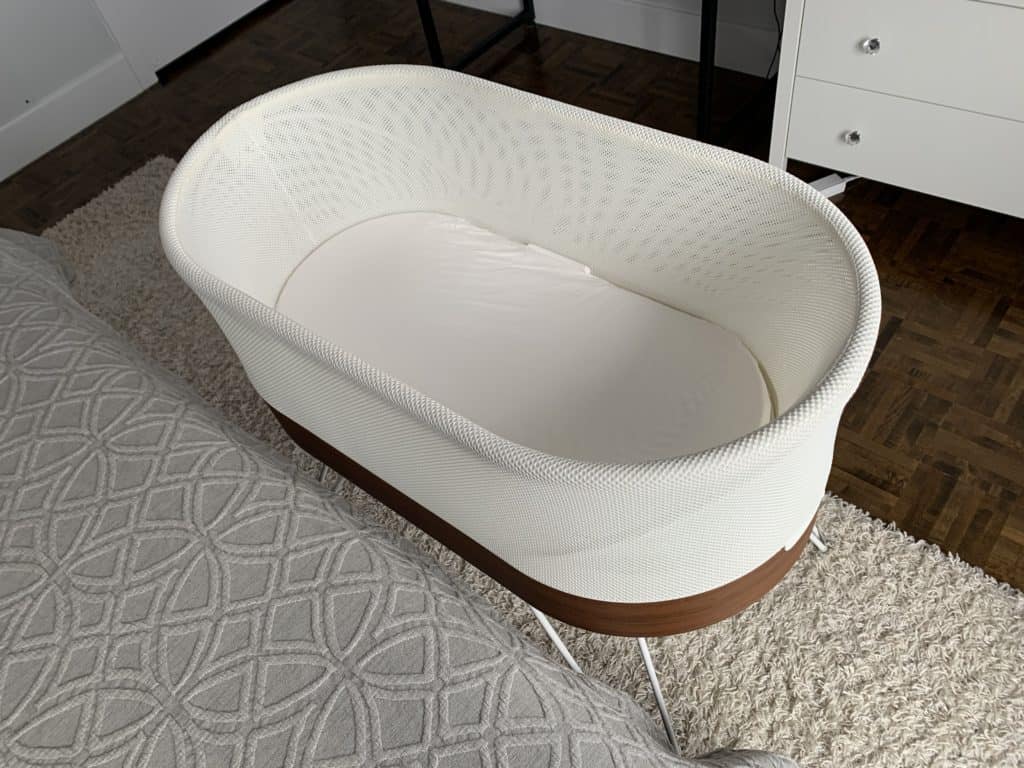 Here's what I do to offset that – I just imagine myself three days into the trip with a crying restless baby.
Do that, and packing and traveling with the SNOO suddenly won't seem as much of a hassle.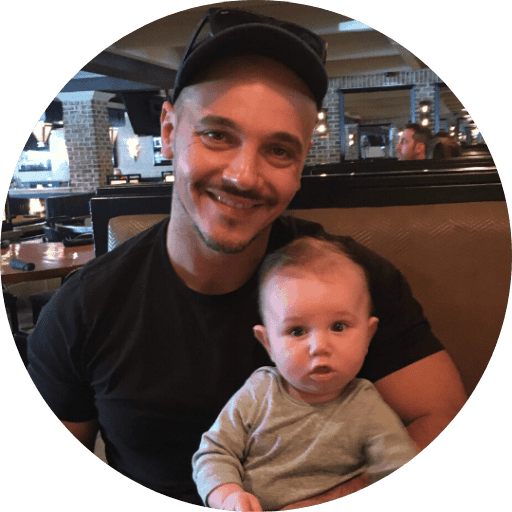 Paul is a passionate dad who founded Upside Dad to share his parenting journey with other new parents. He graduated from Concordia University and worked as a test engineer for over a decade. Paul loves dad jokes and craft beer.
Learn more about Paul and Upside Dad here.