If you stumbled upon my little corner of the internet, there's a good chance you already know a good deal about SNOO.
You might've heard all the raving praise. You probably know it's referred to as "the world's safest infant bed."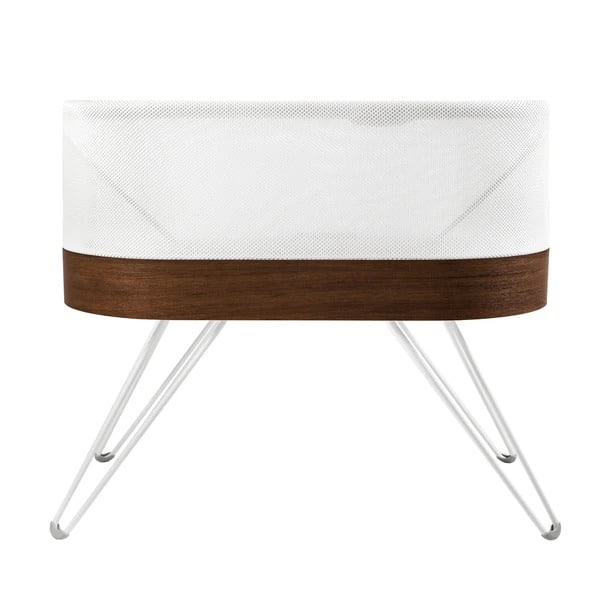 However:
Today, we're not interested in all that hoopla. We want to look at the flip side – the negative reviews.
I've compiled an in-depth summary of the most common SNOO criticism from my personal experience with the SNOO as well as what other parents are complaining about.
Let's see if we can pinpoint potential deal-breakers.
Breathable mesh walls for healthy air flow
5 levels of specially designed sound + motion to soothe babies and boost sleep
Premium motor for quiet and reliability
Advanced algorithm can tell baby cries from room noise
Price
Let's address the elephant in the room – the hefty price tag. It's the criticism that sets the stage for all the others we'll talk about.
If you look at the negative reviews, they often include the three magical words – 'for this price.'
Here's how I think about it
Back when I was still on the fence about the SNOO, my wife and I were so sleep-deprived that it was hard to think straight. It just seemed too damn expensive.
Finally, I decided to get the SNOO and sell it after we're done with it.
In hindsight, the bassinet gave each of us an extra 3-5 hours per night over four months. That adds up to anywhere between 360 and 900 hours.
Long story short, the math adds up to about 50 cents per hour of sleep…and that doesn't include the extra sleep our son got because I don't feel comfortable putting a price tag on that.
Those numbers, along with the refund policy, made it a no-brainer for me, even 'for this price.'
You can read my full review of the SNOO here.
If you're unsure about spending so much
If you still have your doubts and operating on a budget, renting the SNOO is probably the smartest way to offset the cost.
The process is pretty straightforward and the folks at their customer service are some of the most professional and helpful people you'll 'meet.' That was my experience.
You can see my take on the SNOO rental process here.
Fixed height
I've seen it both ways, tall people wishing it was higher and those on the shorter side wishing it was lower.
The standard total height of the bassinet is 31 inches (the standard legs are 17 inches).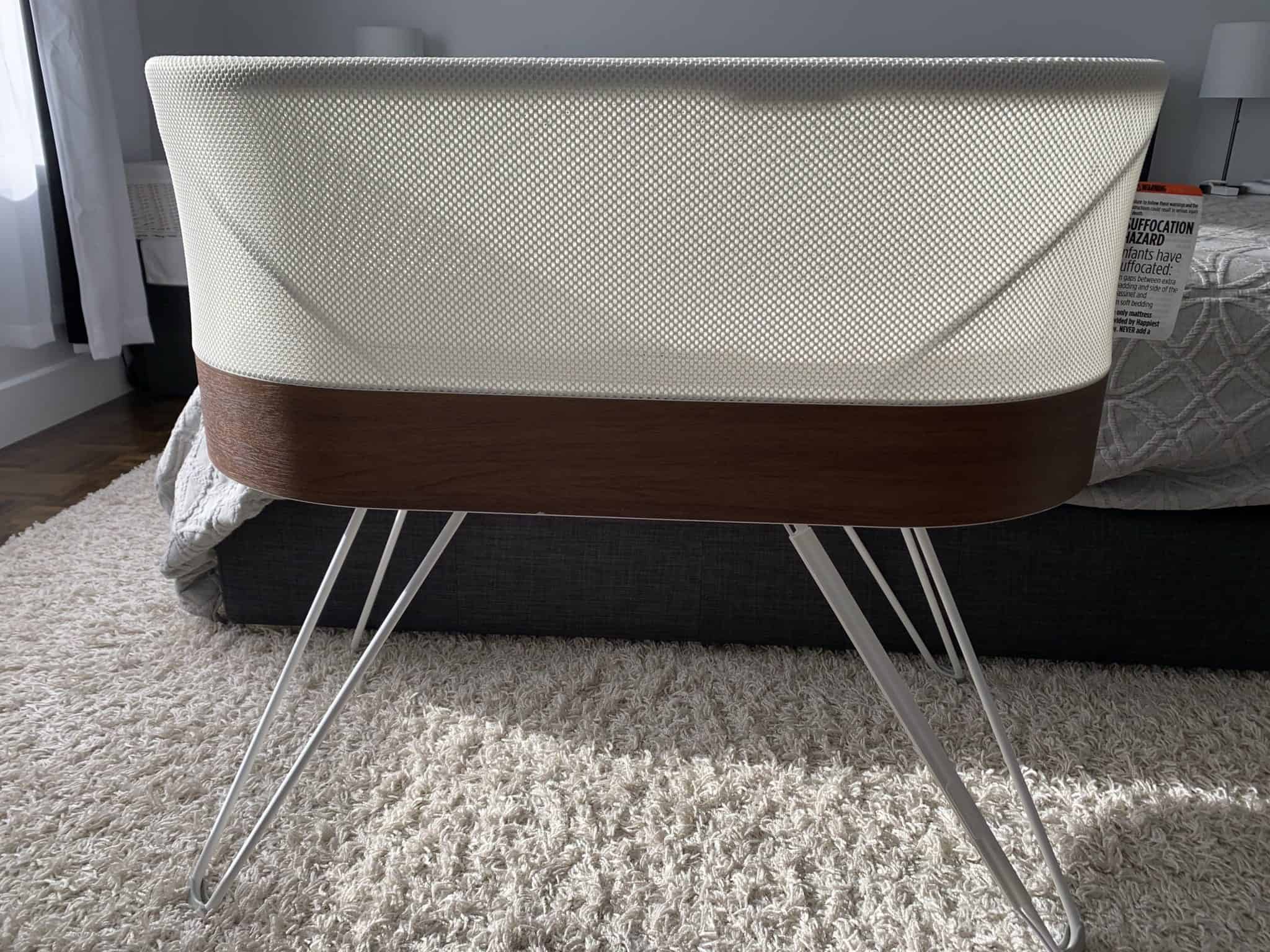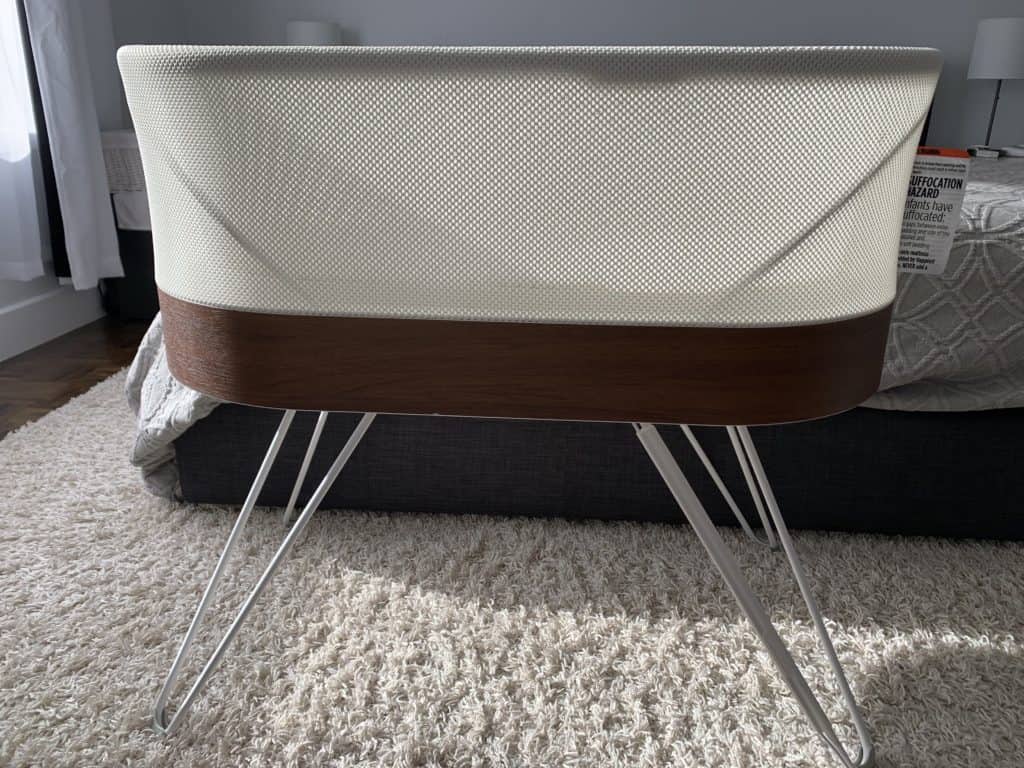 I've found height to be an issue with less than 0.8% of the owners, and it's usually a combination of two factors – like a tall person with back pain issues.
More importantly, most of the people who criticized SNOO in this regard didn't seem to know that the company offers both leg lifters and a separate set of low legs.
The important part is that the experience of using the bassinet doesn't change if you're using the lifters or the low legs – both are made of non-slip, elastomeric materials.
Wi-fi pairing
I've seen people critiquing the Wi-fi connectivity of the SNOO. In a vast majority of cases, it was kinks reported on initial set-up.
I've noticed that the issue seems to be more common if the network is not your typical 2.4 Hz. If this doesn't mean much to you, you're probably already using it because it's the most commonly used bandwidth.
If you had anything other than a 2.4 Hz wi-fi, you'd know it – whoever installed it would tell you.
With that said, these issues are typically solved by plugging the bassinet out and back in.
Noise at higher soothing levels
Some people shared negative reviews of the SNOO's noise. They either didn't like it themselves, or they thought it might interfere with the baby's sleep.
I've used SNOO with my son, and I'm using it for my daughter now, and I've seen zero issues with the "noise." Noise isn't even the right term because we're talking about white noise that's a part of the soothing system.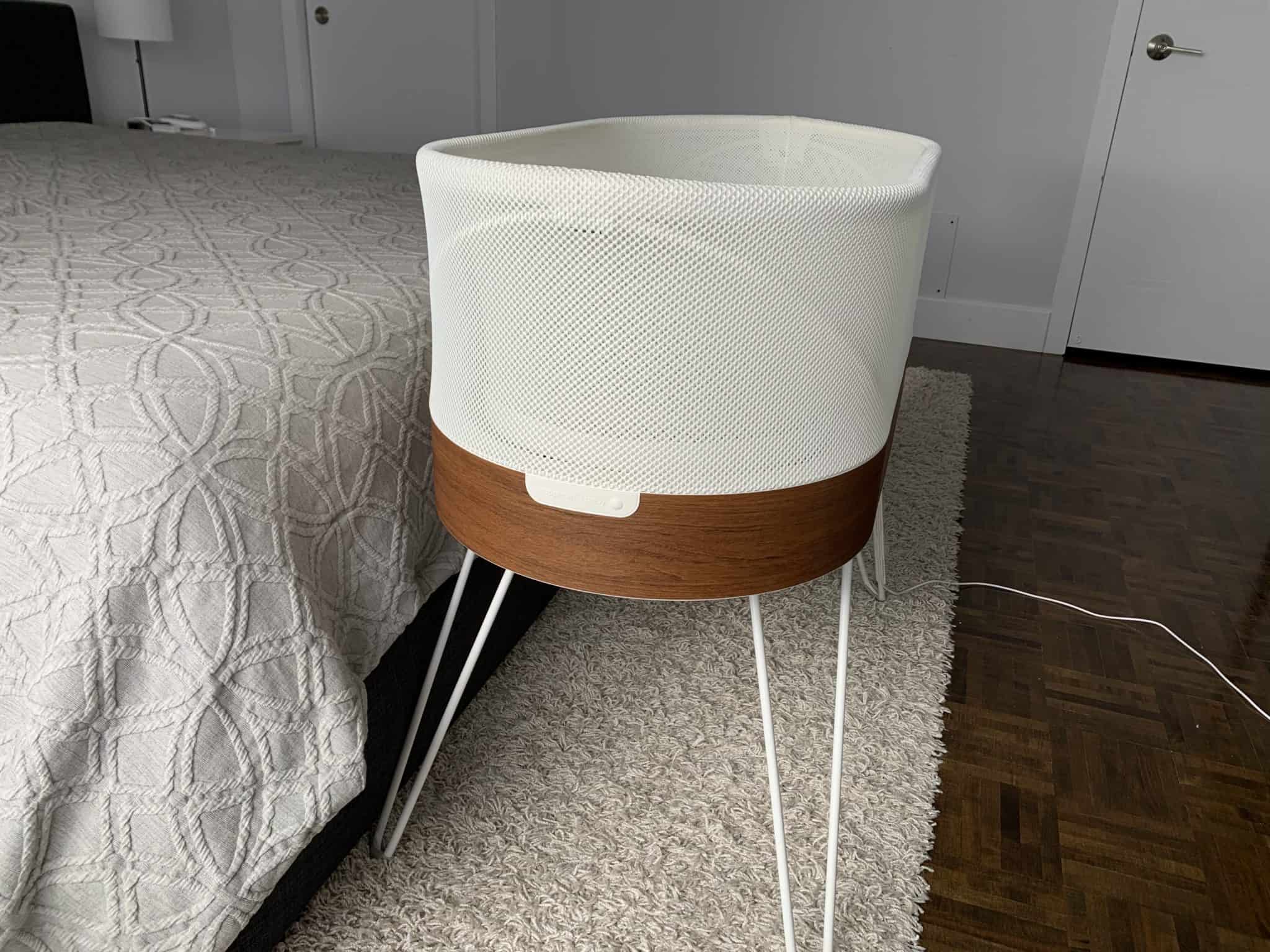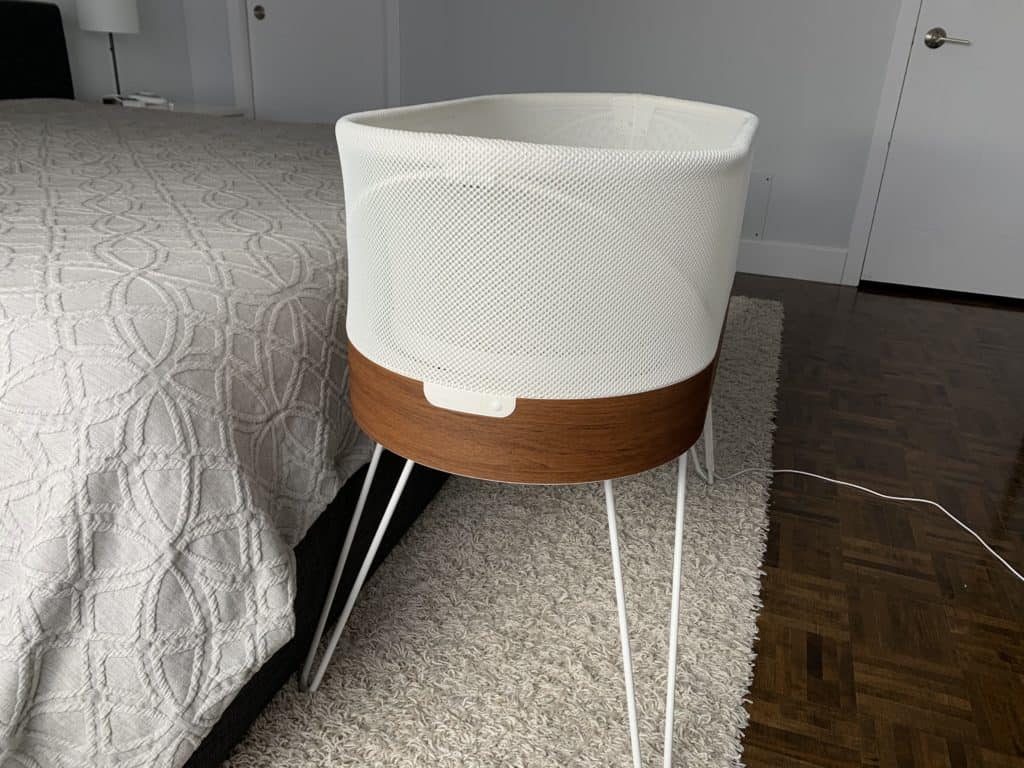 Nonetheless, I don't want to play devil's advocate here. In the odd event that the sound turns out to be too much for your baby, you can either turn it off or return the bassinet for a refund.
If your baby is sensitive to sound, you might want to rent the SNOO and try it out before you commit and buy.
Button light brightness
There are negative SNOO reviews mentioning the intensity of the button light. If the bassinet is close to a wall with the button facing it, the light can bounce and diffuse. Some parents didn't like this.
My two cents – if you have a problem that can be solved by slightly turning the bassinet, you don't have a problem.
Alas, suppose you're working with limited space and only one dedicated spot for the bassinet that doesn't allow rotation. In that case, you might think about going with a different bassinet – you can see my top SNOO alternatives here.
No night mode on the app
The app doesn't feature a night mode that would dim the screen.
I've seen owners saying they'd like to see it added in future updates to the app. It's more of a convenience issue than a problem. A night mode option for the app would make all of the bright colors and features black which helps in making your phone less noticeable in a dark room.
As is, you can also turn on the night mode on your phone- most have it built-in.
I agree that the feature would add to the overall high-end experience, and I hope to see it added.
Rocking too intense
I've seen a few people saying that the rocking motion is too intense.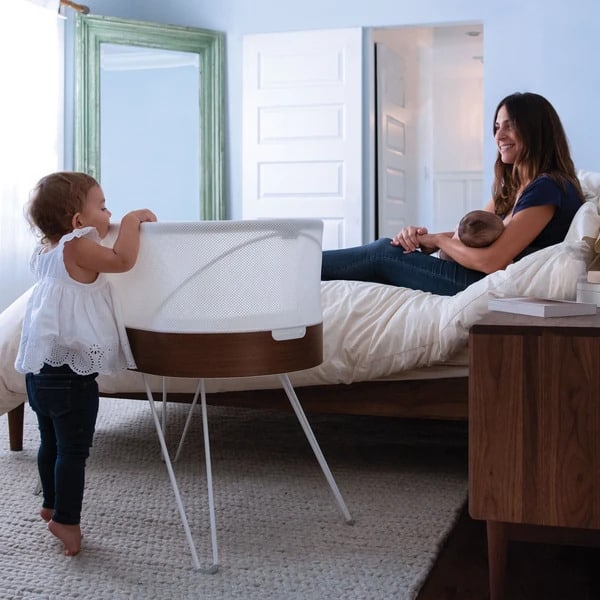 As a parent who used SNOO, I believe that the cause behind these grievances is people not fully understanding the settings. That might sound blunt, but it's how I feel.
Here's why:
At its highest motion setting, SNOO imitates a car ride and only sways 1/4 of an inch. At the lowest settings, it moves gently and smoothly.
If the intensity of the motion is a concern, you can always use the Level locking features in the app. When turned on, it will keep the intensity at a certain level until you manually change it.
Issues with the SNOO swaddle
When it comes to the negative reviews of SNOO swaddle, I've seen two groups:
Cases of the baby breaking out from the swaddle as they get older and stronger
Connecting the swaddle to the bassinet in the dark
In my opinion, only the first one can be characterized as an issue of substance – the velcro not being robust enough for particularly strong babies.
When gathering data for this summary, I noticed that all the negative reviews talking about swaddle durability are over a year old. I have no hard data to back this up, but it does seem to me that Happiest Baby (the company behind SNOO) might have addressed and solved the "issue."
Is the SNOO criticism valid?
These are all valid points and some can even be characterized as nuisances. To be honest, I wish I knew some of these before getting the SNOO so I would be prepared… but none of them are deal-breakers in my opinion.
I did my best to be as unbiased as possible in the analysis of the negative reviews.
Over the years, I've reviewed and tested hundreds of bassinets. There's nothing quite like it out there, especially if safety is your primary concern.
There's no doubt in my mind that SNOO is the king of the proverbial bassinet hill.Finally, if you're going to take away anything from all this, let it be this question – "How do you put a price tag on peace of mind or your baby's safety?"
Breathable mesh walls for healthy air flow
5 levels of specially designed sound + motion to soothe babies and boost sleep
Premium motor for quiet and reliability
Advanced algorithm can tell baby cries from room noise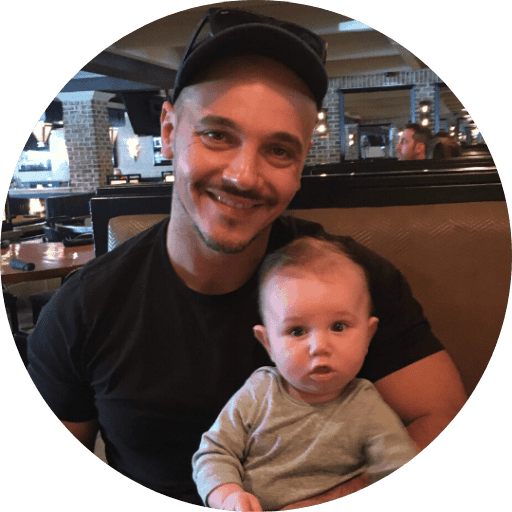 Paul is a passionate dad who founded Upside Dad to share his parenting journey with other new parents. He graduated from Concordia University and worked as a test engineer for over a decade. Paul loves dad jokes and craft beer.
Learn more about Paul and Upside Dad here.