Ensuring your adorable petite newcomer is safe, comfortable and happy can be difficult, especially as a new parent. What you put your sweet baby in for sleep and play makes a big difference in more ways than one. It can be genuinely overwhelming and instigate massive new parent headaches when searching for the perfect products for your little one.
You will likely be overwhelmed when the enormous list is unveiled by googling the best Pack 'n Play on Amazon. Many Pack n Plays are very similar, and finding the perfect Pack n Play for your budget and needs can be challenging. Sometimes less is more, but it is crucial to stay on top of recalls, reviews, and company specials.
As a mama of a hilarious five-year-old boy, I have spent many hours obsessing over finding the perfect everything for him. He is my only child, and I had no prior childcare experience, so it has all been one extensive learning process. I am here to hopefully alleviate some of your stress and give you a detailed breakdown of the best Amazon Pack n Plays available. No matter what the listing's details or commercials say, it is best, in my experience, to go by reviews of experienced customers.
My Search Criteria for the Best Pack n Plays on Amazon
I always check reviews thoroughly to weed out any potential hazards.

Any recalls are noted, and the product or similar products are left off this list.

I searched for the most economical and cost-friendly Pack 'n Plays available on Amazon.

I like Pack 'n Plays that offer a bit more bang for your buck.

I stick with well know reputable brands with a strong background in safety.

I try to include the safest and most visibly appealing Pack 'n Plays.

I've included recommendations and requirements for each product to ensure you are not floating in a cloud of confusion.

I've added Pack 'n Plays that I have personally used in the past.
List of Pack n Plays with Links for Purchasing Ease
Essential Factors to Consider when Picking the Perfect Pack 'n Play
Safety 
Always check the safety reviews from customers with experience with the Pack 'n Play. Google is an excellent tool for checking for recalls and any safety concerns. 
Durability
What materials were used in the making of the Pack 'n Play? Again, check the online reviews other customers or product testers have written regarding the durability of the material used.
Value
Value isn't just about cost, though I know as a mama that price is massively important, especially during this time of inflation. However, value is based on the quality of the product vs. the cost. I have learned more than once that it is far easier to spend the money upfront for a quality product than to get a cheap product and have to spend money to make it acceptable. Please buy what you want the first time around so it won't cause a headache later down the road. Also, make sure when purchasing a Pack 'n Play that it comes with everything you will need if possible. You will generally need to buy bedding and possibly a mattress.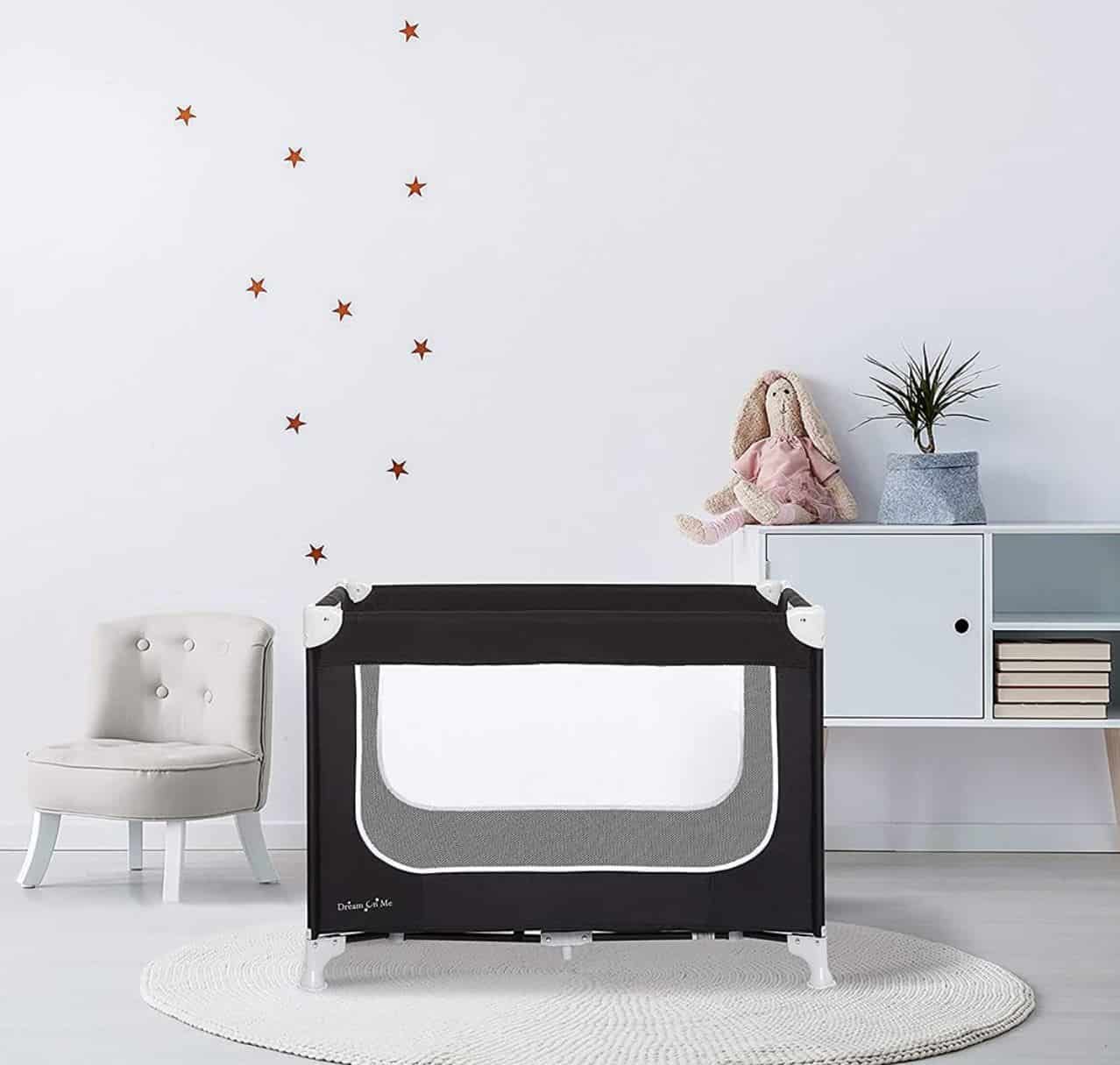 Style
There are many options for Pack 'n Play style, but don't let the pretty colors be an essential feature in your selection. Make sure what you have found meets all of your other requirements, and then worry about looks. If you are in a small space and require a smaller footprint for your Pack 'n Play, consider that when making your choice.
Extras
Extras are generally excellent. Parents looking for the most bang for their buck want a Pack 'n Play that includes a diaper changing station, a bassinet, some decent storage space for items not being used, and an easy-to-reach pocket for wipes, powder, and other accessories. 
Bottom Line Up Front
I know I'm supposed to tell you about my one and only favorite that you should consider, but I have two slightly different Pack 'n Plays that you need. The first is the Graco Pack 'n Play Snuggle Suite LX. It is similar to the traditional Pack 'n Play made by Graco but has been upgraded to elite status with the infant chair that turns into a vibrating bouncer, the larger size, and the handy light that you can use for a quick nighttime check.
It also plays soothing sounds to help your little one doze off. Of course, you could probably get a cheap Pack 'n Play and add these accessories to it and get something of the same effect, but I bet it would be more than $329 when you were through.
My second favorite is the POP 'N GO Portable Baby Playpen California Beach Company. I don't think I can say enough positive things about this playpen because I could rave about it. I want one, and my child isn't even small anymore! They are beautifully made and pleasing to the eye. It is seven pounds and super easy to open and close, making it much easier to deal with children and an outdoor experience simultaneously. It has a UV-blocking removable canopy and stakes, specifically for a sandy beach. This Pack 'n Play is enormous at four feet tall and five feet wide! 
Graco Pack 'n Play Snuggle Suite LX is a fantastic addition to your baby registry. It has everything you need in one place and will work for a newborn to a toddler. Unfortunately, the infant seat/bouncer is only suitable for up to eighteen pounds, but the diaper changing station works for up to thirty pounds. 
Check out our complete Graco Pack n Play Review.
POP 'N GO Portable Baby Playpen California Beach Company is terrific for three months and above. Your little one can easily use this until they are six years old or more. It is perfect for keeping in the car for those spontaneous adventures to the park or beach.
The Best Pack n Plays on Amazon in 2022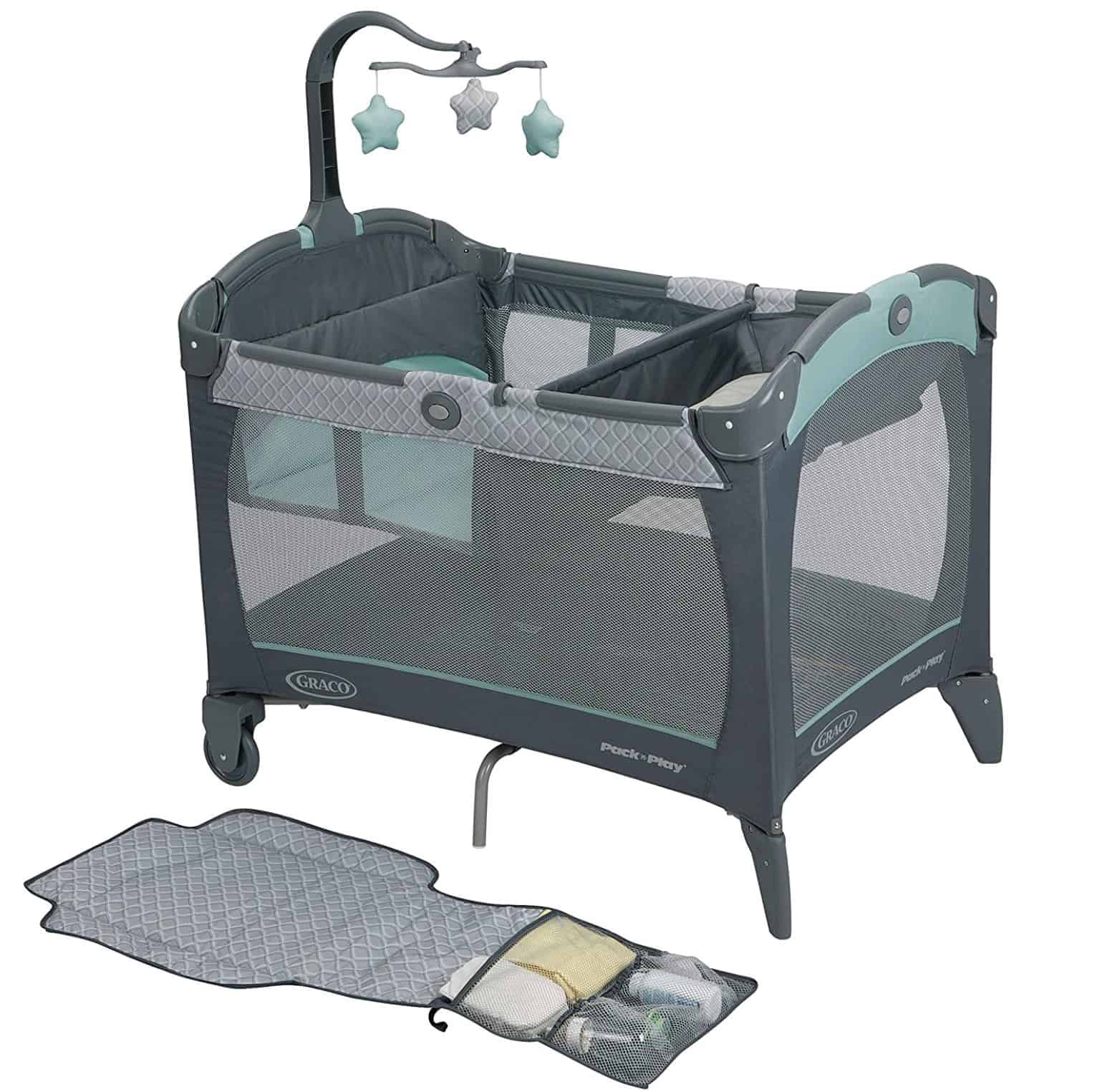 Cost –

$149-259

Style –

Available in two colors

Size –

40 x 28.5 x 29 inches

Weight –

23 pounds
Graco is a great brand that is tried and true. I had this Pack 'n Play and loved its simplicity and clean design. It was easy to set up, came with a bassinet feature, and also a diaper changing station. I did not travel much then, but I think this would be a great all-in-one setup if you and your baby need to travel. The fabric is easy to wipe off and sanitize. This Pack 'n Play has a hanging storage pocket for quick access to baby wipes and accessories.
Pros
Wheels on one end for easy relocation.

Removable diaper changing station.

Diaper wipe and accessory hanging pocket.

Lightweight at 23lbs.

Bassinet and diaper changing station for infants up to 3 months old and 15lbs.

Pack 'n Play can be used for a baby up to 25lbs and 35″ tall.

Fairly easy-to-use folding button.
Cons
I had a hard time closing this Pack 'n Play by myself. It requires some serious flexibility which is not something I had after an emergency c-section.

Depending on the color you choose, it can be a little expensive.

Not a lot of color or style choices.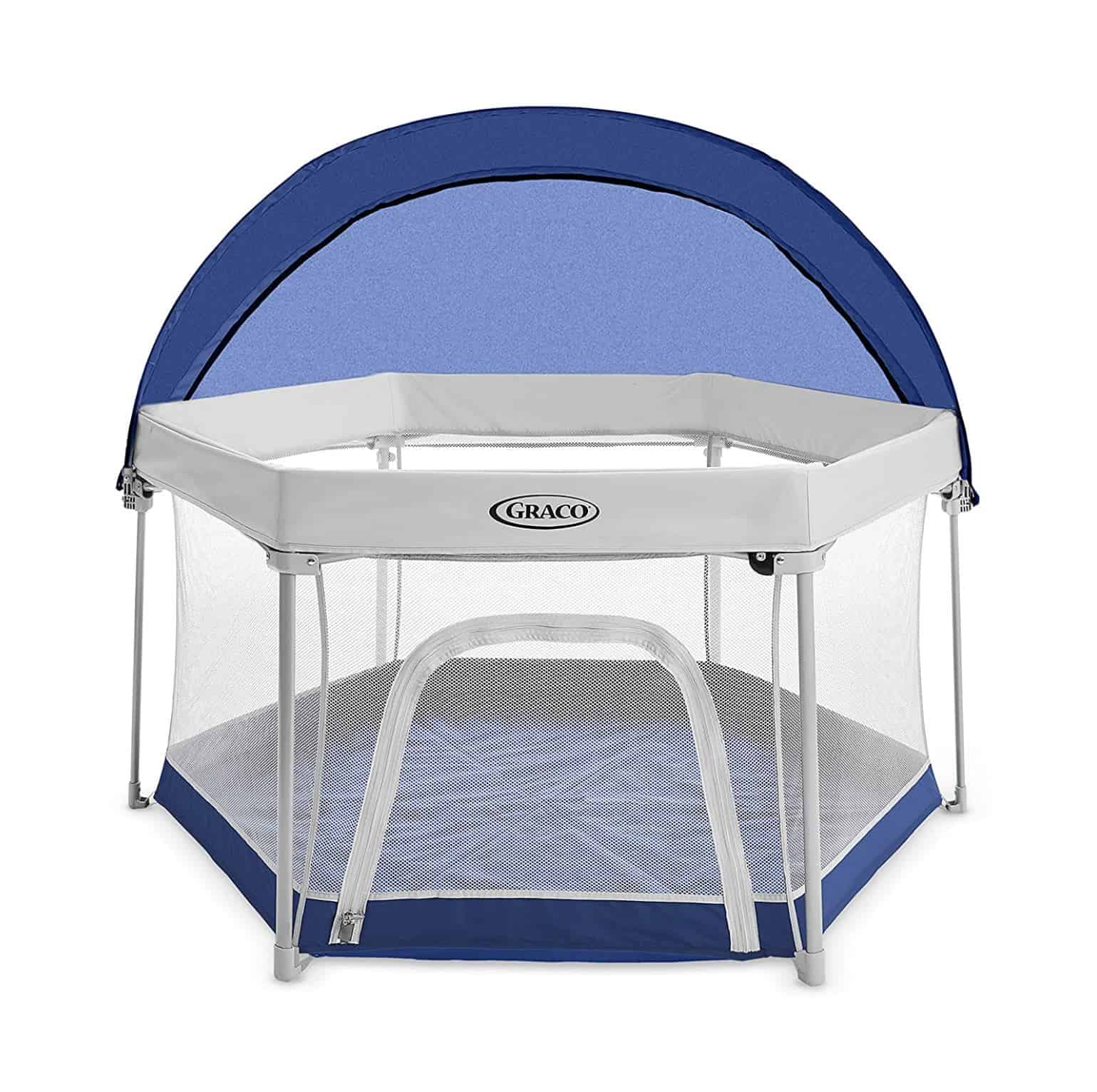 Cost –

$169.97

Style –

Available in two shades of blue

Size –

50.5 x 50.5 x 27 inches

Weight –

16.57 pounds
This Pack 'n Play looks perfect for a picnic or fun day at the beach. It's a bit larger than the traditional Graco Pack 'n Play at 50.5 x 50.5 x 27 inches and has an awesome UVA 50 canopy top that is removable.
Pros
Removable UVA 50 Canopy included.

Larger than the usual Pack 'n Play.

Easy to collapse and store for no-hassle travel.

It is perfect for babysitting grandparents who want a safe place for their grandchild when they visit but also to store it easily out-of-sight when their grandbaby goes home.

Zippered activity door makes it easy to let your child out to play. No lifting.

Sleek and attractive design.
Cons
Not enough bottom mat padding for your little one.

Pack 'n Play sits on the floor so that the bottom side may become dirty over time.

No wheels for quickly moving the Pack 'n Play.

A bit pricey
Read also: Comprehensive Guide to Pack n Play Mattress Pads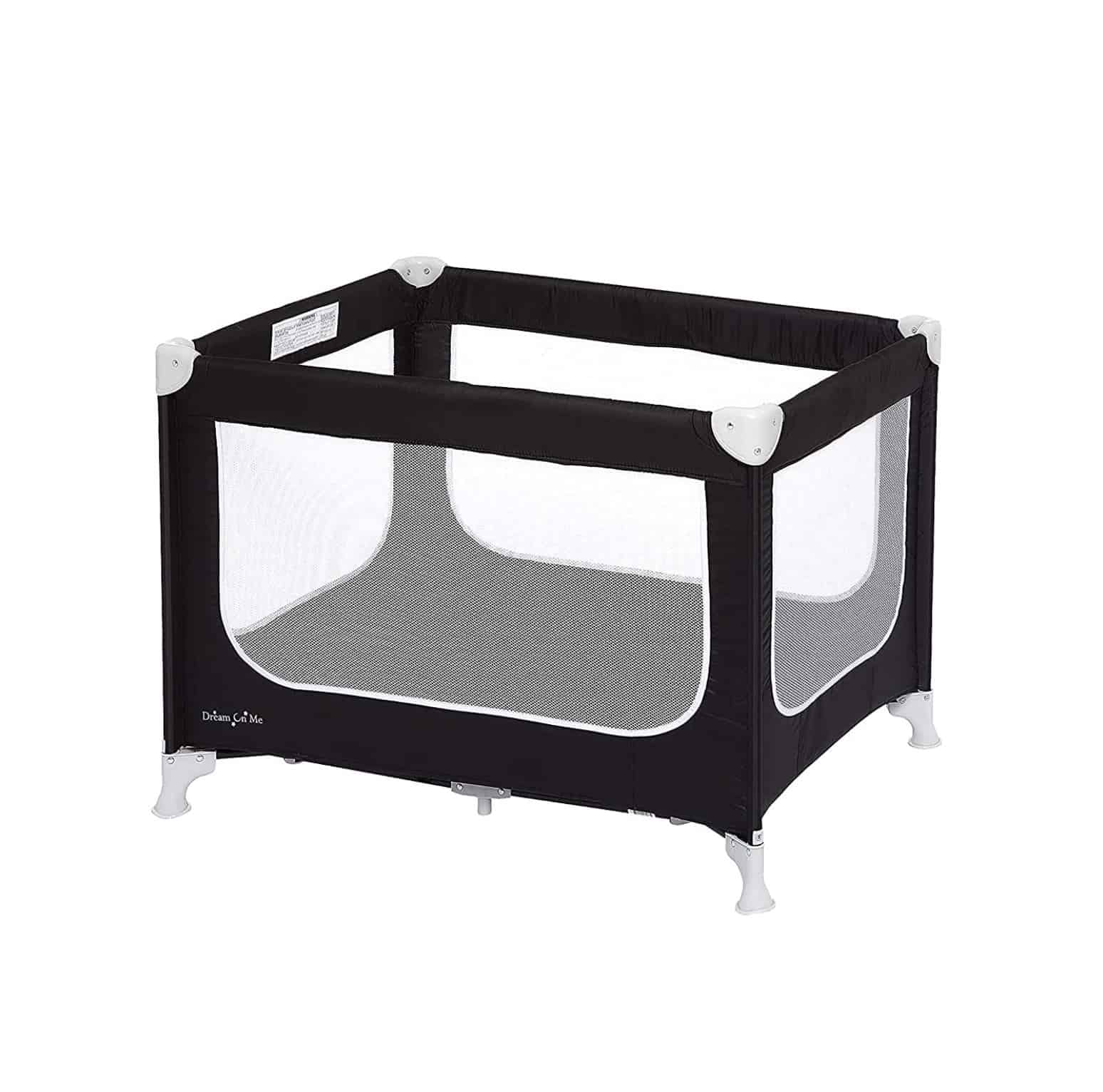 Cost –

$69.99

Style –

Available in eight different colors and patterns

Size –

40 x 27.5 x 25.5 inches

Weight –

16.6 pounds
This is a no-frills, super neat, and simple Pack 'n Play. You can get it in 8 colors, and it won't bankrupt you at $69.99. It is comparable to the simple Graco Pack 'n Play and is intended for children under 36 inches tall. This is a great budget-friendly choice, although you will need to purchase a cushion for comfort on the hard bottom.
Pros
Affordable.

Simple but secure design.

Excellent online reviews.

Easily broken down for storage.

Large selection of colors.

Lightweight.

Small footprint when closed for storage at 29.5 x 8.5 x 7.8 inches.
Cons
Minimal padding in the bottom for your baby. You will need to purchase a cushion to put on top of the padding.

The bottom feet of this Pack 'n Play can become a bit wobbly. 

The small amount of padding that is present at the bottom flattens with only a few uses.
Cost –

$169.99

Style –

Available in four different colors

Size –

59 x 59 x 48 inches

Weight –

7.2 pounds
This is a Pack n' Play that you can take outdoors and set up with complete ease. No fighting to figure it out while holding a fussy baby. Simply pick up the center of the playpen, and it unfolds into a beautiful dome-type mesh tent for baby to enjoy the beach, backyard, or anywhere else you might travel! I love this one for slightly older babies of 4 months+.
It doesn't come with nifty infant accessories like some of the other Pack 'n Plays, including a changing station, bassinet, and wipes bag. If you have one of those already for home and travel, I would highly recommend purchasing this for outdoor fun. I also recommend getting the POP 'N PLAY Octagon Mat for extra comfort and cleanliness. 
Pros
Much larger than similar Pack 'n Play Playpens at 59 x 59 x 48 inches! You can get in out of the sun with baby for a quick snuggle.

Lightweight at 7.2 pounds is a big deal when you're carrying the sweet little monkey, the bag of toys, the other bag of snacks, and the diaper bag with the entire survival kit. 

It is beautifully designed and probably the most gorgeous playpen you can find.

Since this is a massive 48 inches tall, it is also perfectly safe to use with your busy toddler.

A sturdy fiberglass frame will hold up to some serious play.

It comes with stakes, specifically for sand.

When your little princess isn't quite so little anymore, she can use it as a tent for tea parties with the dog, an excellent place for a nap at the beach, or for sleepovers with friends.
Cons
The UV Shade was recalled in Canada for all November 2020 through April 2022 models. 

Cheaper knock-offs are available but beware of reviews.

This sweet baby tent and its accessories are super cheap at $169 for the playpen, $79 for the cushion, and another $45 for the cushion's cover. You will likely want at least two cushion covers in case of accidents. However, you can surely use a blanket instead and save $45.

Baby might get yucky stains on the brightly colored playpens, so be sure to have a bottle of 

OxyClean Baby Spray

on you at all times.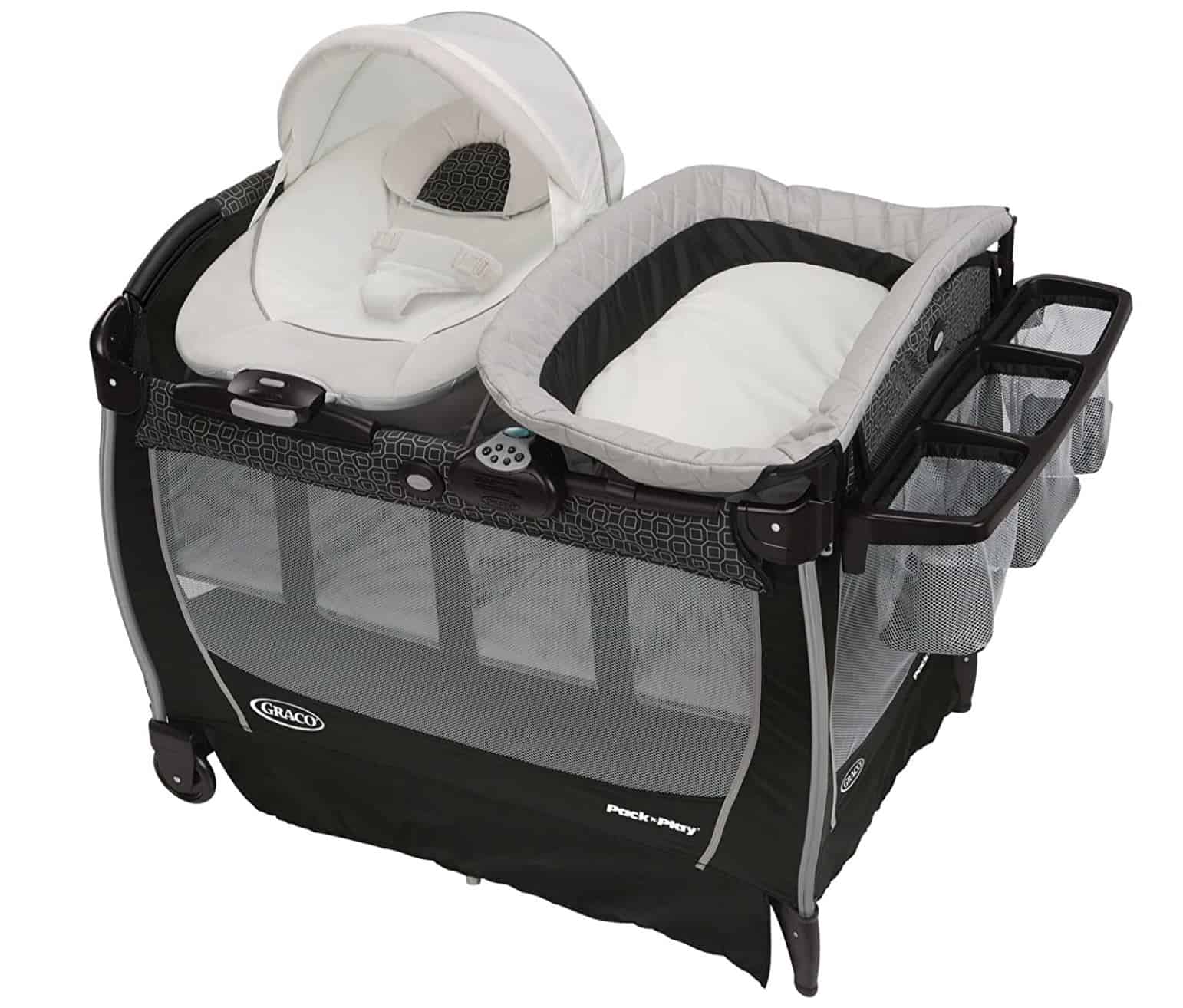 Cost –

$329.99

Style –

Available in two different colors

Size –

28.5 x 40 x 33.3 inches

Weight –

18 pounds
This is the Cadillac of Graco Pack 'n Plays with its removable infant seat/bouncer, an extra large changing station, and several pockets to store wipes and accessories. In addition, the bouncer has a built-in two-speed vibration that helps your little one fall asleep.
Pros
Huge 30-pound maximum changing station.

A vibrating bouncer that is removable and that can be used as an infant seat for up to 18 pounds.

Graco is a highly rated and reviewed baby item supplier.

There's even a removable infant bassinet inside the Pack 'n Play.

Lights and sounds to entertain and soothe your baby. The light also comes in handy for nighttime check-ins. 

Easy one push button for storage.

Storage shelf to hide-away blankets, diapers, and other items.
Cons
Relatively expensive with many extras, which may be something you need.

The bassinet does not come with a mattress, so that needs to be purchased separately. 

Exposed wires for the light and sound that baby could potentially reach.
How to Stay Safe when Using a Pack n Play
Always wipe down your Pack 'n Play after every use. Use antibacterial wipes on everything just in case something yucky magically appears where your baby will be sleeping or playing.

Never boost your Pack 'n Play by putting anything under it to raise it. This will create a safety issue as soon as your tiny human leans on the side.

Never put a Pack 'n Play near a stove, fireplace, or electric heater.

Never use your Pack 'n Play for anything other than keeping your baby secure.

Do not leave your baby in the Pack 'n Play unattended.

Do not put pillows or stuffed animals in with an infant. They can suffocate.

Do not store your Pack 'n Play in the garage. It might leak when it rains and ruin the Pack 'n Play. This happened to me.

Do not leave your child in the Pack 'n Play in direct sunlight. 

Please do not tamper with the Pack 'n Play design or try to add to it. This could cause many safety concerns, from choking to flipping over. 

Never leave your baby in a Pack 'n Play alone with a dog. Babies smell funny and make strange noises. Even the best dog can make a mistake that can cost your baby its life. A dog can quickly jump on the Pack 'n Play and accidentally knock it over. Doing so would startle your baby, and it will likely cry, which the dog might react to strangely. 
FAQs
Question: How long does a Pack 'n Play last?
Answer: Most Pack 'n Plays can be used from infant to three years old without a hiccup. When fitted with a firm mattress and a tight-fitting sheet, most Pack n' Plays meet all safety requirements of the AAP. If you store your Pack 'n Play in a dry place that doesn't get too hot, your Pack 'n Play should last a long time and be perfectly safe to use for the next baby. Of course, always check for damage before using it to ensure the safety of your little one.
Question: What is the most comfortable Pack 'n Play?
Answer: The Nuna SENA is one of the best Pack 'n Plays on the market. It is made with high-quality soft material, and many parents love that the mattress is more comfortable than they ever thought a Pack 'n Play could be. In addition, the whole bed can be raised for newborn babies making it a bassinet. But, unfortunately, they are quite pricey at nearly the $400 mark and only come with the Pack 'n Play and mattress.
Question: Is it okay to let your baby sleep in a Pack 'n Play?
Answer: Absolutely! Many busy mamas opt for Pack 'n Play sleeping because it is safe for their baby. Just like bassinets and cribs, playpens are federally regulated for infant sleep.
Question: How do I choose a Pack 'n Play?
Answer: Safety is most important when choosing a Pack 'n Play, followed by ease of use. Busy moms don't want a Pack 'n Play they will have to fight with to get opened or closed. Look for a Pack 'n Play with all the requirements you need and after you find a couple of those, start looking at value for the money. Don't let cost alone decide which Pack 'n Play you purchase.
Closing Thoughts
I hope this has shed some light on the pros and cons of the top Pack 'n Plays. Being a parent is complex, and when even one small thing is made easy, that's an accomplishment. Sometimes on Amazon, you can find open box deals, and the price can be considerably lower than the original price. All of the Pack 'n Plays reviewed in this article are excellent choices for everyone.
My favorites are the Graco Pack 'n Play Snuggle Suite LX for newborns and up, and the POP 'N GO Portable Baby Playpen California Beach Company is my other favorite. I hope this review has made your buying experience a little less painful. I hope you and your little one enjoy the perks of owning a Pack 'n Play. 
Read also: How to Find the Best Walmart Pack n Plays.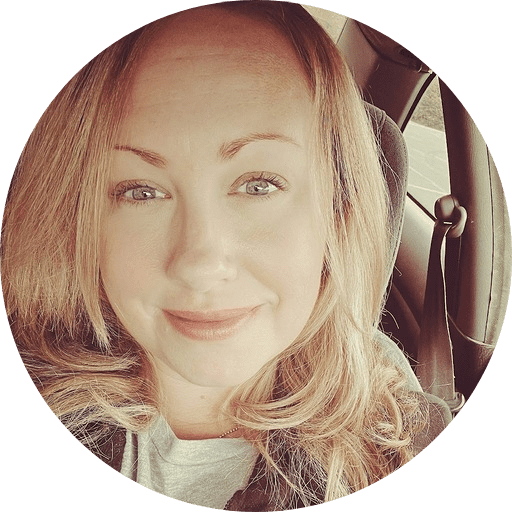 Katie is the mama of a 5-year-old kid. She has experienced every new parent's challenges including sleep schedules. She knows a lot of tricks to better help you and your baby get that much-needed sleep. She ensures your child is safe, happy, and comfortable. In her free time, she loves collectibles from old Muppets stuff to antique vehicles.