Best Walmart Pack-n-Play
Standing in the baby section at Walmart gazing at the rows of pack-n-plays can be daunting. But it doesn't have to be. Before you even go to the store, knowing what you want in terms of size, storage, price, and travel is a great idea. Most of the time, you can find this information online, but weeding through reviews can be a real headache and take up too much time. I hope to alleviate some of your stress by simplifying the purchasing experience by listing the best Walmart Pack n Play they offer, along with their pros and cons.
Being a parent is hard enough; trust me, I know! I felt like I was constantly overwhelmed by baby stuff options when I was about to become a mom and even a while afterward. There are so many choices for everything. I did tons of research and chose the best of the best for my little man. Another thing to keep in mind is too many sensory items can create a sensory overload with our small ones. Most times, simplicity and quiet colors or patterns will be your baby's best friend. Happy shopping!
Bottom Line Upfront
The bottom line is that the Graco Newborn2Toddler Playard is the best overall pick. It has everything you will need, is fairly compact and easy to travel with and it looks nice! As far as comfort for your little one, Graco is an excellent brand for comfort and convenience. They sell just about everything your baby will need.
The runner-up would have to be Joovy Room2Infant Playard. It's quite a bit larger than some of the other pack-n-plays, and I know for my child that was a big bonus. It does not come with a bunch of extra functions or accessories and is very easy to set up and break down for travel.
Winner:  Best Combo Pack-n-Play – Graco Newborn2Toddler Playard
Runner-Up:  Best Large Pack-n-Play – Joovy Room2Infant Playard
Criteria for Selecting the Best of the Best
I only choose pack n plays that I would personally use.
I try to include a range of pack n plays with different price tags.
I like to include pack n plays that offer a bit more.
Keeping space in mind, I choose the best storable pack n plays.
I read reviews and decided which pack n plays have the most minuscule flaws.
I include different variations of the pack-n-play.
I pay close attention to safety features and reviews
I avoid over-priced junk.
I choose pack n plays that will last as long as needed.
Pack-n-Play Care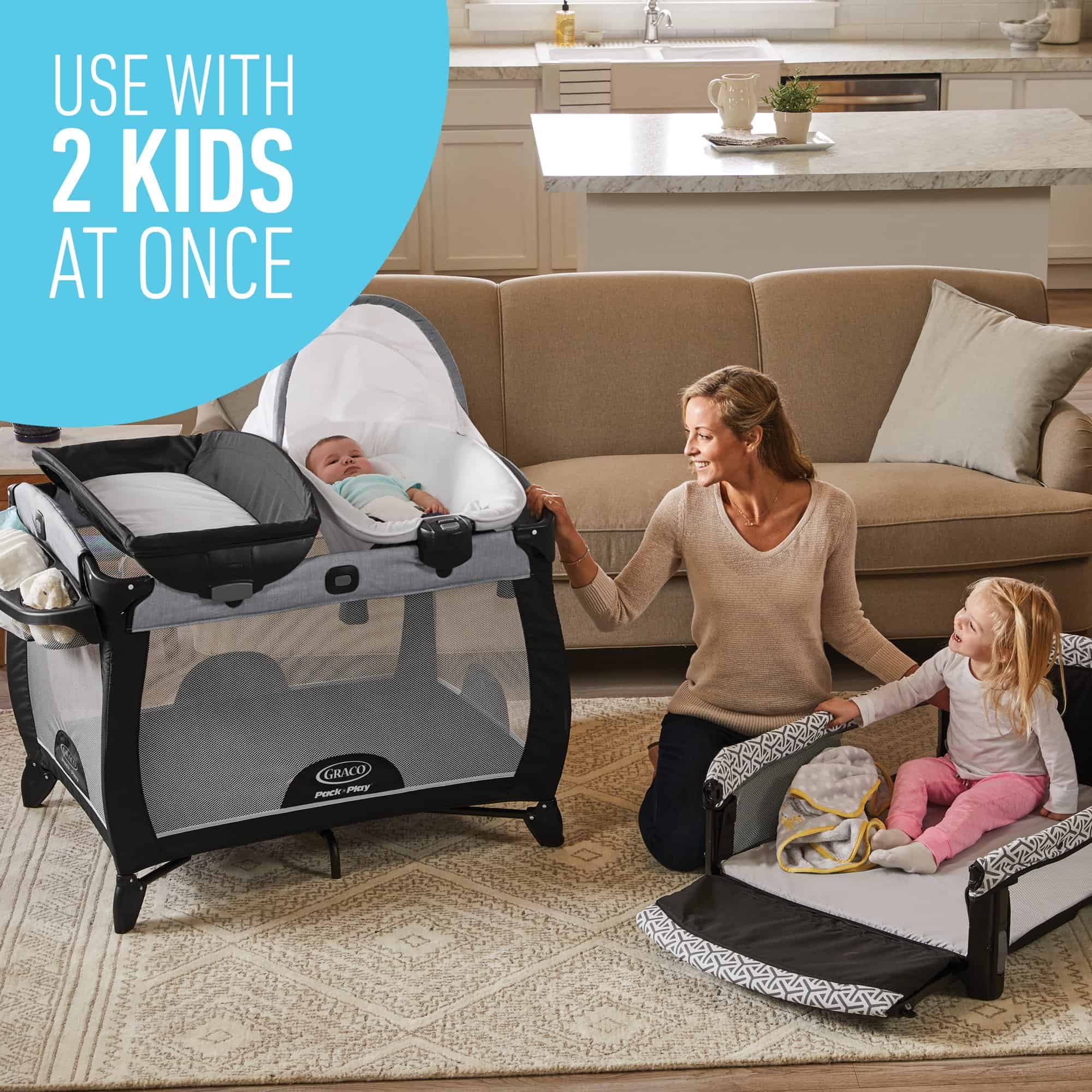 The American Academy of Pediatrics (AAP) recommends regular cleaning to keep your family healthy and safe. Pack n plays are easy to clean and sanitize.
Always wipe down the pack n play after each use.
Use antibacterial wipes or spray on the surface that the baby touches.
Check the top border of the pack n play for rips and tears. You don't want the baby choking on stuffing or plastic.
If a liquid is spilled in the pack n play, clean it as best as you can and set it in the sun (without a baby) to dry.
Do not store it outside or in a garage. Between the weather changes and possible leaks, it's always best to keep your pack n play indoors.
Make sure to clean the feet and wheels, so they do not track dirt around your house or scratch your floor.
Put the pack-n-play in its storage bag for easy transport and to keep it looking like new.
Do not use bleach on the pack n play because it will leave behind a foul smell on the material. Just wipe with a baby-friendly antibacterial wipe.
If you need to wash the pack-n-play mattress, try soaking it in your bathtub with a bit of detergent, baking soda, hot water, and white vinegar for an hour, then place it in the sun until it is completely dry.
Always check the owner's manual on the best practices to keep your pack n play clean.
Best Walmart Pack-n-Plays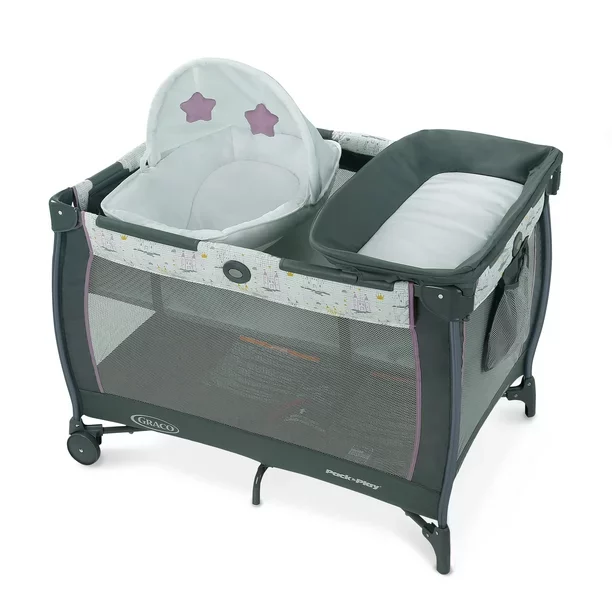 The Graco Pack-n-Play Newborn2Toddler Playard is great! It has an all-in-one sleep and playard for infants to toddlers. It is also super convenient with seven different ways of use. This playard has all you need to keep your little one safe, comfortable and happy. It is a bit more than some of the lesser accessorized pack n plays, but, in my opinion, it's worth it. Especially if you frequently travel with your little one.
Pros
There is a diaper station that is easily wiped down.
The pack-n-play comes with a storage area for all the essentials.
The wheels are a plus but come with all Graco pack-n-plays. It really makes repositing the pack-n-play easy on you and your hardwood floor!
All Graco pack-n-plays comes with that nifty button to collapse and prepare for storage.
It becomes an excellent toddler cot once your child gets a little older.
The two patterns available are cute!
I love the cot but am willing to bet it doesn't have much cushion for comfort.
If you have two small children, this will work for both simultaneously.
The ability to have a low or high bassinet is appealing. Are you doing yoga? The low bassinet is perfect! Sleeping? The high bassinet allows you to see your little one while lying down in your bed.
Cons
This model is a bit pricy when not on sale. Always check around before purchasing. Sometimes Graco has coupons and deals on their site.
There are only two color and pattern options for this model.
As I've already mentioned, the cushion on the cot could be thicker for toddler comfort.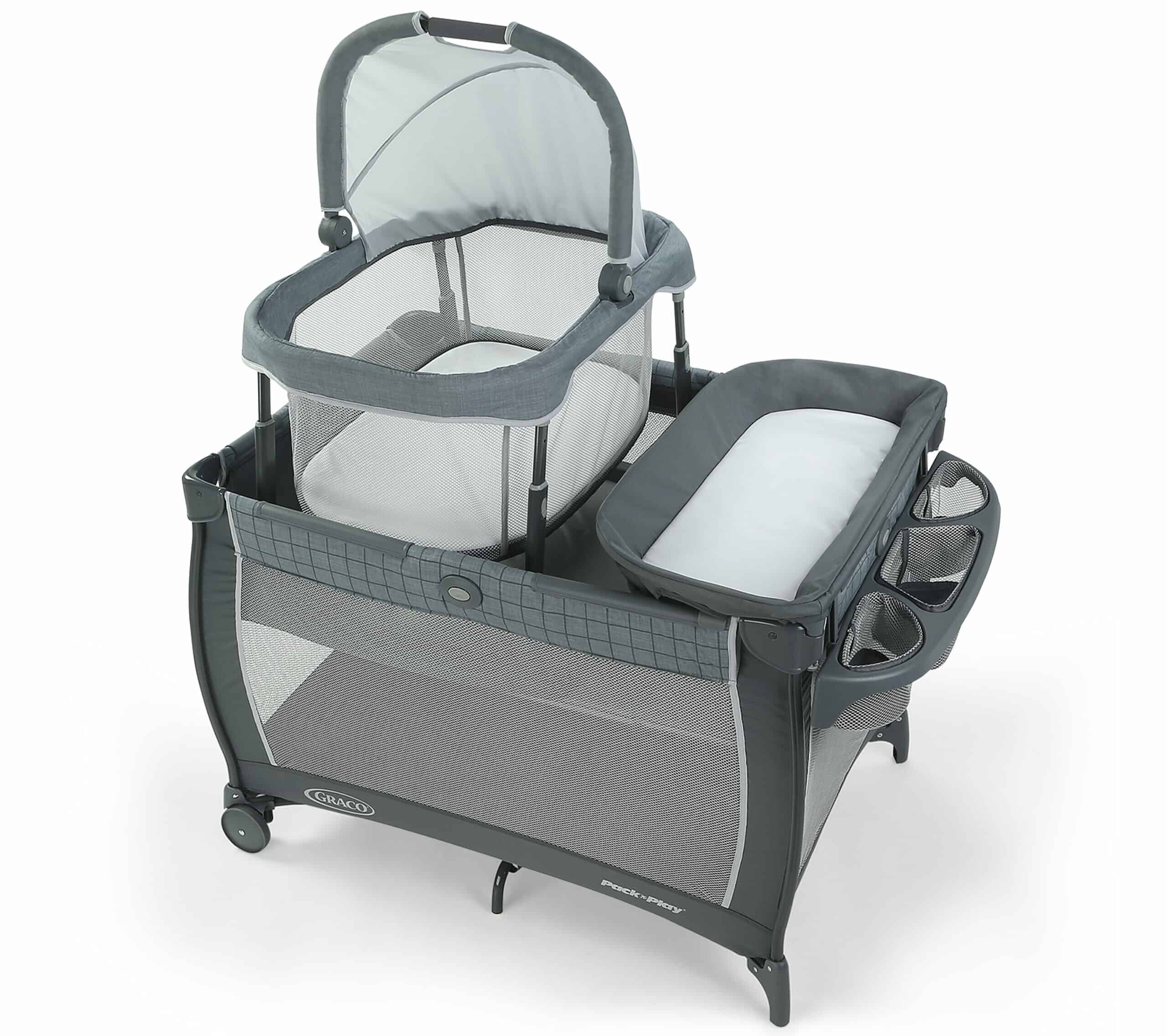 This Graco pack-n-play comes with everything to get you started with your new baby. It has an excellent travel or home use bassinet that looks nice and serves the purpose of a bedside bassinet. It can be positioned in two ways and is collapsable for easing carry. The play area is typical of Graco and comes with storage pockets for whatever you need most.
Pros
Fantastic two-position bassinet with its own carrying case.
A diaper changing station is a must; this one comes with storage.
The bassinet's highest position will allow you to check on your tiny human while remaining in your bed.
The changing table/diaper station material is super easy to clean and tends not to stain.
The toddler or baby playard is spacious at 47x29x33 inches.
The bassinet and playard have separate storage bags.
Cons
Not the least expensive on the list, but it is worth it.
I do not see any options for color or pattern.
It's not terrible, but if you are trying to carry all of this and your baby, you'll end up with pain, muscles, or both. It weighs 39 pounds when assembled.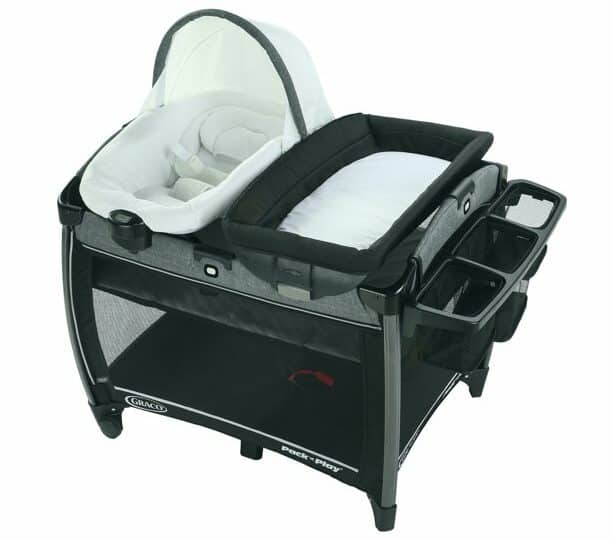 This Graco pack-n-play is probably the easiest to disassemble for washing. Pretty much anywhere your baby can get messy can also be washed in your washing machine. That sure makes this one less of a headache than others. It has an infant seat, a diaper changing station, an infant bassinet, and a playard.
Pros
The cute baby seat is excellent for moving your little one from room to room while you do housework.
The infant bassinet is the perfect size for your tiny bundle of joy.
The baby seat has a very supportive and plush headrest for your infant.
The material on the pack-n-play's diaper station, playard, bassinet, and seat are quickly removable for washing.
The Quick Connect snaps make the fabric covers easy to return to their original positions.
This pack-n-play weighs a little less, given what it offers, at 29 pounds.
Cons
This pack-n-play is still one of the pricier ones on my list. However, it does come with tons of extras, making it not your everyday playard.
Once again, I am only seeing one color and pattern option.
The cardboard inside the playard floor could become gross and damaged over time, and you'll need to replace it.
This is a slightly smaller playard than the previous entry at 40×28.5×34 inches.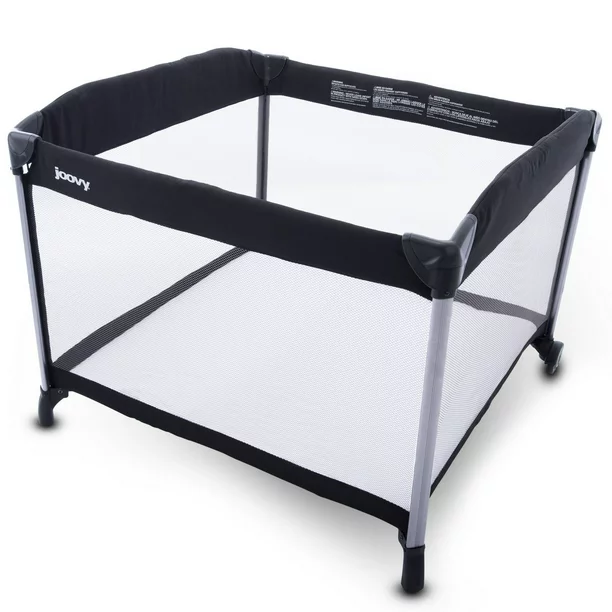 The Joovy Room2Infant Playard is a basic, no-frills or complicated additions pack-n-play. It is much larger than the average playard, which is its best part. Joovy is also a well-liked and respected name with parents. Setting up and storing the pack-n-play in the included travel bag is easy.
Pros
This playard is a wonderful 50% larger than other similar pack-n-plays.
Easy to open and easy to store for future use.
It has a sturdy steel frame for longevity.
The pack-n-plays wheels make it easy to move around your home or office.
The mesh screening on the pack-n-play is wall to wall, so your little one can see everything without battling blind spots.
This playard comes with sheets! I think it might be the only pack-n-play that comes with any.
This playard can be used with children up to 35 inches tall, extending its usage.
I like the minimalistic look and the simplicity of this model.
Cons
Sometimes frills and extras are fun. This model offers none.
This pack-n-play only has two color options, but the mesh is wall to wall, so the color doesn't matter too much.
Reviews state the sheets may not fit the bottom of the playard properly.
This pack-n-play is expensive, but in my opinion, more space in a playard is worth the extra money spent. You may agree to opt for a smaller pack-n-play and purchase a larger one. I am guilty of that!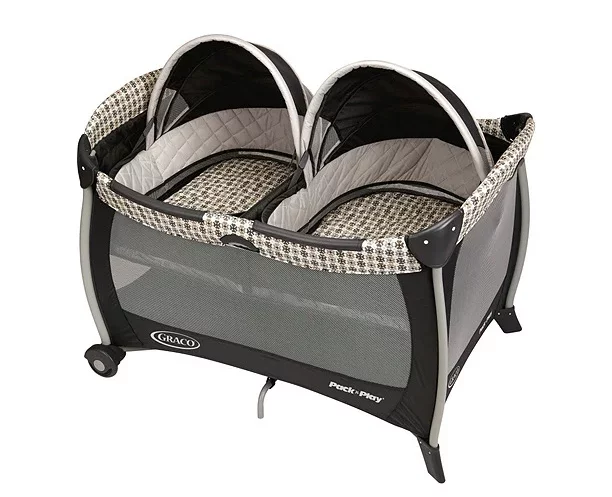 This bassinet and pack-n-play combo aren't super fancy, and that's quite alright! It is made for twins, which makes it pretty cool and cost-effective right up front. I like the simplicity of it and the ease that it makes the caretaker's life when both little angels can be right next to each other even during travel. But, of course, if you have twins and have to purchase two of everything, this could get expensive quickly. So, this setup does help a little bit.
Pros
If you are lucky enough to have twins, this will absolutely simplify one small part of the process.
The simplicity and ease of use with this pack-n-play justifies why you need it as a parent of twins.
The patterns are simple and elegant and blend in with most home decor.
If you are unlucky enough to travel with twin infants, this will solve some of your hotel staying issues by providing an easy-to-carry, comfy travel bed and play area for your babies to keep them off the hotel's dirty floor.
Once your babies outgrew the bassinet, they can get extended use out of the pack-n-play until they are 35 inches tall or over 30 pounds.
The price is decent given what all you get with the package. As I've said before, check the Graco website. They frequently offer coupons.
Cons
You likely already know this, but the bassinets are only for infants who cannot push themselves up or sit up.
The weight limit for the bassinets is 15 pounds, which means if you have one of those ten-pound babies, this will not work for them for long.
As simplistic as the design and equipment are, this might be a bit expensive for some parents.
I would love to see Graco make silly, baby-themed prints for their fabric instead of only using dull colors and patterns.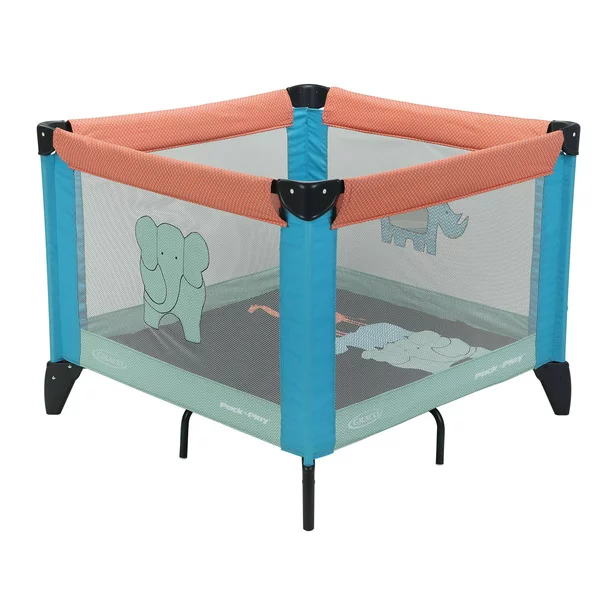 This playard is simple and reminiscent of playpens from long ago. I had one similar as a child in the 80s. I like the simplicity and the adorable elephants along the playard, but I wish there were options for animal type and color. I think this is a good buy, but if you are on a tight budget, you might be able to find something identical for less. I trust Graco products more than any other brand, and many other mamas out there would strongly agree.
Pros
It's a good size for a little buddy to play in at 38x38x30 inches.
This pack-n-play is rated for up to twenty-five pounds.
The animals and colors are adorable! So much cuter than other Graco products (as I stated in my previous listing).
It has toys that make sounds and a mirror to entertain your little one.
Graco's airy mesh all the way around allows for proper ventilation.
The playard weighs slightly less than twenty-five pounds.
It sits off the ground, so you will not need to worry about your little one smacking their head on the floor.
Cons
Reviews state that people have struggled to get this playard to close up for storage.
If you do some research, you will find numerous slightly cheaper knockoffs.
 The colors are tranquil and soft. I would like it more if they were brighter and more appealing to a baby.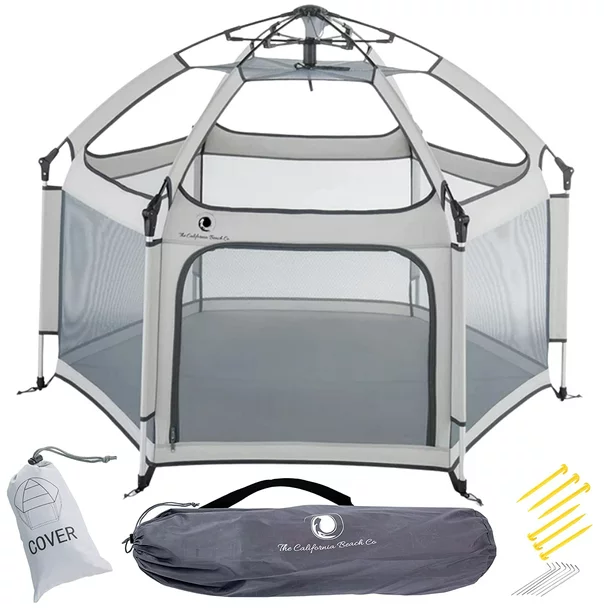 I seriously love this pack-n-play so much! If you love the outdoors and wish to share that love with your little one, this baby tent/pack-n-play is perfect for you. It seems super easy to open and close, which matters so much when juggling a baby, the baby's diaper bag, toys, snacks, and a pack-n-play. The easier you can set it up or break it down, the better off you are.
Pros
At a staggering 54 inches across and 48 inches wide, this is one of the larger pack-n-plays you will find.
The dome top has a UVA-resistant cover to keep your baby out of the sun.
You can choose from four different and exciting colors.
This pack-n-play comes with stakes to hold it securely on the ground outside.
You can use this for infants up to adults! Your little one can use it as a play tent when they have outgrown it as a pack-n-play. It's also lovely to take on a picnic. You and your child can sit inside and out of the sun.
It only weighs 7.2 pounds which is simply fantastic.
Cons
It looks like it sits on the ground, so if your baby falls over, they can hit their head and get hurt.
It does not come with a mattress or mattress cover, and for the price, it should.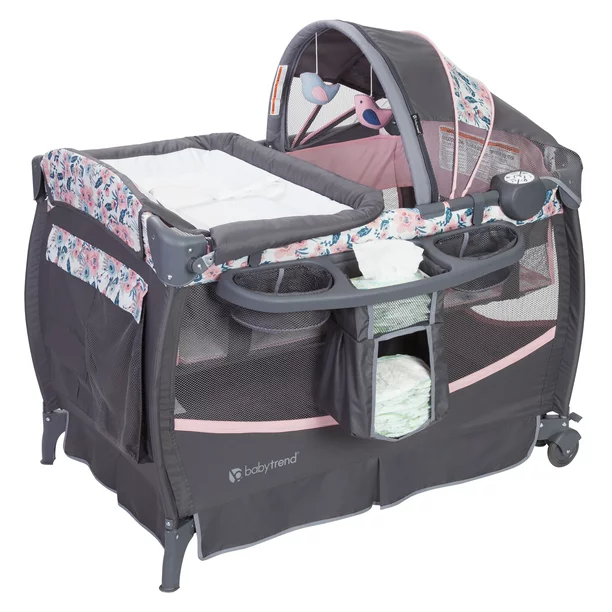 This one is a complete bassinet/pack-n-play combo boasting its handiness with the many accessories available. With vibration and music, it adds something extra. This pack-n-play combo has a bassinet, diaper station, storage pockets, and a good-sized pack-n-play. It is convenient and about $100 less than some of the competitors.
Pros
This pack-n-play plays nature sounds or soft music to lull your baby to sleep.
The gentle vibration setting is something babies enjoy. You can use the vibration and sounds or not use them.
This pack-n-play even has an actual diaper caddy so that you will have everything ready for quick diaper changing.
The two color and pattern choices are adorable and have small animals hanging from the canopy.
The canopy and diaper station can be moved out of the way.
The mattress has two adjustable height settings to use as a pack-n-play or a bassinet.
Cons
The mattress is said to be stiff and likely uncomfortable. Most baby beds are sturdier than what we are used to in order to keep baby safe.
It would be nice if they had more color/animal options. Right now, you have the choice of giraffes or birds.
You will need to purchase mattress sheets and can likely buy a different mattress altogether if you would like.
Reviews state this may be hard to close and store. Also, this is said to wear out fairly quickly due to more manufacturing.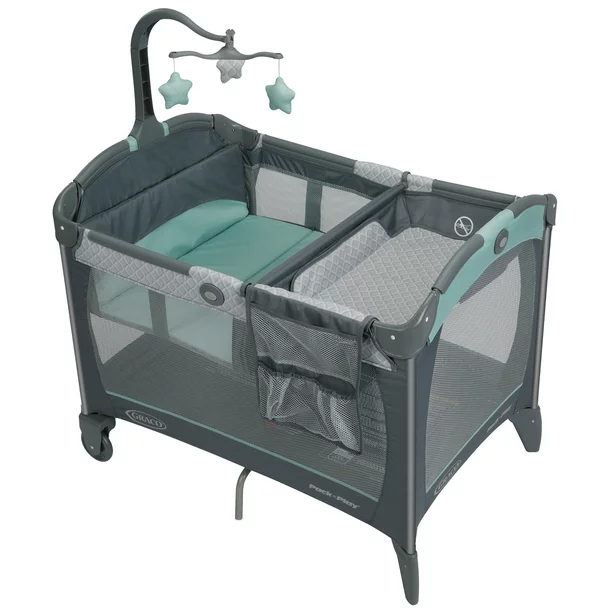 I had this mint green and soft green pack 'n play for my child, and I loved it. It lasted a long time, and I could give it to another mama in need once I was finished with it. I recall it being effortless to open and close. The pad on the bottom was reasonably comfortable, but babies can't have a soft, squishy mattress. I loved the diaper changing station and liked how I could remove it and place it on the floor to change my little guy. Also, it made it easy to clean. The bassinet is at bed level, so you can quickly peak in while staying in your bed.
Pros
This pack-n-play has a removable diaper changing station to make floor changing and cleaning super easy.
It's charming in green and brown and has an earthy vibe.
Not insanely expensive and does the job.
The bassinet is simple but cozy, with easy access while you remain in bed.
Wheels on one end help you navigate the house.
Center supports on the pack-n-play make it much sturdier. Most Graco pack-n-plays come this way.
Cons
The mattress could have been a little bit softer. It is cardboard on the inside, so you can guess how comfy that would be to sleep in.
It does not come with mattress sheets, but most pack-n-plays don't.
This is a Graco knockoff of the previously reviewed pack-n-play. It is simple and nice with all the accessories the Graco model comes with, minus the removable diaper station for floor changing. I wanted to include it here for the parents on a budget. It gets super expensive caring for our little ones and helps save where you can. This is half the price of the above and similar Graco pack-n-plays.
Pros
It is decently large at 27.75 x 37.4 x 40.20 inches.
The diaper station is removable, and storage pockets unsnap to go where you go.
Half the price of most pack-n-play/bassinet combos.
The diaper station is waterproof, as it should be!
Cons
I do not see any other pattern or color options.
The bottom folding area around the feet looks like you could easily get pinched trying to fold it back down.
This is an extremely basic pack-n-play without accessories or frills. It does the job but if you want something that comes with a diaper station or bassinet, look elsewhere. This is perfect if you need an extra pack-n-play for travel, grandparents' home, or in your own home. If you already have a bassinet and changing table and don't need those things while traveling, this is perfect for you and costs under $50.
Pros
Ten color and pattern choices!
Priced very reasonably.
Easy to fold and unfold.
Wheels and support for added assistance.
Cons
It does not come with a diaper station, changing pad, bassinet, toys, or sounds.
Probably not as durable or easy to clean as the fancier brands.
FAQ
Question: What is the difference between a pack-n-play and a playard?
Answer: Not a whole lot. A playard can sometimes be accessorized with a mattress and sheets, whereas a pack-n-play is not safe that way. They are otherwise the same.
Question: What is the most comfortable pack-n-play?
Question: Are you supposed to put a mattress in a pack-n-play?
Answer: Definitely not! The safest and best way to use your pack-n-play is exactly how it comes out of the box.
Conclusion
In conclusion, I think the Graco Newborn2Toddler Playard is the all-around best pack-n-play you can get. The runner up would be the Joovy Room2Infant Playard because of its size and durability. However, it truly is up to you, the parent, to choose what you think will be best for your little one. All of these choices in this guide are good choices. It just depends on your budget and your needs. Parenting can be challenging, but it's also a lot of fun. I do hope this review has shed some light on your choice of pack-n-plays out there.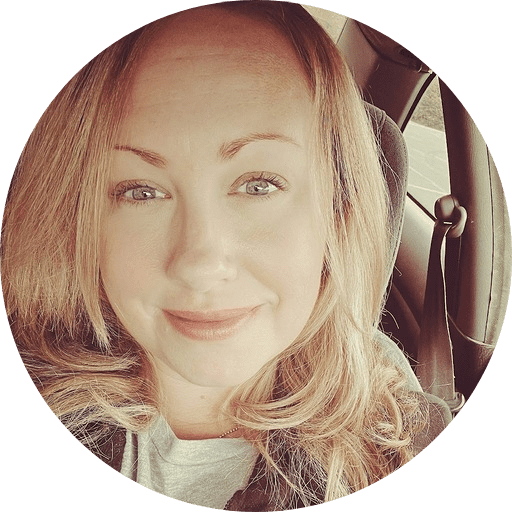 Katie is the mama of a 5-year-old kid. She has experienced every new parent's challenges including sleep schedules. She knows a lot of tricks to better help you and your baby get that much-needed sleep. She ensures your child is safe, happy, and comfortable. In her free time, she loves collectibles from old Muppets stuff to antique vehicles.