Having a baby is one of the most enriching and overwhelming experiences in life. You have incredible joy over your new arrival. You also feel the weight of responsibility for all the decisions you have to make to care for your baby.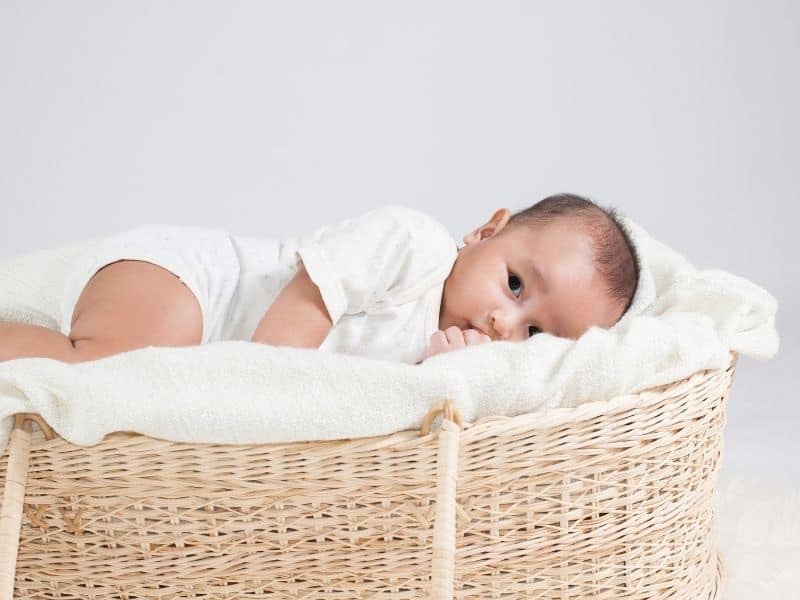 Choosing a safe and cozy place for your baby to sleep is on the top of that list of decisions you have to make. There are so many possibilities to sort through and research.
In this article I want to clear the air on the 'famous' Moses baskets.
First, I'll tell you all about Moses baskets and what safety measures to look for. I'll answer the question of 'what are Moses baskets for?' Then I'll look at how Moses baskets compare to other baby sleep options such as bassinets, co-sleepers, and cribs.
Moses Baskets
By reading the name of this product, you probably have an image in your head of a woven basket just big enough for a newborn baby.
You are not too far off from the truth. However, you won't be floating your baby down the Nile in this Moses basket.
A Moses basket is used as a portable sleep space for a baby up to 4 months old. They typically have a maximum weight limit of 15-20 lbs. They are woven from palm, maize, corn husk, or whicker. They have two handles on the sides and usually come with a mattress, sheet, and canopy.
What is a Moses basket used for?
Moses baskets are a wonderful solution for keeping babies nearby throughout your day. Although it doesn't seem like it, babies spend most of their day (and night) sleeping.
Moses baskets or baby baskets are easily portable, so you can keep your baby near you as you move about your home during the day. Moses baskets can be an alternative to bassinets. More on that later.
First, let's look at whether Moses baskets are safe.
Safe Sleeping Spaces for Newborns
The first priority for your baby's sleep space is safety. There are general guidelines for safe sleep places for babies and a few that apply specifically to Moses baskets.
Here are the general safe sleep guidelines from the AAP
put baby to sleep on a firm mattress
there should be no gaps larger than 2 finger-width
do not put blankets, pillows, or bumpers in with baby
put baby to sleep on his/her back
Those are some general guidelines for designing your baby's sleep space. Here are some that are specific to Moses baskets and bassinets. You will see that there are many similarities since Moses baskets can be used as alternatives to bassinets.
Use only manufacturer's mattress
Always place on a firm, flat surface
Never place on an elevated surface such as a table or chair
Never place near stairs
Never place near a heat source, water, or window
Place handles outside of the basket
Never attach toys to the basket
Do not allow pets or other children in the basket with baby
When following the manufacturer's guidelines and safety guidelines set by the Consumer Product Safety Commission (CPSC), a Moses basket is safe to use as a portable, cozy place for your baby to sleep or nap.
Here are a few additional safety features to look for when picking out a baby basket.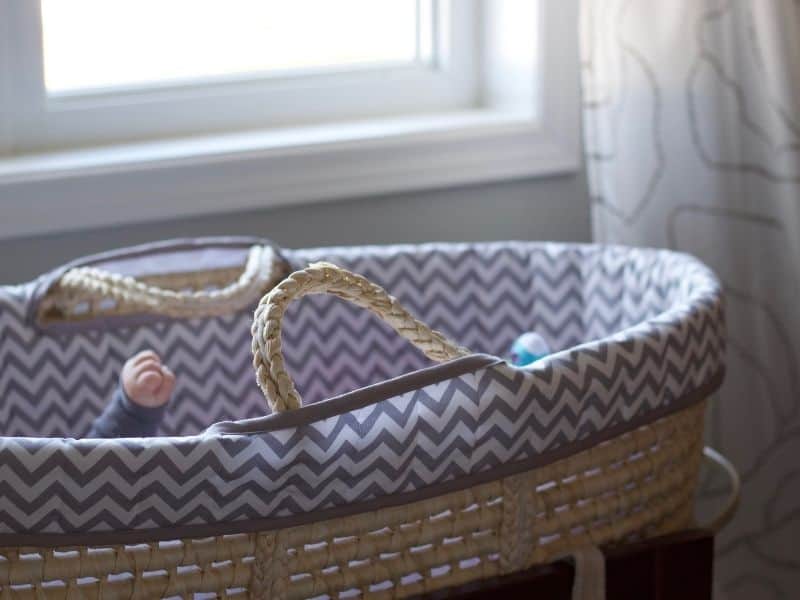 Make sure that the sides are high and sturdy. You should stop using a Moses basket when your baby learns to roll and sit up on his own. But even newborns can wiggle and move around in their sleep space, so firm sides are essential. Be sure that the handles are strong and well attached to the rest of the basket.
You will find that the CPSC guidelines that govern the safety of Moses baskets are the same as those for bassinets. There is a lot of overlap between Moses baskets and bassinets. There are also a few key differences. Let's take a look at bassinets now.
Bassinet Vs Moses Basket – What are the differences
A bassinet is the baby sleep product that is most similar to a Moses basket compared to co-sleepers and cribs. A bassinet is intended a safe and comfortable place for newborns to sleep.
They come with a mattress and canopy. Many models have a storage space in the base.
Since a bassinet is smaller and lighter than a crib, it is also considered a portable item. It is fairly simple to move a bassinet from your bedroom to the family room or wherever you will be in your home.
Like a Moses basket, a bassinet is only helpful for a short time. You'll stop using a Moses basket when your baby is about 4 months old. Usually, a bassinet can be used up to the age of 6 months.
Most bassinets will have storage space in the bottom underneath where the baby sleeps. This is a convenient space-saving feature. It is also easier to lower your baby into a bassinet that is about the height of your waist. Some pack-n-play models have a bassinet-like feature. You can read more about that here.
Makers of Moses baskets have helped solve this problem by designing stands to be used with their Moses baskets. It effectively turns the Moses basket into a bassinet at your convenience.
Moses Basket and Bassinet Sleep Safety
Are Moses baskets safe? Yes.
The CPSC sets guidelines for consumers who are looking to purchase a bassinet. The same standards apply to Moses baskets. Here are a few of their policies that are specific to these products.
Must have enclosed opening to prevent entrapment
Must be structurally sufficient to hold a newborn
Must be stable
Must have high sides to prevent falls
Must NOT have small parts
Must NOT have unintentional folding requirements'
The general guidelines for safe places for babies to sleep listed above would also apply to bassinets.
See their website if you would like to see if a specific product has received the Juvenile Product Manufacturers Association (JPMA) seal of approval. JPMA lab tests products such as bassinets and Moses baskets to help you have peace of mind about selecting a product.
Co-Sleeper vs Moses Basket
The next baby sleep product we'll look at is the co-sleeper. Note that no matter what sleep system you choose for your baby, pediatricians recommend that your baby should sleep in the same room with you for at least the first six months of life.
Co-sleeping, which is practiced by many parents who follow Attachment Parenting philosophy, means bringing your baby into your bed to sleep. Some dangers need to be mitigated to safely share your bed with your baby.
suffocation by accessories such as pillows and blankets
crushing due to a parent rolling onto the baby
baby falling off the edge of the bed
insufficient sleep for parents and baby
A co-sleeper is an extension for your bed with a railing around three sides and either a low or no railing on the side that faces the bed. A co-sleeper does well to mitigate those risks associated with bed sharing with your baby.
The baby has her own space to sleep that is free of fluffy accessories that create a suffocation hazard. Co-sleepers are great for breastfeeding mothers because they don't have to get out of bed and lift the baby from a bassinet or Moses basket for feeding.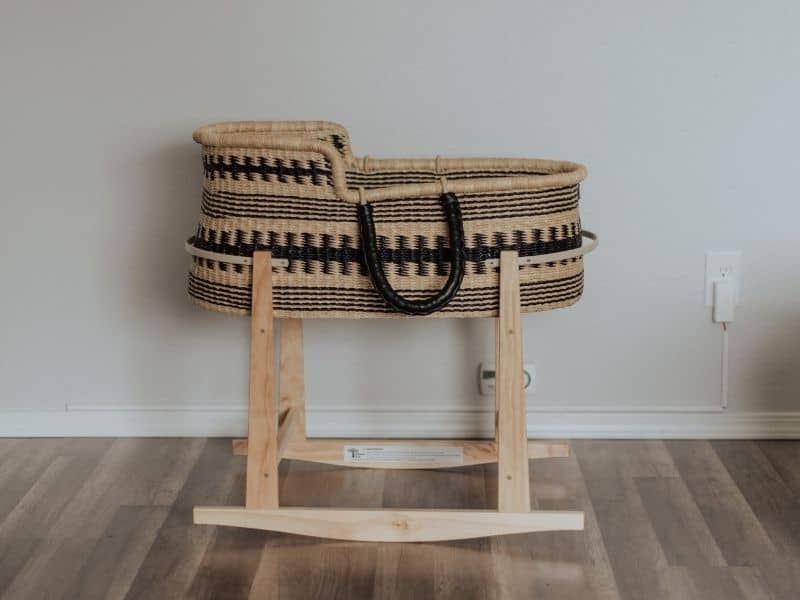 There are two main cons to a co-sleeper.
The first is that it is not portable like a Moses basket or bassinet. This sleep system will remain in the bedroom, so you may end up purchasing another product for keeping your baby near you during daytime naps. See this article on co-sleepers vs bassinets.
Second, a co-sleeper, like a Moses basket, will only serve you for a limited time. You can use this system until your baby is about one year old.
Crib vs Moses Basket
The last option we will consider is the crib. Cribs are a staple when it comes to nursery furniture. It will likely be one of the biggest investments you will make in your baby's room. Several models available convert to a toddler bed and even a twin bed, so that investment goes a long way.
The advantage of purchasing only a crib and using it for your baby's naps and nighttime sleep is that you only have to buy this one product. However, the American Academy of Pediatrics does recommend sharing a room with your baby for at least six months.
Unless your bedroom is large enough to accommodate the crib, you will likely want to invest in another sleep option for the first several months.
Moses Basket Pros and Cons
Pros
least expensive option for baby sleep system
easily portable
safe for day-time naps and nighttime sleep
can be used in conjunction with other sleep options
Cons
only used for a few months compared to the cost
The Verdict
There are many good reasons to utilize a Moses basket as part of your baby's sleep routine. It is nice to have a safe, cozy place to keep your baby nearby during the day. The only real drawback is that you will only use a Moses basket for the first few months of your baby's life. You can decide if the cost is worth the conveniences provided by this product.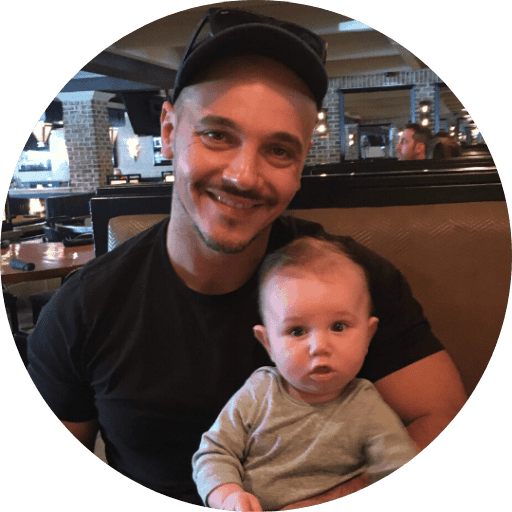 Paul is a passionate dad who founded Upside Dad to share his parenting journey with other new parents. He graduated from Concordia University and worked as a test engineer for over a decade. Paul loves dad jokes and craft beer.
Learn more about Paul and Upside Dad here.