A swing can be a lifesaver on those long, fussy days. It does, however, come with a set of rules you need to follow to make sure you're not taking unnecessary risks.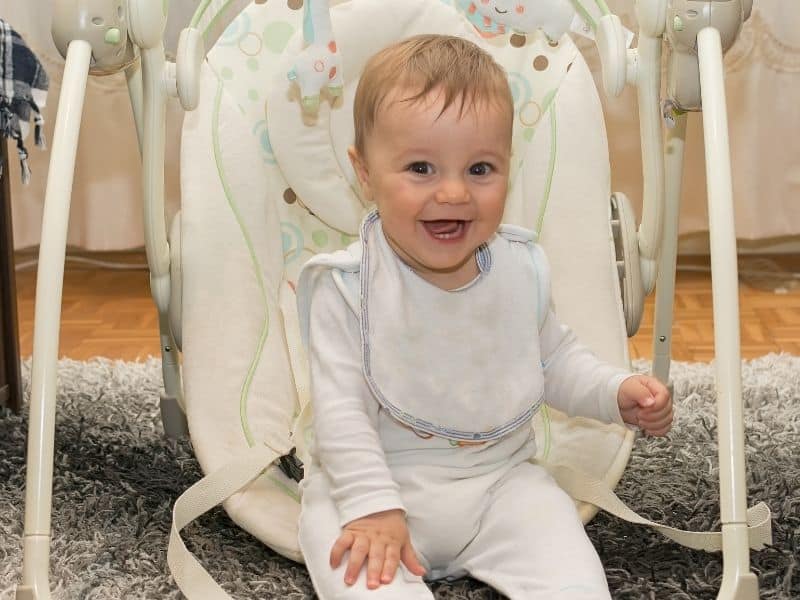 Today, we'll go beyond answering basic questions about when to stop using a baby swing. We'll chart some unfamiliar waters of baby safety and make sure we understand the reasoning behind our decisions.
If that sounds like something you have the patience for, bear with me for a few minutes.
The timeline of using a baby swing
Baby swings can typically be used from birth until the specified weight or age limit. The weight limit on swings can vary from 25 to 35 pounds, and most swings don't have an age limit.
See the table below for weight limits of the most popular swings.
When to start using baby swings
It's perfectly fine to start using a baby swing early, even with newborns, as long as you follow a few simple rules.
The primary safety precaution for newborns (up to 4 months of age) is choosing an adjustable swing with a wide range of angles and only using it in the most reclined position.
You can learn more about this by reading my guide on how long newborns can be in baby swings.
When to stop using baby swings
When do babies outgrow swings?
A majority of babies will outgrow a swing by the time they're 9-10 months old.
With that said, you should stop using the infant swing once the baby reaches the weight limit or tries to crawl out.
For some swings, this is not goodbye – there are models designed to transform into baby seats.
When do babies stop liking swings?
There's no universal age when babies stop liking swings. Those who initially like them can start losing interest in one month or continue loving their swing until they reach the age/weight limit.
What about premature babies?
For premature babies, the only qualified authority for using a baby swing safely is your pediatrician.
Outside baby swings
To use an outside swing, the baby should have enough control of their neck and abdominal muscles to sit independently. They should be able to control their heads without wobbling.
The risk of tipping over or falling out
Even if your baby is still well within the weight limits of the swing, they might start fussing and trying to crawl out of it. This is a good sign that you should stop using the swing.
For two reasons…
One – they are probably not comfortable in the swing anymore.
Two – as soon as they start fussing and making attempts to crawl out, the risk of them tipping the swing over, falling out, or getting tangled in the straps goes up dramatically.
The risk of developing flat-head
Both Consumer Reports and the AAP warn that leaving your baby in the swing for more than 30 minutes at a time (or one hour a day) increases the risk of the baby developing flat spots on their head.
The risk of brain damage
DOctors and specialists agree that the risk of getting brain damage from a swing is slim to none. Most swings that are approved by the CPSC and other regulatory bodies are designed to be safe for your baby.
Lear more about whether sings can cause brain damage here.
Weight and age limits
What's the weight limit?
Not all swings are created equal, and that goes for the weight limit, too.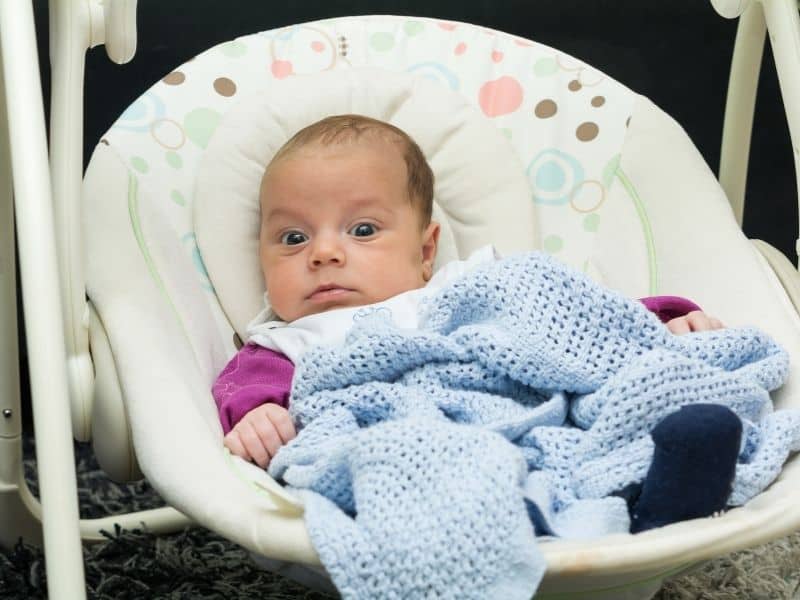 For reference purposes, most baby swings have a weight limit in the 25-30 lbs range.
Is there an age limit for swings?
Most swings do not have a listed age limit because baby development varies. Babies typically reach the weight limit at the 9-10 month mark.
Weight and age limits of most popular swings
To make things clear, let us look at the weight and, when listed, age limits of some of the most popular baby swings – ten of them, to be exact.
What the AAP says
The American Academy of Pediatrics advises against using swings as sleepers, even when it's just for daily naps.
In May 2013, the government included new voluntary rules to address research that reached a staggering conclusion. The research results showed that about 3% of SIDS cases happened while the baby was sleeping in a 'device' designed for sitting.
Furthermore, the vast majority of these cases happened in car seats and swings.
As a result, the AAP issued the following guidelines:
Never exceed the weight limits of the swing
When younger than 4 months, a baby should only use a swing in the most reclined position
The swing should be stable and sturdy, meaning it shouldn't fold up or tip easily
Shoulder straps are a must in all swings that can be adjusted to angles of 50+ degrees
Any additions (like toys) should be safely attached
Even in motion, the cradle surface should not change shape. As the AAP puts it, it should "stay fairly flat."
Swings vs. baby bouncers
Are swings and baby bouncers the same thing?
They are not. They do similar things (rock and soothe the baby), but a bouncer is lighter and more portable than a swing.
When to stop using a baby bouncer?
You should stop using a bouncer as soon as your baby can sit on their own or reach 20 lbs of weight – this typically happens in the 4-6 months range.
This is where the risk of the baby tipping the bouncer over and hurting themselves becomes significant.
Conclusions
A baby swing is a great piece of gear, especially for fussy babies who love the rocking motion, and it's the only thing that soothes them.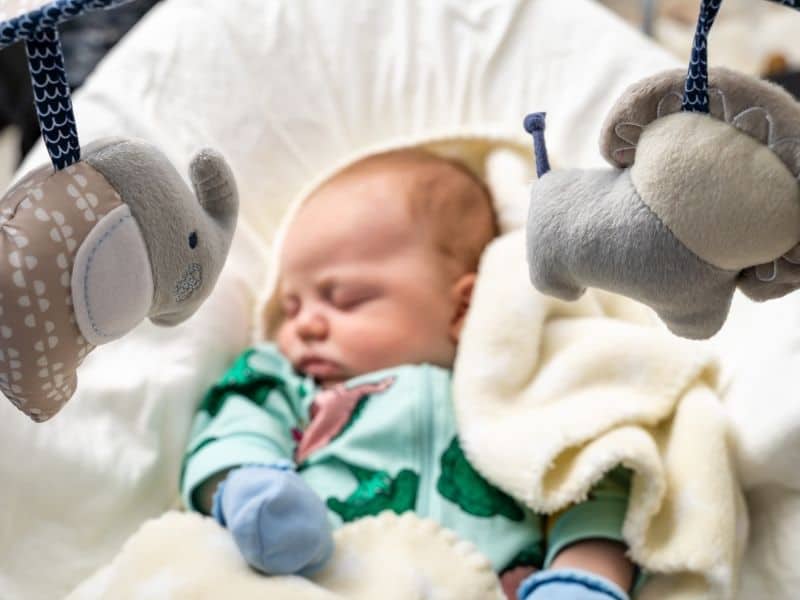 But, using a swing for too long and allowing your baby to sleep in it gets you into the hot water of increased SIDS risk.
Clearly defining the time, weight, and age limits in your child's case will allow you to enjoy the benefits while staying on the safe side.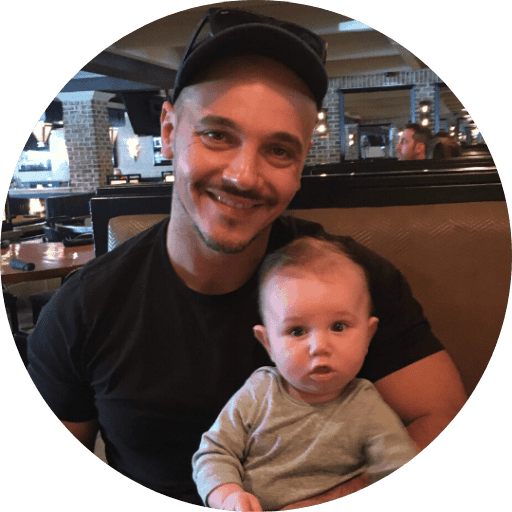 Paul is a passionate dad who founded Upside Dad to share his parenting journey with other new parents. He graduated from Concordia University and worked as a test engineer for over a decade. Paul loves dad jokes and craft beer.
Learn more about Paul and Upside Dad here.