Is the Mamaroo swing worth the premium buck?
That's the one question it all comes down to.
4Moms Mamaroo baby swing
Five modes of motion and speed
Comes with 4 built-in sounds/MP-3 connectivity
Motion and sound can be Bluetooth-controlled
Recline of the seat fully adjustable
Removable and washable seat fabric
---
A word about this Mamaroo review
I'll go wide and in-depth in this review and look at each and every quality aspect. But, I'll try to be concise and use to-the-point language.
If we successfully cut through the clutter of confusing information, your takeaway should be a simple yes or no.
Let's dig right in.
At a glance features of the 4moms Mamaroo baby swing
Five unique sway and bounce motions and five speeds allow you to find that sweet spot that will be just right for your baby
The sound and motion controls can be controlled using Bluetooth on your phone
It comes pre-equipped with 4 sounds but allows for MP3 connectivity
No batteries needed for the baby swing – comes with an AC adapter
High-end materials – durable yet smooth to the touch
The recline angle of the seat is adjustable (up to a full recline) and the fabric is removable and machine-washable
Interactive entertainment center for the baby with a crinkle ball, a rattle, and a mirror
| | |
| --- | --- |
| Feature/spec: | Swing 1 |
| Size | 33 x 19.5 x 25.5 |
| Weight | 18.3 |
| Motions | 5 unique modes |
| Sound | 4 sounds built-in and an MP3 plug-in |
| App controlled | yes |
| Age/weight limits | 25 lbs |
| Baby position | Adjustable, up to full recline |
| Approved for sleep | no |
Benefits of the 4moms Mamaroo
Now that you have a basic idea about the Mamaroo swing, we'll dig deeper into the rest of the 4moms baby swing review and analyze it feature by feature.
Easy setup
I've seen people expecting the unit to arrive fully set up. It does not.
You will need to set it up yourself but the process is fairly simple and shouldn't take more than 10 minutes.
The manual is easy to follow and it all clicks into place. Going into detail about the assembly is beyond this Mamaroo review.
Position of the seat
One thing that stands out about the 4moms Mamaroo seat is the range of different positions.
It goes from a full upright to full recline and you control it all by sliding the rail up and down and locking it in place. It's proof that an elegant design that works doesn't have to be complicated.
Why it's important
If this is your first baby and your first swing, you'll probably realize soon that not all babies like all positions. However, almost all babies will love the swing in at least some of the positions. It sounds like a cliche but based on what I've seen with other swings, having an easy way to adjust the angles is a massive plus.
I've also talked to parents of babies with acid reflux and, for them, the fact that the baby can sit upright in the Mamaroo is a big plus.
Again, if this is your first time expecting, you'll want to know that about half of all babies spit up multiple times over the course of the day for the first 3-4 months.
In this scenario, you'll probably find the upright or close-to-upright position to be most soothing.
Is there something wrong with the buckle?
Most parents I talked to when completing this review found the buckle to be well-placed, secure, and easy to use.
But, I've also talked to parents who weren't fans and found the buckle to be awkwardly positioned. That accounts for about 10% of owners.
I asked these nay-sayers to keep me updated and the interesting part is that almost all of them changed their mind within a month or two.
Why?
Because there are certain stages of growth where the buckle might feel awkward. That's true for all swings and not just the 4moms Mamaroo 4.
Bottom line – there's nothing wrong with the buckle, you just have to ride it out when you get to those few weeks of in-between baby size.
Soothing motion
The seat of the 4moms mamaRoo 4 imitates the soothing movement of the parent. It sways side to side, back and forth, and gently bounces much like you would when you try to calm your baby.
The 5 unique motions include 'kangaroo, tree swing' to the 'car ride'. Based on my research, the car ride mode seems to be the most popular among the little ones.
The speed of the motion goes from 1 to 5, which is pretty standard even for cheaper swings. the more important part is the above-mentioned motion control and how well it works in soothing the baby.
My "verdict"
I'd say rate the motion of the Mamaroo with 4.5 out of 5, with half a star deducted simply because there are more intricate systems out there with more modes and speeds but they also cost much more.
For 99% of people, five motions and five speeds are absolutely enough for a baby swing – you'll likely be using 2 or 3 of each anyway.
Bottom line – it's one of the best out there, with its main competitor being Graco's Sense2Soothe – you can see my Graco Sense2Soothe review here.
Entertainment center
"Entertainment center" is just a fancy name for all the gizmos on top of the swing, but it's the industry lingo and I'm going with it.
In reality, it's much more important than it might seem.
It's just balls and shiny objects, right?
Well. not really.
In my time reviewing baby gear I've seen many of these that simply don't work. or at least don't work for long.
Here's an example – in the 4moms Mamaroo baby swing the balls are black and white on one side and colorful on the other. Most research suggests that babies don't see colors for the first few months.
I've seen cases of babies actually getting irritated with in-your-face colors after a few months. If that happens you can always use the black and white side of the balls, they will love it just as much.
It's this kind of attention to detail that makes a difference. Not only because of the balls but because it tells you a lot about the company's approach to design.
Simple controls
The controls are as intuitive as they come.
You can change the setting manually at the base of the swing by pressing the up-down arrow and the selected mode is displayed on the screen.
Connectivity
You can also download an app and use it to control the swing. You download the app from the app store much like you would with any phone app, install it and you're good to go.
The app – nothing to write home about
With that said, I'm not a fan of the app and I believe it could be simpler.
It's not something an average user would have a problem with (or even notice for that matter), it's details that I look into in my reviews.
Finally, based on my conversations with the parents, most of them feel more comfortable with actually pressing the buttons on the base than using the high-tech app. The reasons behind that go into the parent psychology and are beyond the scope of this review.
Bottom line – the app works but there's space for improvement.
Sound and white noise
It comes with soothing white noise sounds – heartbeat, rain, fan, and ocean.
The company has a solid reputation when it comes to the white noise of its gear. The Mamaroo swing is no exception, even though I've seen some parents complaining about the quality of the sounds.
There might be a disconnect here – we're talking about white noise here and, in some of the modes (like 'fan'), the sound shouldn't be crisp.
Having said that, I did expect to see an upgrade in the sound unit compared to the Mamaroo 3.0. Alas, nothing to report here – the sounds are the same. Good and soothing, but the same.
The fabrics
The fabrics used for the Mamaroo baby swing are deceptively soft to the touch. I say deceptively because, based on my interviews with the owners, they are not prone to changes or rips even after multiple washes
And yes, they are removable and machine washable even the seat fabric. You just unzip it from the rails and throw it into the washing machine.
One piece of advice – test if the swing works without the fabric parts. Once you open the plastic bag with the fabrics, you can't return it.
Who is it for?
This high-tech baby swing will be the choice of parents who make no compromises when it comes to their baby. It's also THE choice if you appreciate your time and want to keep some of it when the baby arrives.
It also makes a great baby shower gift if you want to be the talking point of the party and get a few extra pats on the back.
What I liked most about this Mamaroo
In the rest of the 4moms Mamaroo review, I'll go over some of my personal likes and dislikes.
AC adapter is a great touch
Some people who go for the Fisher-Price swing (probably the most popular) end up complaining about replacing the batteries all the time.
It might look like the more elegant solution but we don't live in a Parent's Magazine. In reality, replacing those massive 4D batteries can get frustrating fast.
No such fuss with the Mamaroo.
The benefits of plugging the swing into any wall outlet are massive.
There's comfort in knowing that it won't stop working when you're away from home or out of batteries.
Sleek modern design
If it sounded like I'm talking from experience when I mentioned gifting the Mamaroo to your friends, it's because I am.
Since I started this site, my friend circle expects me to find these little gems in the baby gear market. I'm not gonna lie, there's the pressure that comes with it.
When my wife and I gave the Mamaroo as a baby shower gift to our close friends, it was the talk of the party.
Most of that talk was about how fancy and modern it looks.
The curvy lines and the minimalistic approach to design make it one of my favorites, not just among the swings. It's right up there with eye-candy like the BabyBjorn bassinets.
The sounds
Most swings in the lower price ranges will likely come with a lullaby or two. If you're lucky the lullabies won't be annoying and will actually work for your little one.
There was some back and forth about the sounds in this 4moms Mamaroo review but the bottom line is that I'd put the sound system in the top 5% of all swings I ever tested/reviewed.
Small footprint
Most baby swings I know are more robust and not nearly as easy to move or carry around the house. The Mamaroo is compact and easy to carry around without sacrificing seat space.
At 19 pounds of listed weight, it's also pretty light and there are no swing parts to complicate the moving.
Bottom line – in terms of portability, I'd put it in the top 3 swings on the market.
Machine washable
Being able to remove and wash all of the fabrics is a huge deal, especially when it comes to the seat. Accidents are bound to happen and knowing that you'll deal with the consequences easily makes your life much easier.
What could be better?
Let's start with the elephant in the room – the price.
You can get a decent swing for half the price. The keyword here is 'decent.'
You might get lucky and get a swing that does the job or your swing might end up being a source of frustration instead of making your life easier.
It's also worth mentioning that you'll need a newborn insert which is sold separately. That's not CON per se, but I do feel that the piece of information should be more clearly communicated both on their site and Amazon listing.
FAQs
Can a baby sleep in 4moms mamaRoo swing?
No, the Mamaroo swing is not sleep-approved.
How long can a baby or a newborn be in a mamaRoo?
There's no listed recommended time, but the rule of thumb is not to use the swing for sleeping.
Is 4moms Mamaroo swing safe for newborns?
It is very safe, but do make sure you follow their guidelines.
Can my newborn sleep in the mamaRoo overnight?
No, it's not intended for overnight sleep of newborns (or any baby).
Can a mamaRoo lay flat?
Yes, it can lay flat. The position is fully adjustable.
One takeaway from the Mamaroo swing review
If there's one thing to take away from this review, let it be this – about 20% of the Mamaroo owners I talked about had one or two other swings before getting this high-tech soothing unit.
That speaks volumes.
4Moms Mamaroo baby swing
Five modes of motion and speed
Comes with 4 built-in sounds/MP-3 connectivity
Motion and sound can be Bluetooth-controlled
Recline of the seat fully adjustable
Removable and washable seat fabric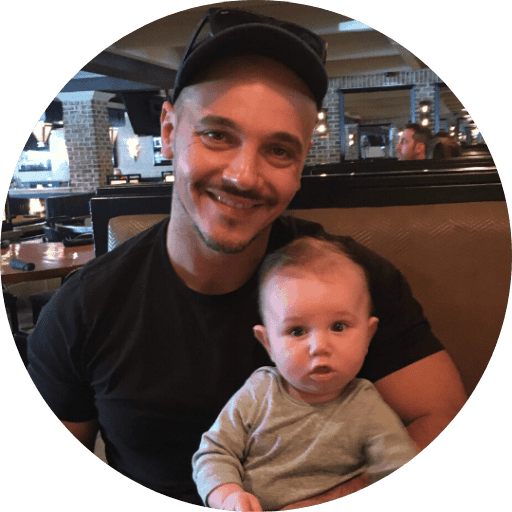 Paul is a passionate dad who founded Upside Dad to share his parenting journey with other new parents. He graduated from Concordia University and worked as a test engineer for over a decade. Paul loves dad jokes and craft beer.
Learn more about Paul and Upside Dad here.