Baby carriers are exactly what the words say – they are a means to carry your baby on your body instead of holding the baby in your arms. There are five popular types of baby carriers that we want to break down for you in this article: the wrap, sling, soft-structured carrier/ buckle carrier Mei Tai and backpack carriers.
Carrying your baby in a baby carrier has one HUGE upside that every parent can understand. It leaves you hands free while your baby is safe and secure with you.
All of these types of baby carriers keep your baby warm and frees your hands to do other things, but they are not all the same. In fact, there were all designed for different stages of your baby's development and with certain parents and activities in mind.
They allow you to "wear" your baby in different position such as your back, chest or hips, but bot always in the same way and not all are made equal.
Some are perfect for newborn babies (i.e. wraps, slings) while others are specifically made for toddlers (i.e. backpack carriers). And somewhere in between you will find the soft structured carriers that were designed to be versatile.
There are so many questions that parents have about baby carriers and we will try to answer them all below!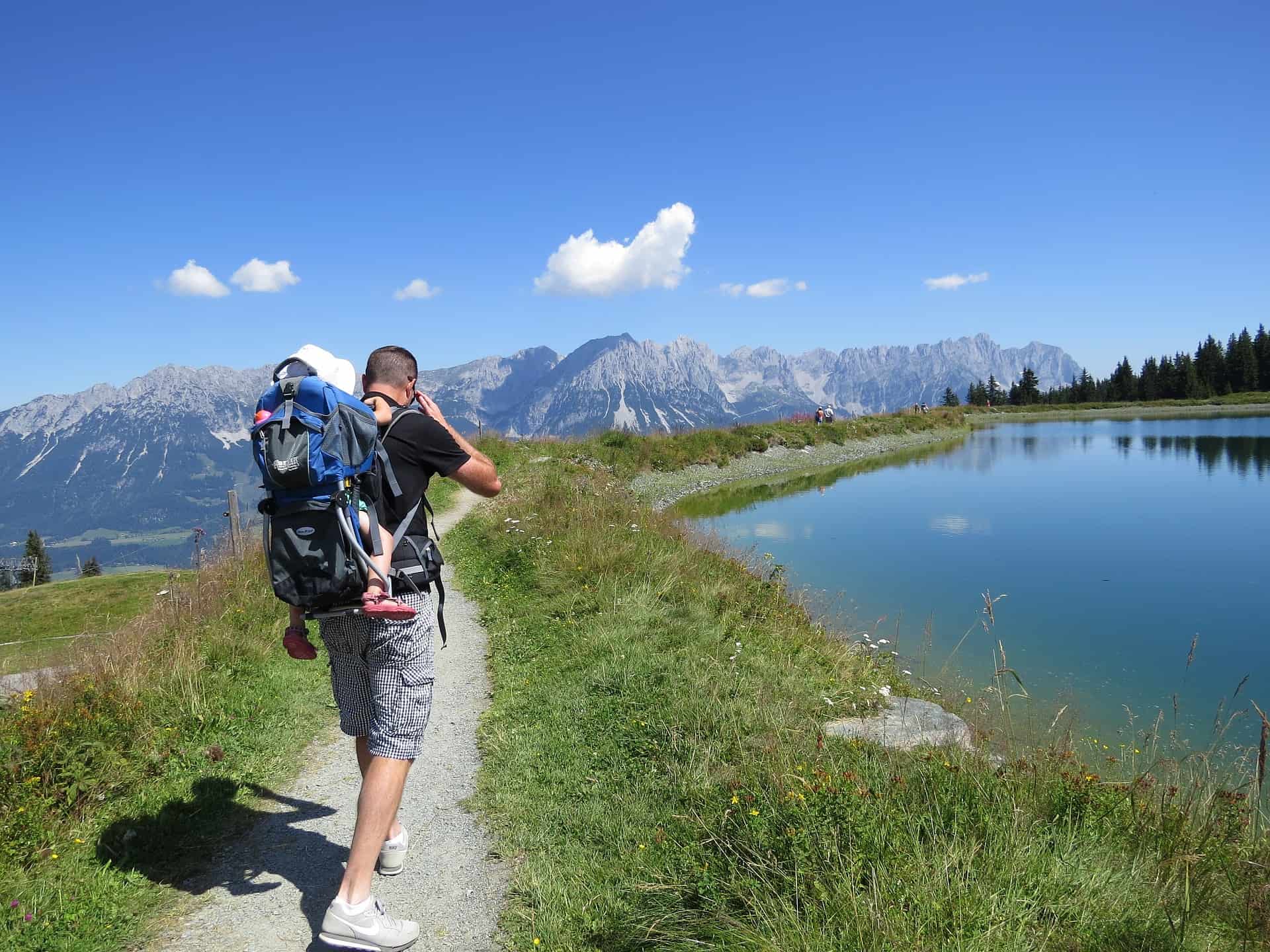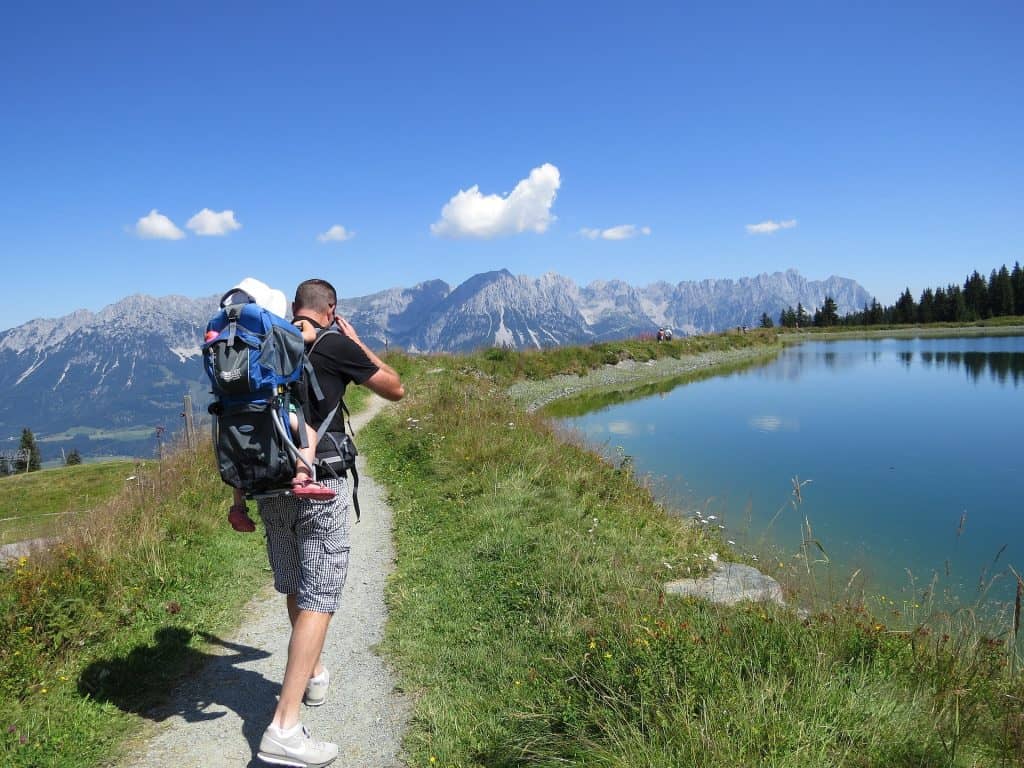 Who is it for?
Baby carriers are for parents who are looking to keep their baby or toddler close to them, safe and entertained while being able to go about other activities. We want to be able to soothe baby while doing other thing such as household chores, going for a walk or hike or even doing a challenging workout.
Parents like us want peace of mind.
We want to take our kids with us on shopping trips, visiting a new city or just hanging at the park. And sometimes we just want to not worry about where they are or what kind of trouble they are getting into. Heck, sometimes we just don't really want to drag along a bulky stroller.
There are different kinds of carriers for the different stages of your child's development. From newborn, to infant, to toddler.
This does not mean that you have to buy three different carriers, though. It just means that you need to realize what you want a carrier for and decide on the right one for YOU.
Let's have a closer look at the different types of carriers and what might be best for you. Here is a short summary.
Wrap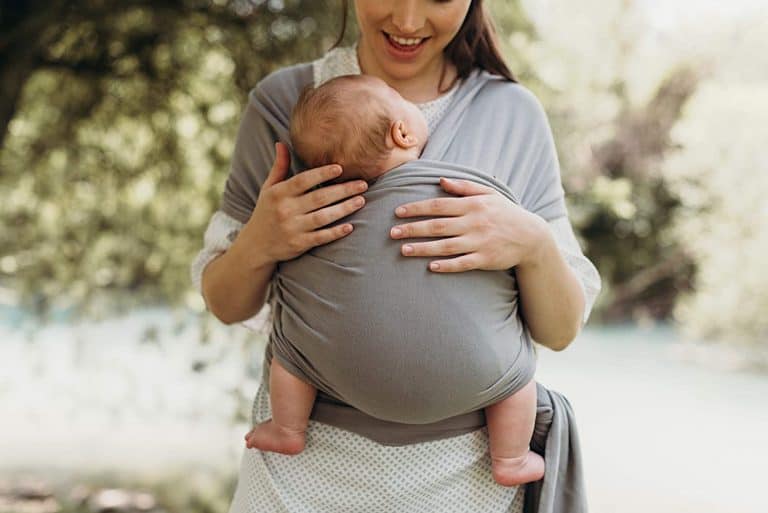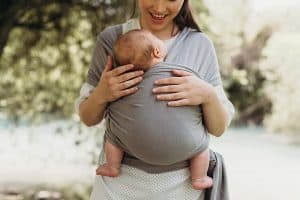 A wrap is very basic. It's simply a long piece of fabric that you wrap around your body with your baby fitting in on your back, front or a hip. This carrier is suitable for infants but can also be used for newborns as long as the head and neck are well supported. You can use it for you infant baby if you can tie the wrap securely. It makes a very snug nest for the baby.
My favorite baby wrap is the Solly Baby Wrap baby carrier.
Sling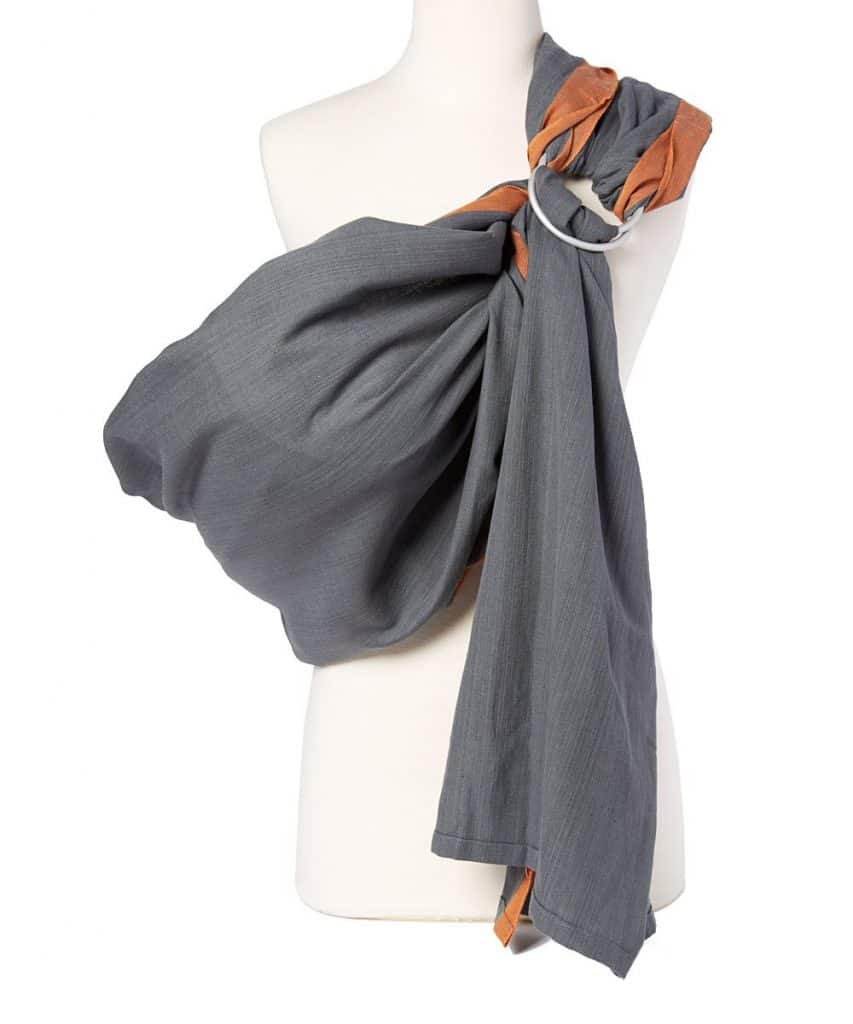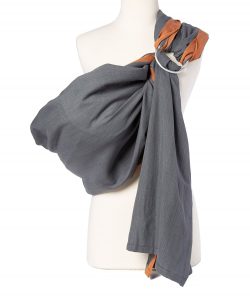 A sling is also a wide piece of fabric that you wrap around your body, across one of your shoulders, but it's threaded through two rings. This kind of carrier is great for newborns and infants.
Soft Structured Carrier (SSC) / Buckle Carrier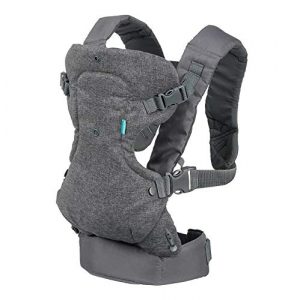 Soft structured carriers look like mini backpacks. These are usually made of a series of straps, buckles and pads. They have a pouch seat for the baby, are fitted with a head support and come with straps that fit over the parent's shoulders and around the parent's waist. You can wear it in front or at the back and even on your hip. This kind of carrier is not ideal for infants, even with a head support.
My favorite soft structured carrier is the TBG tactical baby carrier.
Mei Tai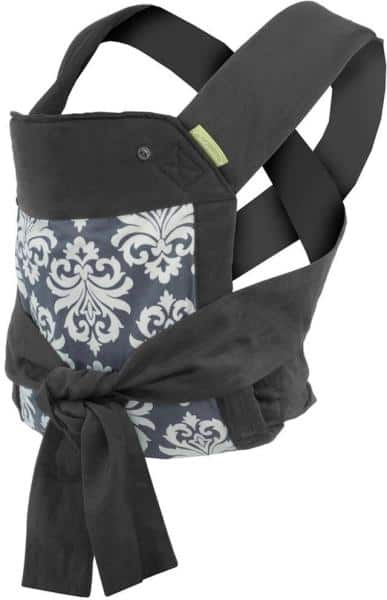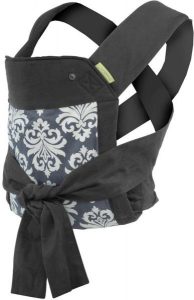 The Mei Tai is a carrier that originates from East-Asia. It consists of a square of fabric with wide straps attached to the four corners – two go over the parent's shoulders and two go around the waist. The square forms a pouch for the baby when the straps are tied. This type of carrier is ideal for infants and toddlers.
Backpack Carrier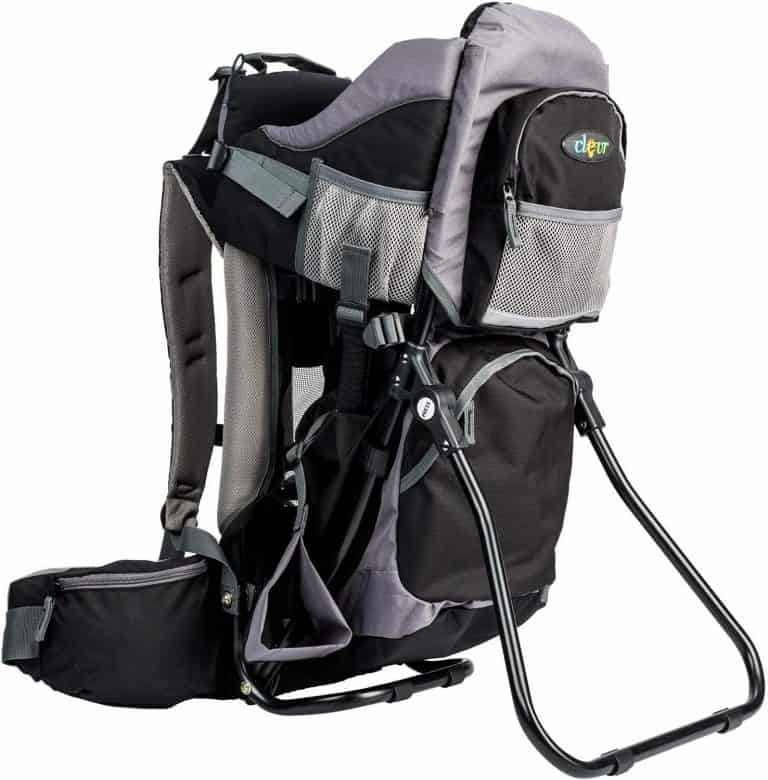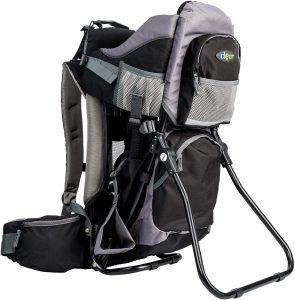 Backpack carriers are sturdy contraptions for older babies and toddlers who accompany their parents on hikes and other excursions that could take more time. Since they are backpacks, they will always be worn in the back and the baby is in a sitting position, therefore your child should be able to at least sit on his own before he can use one of these.
Baby carriers for newborns
Carriers have been used for newborns through the ages. It's been the classic way to have a newborn safe and secure while the mother takes care of other small children and her household.
The most suitable carriers for newborns are wraps and slings. Some styles of soft structured carriers and Mei Tais might also work.
A wrap, when tied correctly, keeps the baby safe and secure next to the parent's body. You can also use a soft structured carrier for a newborn, but make very sure that your baby's head is supported. Soft structured carriers are not the best choice for newborns.
Newborn babies and babies whose neck muscles aren't strong, should always be carried facing your body, not facing outward. This position offers more safety and better support for your baby.
Baby carriers for toddlers
Soft structured carriers and backpack carriers are ideal for toddlers. Mei Tai carriers also work well.
Toddlers can face in or out, but most many parents feel that their toddlers are happier facing out.
Young infants are best carried snuggled close to your body in the front and facing in. When babies get more sociable around 4 months many parents start "wearing" their babies facing out either in the front or on the back.
Besides, when they're older and on your back, in whatever carrier, babies can turn their heads and see the world around them while facing your back, so it's not necessary to turn them facing out.
Keep in mind that it's possible to carry a child in a wrap or a sling until they're around 3 years old. However, that will most probably be uncomfortable for both parent and child as these carriers are unstructured.
Types of baby carriers and what they are best suited for
To clear up any questions you might have, let's look at the different carriers for babies and toddlers in more depth.
Wrap baby carriers
A wrap carrier is simply a very long and fairly wide piece of fabric that is wrapped around your body while the child is next to your body. This creates a snug and safe place for your baby. It is the simplest way to carry a baby around on your body.
Wraps are suitable for newborns and children sometimes up to 2 years old.
Wraps come mainly in two kinds: woven cotton or linen wraps and cotton knits or other stretchy fabrics. The cotton and linen wraps are cooler to use, especially in warmer climates. The wraps made of stretchy fabrics hug close to your baby's body. You just need to pull on the material when you tie it and the stretch will "snap back" to create a safe and snug cradle for your baby.
Wraps are the simplest and cheapest baby carriers but they do have one drawback – they can be tricky to use. It's not easy to hold a baby and at the same time try to tie a wrap around the two of you. However, with some practice (and the help of some YouTube videos) you'll soon get the hang of it. You'll also find out that there are many different ways to do the wrapping.
Wraps are really versatile allowing you to carry your baby in the front, on your back or on your hip. The hip position is very popular because you can see your baby, hug him close to you with one hand while having the other hand free.
Pros of the wrap baby carrier
The advantages of wrap carriers far outweigh any shortcomings they may have.
Wrap carriers:
are simple and not expensive
are suitable for newborns, infants and babies up to 2 years old
provide a safe and warm environment for newborns, babies and toddlers
are ideal for breastfeeding, providing shelter and privacy
help to foster a close bond between parent and child
are comfortable to use, allowing for even distribution of the baby's weight
come in infinite number of fabrics and styles
can be wrapped and tied in many different ways to suit different needs
are adjustable to individual body types and sizes
Cons of the wrap baby carrier
It might take a new parent a while to figure out how to do the wrapping.
Some parents find that wearing a wrap can become unbearably hot. This depends on the weather and on personal temperature tolerances and especially the wrap material.
How to put on a wrap baby carrier
There are many types of carriers and ways to attach them. This video shows the most common ways to put on a wrap style baby carrier:
Our favourite wrap baby carrier
Sling baby carriers
A sling is made of a long piece of fabric and has two rings at one end. To secure it you don't tie two ends; you thread one end through one of the rings and then thread it back through the other ring. That action locks the fabric in place. You simply pull the one end until the sling fits comfortably around you and the baby and then you lock the end in place by threading it through the second ring.
The sling carrier goes over one shoulder and you carry your baby in the pouch that's formed on the opposite hip. The ends won't come undone – the baby's weight locks the rings in place.
Slings are usually made of woven fabrics like cotton and linen. There are even ones made of silk.
Just like wraps, slings can also be used from day one. Slings are usually not ideal for older babies like toddlers because of the position is not comfortable for babies that want to move and see the world.
Pros of the sling baby carrier
There are many advantages to sling carriers. They:
provide secure comfort for you and your baby
are suitable for newborns
are great for breastfeeding
are easy to use
can easily be adjusted – just pull on the loose end
leave your arms free for other tasks
come in a huge variety of fabrics and styles
Cons of the sling baby carrier
Some slings are very long –it can be tricky to tie the loose end securely away.
Slings are not suitable for people who have back problems or shoulder pain.
How to put on a sling baby carrier
Check out this video showing you how to put on a sling style baby carrier:
Our favourite sling baby carrier
Nalakai Luxury Ring Sling Baby Carrier
Soft structured or buckle baby carriers
Soft structured carriers have a padded area for the baby's body. At the top of the rectangle are two padded shoulder straps and at the bottom are two straps that go around the parent's waist. Some structured carriers also have an adjustable neck support pad for young newborn babies.
The padded rectangle panel combined with the straps form a natural pouch for the baby.
This is a popular style and many parents choose it due to it versatility. The straps are adjustable to allow for the best fit for you and your baby and also for your baby's weight to be distributed evenly.
Well-designed soft structured carriers come with a wide panel to ensure that the baby's legs are in the optimal position – with knees bend, legs apart and knees higher than the hips (the so-called frog position). The frog position is optimal for healthy hip and spine development.
These carriers are easy to use and comfortable to wear. They allow you to carry your baby in any position, front, back and hip.
Some soft structured carriers are not suitable for newborns because they may not include a head and neck support option. These carriers are best for babies from 4-5 months, when their necks are strong enough to carry their heads firmly.
Pros of the soft structured baby carrier
These versatile carriers have many advantages over their material-only counterparts.
Soft structure carriers:
are very user-friendly – easy to buckle and strap up without help from someone else
hold babies and toddlers safe and snug
are adjustable, so can be used for a long time and by multiple users
offer ergonomic support for infants and babies no matter the carrying position
come in many colors and styles
are designed and constructed with comfort and safety in mind
Cons of the soft structured baby carrier
These carriers are not always the best choice for newborns. Wraps and slings offer better head support especially for small babies.
Soft structure carriers tend to be pricey.
How to put on a soft structured baby carrier
Check out this video showing you how to put on a soft structured style baby carrier:
Our favourite Soft structured baby carrier
Ergobaby Omni 360 Baby Carrier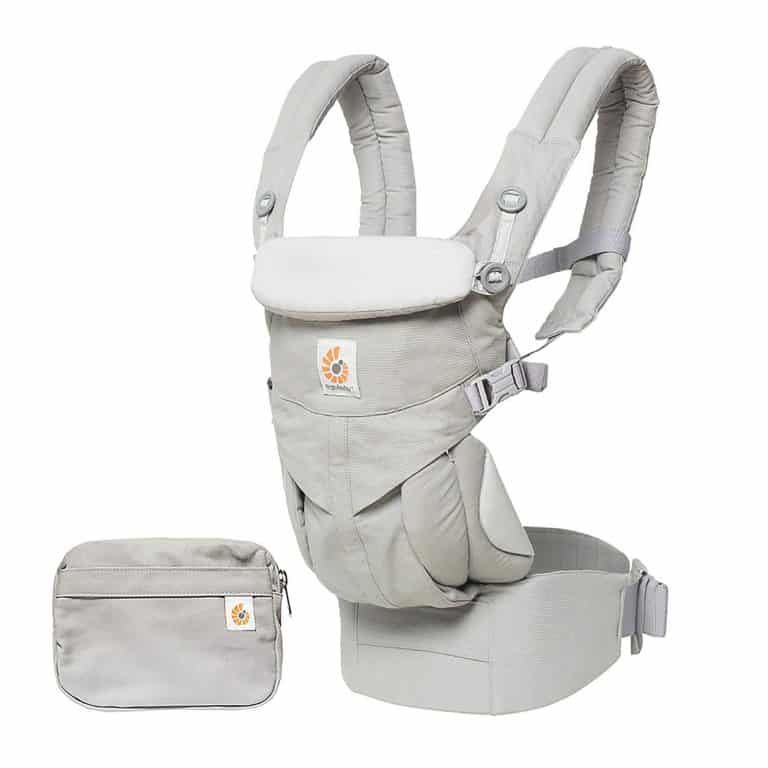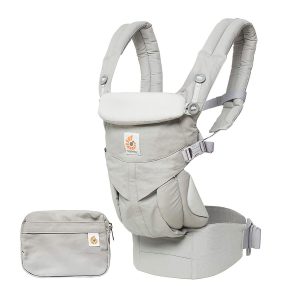 Mei Tai
The Mei Tai can be described as a combination of a wrap and a soft structured / buckle carrier. It has a square panel in the center that forms the seat and has two padded straps that go over the shoulders of the wearer and two straps for around the waist. Instead of buckles, you use ties to wrap and tie the carrier securely.
Shoulder straps are tied in a cross over the back and then around the wearer's body. Straps are secured by tying a knot. This makes for a comfortable and secure baby carrier.
Some Mei Tai's even come with a hood. This helps to protect baby's head against rain and sun and holds the head of small babies while they're sleeping.
The Mei Tai has been in use for centuries and it's easy to understand why. If tied correctly, it offers a secure and comfortable environment for babies and toddlers.
Mei Tais are mostly used from 6 month, but some styles are suitable for newborns. With a Mei Tai you can carry your baby on your back, your hip or the front.
Pros of the Mei Tai baby carrier
Mei Tai's are great baby carriers. They
offer good comfort and support for babies and toddlers
are comfortable for the wearer
are great for adults with back problems as the design ensures that the baby's weight is distributed evenly over the upper body
are versatile – can be used to carry babies on the front, back or side
can be used for many years, from infancy up to 3 years
come with padded shoulder straps for comfort – you can carry your child for many hours in a Mei Tai
come in many different and colorful styles
Cons of the Mei Tai baby wrap
It can take a while to figure out how to tie the traps securely and which configuration works the best for you and your child.
They are not the best option for newborns and nursing – wraps and slings are better choices for this purpose.
How to put on a Mei Tai baby carrier
Check out this video showing you how to put on a Mei Tai style baby carrier:
Our favourite Mei Tai baby carrier
Infantino Sash Wrap and Tie Baby Carrier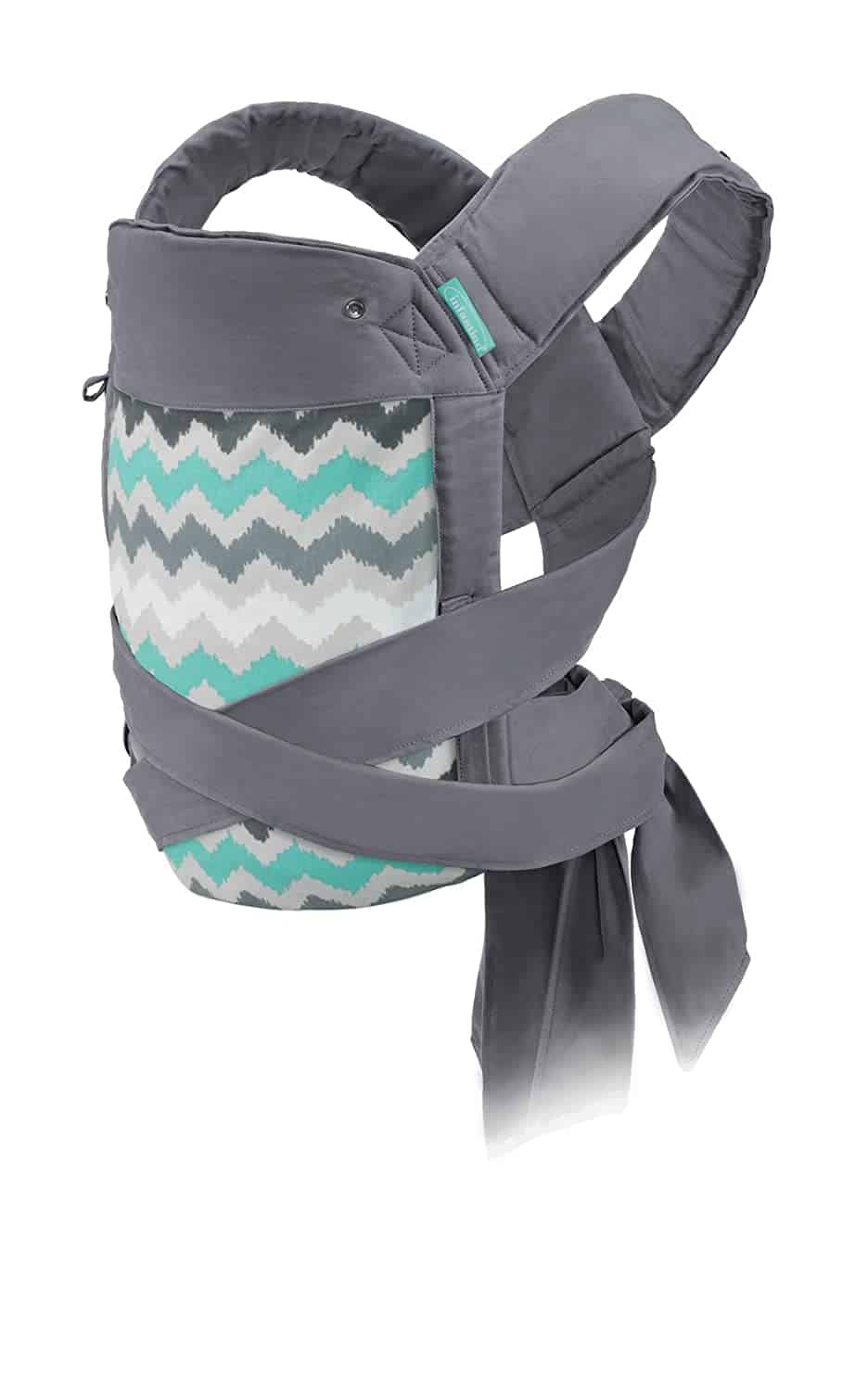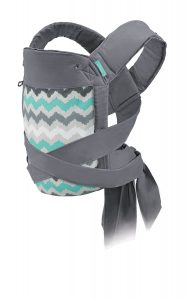 Backpack baby carriers
Backpack carriers are mini backpacks to carry a child in. They are designed for toddlers and babies who can sit independently and have solid neck and head control. The earlierst age to start your child on a backpack carrier is around 6 months but it will depend on your baby's ability to sit up on his own and control his head.
Most backpack carriers are designed for a maximum pack load of around 48 pounds. The carrier itself can weigh up to 8.5 pounds.
There are backpack carriers promoted to be suitable for babies as young as 3 months, but it's best to wait till your child is older and strong enough to sit comfortably in a backpack without needing any support.
A backpack carrier has a solid structure with fabric that fits onto a metal frame. Backpack carriers come with padded shoulder straps for wearer comfort as well as straps that are tied around the wearer's waist. The shoulder straps combined with waist straps help with even weight distribution.
This is important if you plan to take your child with you on longer trips. Backpack carriers are designed for long walks or hikes in the outdoors. If you want your young child to accompany you on extended outdoor excursions this the carrier you should get.
Pros of the backpack baby carrier
Backpack carriers have are perfect for some activities. Backpack carriers
are custom-designed for parents who want to take their babies with them on long walks
are sturdy and safe for older children
are made with durable fabric that can withstand the elements (and your child)
provide even weight distribution
come with extra storage pockets and some also have canopies to protect your baby from the elements
come with fully adjustable seats to allow for a growing child
come with adjustable shoulder and waist straps
Cons of the backpack baby carrier
They are costly
They tend to be big and bulky and don't fold up for easy storage.
Backpack carriers are heavy. They can weigh up to 10 pounds and together with the weight of your child you can end up carrying quite a weight.
How to put on a backpack baby carrier
Check out this video showing you how to put on a backpack style baby carrier:
Our favourite backpack baby carrier
ClevrPlus Deluxe Baby Backpack Hiking Toddler Child Carrier
Conclusion
When you are thinking of buying a baby carrier, you don't need to be confused by all the different products on the market. You just need to know what your baby carrying goals are for you and your child.
If you want something simple that won't cost a lot and will last you from birth to 3 years, go for a wrap or a sling.
If you don't want to be bothered with ties and knots and you want a solution that is safe and secure for your baby, a soft structured carrier is the way to go.
If you have back or shoulder problems but want to carry your child on your body, a Mei Tai will be the best option.
If you are the outdoor type and you want to take your child with you on long hikes, a backpack carrier will be the best for you and your child.
Before making your decision on which carrier (or carriers) best fit your lifestyles, it is most important to decide which activities you plan to do with your baby. Are you looking for something to do chores at home, go out for a hike or something versatile that can do a bit of everything? Do you want you carrier to help you through the first few months of your baby's life or are you already past that stage and looking to get active outdoors with the little one?
Whatever stage you're in, there is a perfect carrier out there that does exactly what you're looking for.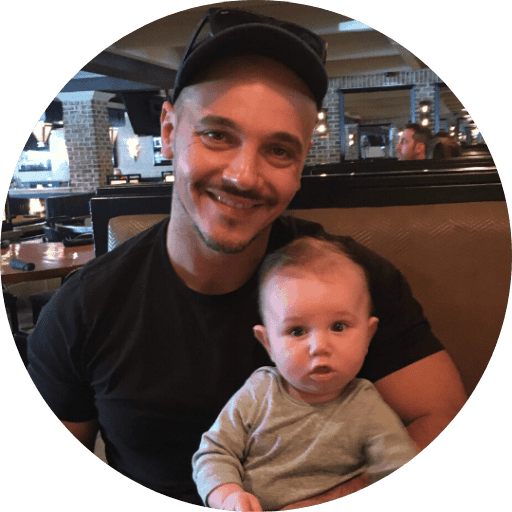 Paul is a passionate dad who founded Upside Dad to share his parenting journey with other new parents. He graduated from Concordia University and worked as a test engineer for over a decade. Paul loves dad jokes and craft beer.
Learn more about Paul and Upside Dad here.