You already know that the cold weather shouldn't stop you from going outside with your baby. Snow or no snow, the cold, crisp air is good for everyone. But, how do you make sure that your baby is warm enough in the carrier when it's freezing outside?
The main thing to keep in mind is, you want to dress your baby warm enough and cover most of the exposed skin but not overdress him so that he overheats. It sounds simple right? Well, there are some important things to keep in mind when babywearing in the winter.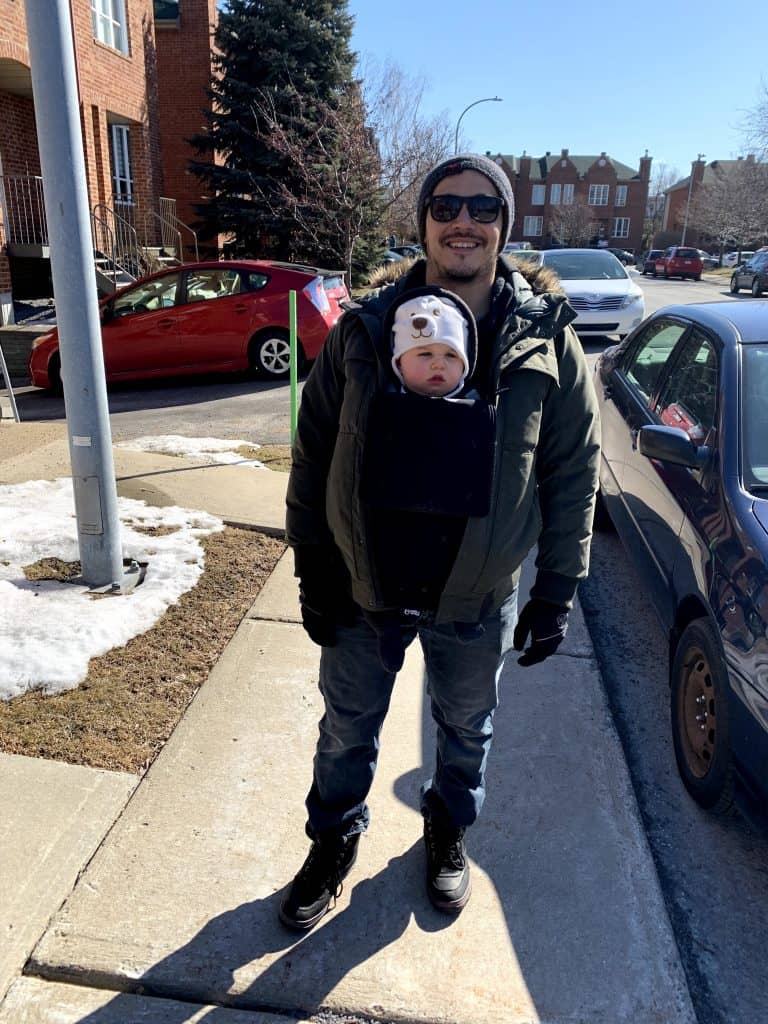 Tips and tricks for winter babywearing
First, don't forget that your baby will be wearing his clothes plus the baby carrier will cover him and then there is your body heat and likely your jacket over and around him. If you take all those layers into account, you can see that it's easy for a baby to overheat in the winter if he's overdressed.
So, if you plan to take your baby outside in a carrier, don't put too many layers on him. The best is to dress the child in light layers that you can remove if you notice that he is feeling too hot.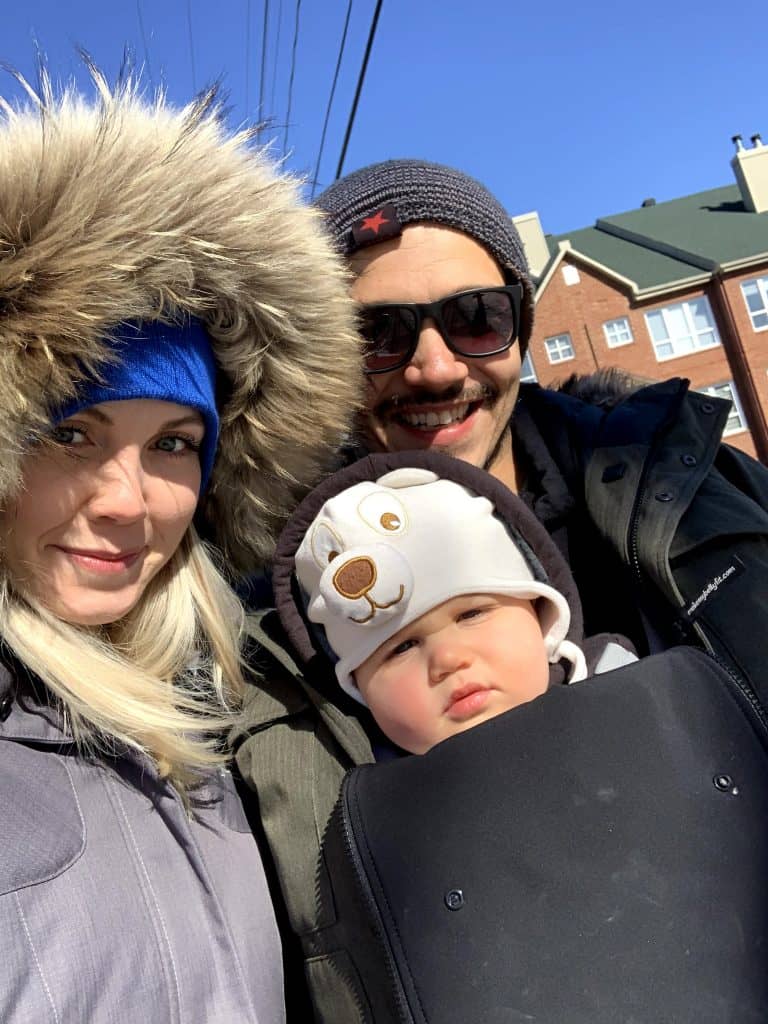 We lose most of our body heat through our heads, so be sure to put a warm head covering on your baby as well. And be sure to put mittens on for those tiny hands and booties or shoes for his feet.
If it's bitterly cold outside, you might feel that dressing your baby warmly is not enough to keep him warm in the carrier but when you come from a winter wonderland like me, and love the outdoors like I do, you must remember that:
The truth is that we live in an era where we have the technology and resources to keep us warm in the cold. We just need to find the right gear for the job.
I have tried and tested a bunch of great products for winter babywearing and what I learned is that not all accessories are as useful as they may appear at first glance. I put together a list of some of my favorites below to hopefully save you the trouble of buying and returning some less than ideal accessories.
Let's have a look at some of the best products with some tips to help you get through winter babywearing.
---
With this clever product, you and your child are protected against wind, rain, and snow. The Universal Jacket Extender can be used to convert almost any zippered jacket into a roomy maternity jacket that both you and your child can fit into. 
The jacket extender can be attached to any brand or size of zipper. It extends the front of the jacket that you are wearing. With this extension, you don't need to buy an extra jacket if you want to carry your baby outside in a baby carrier.
For different length jackets, you simply need to reposition the extension to get the right coverage. You can use the jacket extension while wearing your baby in a wrap, a sling or a soft-structured baby carrier.
The Universal Adapter features special clips that can slide over your existing zip. Depending on the zip size of your jacket, the Universal Adapter may fit as is or you may have to use the optional clips that come with the Universal Adapter.
The product was developed with the challenges of very cold weather in mind. For instance, there are long pull-tabs on the zips so you can pull them while you have your gloves on.
The removable fleece layer is super-soft and warm to provide extra protection for you and your baby against the elements.
---
This beautifully designed product is a jacket that can be worn on its own or it can be extended with a center panel in the front to be worn over a baby carrier in winter. With the extension, it also serves as a maternity jacket.
The jacket is made of very thick fleece, ideal for areas where the temperatures drop well below zero. It comes with a hood for the baby, is long enough to cover baby's legs and feet, and is big enough for a baby to grow into.
You can carry your baby in a wrap or a carrier like a Baby Ergo when you wear this sweatshirt jacket.
Parents love how soft and comfy the interior is. They buy it to cover their babies in a carrier, but they love the jacket so much, they wear it without the baby because it's so comfortable and perfect for temperatures between 20-45 degrees.
---
This is a versatile product. It is a cover for all baby carriers. You can carry your baby front, back or on your hip in the baby carrier of your choice, and simply cover the carrier with the Bebamour carrier as it snaps onto any baby carrier. 
The product doubles up as a thick stroller blanket, a nursing cover, or poncho.
If you wear it on the front, you have the benefit of roomy pockets sewn onto the outside of the Bebamour carrier cover to keep your hands warm. It is big enough to also hold keys, a cellphone and a snack for your baby.
Made of light-weight fabric, it's suitable for all seasons and will keep baby warm, dry and clean.
The carrier cover has a detachable hood which you can use in any carry position, with baby facing you or facing out.
There are zippers on the right and left of the cover that you can unzip when your baby overheats or zip up if you think your baby is cold.
Note – this product is not machine washable. Take special care of it by hand washing it with mild detergent.
---
The Ergobaby Fleece-lined Winter Weather Cover is designed to be used with the Ergobaby carriers. With its polyester outer layer and fleece inner layer this carrier keeps baby both warm and dry in all weather conditions.
Some snaps attach the cover to any Ergobaby carrier's shoulder straps and drawstrings on the hood and leg pouch that helps to create a secure fit. The cover includes two snaps that affix the weather-resistant hood to the shoulder straps.
Although it's easy to snap the cover onto the Ergo carrier, many users complain that the instructions for doing so are confusing. They advise parents to watch some videos on YouTube to see how easy it actually is.
Having said that, the product does an excellent job of protecting baby from cold and rain. The hood and the cover do a really good job of blocking the wind.
The cover doesn't have a pocket to warm your hands, but some parents put their hands in where their baby's legs hang out and that works.
This Ergobaby cover is machine washable.
---
This water-repellent and fleece-lined cover is everything to everyone: it covers all baby carriers and fits strollers and car seats as well.
Parents rave about it online, saying the elastic at the bottom ensures that it fits snuggly over a car seat and doesn't keep falling off.
You don't have to bundle up baby before going out, because the cover is warm on the inside and water-repellent and weather-resistant on the outside.
The cover has a roll-away hood to protect baby's head and pockets for keeping your hands warm. You can even touch your baby's legs through the pocket. 
The cover can quickly be removed once you're back indoors.
Parents can also use the Snuggle Cover to keep baby warm in a stroller or a car seat.
Conclusion
Winter baby wearing may seem scary at first, but it's really not that difficult and it can be really good for the whole family to get out for some fresh air during the coldest months of the year.
With a wide range of innovative products available, parents can welcome cold weather because they know they will be able to keep their little ones warm and safe in the bitter cold outdoors.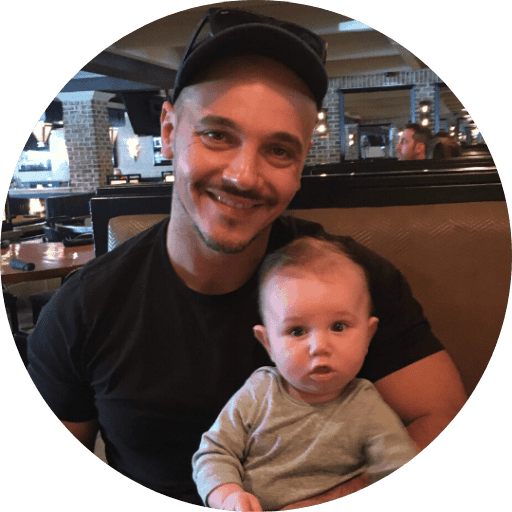 Paul is a passionate dad who founded Upside Dad to share his parenting journey with other new parents. He graduated from Concordia University and worked as a test engineer for over a decade. Paul loves dad jokes and craft beer.
Learn more about Paul and Upside Dad here.