Most of the advice you can get on finding a good swing for big babies comes down to one thing – the weight capacity.
I'll be blunt – anyone can just give you a list of swings with a 30-pound weight capacity, instead of 20 or 25. That's far from enough.
You need a more nuanced approach to choose well. You need someone to tell you which swings listed at 30-lbs aren't a good choice because of small seats or short straps that make the high weight limit moot.
I hope to be that someone. I've been reviewing baby gear for years and I know my stuff (he said with zero modesty).
Anyway…I've chosen three swings for you, plus a great alternative:
One of them is labeled as best overall because of the highest weight limit is paired with a spacious seat and a vibrating unit.
The runner-up is a high-end swing and its main advantage is a fully adjustable seat without fixed reclines.
The third swing is the lightest of the bunch but still has the largest footprint, making it more stable for fussy big babies.
Let's take a close look at each.
Best baby swings for big babies
Image
Best Baby Bouncers for a Colic Baby
Features
Price

Best Overall

Six swing speeds and two vibration modes
Swing seat is removable - doubles as a rocker
Sways in three directions

BUY NOW ON AMAZONSEE ON GRACO BABY

Best Premium

Adjustable seat angle - up to full recline
Bluetooth connectivity for sound and motion control
Five motions and swing speeds

BUY NOW ON AMAZONSEE ON 4MOMS

Best Budget

Two swinging directions - side to side and front to back
Adjustable recline and speed - six intensity settings
Versatile sound unit - 16 sounds and tunes

BUY NOW ON AMAZONSEE ON FISHER PRICE

Great Alternative

Cry detection activates soothing functions
Two swing speeds and three angles for the seat
Vibration (two modes) and motion (eight modes)

BUY NOW ON AMAZONSEE ON GRACO BABY
---
Mini-reviews of the best swings for big babies
In the section below, you'll see the mini-reviews of my top picks.
For the sake of clarity, I'll take a second here to tell you what's what, so that you can easily find your way around.
Within each product section, I'll aim to do three things:
Point out the main advantage/benefit of the baby swings
List the features that define the baby swing (both physical and functional)
Stress the few aspects that I like about it – both in terms of being good for bigger babies and overall
Bear in mind that I'll skip some common quality aspects (like materials). That's because at this level of curated products, basic qualities are implied and I'd just be wasting your time going over that.
It would also make for a boring read, and nobody wants that.
Graco DuetSoothe – Best swing for big babies overall
Specs of the swing
| | |
| --- | --- |
| Spec / full name | Graco DuetSoothe |
| Size (in inches) | 30.8 x 24.5 x 36 |
| Weight (in lbs) | 17.9 |
| Weight limit (in lbs) | 30 |
| Preloaded sounds | 15 |
| Bluetooth connectivity | no |
| Vibration | yes |
| Number of swing speeds | 6 |
Main benefit – highest weight capacity paired with stability
Graco DuetSoothe is the only swing in the Top 3 with a weight capacity of 30 lbs (all the others are at 25 lbs).
The other swing in my Top 5 with a 30-pound capacity also comes from Graco (the Glider LX). In my opinion, the Glider LX is not as good for big babies as the DuetSoothe because of the smaller footprint.
DuetSoothe pairs a high maximum weight limit with a wide frame, which inspired more confidence (stability-wise) if you're a parent of a big baby.
Defining features of the Graco DuetSoothe
The swing seat is removable and can be used as a rocker
Nature sounds and music – 15 in total
Suspended design – allows from three swinging directions
Adjustable speed – choose one of six intensities
Vibration – two modes (speeds)
Extra padded baby seat is comfortable for bigger babies
Secure five-point harness
What makes it the best baby swing in the big/tall category
I already stressed the one thing that sets it apart – the highest weight capacity and a wide, stable frame. Below are some of the other features I love.
Budget-friendly compared to other top swings
Price change and I can't be precise here. But I can say that the average price of the DuetSoothe over the past few years, has been about 30-50% lower than most high-end swings.
Granted, the fact that it features a simple metal frame and not a robust plastic unit plays a role in that, but functionality-wise the differences hardly justify the extra money.
Vibration for extra soothing
This is the only swing in the top 3 that includes a vibration unit.
If you have a bigger baby that's also fussy and restless, you'll need a vibrating swing. There's solid, undeniable proof that vibration does in fact help soothe the little daredevils. It also keeps the baby calm, helps with colic, and promotes healthy baby sleep.
The numbers are staggering and show that almost all babies (big or small, short or tall) respond well to vibration (source).
Removable swing seat makes it portable
This one is crucial if you're alone in the house and need to do chores while keeping an eye on your baby.
With bigger babies, moving a beefy swing is not really an option. That's why the option to take the seat out of the swing and take it with you makes all the difference.
AC or batteries-operated
Most swings in this price range go one of two ways – give you an AC adapter or a battery house.
That's a problem in both scenarios – batteries tend to drain fast and replacing them just adds to the thousand things you need to do in a day, and an AC cord limits where you can put the swing.
This Graco smartly offers both. If you use electricity, the swing will pay for itself in battery savings over the lifespan (math based on using it for two hours a day).
4Moms Mamaroo – Best premium baby swing for big and heavy babies
Specs of the Mamaroo
| | |
| --- | --- |
| Spec / full name | 4moms MamaRoo 4 Multi-Motion |
| Size (in inches) | 19.5 x 25.5 x 33 |
| Weight (in lbs) | 17.9 |
| Weight / age limit | 25 lbs / 6 months |
| Preloaded sounds | 4 |
| Bluetooth connectivity | yes |
| Vibration | no |
| Number of swing speeds | 5 |
Defining features of the 4Moms Mamaroo
Five soothing sounds and five swing speeds
Second-to-none recline adjustability – full range
Connect to your phone via Bluetooth – control is from anywhere in the house
Comes with an AC adapter
Premium build and high-end fabrics (machine-washable)
Why I love it
Highest recline range angles
The bigger and fussier the baby, the greater the chance they'll find one of the fixed angles uncomfortable, especially if the padding is sub-par.
That's why the fully adjustable seat makes a difference.
You're not limited by the pre-set angles and can experiment by going from a full recline (recommended for a newborn baby) to a sitting position (as the baby grows stronger).
Recline adjustability is a major plus for bigger and taller babies
The term "bigger" isn't universal because not all babies grow the same. Depending on where most of the extra weight is added, it will affect what position is comfortable for them.
A baby with a bigger head might fuss as you lift them because the neck muscles can't handle the weight.
Without going into every possible scenario, this is the bottom line – the full range of adjustability lowers the chance of the swing being uncomfortable for babies with above-average numbers, whether it's in the weight, height, or something else (like the height to weight ratio).
Premium feel all-around – frame to toy bar
You might be smirking right now because I said I won't be talking about "quality materials."
That still goes but we're not talking about meeting the basic standards of quality here – we're talking about a high-end premium build that feels like it won't yield under heavy babies.
This Mamaroo carries that premium aura top-to-bottom – from the overall imposing design that screams "I'm expensive" to the nuanced stuff like the reversible toy balls of the toy bar (I'll talk about why that's important in the buyer's guide).
Related reads: See the complete review of the Mamaroo swing here | See the Mamaroo vs. Graco swing comparison here
Fisher-Price Sweet Snugapuppy – Most portable swing for bigger (older and heavier) babies
Specs of the Fisher-Price Sweet Snugapuppy
| | |
| --- | --- |
| Spec / full name | Fisher-Price Sweet Snugapuppy |
| Size (in inches) | 35.04 x 44.02 x 37.01 |
| Weight (in lbs) | 4.41 |
| Weight limit (in lbs) | 25 |
| Preloaded sounds | 16 |
| Bluetooth connectivity | no |
| Vibration | no |
| Number of swing speeds | 6 |
Main features of the Fisher-Price swing:
Two swing motions (side-to-side and front-to-back rocking motions)
Six swing motion speeds (battery or AC powered)
Lofty seat pad with extra head support and machine washable seat fabric
Versatile sound unit – 16 tunes and nature sounds
Foldable legs for easier storage and travel
Adjustable recline positions
Why makes it a good swing for heavier babies
This Fisher-Price is (by far) the lightest swing here. Surprisingly, it's also the one with the largest footprint (just under 9 square feet).
In plain terms – it's stable enough to welcome a big baby and light enough to be portable (more on that in a second).
Lightest of the bunch
If you have a big baby and need a swing that you can move around, this Fisher-Price might be where your search ends.
Let's say that your baby weighs 15 pounds and do some weight math:
To move them in the Graco DuetSoothe, you'll be lugging around 36 pounds
For the Mamaroo, the total weight is slightly lower at 34 pounds
This Fisher-price will weigh under 20 lbs. Yes…with your baby in it.
Despite the huge difference in the weight of the swing, there's no significant difference in the maximum weight limit – it's listed at 25 lbs (same as Mamaroo and 5 lbs lower than DuetSoothe).
Large footprint translates to stability
This might sound conflicting if you have the "portable" label in mind.
Bear with me…
At 8.99 square feet (approximately 35×37 inches), Sweet Snugapuppy has the largest footprint in our top 5.
A large base translates to stability, which is a massive plus for heavy and tall babies.
The best part is that it doesn't interfere with portability because the legs seamlessly fold.
You might be interested in: can baby sleep in a swing | how long can a newborn be in a swing | when to stop using baby swing | can baby swings lead to brain damage |
Follow this link to read about the difference between swings and bouncers.
Honorable mentions – Graco Sense2Soothe & Glide LX
For the sake of simplicity, I went with Top 3 picks.
The two baby swings below were close to the Top 3 but didn't quite make it in this update. Still, they deserve a mention because they're not far behind and have some unique benefits.
Graco Sense2Soothe – Calm a big baby through cry detection
Specs of the Graco Sense2Soothe
| | |
| --- | --- |
| Spec / full name | Graco Sense2Soothe |
| Size (in inches) | 18.9 x 28.35 x 32.28 |
| Weight (in lbs) | 25 |
| Weight limit (in lbs) | 5.5 – 25 |
| Preloaded sounds | 15 |
| Bluetooth connectivity | yes |
| Vibration | 2 |
| Number of swing speeds | 3 |
Main features:
Cry detection sensors automatically kickstart the soothing
Vibrates at two intensity levels, which helps calm a fussy baby
Can be controlled manually or via the remote
Eight motion modes at three speed levels
Adjustable to three recline angles
Versatile sound center – nature sounds, white noise, and tunes
What makes it a good swing for big babies
Graco Sense2Soothe is a well-rounded swing that ticks all boxes of a good swing for bigger and heavier babies and stands out in one aspect.
It's the only swing here that can actually recognize what's happening in the seat. When it detects crying, it adjusts the motion, speed, and vibration settings until the baby calms down.
What it means for the parent of a big and heavy baby
It means more downtime for your arms.
You won't have to take your baby out of the swing to calm them down – the swing does it on its own.
The heavier the baby, the bigger difference this will make.
It's not cheap
Cry-detection is a unique feature that you typically see in high-end bassinets, but Graco went back to the drawing board with this one and redefined what a swing can be.
To be honest, this is a simplified version of cry and fussing detection tech that you'd find in expensive bassinets, but it works well. And that's the only thing that counts.
It's not cheap but cutting-edge tech never is.
Graco Glide LX – high weight limit with an asterisk
Specs of the swing
| | |
| --- | --- |
| Spec / full name | Graco Glide LX |
| Size (in inches) | 28 x 24.5 x 36 |
| Weight (in lbs) | 17.9 |
| Weight limit (in lbs) | 5.5 – 30 |
| Preloaded sounds | 15 |
| Bluetooth connectivity | no |
| Vibration | yes |
| Number of swing speeds | 6 |
Main features of the Graco Glide LX:
Spacious seat with extra body support
Gliding motion with six speed settings
15 built-in sounds – 10 classic tunes and 5 nature sounds
Battery-operated (4D batteries for gliding and one for vibration)
The frame folds for storage and trips
Features a padded 5-point harness
What makes it good for a big baby
The Glide LX deserves a place on the best baby swing for big babies list for two reason:
The weight capacity is up there with the highest – listed at 30 lbs
It's very gentle on the budget and wildly popular
One caveat applies, though – it's not great for tall babies because they'll probably outgrow the shoulder straps before they get to 25 pounds.
The shoulder strap issue is also what kept it from getting into my top 3.
Choosing the best swing for a big baby – the primary and secondary factors
(with special emphasis on swings for taller, heavier, and bigger babies)
High weight limit
Most baby swings have an upper weight limit of 20 or 25 pounds. The manufacturers usually say that you should stop using it before they reach that limit if they start climbing out of the swing.
The baby swings that are listed at 20-lbs won't be a good choice for bigger babies. The range that interests us today starts at 25 lbs capacity.
It's a mistake to just pick a swing based on the listed capacity. Some swings that should be great for big and tall babies are in fact good only for the big and heavy – not so much for the tall ones.
That's the kind of detail I tried to cover in this guide.
Safety of a swing
In the context of this guide, there are two groups of safety guidelines – specific and non-specific.
The non-specific are those who are universally applicable, regardless of the baby's weight and size.
The specific are those who apply to bigger babies but are less of a concern for an average baby.
Non-specific safety guidelines
Don't leave your baby unattended in the swing
A baby should not sleep in the swing – when you notice they're getting drowsy, move them to a firm, flat surface like a bassinet
Never leave the harness and straps unbuckled
Specific safety guidelines for bigger babies
The weight and size limit of each swing usually lists a specific weight but also mentions that you should stop using a swing when the baby is big and strong enough to prop in it and try to crawl out.
Bigger and taller babies are usually also stronger, which means they might reach that second milestone before they outgrow the weight limit.
Bear this in mind if you're dealing with a 'diaper muscle.'
Spacious seat pad (especially for tall babies)
A generously-sized seat paired with a good strap is a must.
What good is a high maximum weight limit if it's only on paper?
The problem here is that max height is not a common spec in the listing of a baby swing, and you have to dig deeper to see if it's a problem.
For my top 3 picks, I chose swings that have no such problem. If you're looking outside that list, "digging deeper" means searching the reviews of owners for the word "tall." If there is a problem, it will pop up.
Stable frame to handle the extra weight
Stable doesn't mean bigger or heavier – in fact, the one baby swing that's in the Top 3 because of the stable frame is also the lightest (Fisher-Price Sweet Snugapuppy).
The stability comes from the large footprint, not the heft of the frame. It's only natural because there's little chance your baby will break the frame, but there is a chance they might topple it over as they grow stronger.
Secondary factors – not directly related to weight and height
I'm using the term 'secondary factors' in the context of choosing the best baby swing for big babies. That's why I won't get into the nitty-gritty here.
In a more general sense, there's nothing secondary about these.
Baby swing speeds
All the better swings allow you to choose the pace of the movement.
Typically, you can choose from 5 or 6 swing speeds. Most babies will have one or two favorites – it's typically the faster movements that work better in a fussy episode and the slow, baseline motion for the downtime.
Baby swing motions
Motion modes can range from simple front-to-back or up-and-down rocking (like that of the DuetSoothe swing) to complex motions that imitate a car ride or tree swing (4 Moms Mamaroo).
If you have a fussy rascal on your hands, choosing a swing with multiple motion modes gives you a better chance of soothing the baby.
Nature sounds, music, and white noise
Most swings can play music from your phone. That's why the preloaded sounds become less of a factor compared to the quality of the speakers.
If the speakers can produce a crisp sound, you can choose whatever relaxing tune or sound your baby likes from your phone.
This might raise some eyebrows, but if you analyze the market, you'll notice that even some of the expensive swings (like the 4Moms Mamaroo) only offer a few preloaded sounds and focus on connectivity features, like an MP3 plugin or Bluetooth connection.
My point is this – choose a swing that allows you to play anything from your phone. The built-in sounds will be an after-thought.
FAQs about baby swings for big babies
How big can a baby be for a swing?
The baby size limit for a swing is defined as maximum weight allowed and it's typically in the 20-30 pound range.
At what age do you stop putting a baby in a swing?
Most babies will outgrow a swing by the time they're 9-10 months old.
What size baby swing is too big?
Baby is too big for a swing if they weigh more than the listed capacity or get strong enough to try crawling out.
Conclusions and resume
I aimed high with this guide and I'm pretty happy with how it turned out.
I feel that the multifaceted approach to the best-swing-for-big-baby question worked out well. We broached all subjects – weight, height, and ratios and found swings that meet the challenges.
We covered all scenarios and unique challenges they present – from the highest weight capacity of the Graco DuetSoothe, through the fully adjustable recline of the Mamaroo to the largest footprint of the Fisher-Price Sweet Snugapuppy.
I'll stay on top of things and keep this guide updated as the market changes.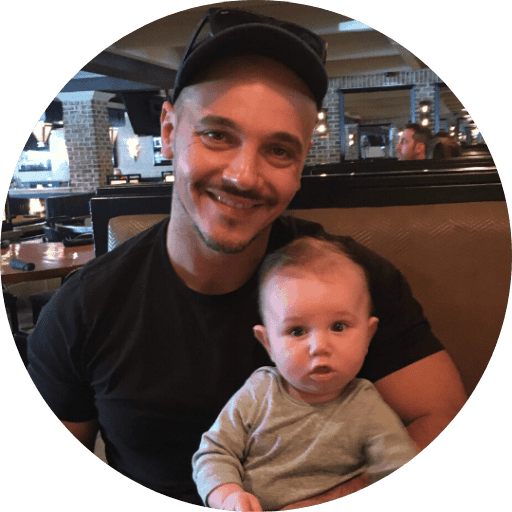 Paul is a passionate dad who founded Upside Dad to share his parenting journey with other new parents. He graduated from Concordia University and worked as a test engineer for over a decade. Paul loves dad jokes and craft beer.
Learn more about Paul and Upside Dad here.