I'm the dad of a rambunctious seven-month-old that's not a fan of sitting still. When it came time to pick out a baby carrier to fit his small frame, I knew a wrap was the way to go. I needed the flexibility to accommodate his movements while keeping him tight against my chest whenever we're out on one of our numerous walks. After narrowing my search to the Solly Baby vs Moby Wrap, I did extensive research that I want to share with you!
Bottom Line Up Front
I'm a big fan of the Solly Baby wrap as my top choice for infants and newborns. It may be pricier than other models, but you can't beat its comfort, breathability, and safety standards.
Hands-free babywearing
Soft and breathable
Natural fabric
Can hold 25 pounds
One size fits all
Machine washable
Durable
Main Differences Between Solly vs Moby Wrap
The main differences between Solly Baby vs Moby are:
Solly Baby is made from 100% TENCEL modal fibers, whereas Moby is 100% cotton
Solly Baby supports 8 to 25 pounds, whereas Moby supports 8 to 33 pounds
Solly Baby has 24 color options, whereas Moby has 16
Solly Baby is 16 feet long, whereas Moby is 18 feet
Solly Baby comes with a self-storage pocket, whereas Moby has no storage
Solly Baby is more durable, whereas Moby degrades faster
Solly Baby meets ASTM F2907 specifications, whereas Moby does not
Solly Baby is more expensive, whereas Moby is a cheaper option
What is a Baby Wrap Used For?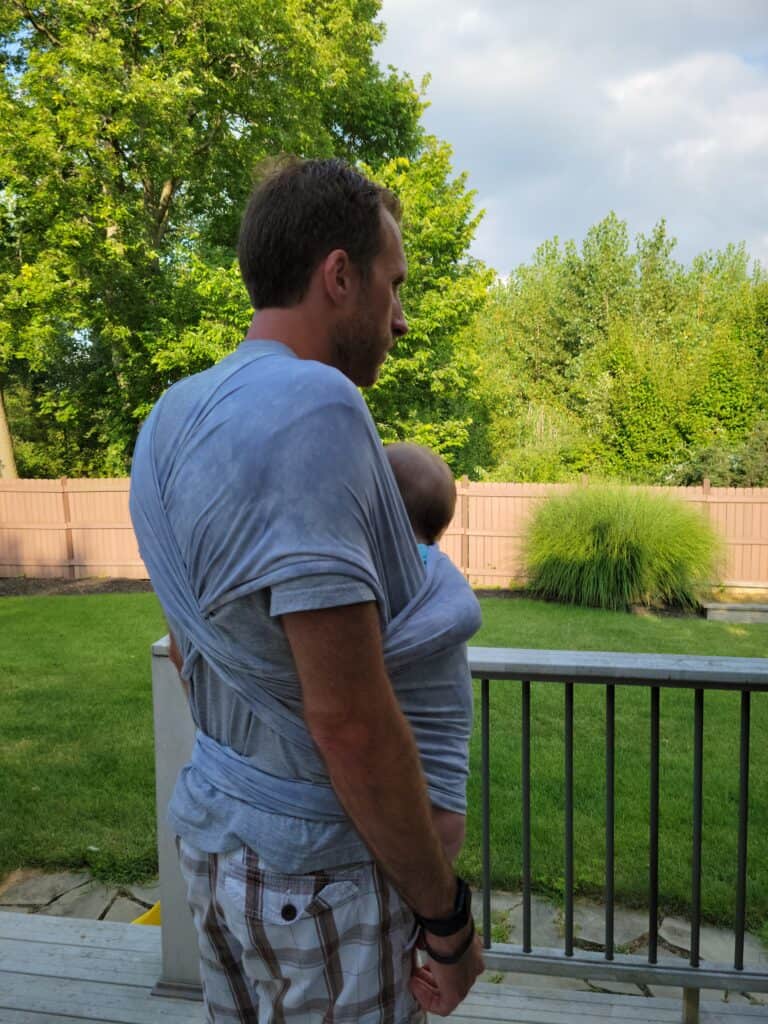 Baby wraps are perfect for transporting a little one around without actually needing to hold him or her in place. Most of the time, wraps are long pieces of fabric that tie around dad and baby, positioning the child comfortably against your chest. This frees up both hands to perform whatever other tasks are at hand.
Furthermore, wraps keep your baby firmly secured and safe. The best wraps promote healthy physical development while giving you peace of mind about your child's location. Because wraps give the illusion of being in the womb, babies find them very calming and help the infant fall asleep.
What To Look For in a Baby Wrap
When picking out the perfect wrap for you and your baby, there are several factors worth considering. Let's take a look at each of these below.
Fit
Whatever wrap you buy needs to fit correctly to support your baby and keep him or her in the correct position. Make sure the fabric is long enough to meet the required wrap pattern, so there's no risk of baby coming loose. Most carriers are one size fits all, with an abundance of fabric to work with all body types.
Breathability
It feels like babies generate more heat than the Sun, making breathability crucial for long-term wear. The last thing anyone needs is a massive sweat stain that has both you and baby drowning for air. Some companies focus on breathable materials, so there's less of a need to make adjustments while in the heat. Some fabrics even wick moisture away from the body to keep the contact zone cool.
Comfort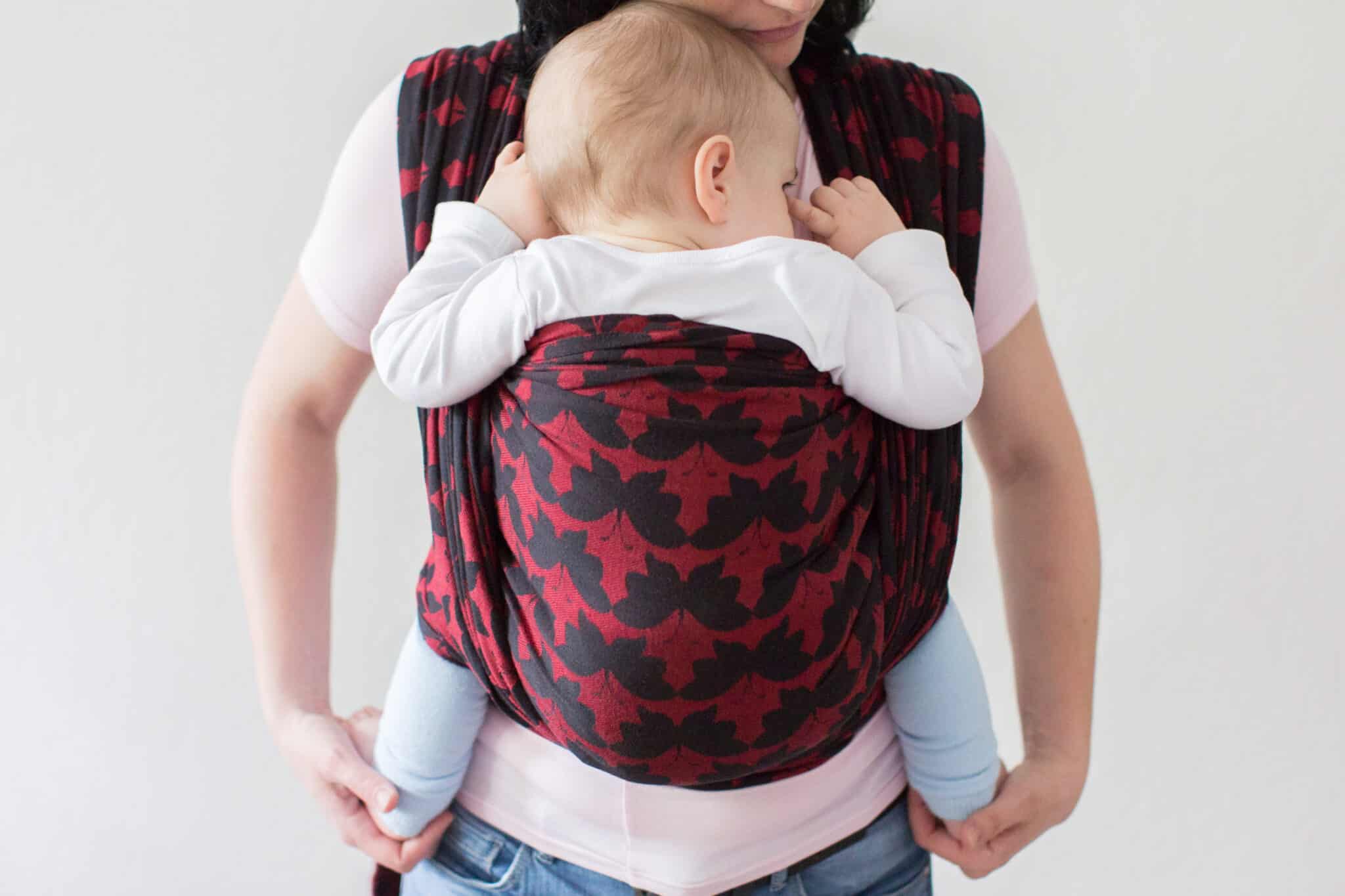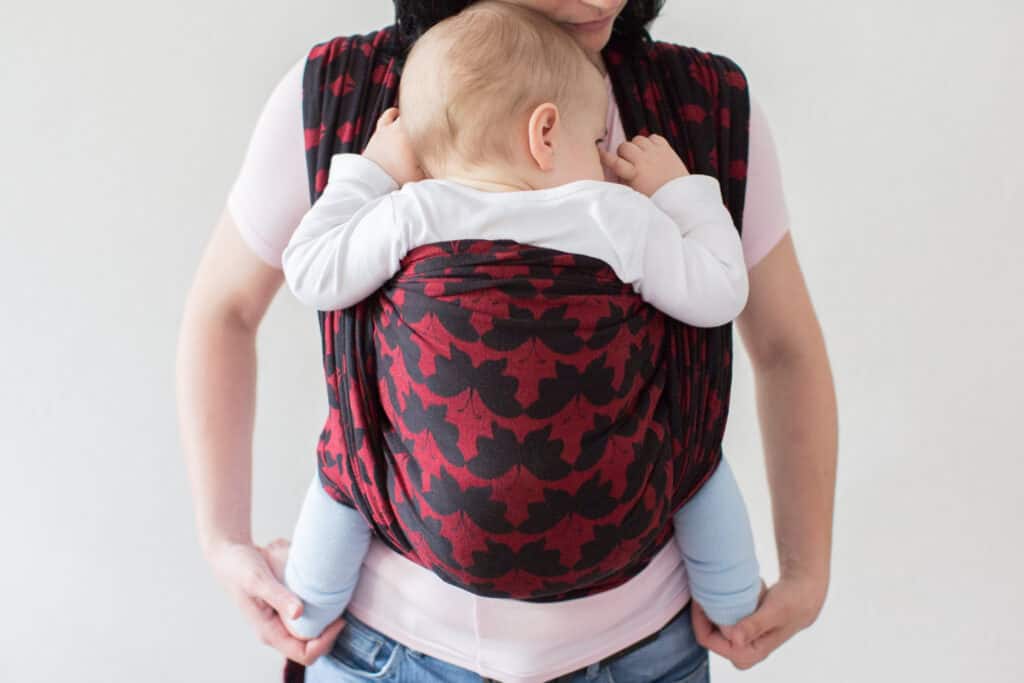 In the same vein as breathability, comfort is key when picking out a baby wrap for your infant. The best wraps distribute weight across the upper body and hips, keeping things light so you can walk around all day.
Your baby spent a lot of time in a very enclosed space and still finds comfort in that feeling. These wraps are designed to emulate the womb, allowing the child to feel safe and secure. Make sure the product you buy meets such a requirement.
Style
Style doesn't matter too much to me, so I usually let my wife pick out the design. Still, it's nice to have variety across multiple color choices and patterns to suit personalities and different types of clothing. There's no rule that says we can't look good while carrying around a baby.
Storage
It didn't immediately pop into my mind, but layers of fabric can become bulky and challenging to store. The best wraps feature thin materials that fold up to almost nothing when not in use. Since this fabric can unravel easily and become a mess, I always like to find one that either stores in itself or comes with a little bag to keep contents from spilling out.
Weight Capacity
Whatever age your baby currently is, you'll want a baby wrap that will work with him or her until they're getting the hang of walking at the very least. Most wraps are made with newborns in mind and can accommodate babies until around the one year mark. From there, the focus seems to turn to framed baby carriers.
Ease of Use
With my schedule, I can't afford to be tying one of these things for 20 minutes before setting off. That defeats the point of convenience. It is likely that you'll need to spend some time learning how to tie your wrap before you can get out the door quickly, so plan accordingly. Most wrap manufacturers share step-by-step instructions and how-to guides online so you can get the steps right for your particular product.
These wraps aren't going to stay comfortable forever, and I am not a fan of cleaning. If at all possible, I will always pick up a wrap that I can throw in the washing machine rather than have to clean it myself.
Quality
If you're buying a wrap right as your baby is being born, it will need to last a solid year at the very least. Considering how much babies ooze fluids, there will be a lot of washings during that time frame. Do yourself a favor and spend the money to pick up a wrap that's going to go the distance and then some.
Safety
Infants are knee-deep in their formative years, and there's much concern over wraps impeding development. Make sure your wrap meets International Hip Dysplasia Institute requirements for healthy hip growth and ideally other standards for safety. At the very least, grab a wrap that pays attention to safety and offers specific instructions on how to keep your baby safe.


Let's take a look at the Solly Baby Wrap to see how its features stack up.
Fit
Although relatively compact by design, Solly Baby wraps stretch some 16 feet from end to end. This long length is made to accommodate all different body types from thin to plus size and everything in between.
As you place your wrap over your body, Solly Baby's instructions indicate the fabric should be tight against your body. Smaller individuals may have to loop around themselves a few more times to accommodate any excess material.
Read also: What are the best places to buy Solly Baby Wrap online?
Breathability
Solly Baby wraps are made from 100% TENCEL™ modal fibers that originate in the pulp of Austrian Birchwood trees. This fabric is even more breathable than cotton and has the unique property of whisking moisture away from the body.
My baby is a little heater box, so I always worry about covering him in something that might make him too warm. Solly Baby does a great job keeping me and my little one from getting toasty, even in the warm, humid summer months in Michigan.
Comfort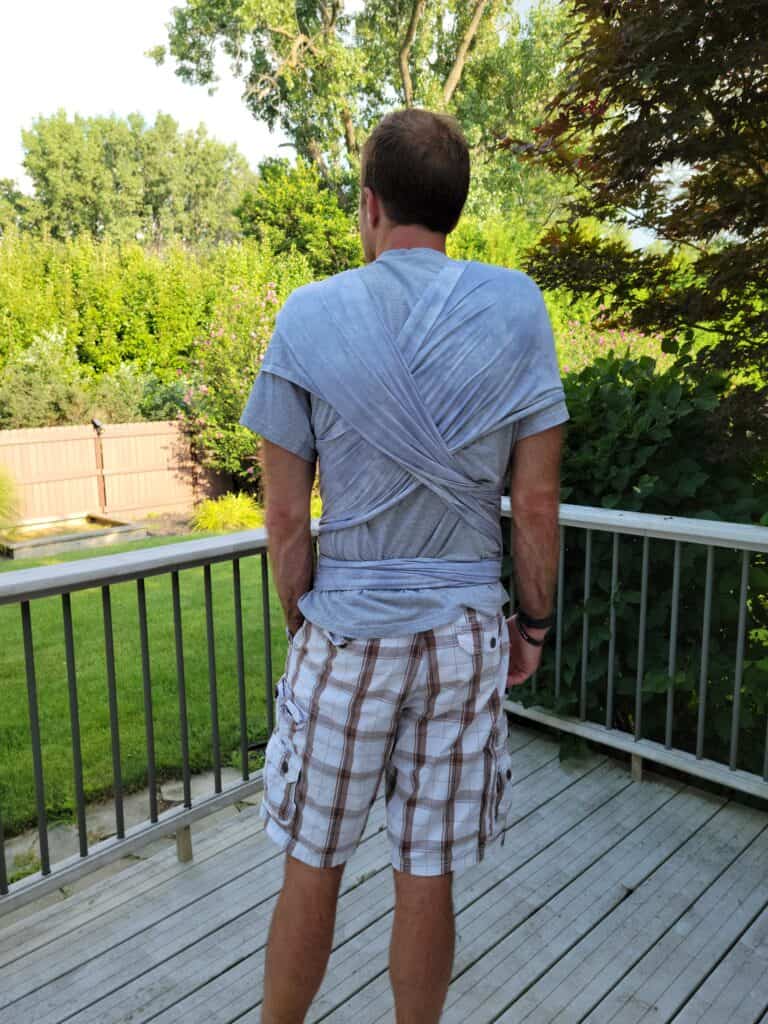 Once you've gotten the hang of wrapping yourself and baby the correct way, it becomes apparent how Solly Baby wraps distribute weight across various points on your upper body. Having it on for an extended period of time doesn't feel like a strain, and I've yet to experience a time when I've felt I needed to take the thing off.
Baby comfort is just as important, and Solly Baby provides a womb-like experience an infant can still relate to. It's important to keep your baby wrapped tightly while keeping him or her clearly in your line of sight. There shouldn't be any sag in the wrap, and your little one should be close enough to kiss any time you want to. If you placed the wrap correctly, there should be ample support for your baby's back and butt, whether they can sit up on their own or not.
Style
With no less than 24 different colors, there's a good chance you'll find a Solly Baby wrap to suit your style. In fact, the bigger challenge may be settling on just one design. There are no differences between products apart from color, so all of Solly Baby's tips and tricks apply no matter which wrap you purchase.
Storage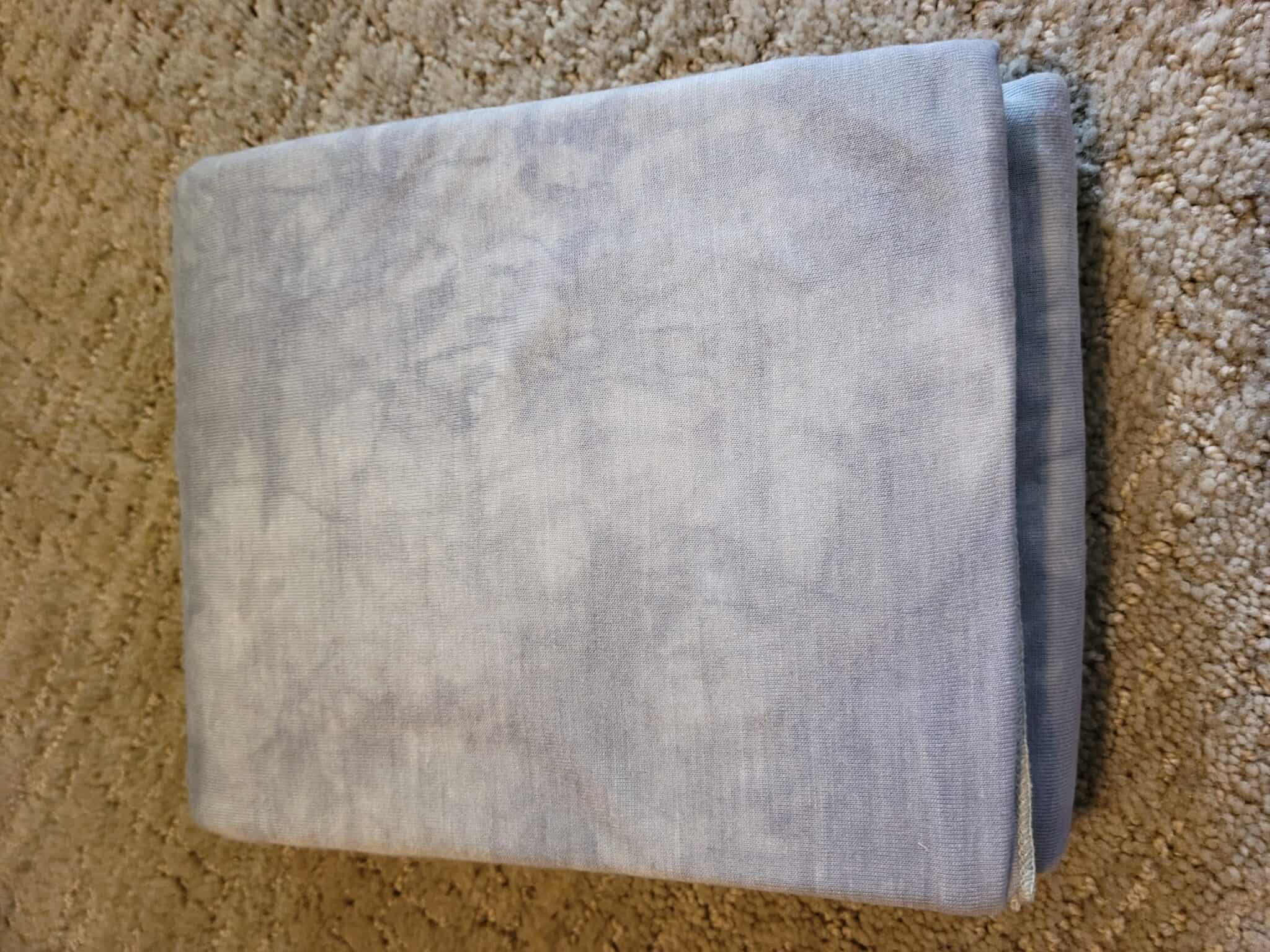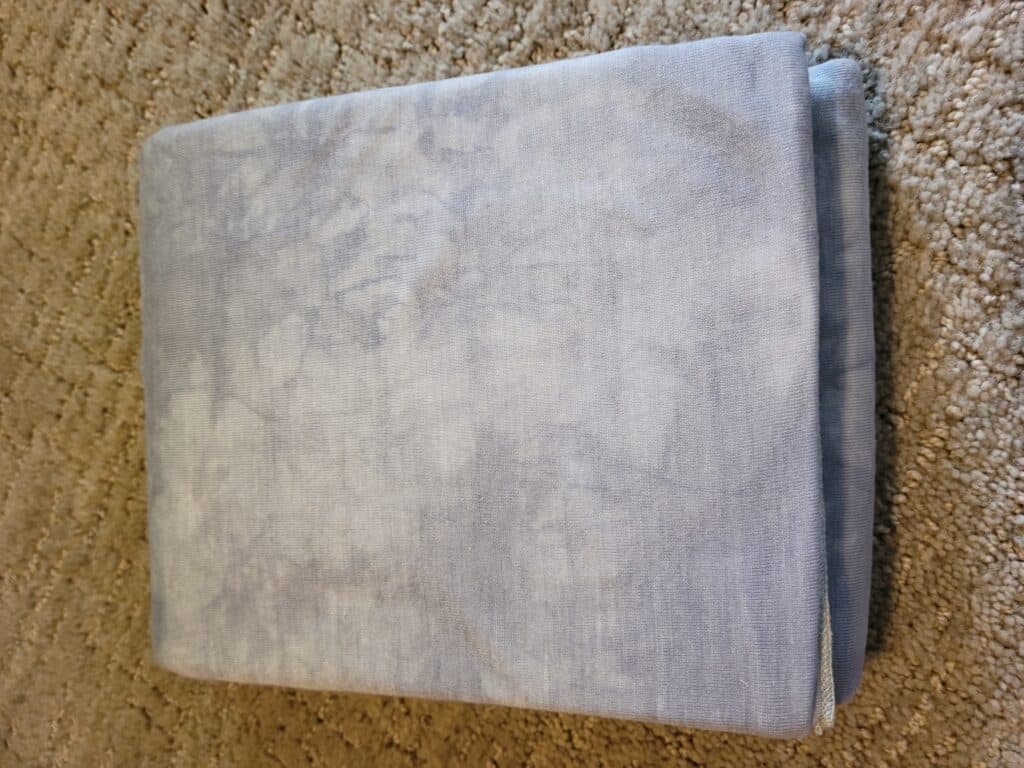 When not using your Solly Baby wrap, it folds up nicely into its own self-closing pocket. Somewhat resembling a bean bag from a cornhole game, chuck it into your diaper bag and forget about it until you and baby need to use it again.
Weight Capacity
Each of Solly Baby's wraps can handle up to 25 pounds of baby weight. For the average baby, this weight capacity should last you until your little one is at least one year old, if not a little older. However, it may not achieve the same level of comfort after the nine month mark.
There's no minimum weight requirement, and Solly Baby recommends taking baby straight from womb to wrap. The company designs its products specifically with this transition in mind.
Ease of Use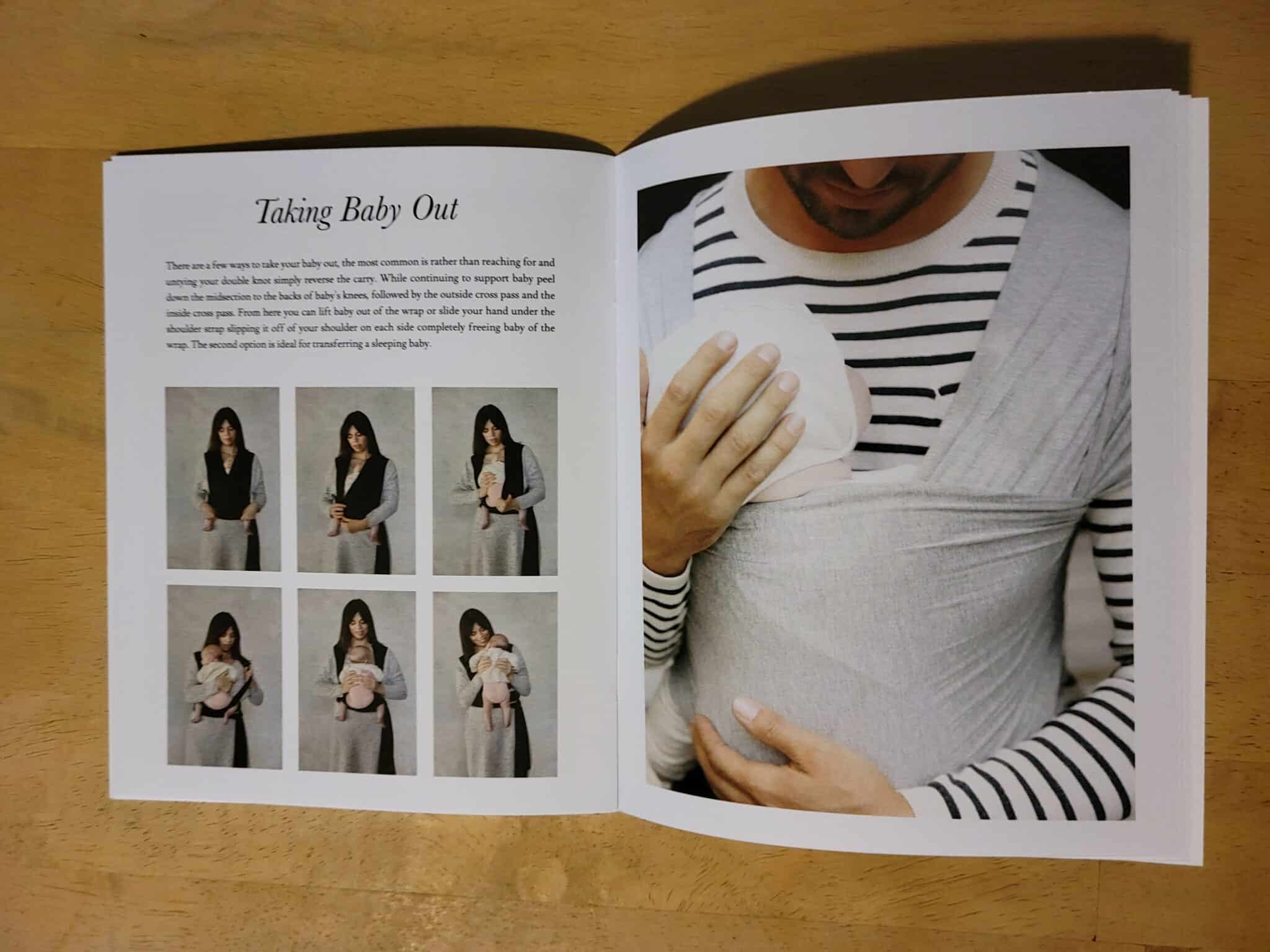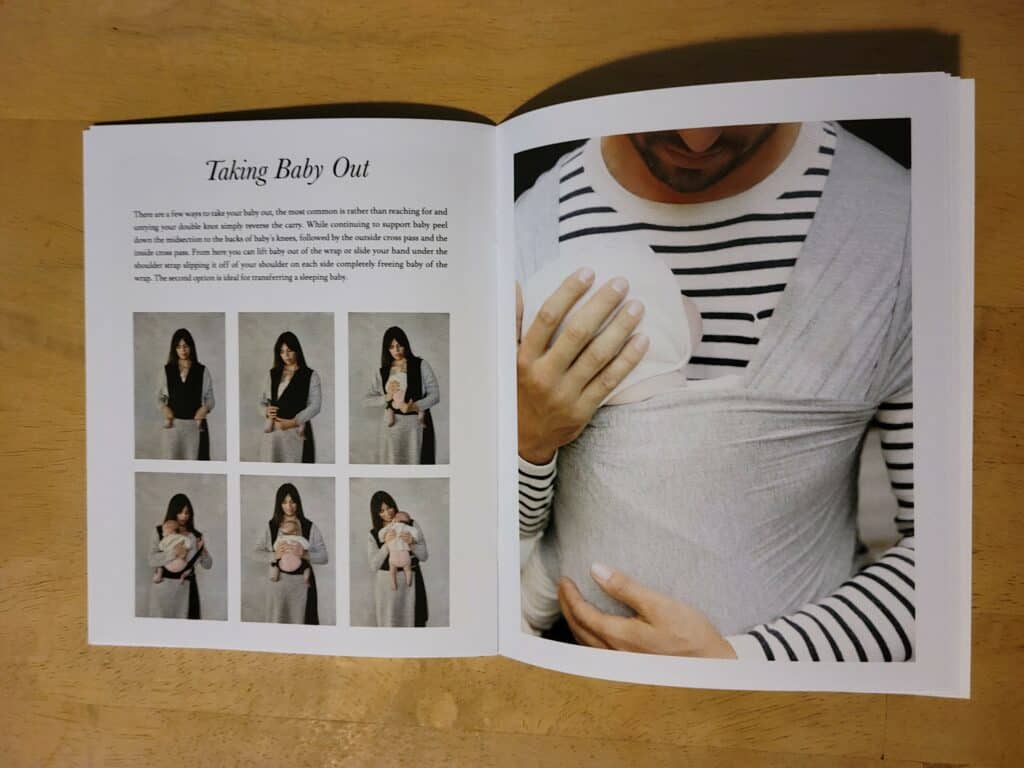 I'll be the first to admit that I don't have a lot of patience, and the last thing I want is to spend several minutes working my way into one of these wraps. Fortunately, Solly Baby does an incredible job of explaining different types of ties with step-by-step instructions in the included booklet. For other men like me who can't be bothered to read, Solly Baby has tutorial videos available to show us how to do it. The same holds true for taking your baby out of the wrap so you don't risk injury.
When it comes time to clean, simply toss your Solly Baby wrap into the washing machine and run a cold gentle wash. There's no need to wait for the wrap to air dry; it can handle a tumble dry low setting in your dryer.
Quality
Even though Solly Baby's wraps are thinner than other brands, it's made with high-quality, sustainably sourced materials that resist shrinking and stretching. The entire manufacturing process happens right in Los Angeles for anyone having second thoughts about items from overseas. Solly Baby uses environmentally-friendly dyes for each color choice as well.
As I mentioned before, you can wash and dry the thing without seeing any degradation in color, quality, or stretch. It keeps coming out looking like it did when I threw it in!
Safety
In addition to careful instructions on how to safely use your wrap, Solly Baby's products are ASTM F2907 compliant and meet all safety requirements in the specification. Wraps also meet guidelines for healthy baby hip development put in place by the International Hip Dysplasia Institute.
Pros and Cons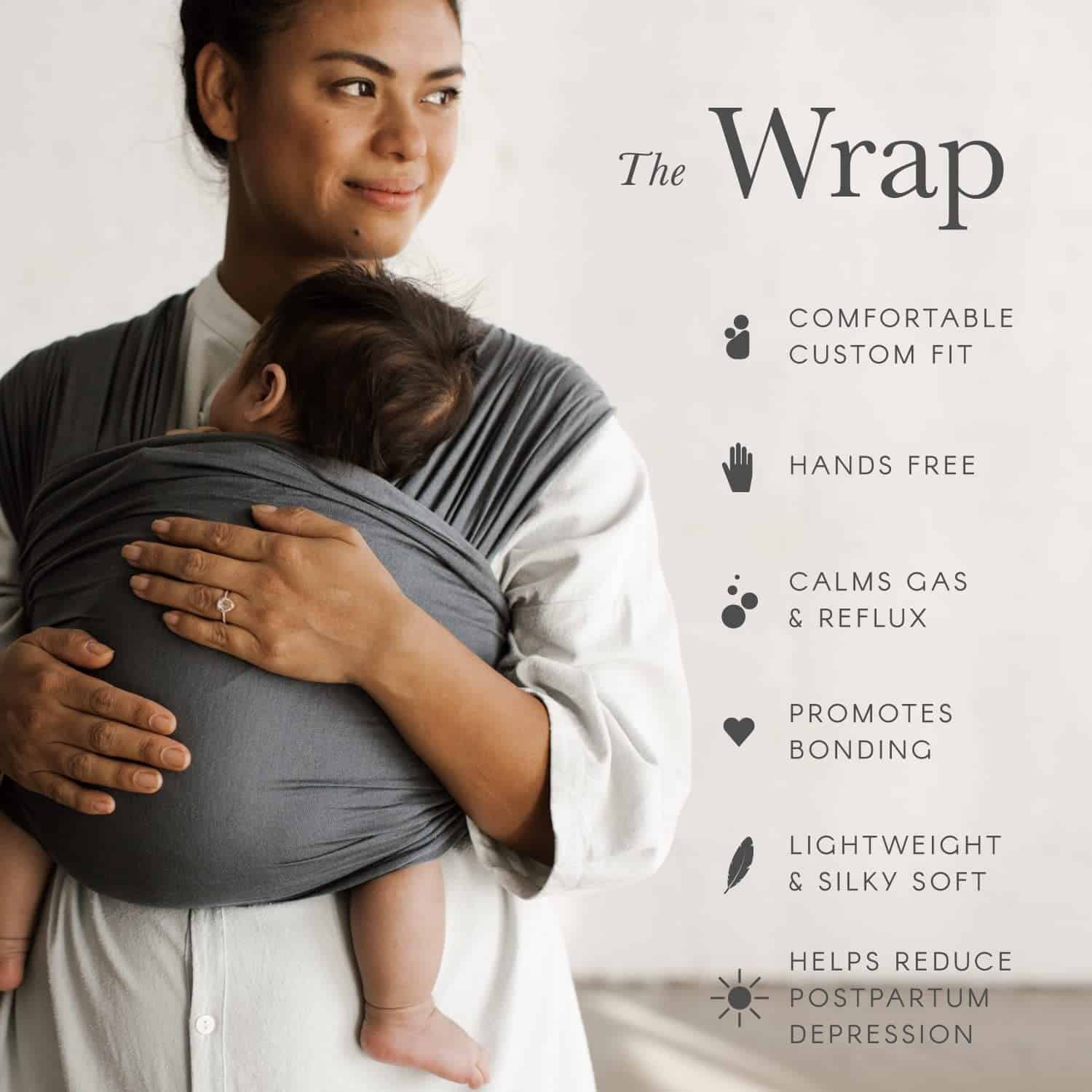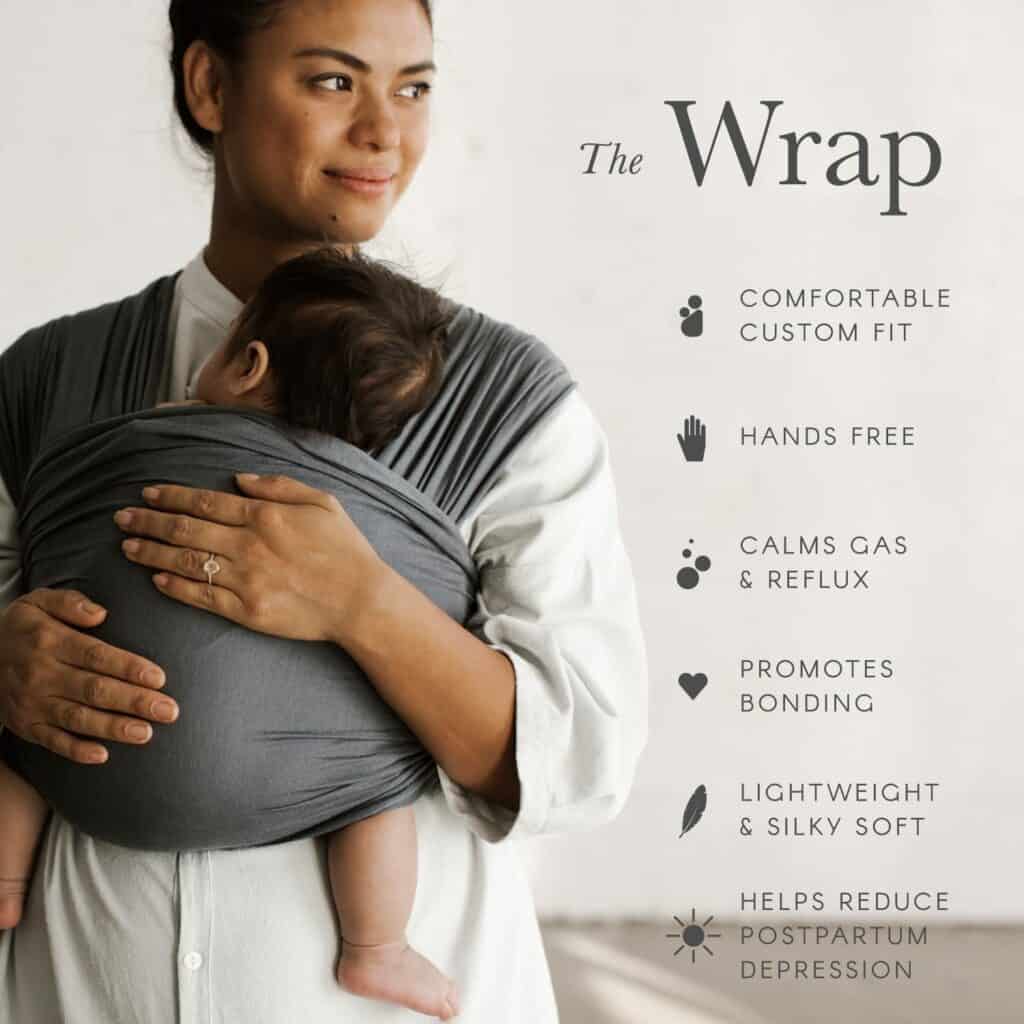 Pros
Super comfortable for adult and baby
Eco-friendly materials
Thin and breathable to reduce heat generation
Meets several safety guidelines
Machine washable
Stores in its own small self-closing pocket
Several colors to choose from
For babies up to 25 pounds
Instructions and tutorials on how to correctly tie the wrap
One size fits all
Helps babies calm down and drift off to sleep
Hands-free approach to carrying around baby
Cons
On the pricey side
Can be overwhelming to tie at first glance
Hands-free babywearing
Soft and breathable
Natural fabric
Can hold 25 pounds
One size fits all
Machine washable
Durable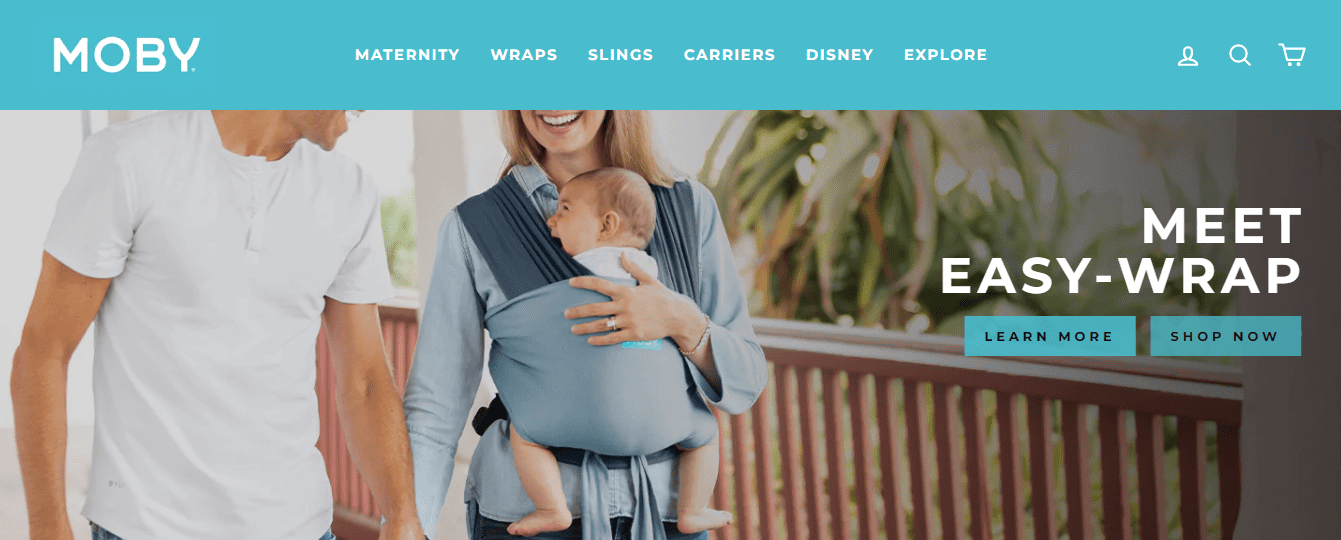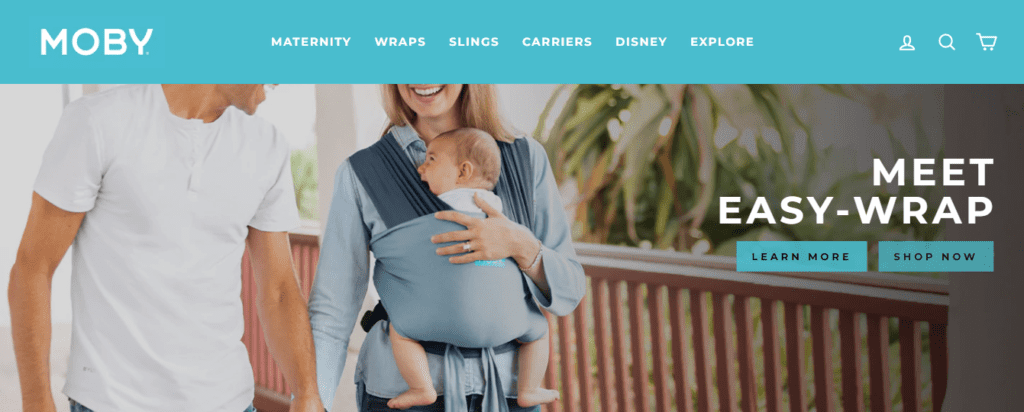 Without further ado, let's switch our sights to the Moby wrap.
Fit
The Moby wrap has some stretch, allowing for a tight fit with some give so your little one doesn't feel trapped. With over 18 feet of fabric to work with, there's little concern about running out while wrapping. Such length makes the Moby suitable for all body types.
Thinner guys (like myself) may have to tie the fabric around their bodies a few additional times before getting the right fit. The wrap should always be tight against your chest, even if the additional layers do generate some extra heat.
Breathability
All of Moby's wraps are made from 100% cotton. As cotton is one of the most breathable fabrics, the material is the perfect fit for such a carrier. Cotton further helps to absorb sweat from you and baby while letting body heat escape. Hot or cold, it works well to keep the two of you in a comfortable zone.
Comfort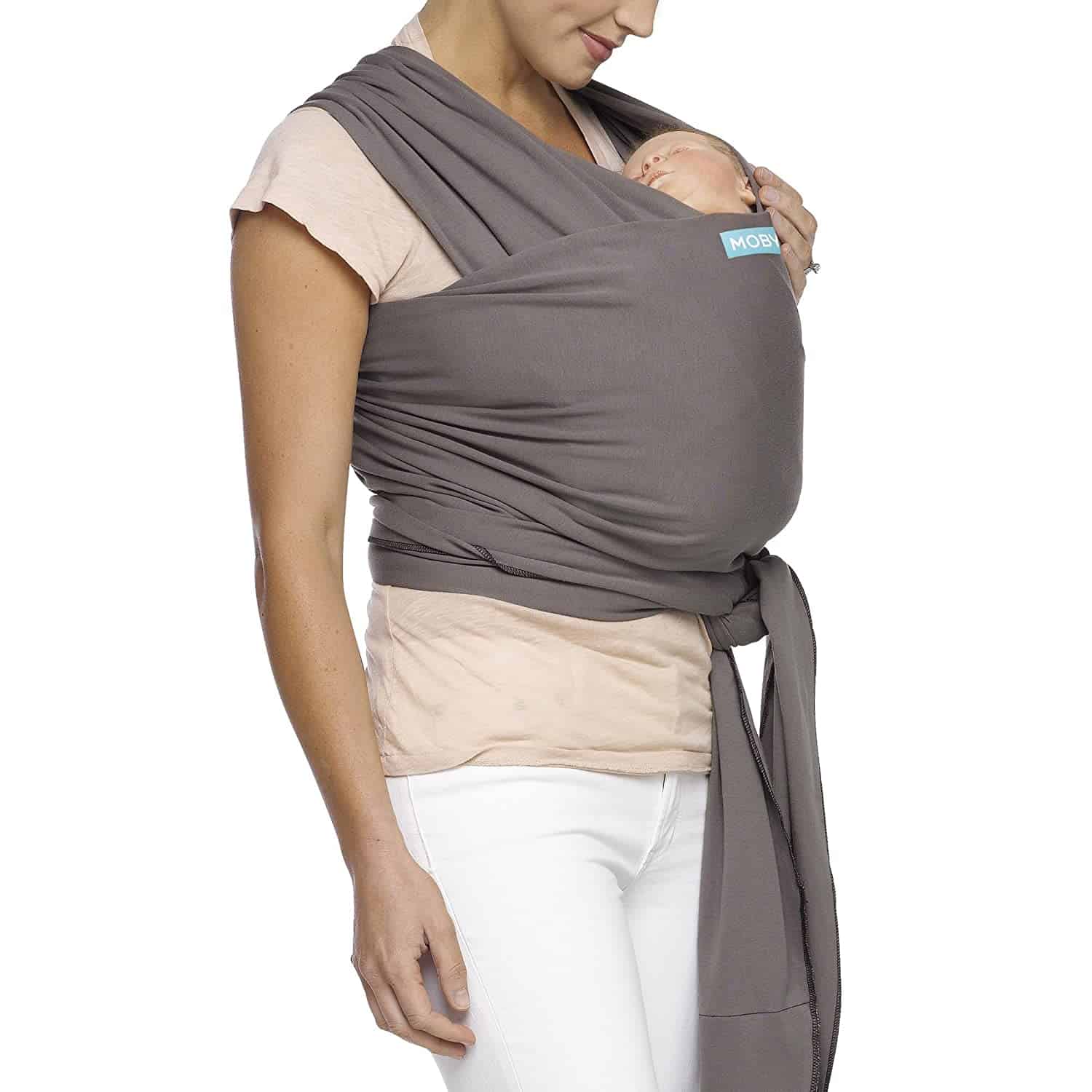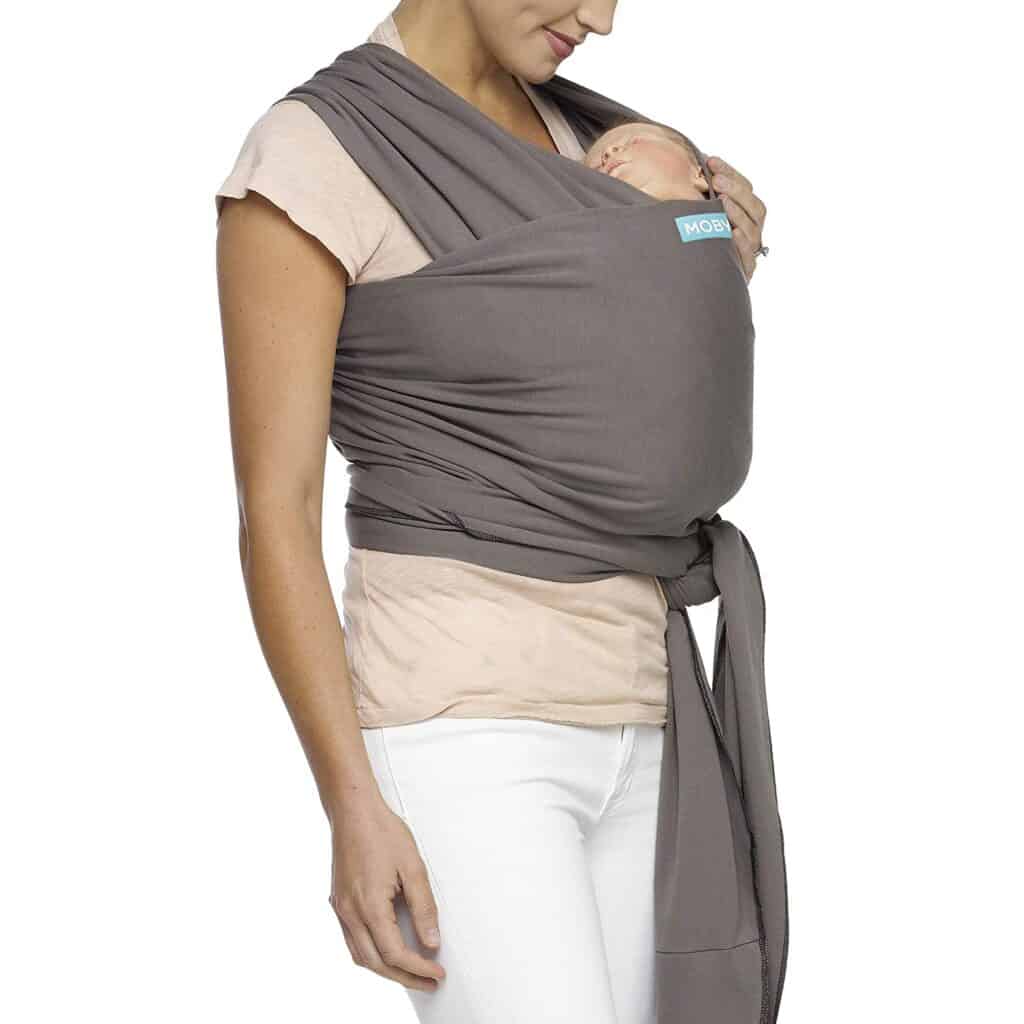 Alongside being breathable, cotton is a very lightweight and comfortable material to wear. Chances are, you've got a few cotton t-shirts laying around somewhere in your place. If you've followed the instructions, the wrap should distribute your baby's weight on various parts of your body to keep fatigue down.
Like other wraps, the Moby is designed to resemble the womb and create the intimate feel babies love. It should not be hard for your kiddo to feel safe and comfortable inside. Most tend to fall asleep after just a short time being inside.
Style
When browning Moby's website, you'll find a total of 16 unique designs, from solid colors to various prints. All products are the same length, width, and material, so the choice here is purely cosmetic.
Storage
Being thin and lightweight cotton, Moby wraps condense to a small footprint when not in use. I wish the products came with a bag of some kind for storage, but no such luck. If you don't want your wrap to unravel while out and about, you may want to find a storage bag to put it in before placing it in a diaper backpack.
Weight Capacity
Moby's wraps cover a range from 8 to 33 pounds, allowing you to snuggle your newborn all the way to the toddler range. You'll have to decide when it's best to forego the carrier for attempts at walking or the stroller.
Ease of Use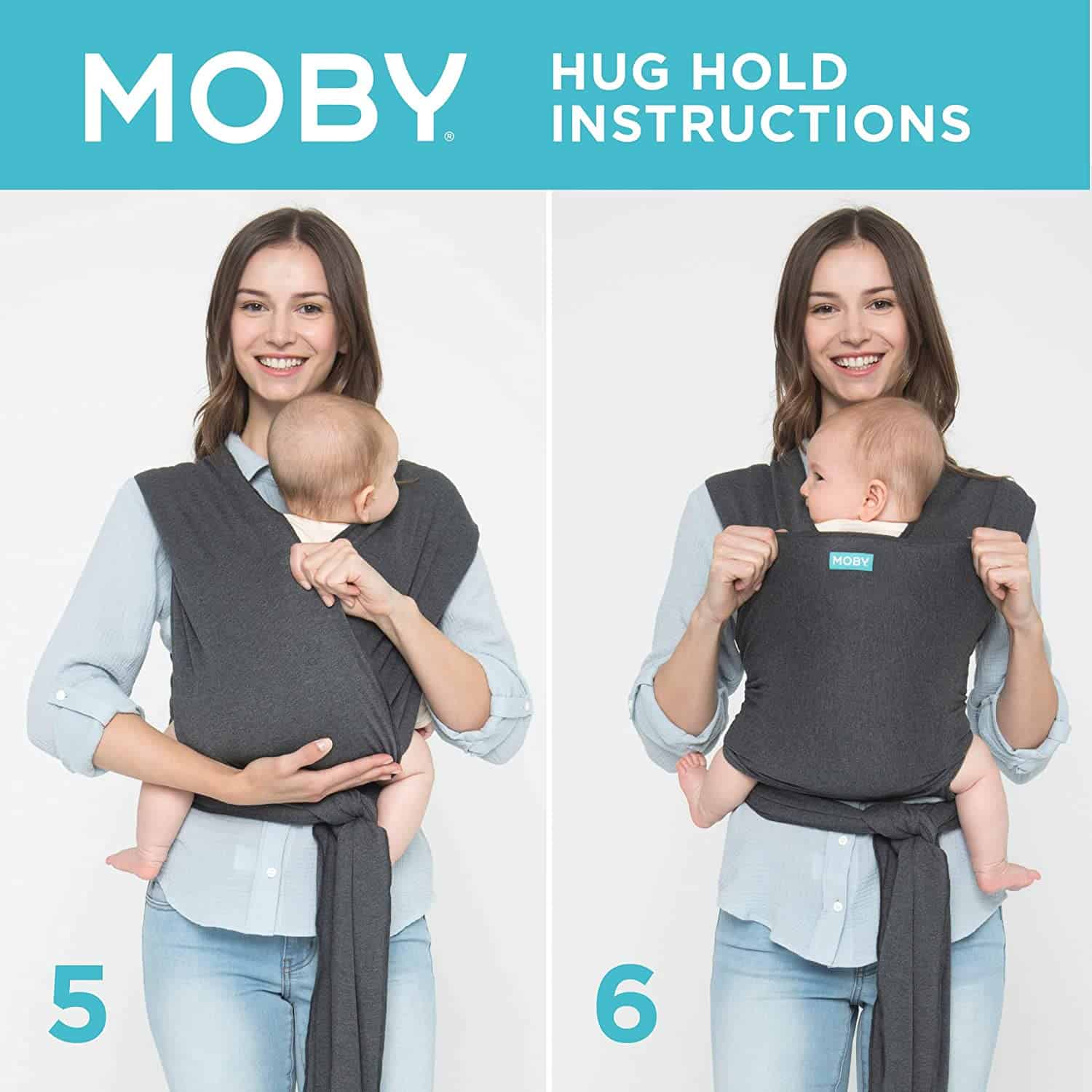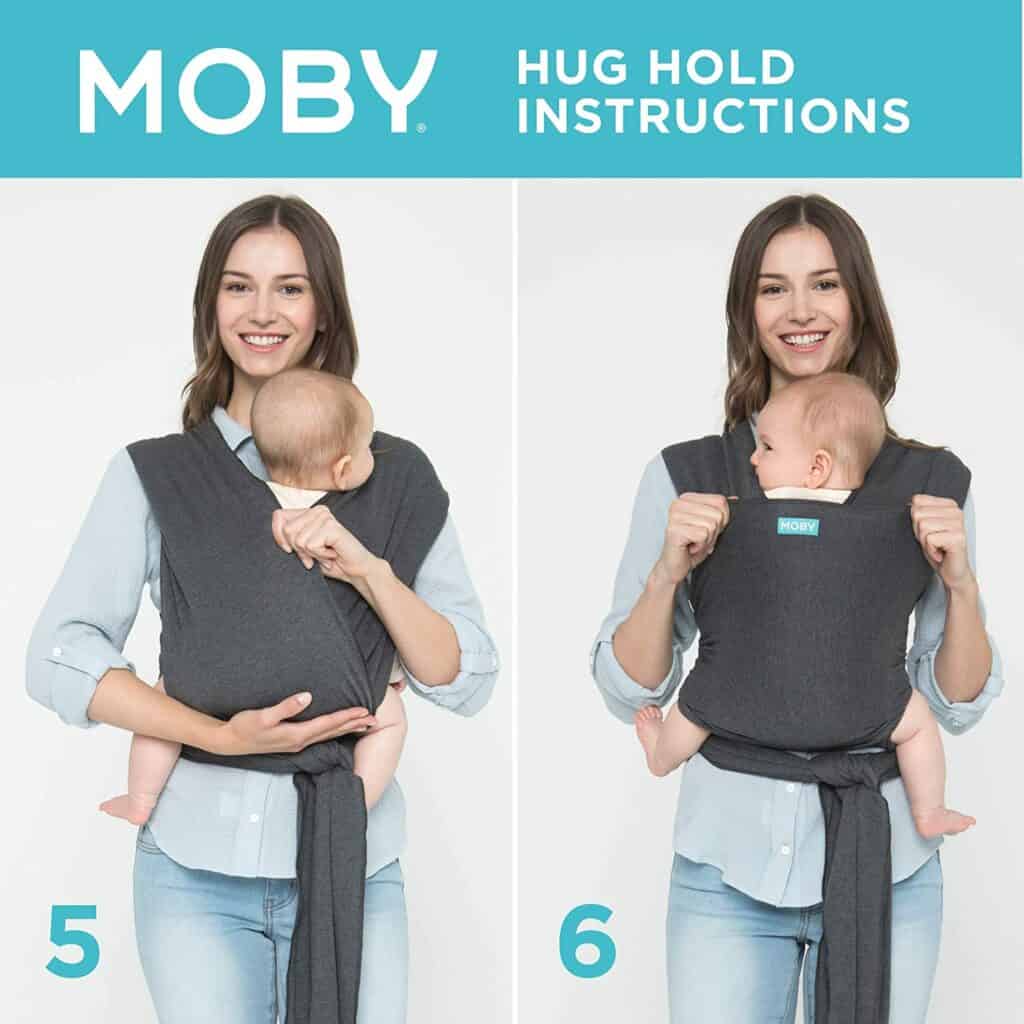 Ease of use is a bit of a prickly point for the Moby wrap. The site has both step-by-step instructions for tying and plenty of how-to videos, but users describe a brutal process of mastering the tucks and twists. Many state it can take several attempts to get the wrap on correctly your first time using it, so make sure you've got plenty of extra time before putting it on.
On the bright side, there's no need to hand wash your wrap. You add it to the cold, gentle, or delicate cycle on your washing machine. It's best to hang dry, but you can also use a dryer's lowest setting.
Quality
Moby shows up here with a quality wrap designed to survive whatever you and baby put it through. Let's be honest, men – we're definitely going to put this thing through its paces. However, there's no mention of manufacturing location or process anywhere on Moby's website.
Safety
Moby is among the International Hip Dysplasia Institute's safe products for promoting proper baby growth. The site doesn't offer any information about meeting other safety specifications but does contain a list of dos and don'ts while wearing your wrap.
Pros and Cons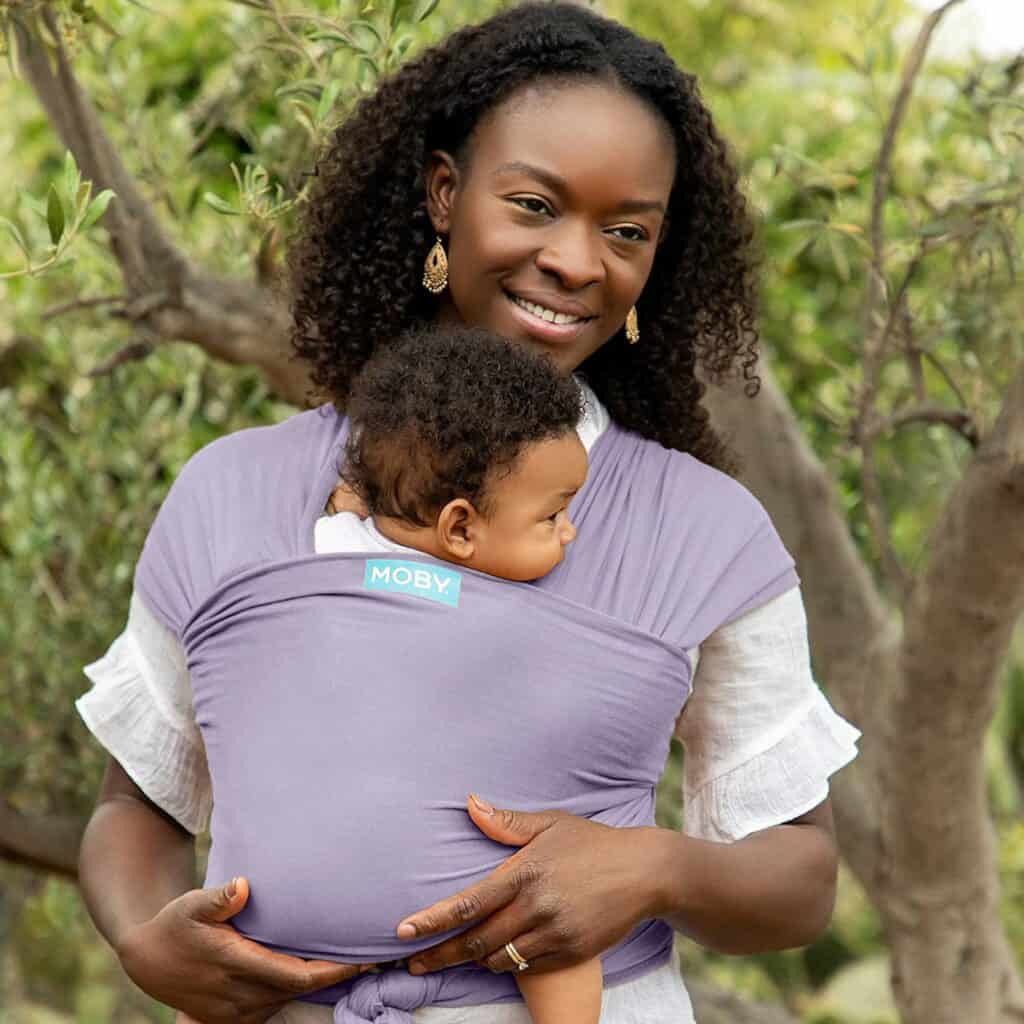 Pros
Supports baby weight up to 33 pounds
Made from 100% breathable cotton
Promotes closeness and bonding with baby
Several colors to choose from
One size fits all
Machine washable
Designed to help babies calm down and relax
Step-by-step instructions and video tutorials
Lower cost than most other baby wraps
Offers the means to carry baby hands-free
Lightweight and comfortable
Cons
Lacks a convenient way to store the wrap
Missing some safety specifications
Challenging to set up and wear
Other Alternatives to Consider
Should neither the Solly Baby nor the Moby wrap excites you, there's no need to fret. Below we've captured a few alternatives to consider instead.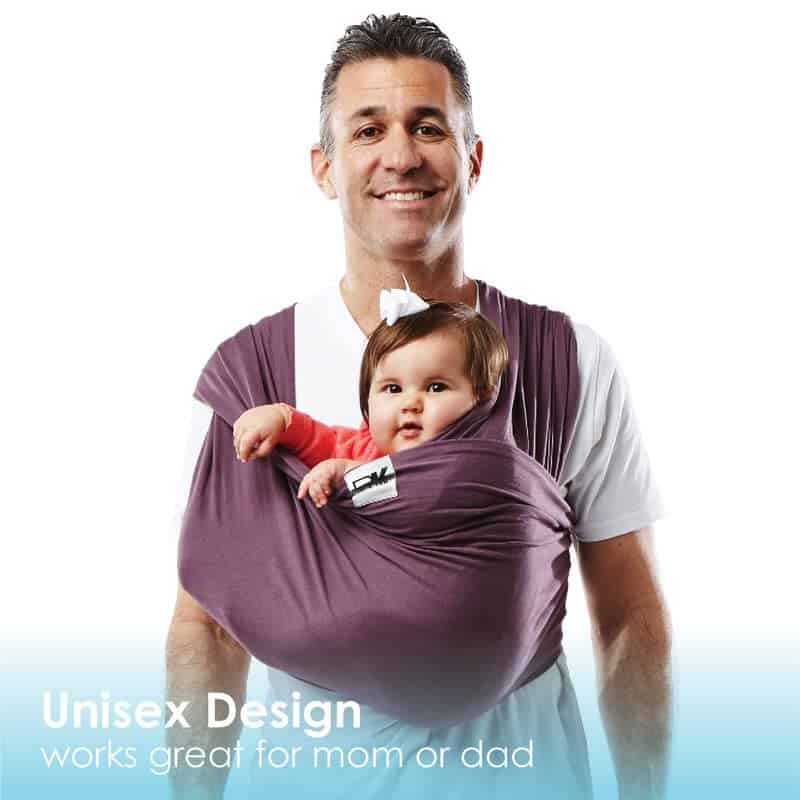 The K'tan carrier comes as a slip-on, eliminating the hassle of wrapping fabric around you to hold baby in place. The design feels like putting on a t-shirt, ranging in size from XS to XL depending on your body type. It's usable for infants from 8 to 35 pounds and has ergonomic positioning to help your little one's development.
It can be tricky to get the fit and comfort level you're looking for since there isn't much in the way of adjustability. Heavier babies tend to sit low and can create strain on your back. There's also no easy way to tighten the carrier, so your infant isn't always positioned as close as you'd like them to be.
Each carrier is made from cotton, allowing the same breathability as the Moby wrap. The fabric itself does feel comfortable on the skin. When your wrap gets dirty, you can use your wash machine and dryer to have it looking good as new.
Check out this guide to see how Solly Baby wrap compares to Baby Ktan.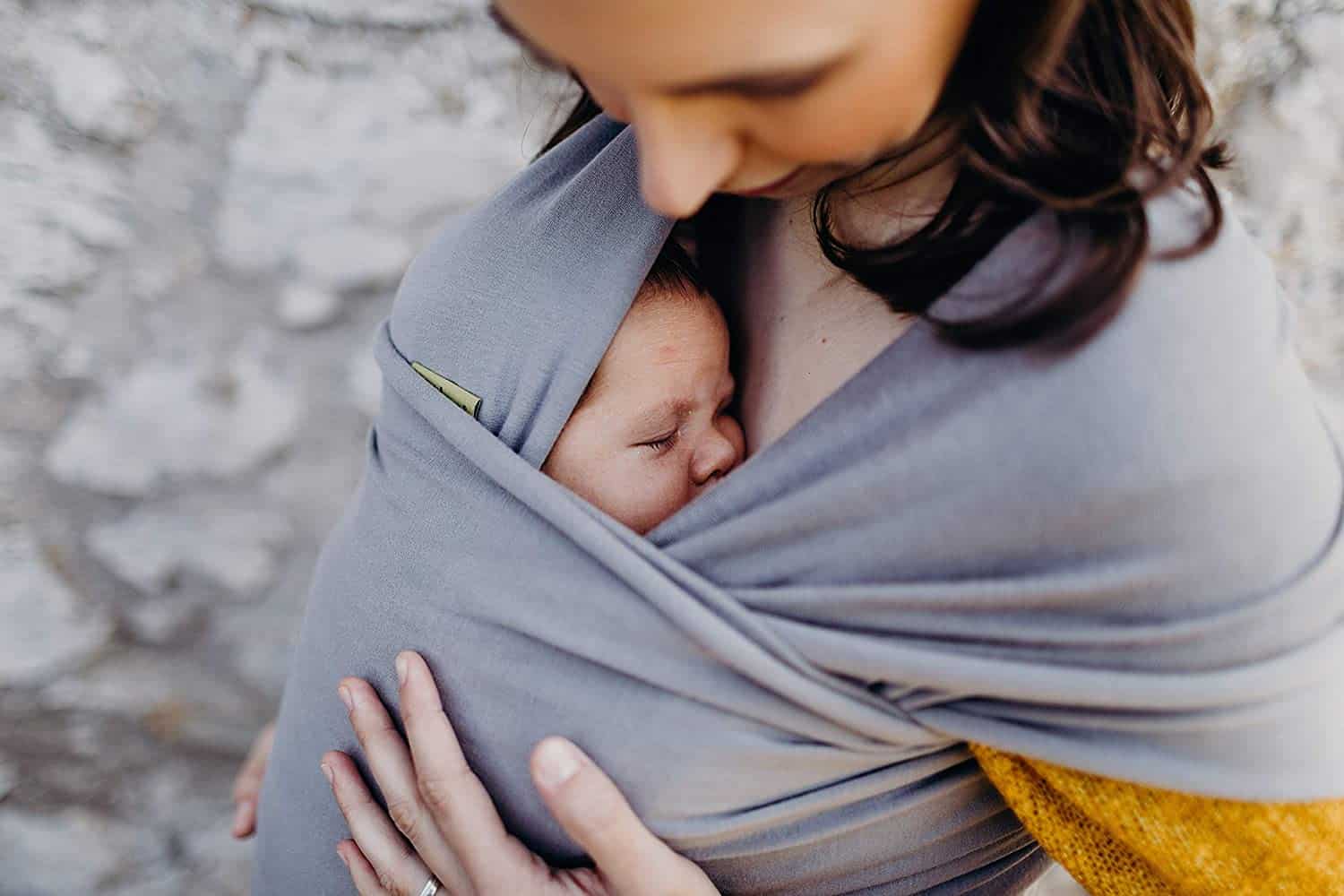 The Boba wrap uses a mixture of cotton and spandex to create a tight fit that bounces back after stretching. This combination is also soft, breathable, and cozy for babies and dads. It is a bit on the thicker side and can generate more heat than other models.
You can use the Boba wrap for little ones from 7 to 35 pounds, but is best suited for those under 20 pounds. From end to end, the fabric reaches just over 18 feet in length to work with all body types. It's designed to be hip-healthy for your kiddo, but still takes a while to master the twists and turns to hold everything in place.
Like most other wraps, the Boba is machine washable, so you can get back to it with minimal effort.
Check out the following guide to see how Solly Baby compares to Boba.
Frequently Asked Questions (FAQ)
Still have questions about baby wraps? This FAQ has the answers you're looking for.
Question: Is the Solly Baby Wrap Worth It?
Answer: While most wraps are similar, Solly Baby uses a proprietary modal fiber blend that's even more comfortable and breathable than cotton. Solly Baby also takes safety very seriously, meeting ASTM guidelines most other carriers do not.
Question: Can Baby Sleep in Solly Baby Wrap?
Answer: Babies should find the Solly Baby wrap similar to being in the womb. Because of this, it's natural for them to quickly drift off to sleep in a space they find relaxing.
Question: Can You Put a Newborn in a Solly Baby Wrap?
Answer: Newborns as small as eight pounds should have no issue being placed in a Solly Baby wrap. The carrier is not designed for infants smaller in size.
Question: Can You Sit Down With Solly Baby Wrap?
Answer: Sitting down with a Solly Baby wrap is safe as long as you're careful to keep the baby's legs and feet clear of any surface. Take similar precautions when standing up so that no part of the baby becomes pinched.
Verdict
With all the chips on the table, the Solly Baby wrap takes the win with its unique TENCEL modal fiber design that offers maximum breathability, comfort, and a great fit no matter your size or the size of your baby. The carrier has optimal durability, quick cleaning, and beats the competition when it comes to safety specifications. Its price may be on the higher side, but knowing your baby is safe and comfortable makes the Solly Baby worth every penny.
Hands-free babywearing
Soft and breathable
Natural fabric
Can hold 25 pounds
One size fits all
Machine washable
Durable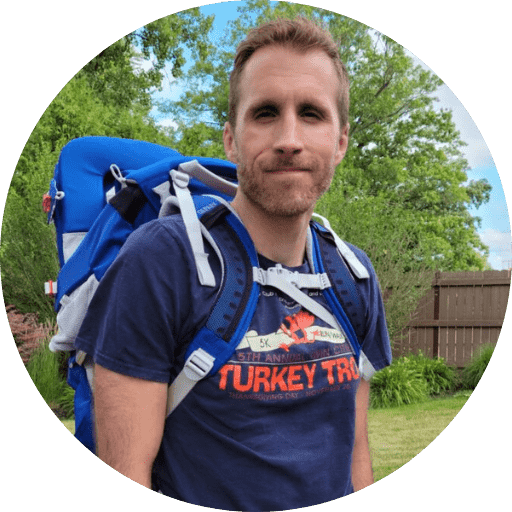 As a new dad, Noah joins Upside Dad as one of our dad product testers, with years of experience in both engineering and the medical space, Noah joins us here on Upside Dad to buy, test, and share his personal insights on new baby gear. He currently lives in Michigan and also loves hiking, and playing video games.