I'm the dad of the sweetest seven-month-old who happens to be a bit small for his age.
Metal framed baby carriers are still too big, so it was a no-brainer to pick up a wrap for doing things around the house and walking around town.
I love the hands-free approach to a wrap that isn't possible with a car seat or stroller. I checked out the Baby K'tan vs Solly Baby wrap and wanted to share my findings with you!
Bottom Line Up Front
I like the flexibility that comes with the Solly Baby wrap and being able to control how it fits on my body. With high safety standards, quality design, and breathable material, it's my go-to wrap any time of year.
Main Differences Between Baby Ktan vs Solly Baby
The main differences between Baby Ktan vs Solly Baby are:
Solly Baby has to be tied in place, whereas the K'tan is a prewrapped design
Solly Baby supports up to 25 pounds, whereas the K'tan can go up to 35.
Solly Baby comes with a pocket to hold the wrap into, whereas the K'tan has a separate sash that turns into a storage bag
Solly Baby has a one-size fits all design, whereas the K'tan comes in specific sizes
Solly Baby is pricier, whereas the K'tan is more cost-effective
Solly Baby is made from TENCEL modal fibers, whereas the K'tan comes in cotton, polyester, or a synthetic blend
Solly Baby has one model with 24 colors, whereas the K'tan comes in a handful of models and styles
Why Use a Baby Wrap?
As I mentioned earlier, I don't like having to tie up my hands pushing around a stroller or finagling with a car seat. We have several small stores and restaurants in my area that are such a pain to push a stroller into and navigate around. The last thing I need is to break some priceless antique trying to make a hairpin turn.
When I'm munching on some grub or tinkering with my hands, I can keep my son right in the wrap and don't have to worry about him being unsafe. He usually just falls asleep because he's so comfortable. Even when he's not in the wrap, I can keep the thin fabric on if I need to and not run the risk of getting too hot. Using a wrap is really a win-win for both of us.
Our Methodology for Choosing a Baby Wrap
There's a lot that goes into making the perfect wrap. Below are all the features we studied when comparing Solly Baby and Baby K'tan.
Fit
The right fit is key to ensuring both you and your baby are safe and injury-free. Wraps that don't fit correctly can also harm your little one's growth. Most wraps are long enough to accommodate most body types, but those with different sizes should be ordered slightly on the small side to keep your infant from being too loose.
Breathability
The air gets quite humid here in the Great Lakes region, and pools of sweat on clothing are at times commonplace. The situation becomes infinitely worse when a toasty little baby is snugly fastened to you.
Many wraps use breathable materials such as cotton or polyester to help air circulate, keeping temperatures down. Some even wick moisture away to reduce sweat buildup.
Comfort
Depending on what you're doing, you may find yourself wearing a wrap with baby for hours on end. Focus on carriers that distribute your child's weight as evenly as possible between your back, shoulders, and hips to maximize comfort.
At an early stage of life, babies prefer warm, confined spaces that emulate the environment they've spent so much time in. Also, ensure the wrap supports your little one in several places on his or her body to prevent irritation.
Style
I don't have a pair of shoes for every day of the week, but I like to look fashionable when I head out with baby on my chest. It's always a plus to have several design colors and prints to choose from when buying a wrap to show off your style.
Storage
Being organized is important to me, and I am not a fan of mess. Even if you're not, it can be quite the struggle to transport everything you need for baby. This especially holds true when on vacation or in parts unknown. A wrap with storage capability speaks to me so I don't have to dig through layers of fabric in the diaper bag whenever I need some butt cream.
Weight Capacity
Babies don't stop growing, and there would be little benefit to buying a carrier that can only hold your kiddo for a short time. Pick out a wrap that supports your kiddo from the moment they're born to the point they're getting comfortable walking on their own.
Ease of Use
No one wants a carrier that takes several minutes to put in place. No matter what design you use, it should be easy to set up and just as simple to put baby in place. Even if the instructions aren't immediately intuitive, the technique has to be quick to master and doable alone.
We're constantly washing baby clothes at my place, and I'd never consider picking a wrap I can't place in the washer. Most are thin enough to dry quickly, but being dryer friendly doesn't hurt either.
Quality
Many parents buy wraps at birth, hoping they will last until the baby has a grasp on walking or beyond. It's not worth buying something that can't handle the test of time, even if it costs a little more for a quality product. Babies are messy, but the most durable wraps can take repeated washings.
Safety
Both the American Society for Testing and Materials (ASTM) and Consumer Product Safety Commission have specifications baby wrap companies should strive to meet. The International Hip Dysplasia Institute monitors for products that allow healthy hip growth among infants. There should also be clear guidelines for how to wear your wrap to keep baby safe and secure.
Let's check out the Solly Baby wrap and its standout features.
Fit
You control how tightly the Solly Baby wrap fits as you weave it around your body. The fabric should be tight against you, even if that means creating a few extra loops before tying it off at the end. Coming in at 16 feet, the length should accommodate any body type with fabric to spare.
Breathability
Solly Baby wraps are created from 100% TENCEL™ modal fibers found in the heart of Austrian Birchwood Trees. These trees need to breathe, and these fibers are known to be even more airy than cotton. As an absorbent material, the TENCEL also wicks moisture away from you and baby.
As hot as my baby can be at times, I'm amazed by how well the Solly Baby moves hot air away from us as we walk around.
Comfort
The right fit plays a significant role in how comfortable you'll be when wearing the Solly Baby wrap. As long as fabric hits all the right points, you should find your infant's weight distributed evenly across your back, shoulders, and hips. Even with a baby on your front, I don't feel like I am being pulled forward or experiencing undue strain.
With your Solly Baby wrap in position, you can place baby carefully into the straps that will hold him or her close to your chest with the head clearly in view. Everything should be tight enough that you don't experience any sag with the infant in place, but there should be a small amount of room for movement. Your baby is most comfortable in a womb-like setting that the Solly Baby wrap emulates.
Style
At present, Solly Baby has 24 different color and design combinations to choose from among its wares. Each wrap is made identically outside of the pattern, so you can follow the site's guidelines no matter which one speaks to you. I honestly found it hard to pick just one!
Storage
At one end of the Solly Baby carrier is a little pocket you can tuck the entire wrap into when not in use. It folds down to a size not much larger than my hand and quickly disappears into a diaper bag. You won't notice the pocket when you're using the wrap.
Weight Capacity
Solly Baby helps baby's transition into the world by creating a womb-like environment. The company recommends using the wrap right from birth to help your little one acclimate while still feeling safe and comfortable.
Each wrap can hold up to 25 pounds, which the average baby will reach somewhere past the one-year mark. Things may start to feel uncomfortable once your little one passes nine months, so you'll have to decide how best to proceed.
Ease of Use
It was almost overwhelming at first learning about the different ways to wrap a baby and the complex shenanigans I'd have to perform to get the Solly Baby wrap in place. I actually found the process relatively straightforward, but I did have help in the beginning to make sure I did everything correctly. You can find several tutorials on Solly Baby's site, and the manual has step-by-step instructions to follow.
Once your wrap has enough drool, puke, food, or other lovely stains, simple throw the thing into the washing machine in a cold gentle wash for treatment. You can also tumble dry on a low setting if you don't want to wait for your Solly Baby to air dry.
Quality
I wasn't sure what to expect from a wrap made from tree pulp, but there's no doubt the quality is there. The sustainable material resists shrinking and stretching while holding up to everything I've thrown at it so far. It may feel a bit thin for breathability's sake, but I'm not worried about it coming apart.
All manufacturing happens stateside in Los Angeles while using environmentally friendly dyes and processes.
Safety
Solly Baby makes a point of clarifying how to wear your wrap and position your little one to keep everyone safe and secure. Each wrap meets ASTM F2907 specifications and passes healthy baby hip development guidelines by the International Hip Dysplasia Institute.
Pros
Made from comfortably soft fabric
For babies up to 25 pounds
One size fits all
Thin and breathable to reduce heat generation
Meets several safety guidelines
Machine washable
Stores in its own small self-closing pocket
Several styles to choose from
Instructions and tutorials on how to correctly tie the wrap
Eco-friendly manufacturing process
Helps babies calm down and drift off to sleep
Allows for hands-free baby transportation
Cons
Not as cheap as other models
Can be overwhelming to tie at first glance
Below you'll find the lowdown on the K'tan baby wrap.
Fit
K'tan carriers are pre-wrapped and have limited adjustability. When purchasing the model you like, you'll need to check your coat size and buy the wrap that most closely resembles the size you wear. Picking up the wrong size can cause comfort problems for you and baby, but getting your measurements right can leave you with a perfect fit.
Wraps tend to be true to size, and K'tan has a size chart to help you identify which you'll need. If you find yourself caught between sizes, it's best to size down. There is an adjustable band that rests on your back to provide optimal support, but it's near impossible to move on your own.
Breathability
Classic models are made entirely of cotton, one of the more breathable natural materials on the planet. I like wearing cotton t-shirts in the summer, but even these can get quite hot and sweaty in non-ideal conditions.
The K'tan Breeze weaves in a mesh design to promote airflow to help keep you and baby cool when the weather won't cooperate. To go one step further, K'tan has three activewear models utilizing sports mesh and also wick moisture away from you and your little one.
Comfort
With a few different styles to choose from, the feel of the fabric can range from soft to silky. Wraps are either made from 100% cotton, 100% polyester, or a synthetic polyester blend for active performance. Since there's not a lot of flexibility with how the wrap sits on your body, you may experience discomfort after several hours of use. Larger babies tend to exasperate the situation even more.
Your baby will feel like he or she is still in the womb while tucked carefully away in your K'tan wrap. The sensation of being in a small place in a warm environment is what infants seem to enjoy the most. A little one shouldn't have much trouble relaxing for the long haul.
Style
Baby K'tan has seven different wrap styles, with variations in print, construction, and material. Three of these models are designed for active parents, featuring polyester blends and more mobility. Most come only in solid colors, but K'tan does have a line dedicated to prints.
Storage
When setting up your K'tan wrap, you'll have the option to sling the included sash across your chest for added security and support. At the end of a long day of walking, this sash converts to a handy carry bag to stow your carrier in. After packing the wrap into the sash, the small footprint fits well in a diaper bag.
Weight Capacity
The K'tan wrap's flexibility allows you to carry an infant from 8 pounds all the way to the 35-pound mark. In effect, you can keep your newborn feeling cozy and secure and continue doing so until he or she reaches somewhere around the two-year milestone. Of course, it's up to you when you want to encourage more activity and walking.
Ease of Use
All the Baby K'tan carriers come pre-wrapped, so you don't have to wrestle with ties and twists before heading out the door. It requires no more than three easy steps to have your wrap in place and ready for baby to hop in. There aren't even any buckles, snaps, zippers, or rings to deal with. It's possible to put your infant in one of five positions and easily switch between each without having to redo your wrap.
Each design is machine washable and can also be thrown in the dryer. I know baby things get dirty quickly, so it's a blessing to wash quickly and not have to wait for the thing to air dry.
Quality
Baby K'tan's quality is on point, using robust materials to hold baby in place while you're doing what you do best. There's no need to worry about straps coming loose or fabric tearing due to poor construction practices. Do your worst, as K'tan's wraps bounce back strong from even a wash and dry cycle.
Safety
K'tan introduces five unique positions for your baby to rest in. As a newborn, both the Kangaroo and Hug positions support an infant without head control. As your little one gets older, other settings become available to encourage active growth and muscle strength.
In addition, K'tan carriers meet an impressive list of ASTM and Consumer Product Safety Commission specifications in both the United States and overseas.
Pros
Meets a long list of safety specifications
Can hold babies up to 35 pounds
Sash converts to handy storage bag
Specific sizes promote a good fit
Made from breathable materials
Site has many tutorials for learning to wear
Machine washable and dryable
Designed to simulate the womb
Multiple styles to choose from
Allows for hands-free transportation of baby
Lower cost than similar models
Cons
Comes in sizes, so you'll have to invest in two if you want to share carrying responsibility
Not as comfortable after long durations
Alternative Carriers to Consider
The Solly Baby and K'tan wraps both have impressive qualities, but they may not be for everyone. Below are some alternative carriers to consider instead.
The Moby wrap comes in a cotton material that allows babies and dads to breathe while staying secure. The soft cotton also helps keep sweat away from the area your bodies meet. At 18 feet in length, parents of any size should have no issue using the carrier.
You'll have 16 different designs to choose from when picking out your wrap, and the carrier can support kids from 8 to 33 pounds. There's no included storage container, so you'll have to be creative when putting your Moby wrap away.
There's a bit of a learning curve to getting the twists and ties right, but the site has several videos to walk you through the process. It meets the International Hip Dysplasia Institute's safe products list and is designed to take a beating.
Boba incorporates spandex into its cotton design to maximize stretchability while keeping a tight fit. The extra fabric does make this wrap a bit thicker and hotter than other models. It is very comfortable to the touch for both infant and dad.
Fully laid out, the Boba covers 18 feet from end to end. The abundance of fabric means most parents can make the Boba wrap work for their body type. It holds infants and toddlers from 7 to 35 pounds, but many complain of comfort degradation after the baby is about a year old.
You can wash the Boba wrap in the washing machine, but there's no way to store the carrier once you're done.
3. Happy!
Happy wraps are made in the United States using safe, non-toxic dyes as part of the process. Each carrier features 100% linen that, like cotton, is a naturally breathable material. The design allows for several safe positions as your baby gets bigger.
At just shy of 15 feet in length, you'll be able to tie the Happy around most dad bods and still have fabric to spare. Ready for newborns 7 pounds or heavier, babies should sit comfortably until they're well past their first birthday.
You'll have a few colors to choose from, and you can put your Happy wrap in the washing machine at the end of a long day.
Frequently Asked Questions (FAQ)
Check out this FAQ for additional answers about baby wraps.
Question: Do Baby Carriers Cause Hip Dysplasia?
Answer: Keeping a baby's legs together for any length of time can have a negative impact on proper hip development. Any carrier worth its weight will keep an infant's legs spread apart to promote proper growth. As a result, most wraps are entirely safe for use.
Question: Can You Wear Your Baby Too Much?
Answer: The American Academy of Pediatrics (AAP) recommends babywearing and states it's not possible to wear a baby for too much time. Babies love to cuddle and form bonds during close times with dad.
Question: Does Babywearing Count As Tummy Time?
Answer: A baby's tummy time is important for developing head and arm strength while fine-tuning motor skills. When in a wrap, your infant is able to experience the same type of workout he or she gets during tummy time. Better yet, babies seem much happier in a wrap for long periods of time than on the floor!
Question: Can a Baby Sleep in a Wrap?
Answer: Being in a wrap helps your baby feel like he or she is back in the womb, creating a warm and peaceful environment. Little ones will often fall asleep quickly when in these types of situations.
Verdict: Solly Baby Wrap or Baby K'tan?
While both wraps have their merits, the Solly Baby wrap receives top billing for its fit, breathability, and comfort.
Having a prewrapped design is nice, but I prefer the flexibility of a tie that I can control in the event I need to shift some weight or relocate my baby.
I can also hand it off to my wife at times without having to worry about our size difference. The price may be on the higher side, but it's worth knowing I'm getting a product that will last.
Hands-free babywearing
Soft and breathable
Natural fabric
Can hold 25 pounds
One size fits all
Machine washable
Durable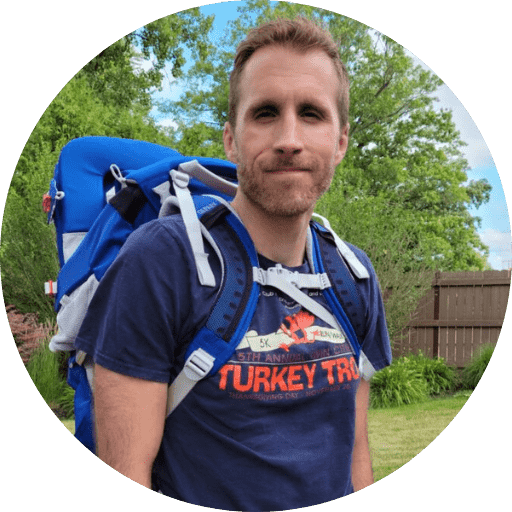 As a new dad, Noah joins Upside Dad as one of our dad product testers, with years of experience in both engineering and the medical space, Noah joins us here on Upside Dad to buy, test, and share his personal insights on new baby gear. He currently lives in Michigan and also loves hiking, and playing video games.