Baby carriers and wraps do not look the same, but they serve the same purpose; to carry baby safely and close to you while remaining hands-free. Babywearing is life-changing for new parents, but which carrier is best for which situations? In this post, I'd like to compare two of the most popular types, structured baby carriers vs wraps.
In this post, "baby carrier" refers to a structured carrier made out of fabric, straps, buckles and pads. It consists of a little fabric seat for the baby with straps that go over the parent's shoulders and around the parent's waist, with a buckle at the front. The Ergobaby is a popular example of a baby carrier.
Wraps, on the other hand, are long strips of material, woven or stretch that you wrap around your and your baby. It can be ties at the front or back and they come in many different colours and patterns. As you can gather, wraps are very basic.
Baby carriers and wraps are great to use when you want your hands to do something else while you are taking care of your baby. They are also great for breastfeeding moms and taking your child with you when you go shopping, do chores or just going for a walk.
If you are wondering which one is best for you, our detailed analysis of the two should help you decide.
For more details on the different types of carriers check out our detailed baby carrier guide.
Baby Carriers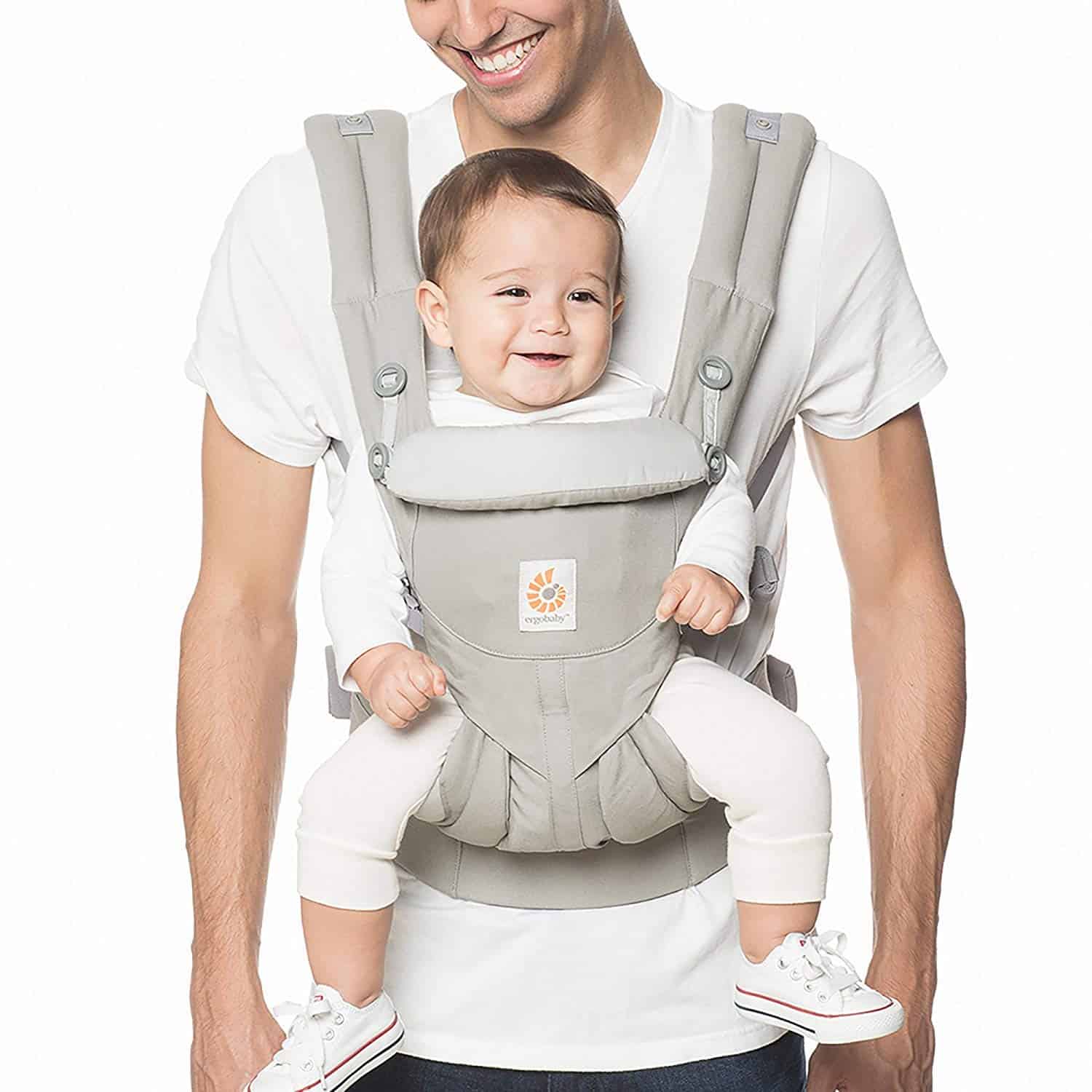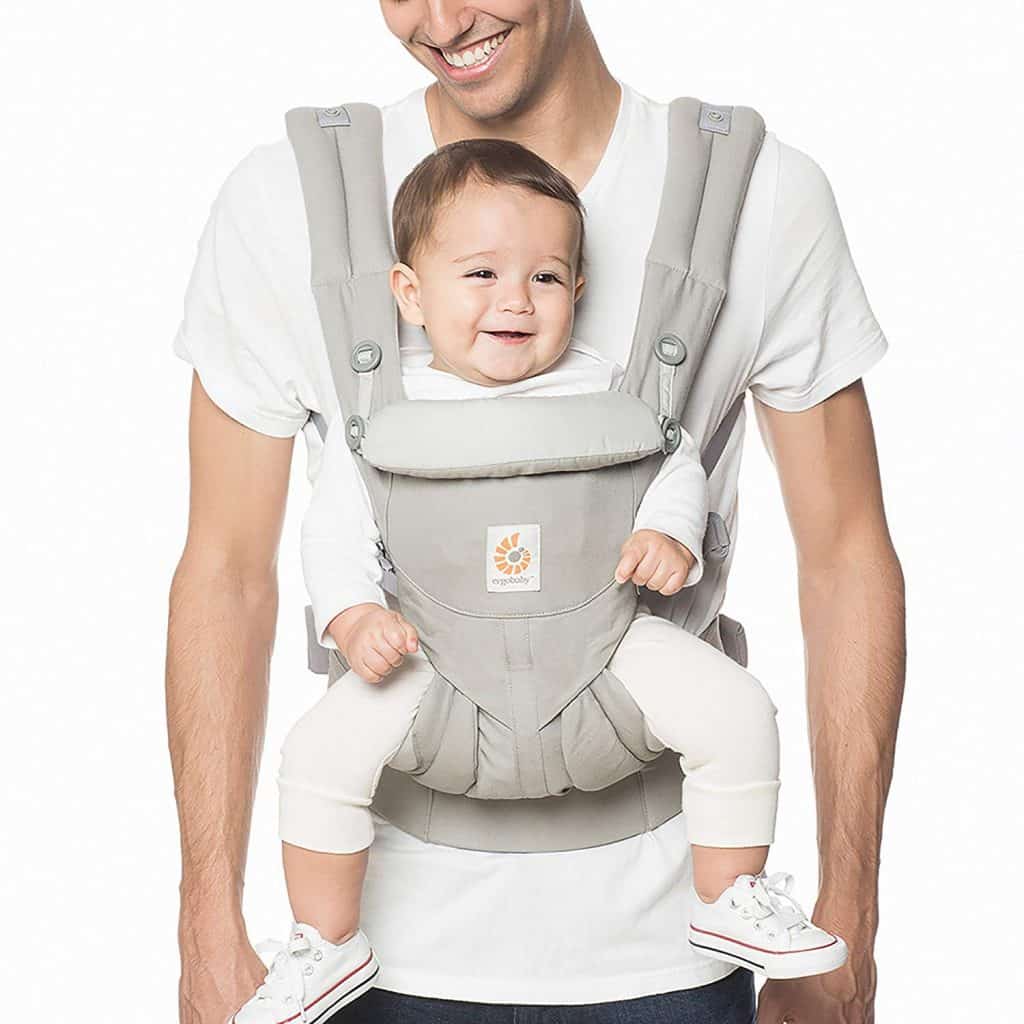 Baby carriers are constructed from strong fabric so they are usually more firm and some even feel they are more secure. They have a pouch that acts as a seat for the baby. Some baby carriers come fitted with head and neck support for newborn babies and they mostly have padded shoulder straps and waist straps that fasten with buckles on the wearer's body.
Baby carriers are ideal for infants from 4 months through 2 -3 years. If the carrier has a head support feature and comes with an infant insert, you can use it for your newborn baby as well.
However, while you can put your newborn in a baby carrier, you must keep in mind that a newborn's neck muscles are not strong enough to hold his head firmly. Most babies only achieve this milestone around 4 – 6 months. This means that a newborn should always be facing the parent and never outwards.
Soft Structured Carriers can also work very well for breastfeeding moms. Babies who are breastfed normally nurse on demand and mom is not always in a place where she can do it in privacy. If you baby is in a carrier, mom can usually feed him right then and there. With a baby carrier, mom may need to loosen the shoulder straps first so she can access the baby.
Coming with shoulder straps and waist straps that fasten with buckles, baby carriers are safe for babies and comfortable for parents. The straps, when tightened correctly distribute the weight of the baby evenly which makes for hours of comfortable wearing.
The shoulder straps are often padded for wearing comfort, but the waist straps are not always padded.
It's not hard to use a baby carrier. You quickly learn how to put the baby and the carrier on your body all by yourself. You can wear your baby on your front, your back, or even on the side (hip).
Well-designed baby carriers have a wide panel for the baby to sit in. This ensures that the baby's legs are in the optimal position – legs apart and knees higher than the hips (the so-called frog position).
This position ensures healthy hip and spine development for the baby.
When do parents use a baby carrier? Parents wear their babies all the time – while they do chores, when they are out shopping or go for a walk in the park. I often see adults on public transport sporting a child on their back or front. It's a very common sight these days. Baby carriers let a parent be a parent but also give them the freedom to carry on with other parts of their lives.
Wraps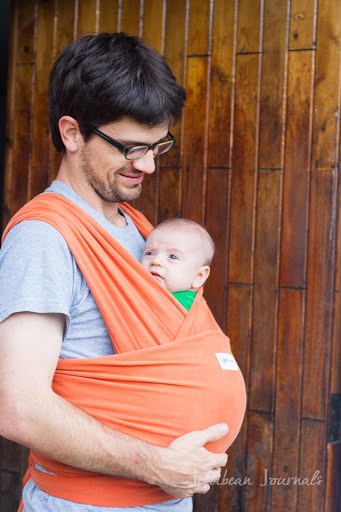 A wrap is a very basic style of baby carrier. It is simply a very long and fairly wide piece of fabric that is wrapped around you with your child right against your body. This creates a snug cradle for your baby.
Wraps are wonderful because of their simplicity and portability. Just throw your wrap in the baby diaper bag or the glove compartment of your car and you're good to go.
With a wrap, mom can nurse baby without having to take the baby out. Just loosen the wrap slightly and move baby over a few inches. With some stretchy wraps, mom won't even have to loosen the fabric.
Wraps can be used for newborns and children up to 3 years old. As mentioned earlier, the neck muscles of newborn babies are not strong enough to support their head unsupported, so you must make sure that your baby's neck and back are supported when you tie the wrap.
Various fabrics are used to make wraps. You get cotton and linen wraps as well as wraps made from cotton knits and other stretchy materials.
The woven wraps tend to be stronger and last longer than the stretchy ones. Wraps made of stretch materials are best suited for small babies as the material doesn't support heavier toddlers optimally.
On the other hand, stretchy wraps make really snug little nests for little ones as the material tends to fit snuggly around you and the baby when you tie the wrap.
If you are wondering if it is safe to carry your baby in a wrap, you can relax. Wraps have been used to keep little ones close and snug next to their parents for centuries. Pediatricians and parenting experts also agree.
There is only one catch though – most parents agree that wraps are simple but not easy to use. That is because it can be quite tricky to master the art of tying a baby in a wrap. However, having said that, most brands today come with clear instructions on how to use the product and there are also loads of great videos online that demonstrate how to tie a wrap.
Wraps are very versatile. You can carry your baby in any position; in the front, on your back or on your hip. You can also use them while doing chores, shopping, attending an art exhibition, or socializing in the park.
Structured Baby Carrier Pros and cons
Pros
Baby carriers are uncomplicated to use– it's easy to put the baby in, fasten the buckles and tighten the straps.
With the help of the straps and buckles, the weight of the baby is distributed evenly for the comfort of the wearer.
The adjustable straps and buckles mean that the same baby carrier can be used by multiple people.
Versatile – you can carry your child in any position, front, back, or hip.
They are designed to hold babies safely.
They offer ergonomic support for babies and toddlers.
They come in a wide range of colors and styles.
Baby carriers make it possible for parents to be out and about having fun while their babies are safe with them.
Cons
Baby carriers are not made of soft fabrics. They are made to be sturdy and don't mold to a baby's body like a wrap does. The fabric might not be cozy for a young baby.
Most baby carriers are not suitable for newborns. They are best for babies from 4-5 months.
When you want to nurse your baby, you need to loosen the shoulder straps first to get access to your baby.
Compared to wraps, baby carriers are quite pricey.
Wraps pros and cons
Pros
Wraps can be used over a long time – from day one through toddlerhood.
They provide an intimate and safe cradle for newborns, babies, and toddlers.
They help to foster a close bond between parent and child.
Niggly babies are easily soothed by the closeness and intimacy a wrap creates.
This versatile item can be tied in many different ways to suit different body shapes and sizes.
Wraps allow for easy and discreet breastfeeding.
Versatile – allow front, back, and hip wearing.
Wide choice of fabrics.
Cons
It is tricky to learn to tie a wrap and many parents never master it.
A wrap doesn't allow for the even distribution of the baby's weight – baby carriers do a better job of this.
Wearing a baby in a wrap can become unbearably hot.
Conclusion
Baby carriers have advantages and disadvantages to them and so do wraps. In both cases the advantages outstrip the disadvantages. In the end the choice between the two is a personal one.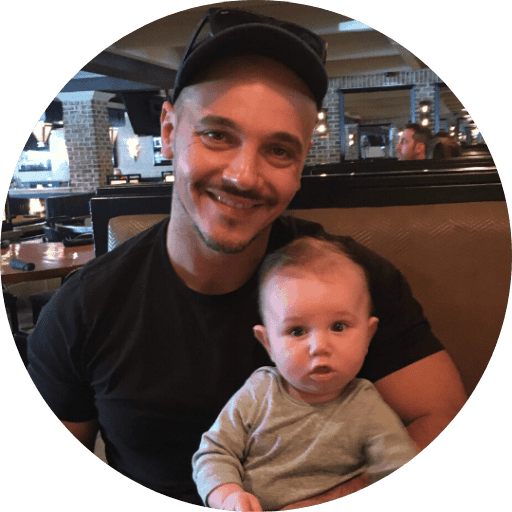 Paul is a passionate dad who founded Upside Dad to share his parenting journey with other new parents. He graduated from Concordia University and worked as a test engineer for over a decade. Paul loves dad jokes and craft beer.
Learn more about Paul and Upside Dad here.