I'm a dad to a cute, curious seven-month-old who loves to get out and about with me. We live in Michigan, where we can have all four seasons over the course of an hour, so I wanted to find a way to get him around no matter what's happening outside.
It became clear early on that a wrap was the way to go. Solly's offering is breathable, and comfortable, giving my son the flexibility to look around and explore with me. With so many online stores and marketplaces out on the web, I wasn't sure where to even begin looking.
Lucky for you, I took the time to research where to buy Solly Baby Wraps, and I wanted to share my findings with you. You'll not only hear my considerations for a good website, but I'll even let you in on where to buy Solly Wrap online for your very own Solly wrap.
Bottom Line Up Front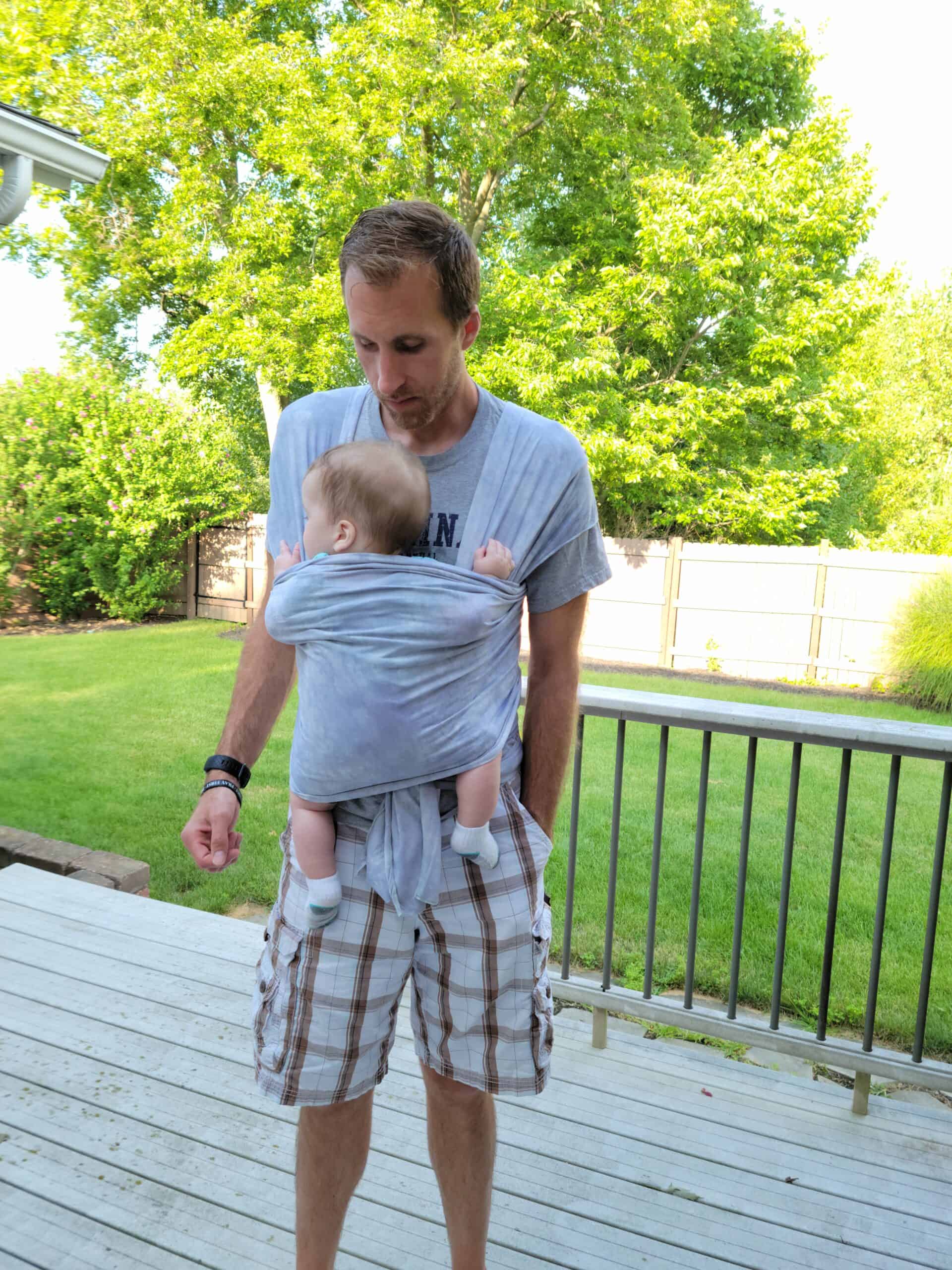 Solly wraps are among the best out there, but they aren't available at most retailers. In fact, it's almost impossible to find them in physical locations anywhere in the country.
A handful of sites carry Solly wraps, but Solly's very own site is still the best place to make your purchase. It's there you'll find Solly's entire product line to choose from at prices that even the big box stores can't beat.
My Top Picks
Sollybaby.com: Best for Variety
Amazon.com: Best for Delivery
Nordstrom: Best for Returns
What I Considered
As I thought through different areas to buy from, the following considerations came to mind:
Cost
Cost seems to always be the top factor for me when making a purchase, and my guess is this is the same for a lot of you. I'll scour the internet to save a few bucks on whatever I'm looking for, even at the expense of time. It's almost become a game to me now.
Free Shipping
Going hand in hand with the overall cost, having free (or at least cheap) shipping is a must. After doing the math with the price of the item, I find myself leaning toward the location that will cost me the least. In most cases, I think of free shipping as a courtesy, especially when dealing with more expensive products.
Delivery Speed
I'm an American, and I want my item yesterday. For me, anything over a week in the shipping department is too long, even if it is for free. I'm coming across as entitled here, but we live in a tech-savvy world where this is no longer a big ask.
Ease of Use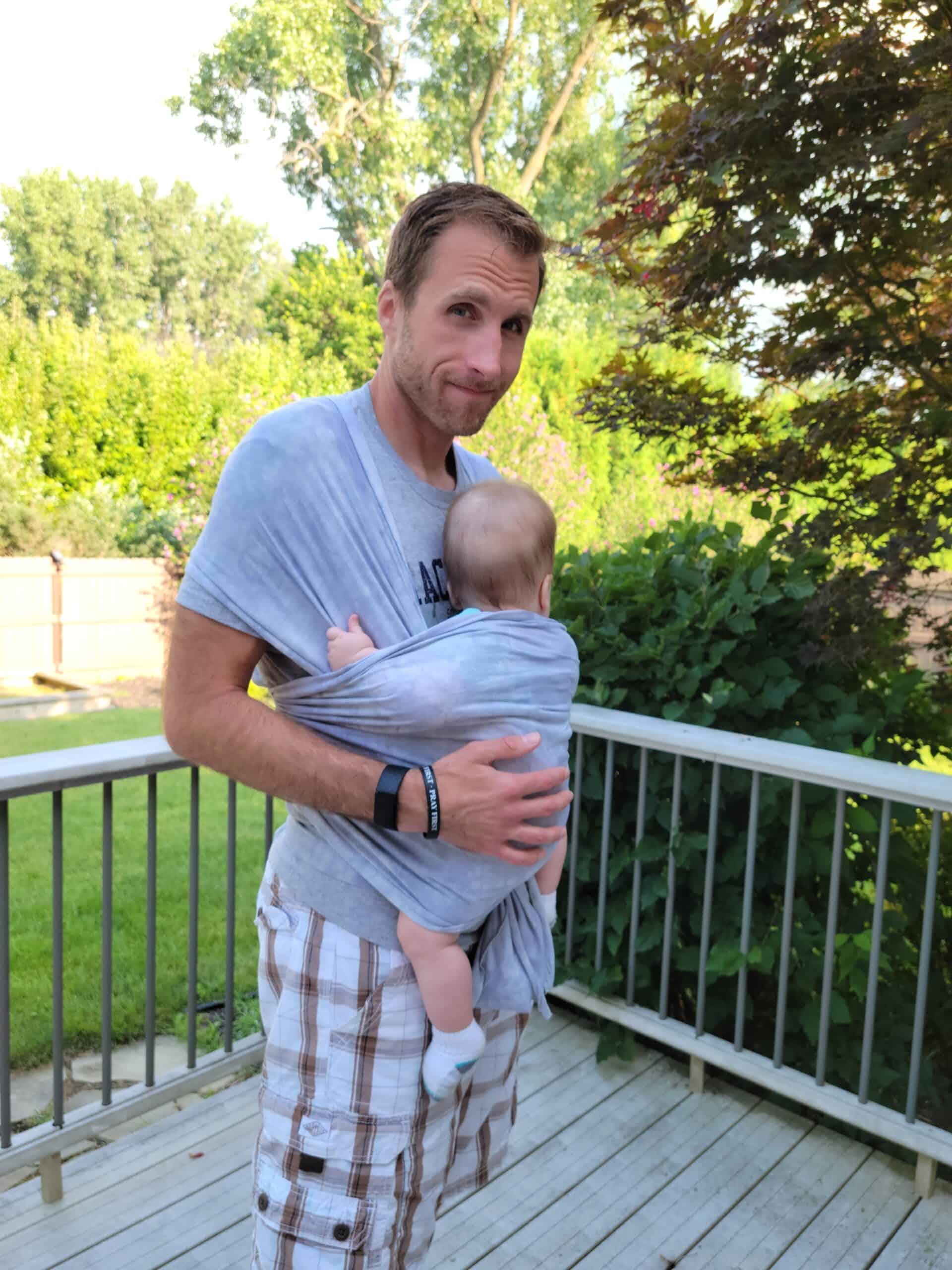 Have you ever fumbled your way through websites that seem like they don't want you to shop there? I love a site that's easy to navigate through, find exactly what I am looking for, make a quick payment, and get out. It's also nice when they accept multiple forms of payment like PayPal in addition to the standard credit card.
I also want to be able to easily locate the return policy and other pertinent terms of use. If a company isn't forthcoming with this information, what is it they're hiding in there that they don't want me to see?
Lastly, there's the checkout process. I don't know about you, but I don't need a site throwing a bunch of upcharges at me as I'm trying to buy my item. If the process is quick and painless, there's a good chance I'll come back again.
Product Selection/Information
Choices are important, and I like to find the very best product to meet my needs. I don't want to be shoehorned into buying something because of a limited selection.
Similarly, I don't want to have to dig for information on a particular item. Give me all the details upfront so there's no question about the material, size, quality, or whatever else I may want to know.
Customer Service
It's rare to dial up a business today and get a live person right out of the gate. I get it, people cost money, and automated assistants are a handy tool. At least make the process easy for me to speak to an actual human once you've navigated me to the right area. Small companies excite me at times because they may just be small enough to hear a human voice on the other end of the call right off the bat.
Customer service extends to chat and email as well. I always check to see if the business has an online chat and how long it takes to respond to an email. Let's not forget how easy or hard it is to find this contact information – some companies make it nearly impossible to locate.
Return Policy
I've got my item, but it's not quite what I had in mind. What hoops do I need to go through to send it back? Is the return coming out of my pocket or that of the business? Buying things online can be a guessing game, so I always confirm what I'm getting into before I check out.
Where to Buy Solly Wraps: My Picks
Without further ado, here are the best places I've found to pick up your Solly baby wrap carrier.
SollyBaby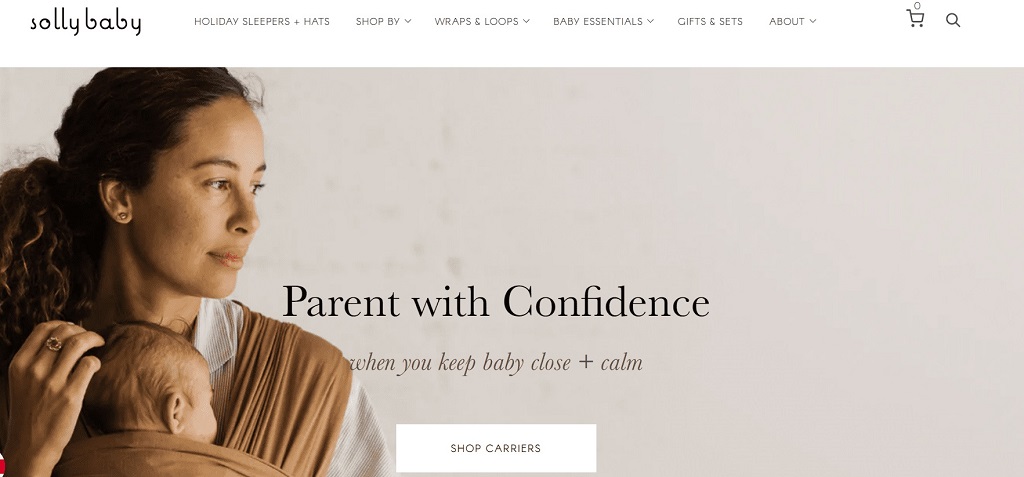 SollyBaby is the Solly wrap manufacturer's site, and several points jump out to me about it. For one, Solly doesn't charge a premium for shopping on its page, and I've noticed they often discount certain wraps for at least a few bucks as an incentive to buy. There's a vast selection to choose from, with wraps in all different colors available for purchase. Since the Solly baby wrap carrier is a one size fits all design, I can browse the colors without worrying about fit.
The site is easy enough to navigate and does a good job of providing me with all the information I wanted to know about the Solly wrap itself at a glance. It took some work to locate return policy information, and Solly will charge fees if you've used the item or kept it for more than 30 days.
There was never a need for me to contact customer service, which is good because there's no way to reach a live person anywhere. You can either send an email and wait for a response or leave a voicemail and hope for a callback.
I do find it irritating that there's free shipping on orders $80 and up when wraps cost around $75 on the site. It's clear Solly wants to goad you into buying something else that's likely quite a bit more than $5. When I did buy my Solly wrap through here, it took nearly a week before Solly even shipped it out. That's a little long, in my opinion.
Amazon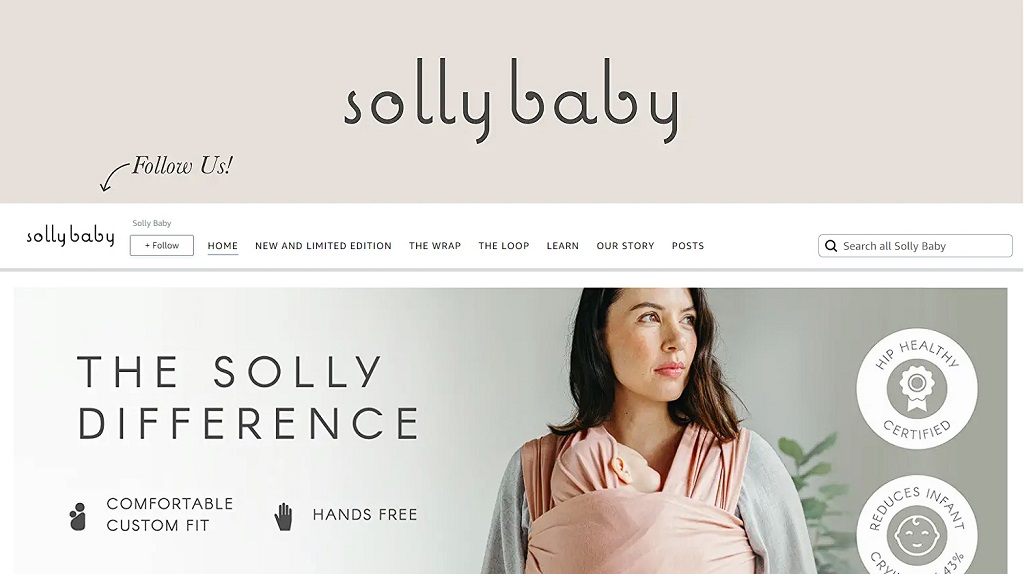 It's no surprise that mega-retailer Amazon carries the Solly wrap. What shocked me was that the price was higher than on Solly's site. Although it pops up as an "Amazon's Choice" item, there were only six styles for sale of the 24 that currently exist.
Even though the initial price was a little higher, Amazon does not charge for shipping, which actually puts the cost slightly in their favor. I'd say the site does a better job of conveying information than Solly's own site, providing dimensions and more flavor text about how the wrap works.
Like Solly's site, Amazon says returns are free if the product hasn't been used. I've found Amazon to be more lenient with this than other locations, as customer service always seems to err on the side of the customer. Deliveries from the superstore tend to be fast, since the company relies on its own fleet to move products around.
Nordstrom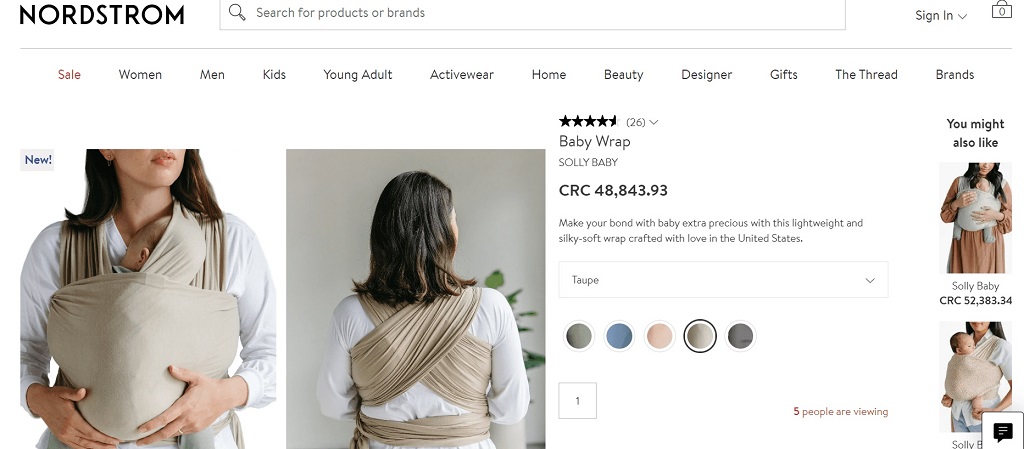 Nordstrom only recently started listing Solly wraps online but does not yet carry them in stores. Still, you can order from the website and request free shipping right to your door. Delivery typically takes about a week from the time you make a purchase.
As far as wraps go, you can choose between one of five solid patterns or the odd print here and there. Prices are identical to what you'll find on Solly's website. The information listed for each Solly wrap more or less mirrors what you'll find elsewhere, providing information about the construction, manufacture, and ideas for use.
There are free returns with Solly wraps on Nordstrom. You can return items to the store or by mail, and the company covers the cost of shipping back the item. With such a great return policy, you can even send back items after the 30-day window most companies offer.
The site is also easy to navigate, with options to chat, email, or call if you want to get a status update or discuss an issue.
Babylist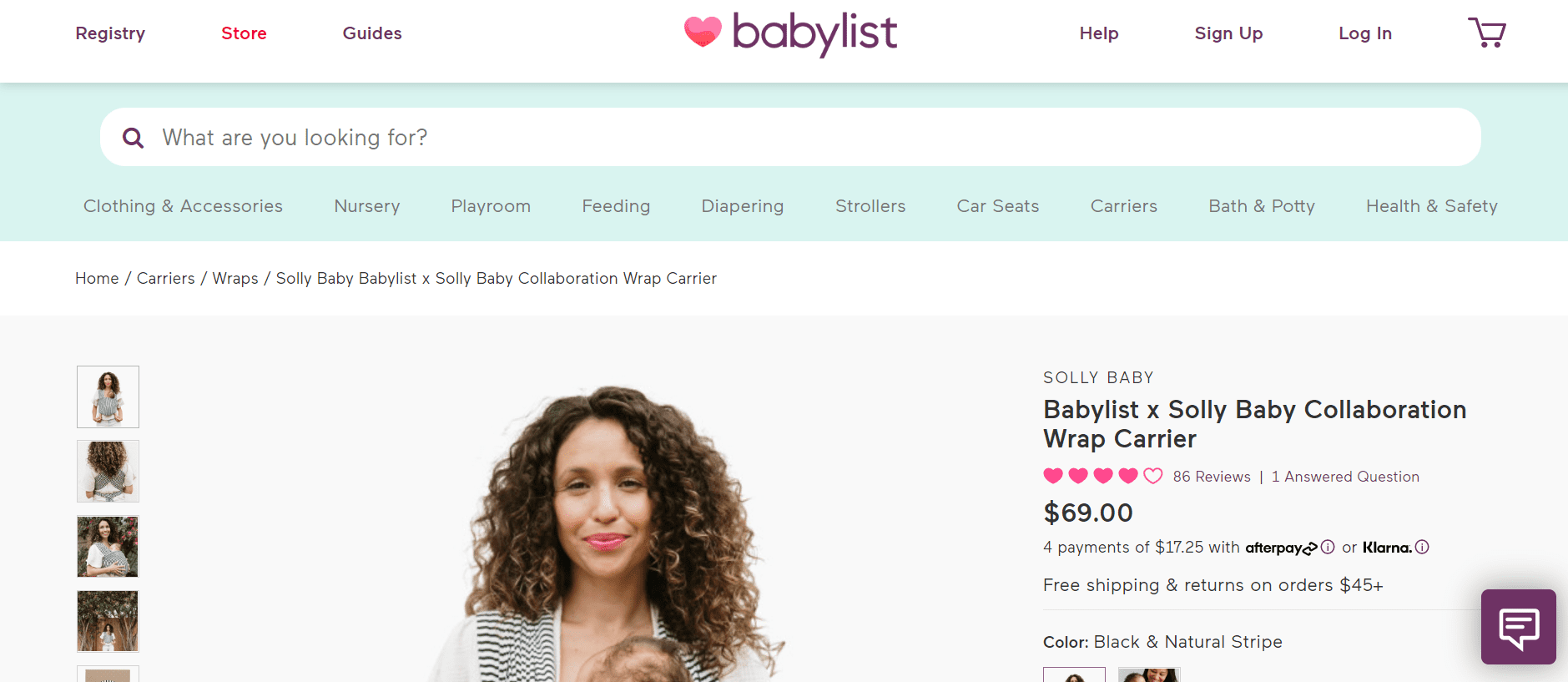 Babylist is an online registry site and a great place to request a Solly wrap, even if your wife is the one having the shower. Single color carriers are the same price as other locations, and you can pick from five of the 24 patterns available.
I've found Babylist's description to be one of the best out there, with product and safety information mixed with colorful details about the wrap. The site even brings on board some videos to help answer questions you might have.
Whether you're the buyer or the receiver, Babylist has chat options for you. I've had no luck finding a phone number or an email that I would prefer to use. Anything over $45 has both free shipping and returns.
Used Wraps
Solly wraps are best used for infants up to nine months. Many Sollys end up on second-hand sites after that time, and you may find what you're looking for at a lesser price.
Poshmark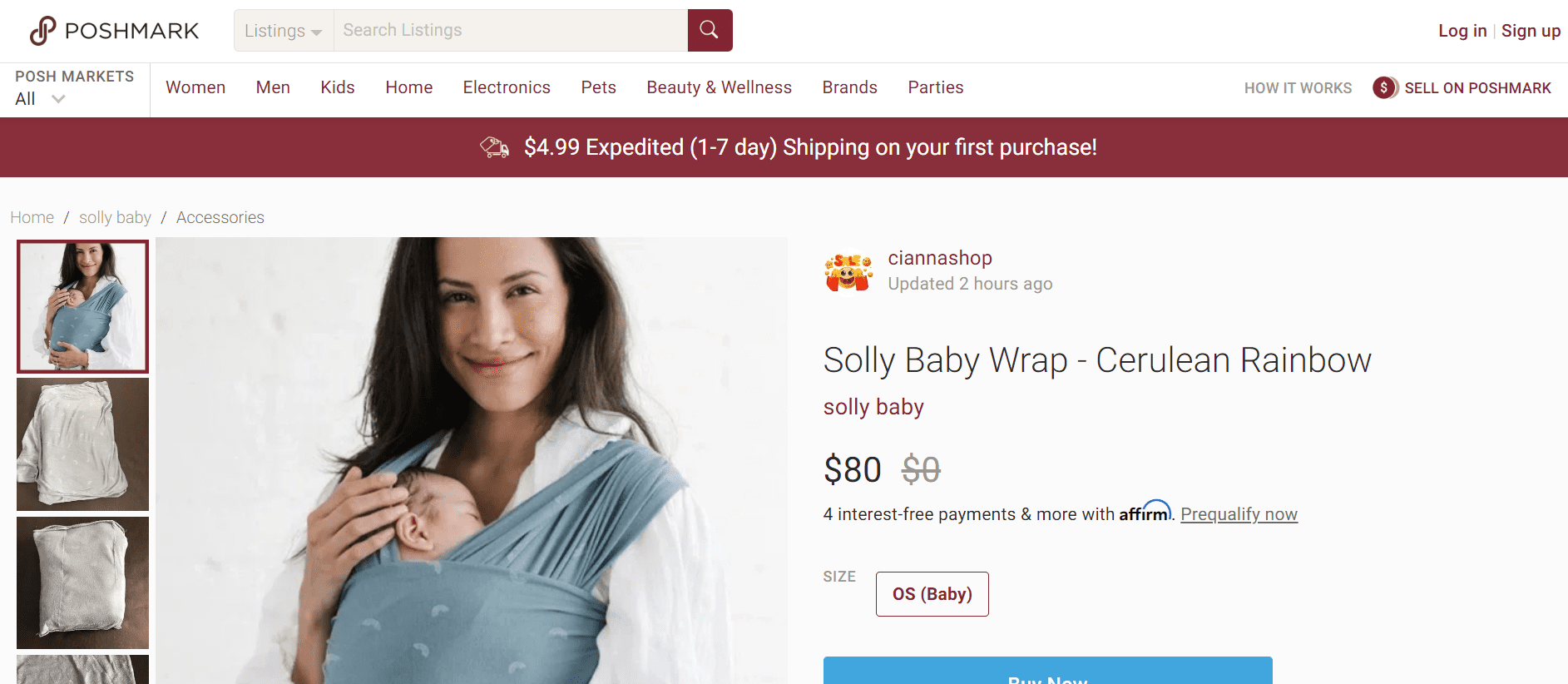 Poshmark carries many gently used items across a broad range of departments. Individual sellers post their wares, but Poshmark protects anything you buy in case something isn't right. I've seen several Solly wraps between $45 and $50, which is a considerable discount from the sites listed above.
It's not always easy to browse through the items to find what you're looking for, and stock is limited to what people are selling that day. Still, the search algorithms definitely help point you in the right direction. Each item lists its condition, but rarely other information about the product.
Since these are used products, all sales are final with few exceptions. In most cases, you will pay for shipping, adding between $5 and $10 to the total cost. You'll find an extensive FAQ section and an option to chat with a customer service agent, but nothing more.
eBay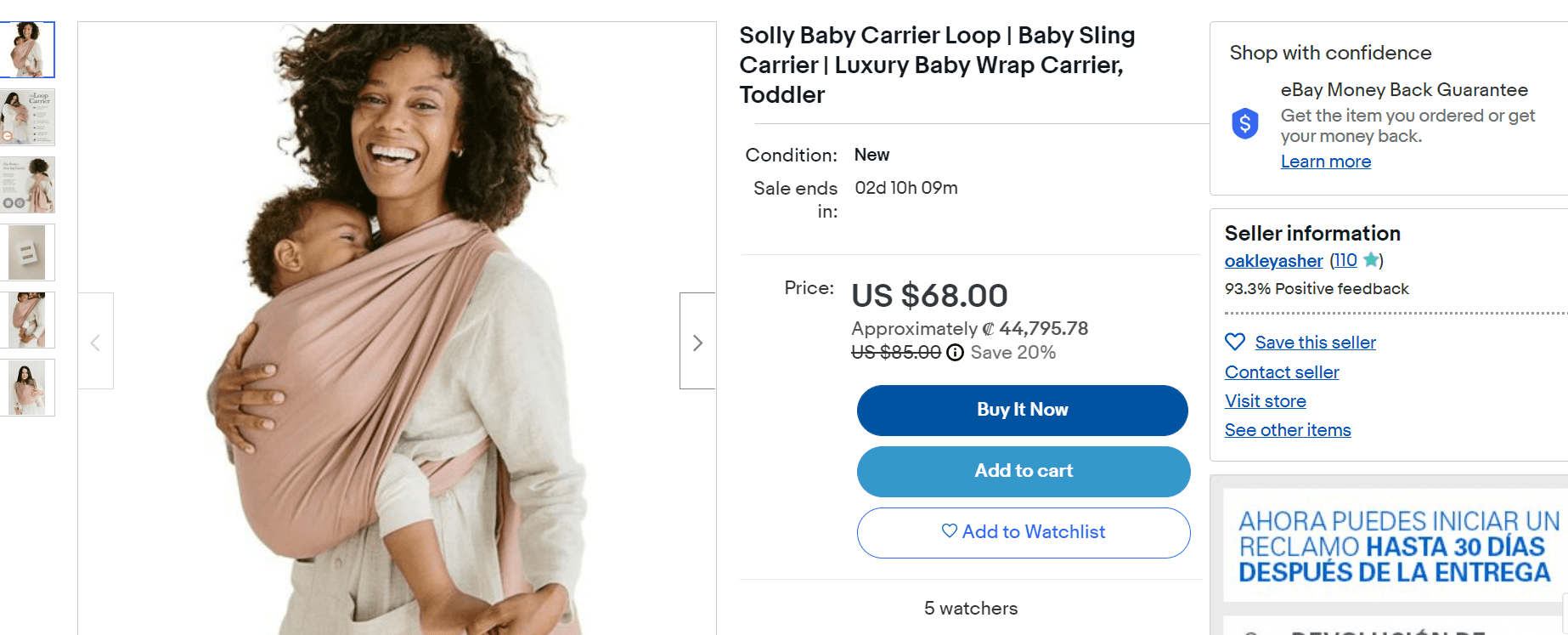 The online auction turned marketplace has an enormous inventory from various individual sellers and small businesses around the globe. At times, there's no rhyme or reason to any of it – you can find the same Solly wrap in similar condition at very different price points. It takes some careful searching to find the best deals, and all that takes a lot of time.
Alongside other used product sites, most sellers won't accept returns for items you buy. eBay will step in if you're not happy with the condition of your item or it's not what you requested, but you'll need proof. The seller also decides who pays for shipping costs and whether to expedite delivery or not.
It's not too much of a challenge to communicate with sellers on eBay, but everything is time sensitive. Once the item you're looking at is gone, it doesn't matter what the seller has to say.
Frequently Asked Questions (FAQs)
Have questions about the Solly wrap? This FAQ may have the answers you're looking for.
Question: Is the Solly Wrap Worth It?
Answer: Solly's TENCEL modal fibers really make it stand out from the competition. Made from Austrian birchwood trees, the material is both comfortable and breathable to provide the best feel.
Question: Can You Use the Solly Wrap With a Newborn?
Answer: It's possible to use a Solly wrap with newborns as little as eight pounds. For some babies, this is right at birth, while others will need to grow a bit first. These wraps are designed to help the transition from the womb to the outside world while keeping baby feeling comfortable and safe.
Question: How Long Can a Baby Be in a Solly Wrap?
Answer: There's no maximum amount of time you need to worry about when wearing a Solly wrap. As long as you and your baby are comfortable, he or she can stay in as long as you'd like. To a baby, the wrap feels like being in the womb, and the design promotes healthy hip growth. It's also a great way to bond with your little one.
Question: How Tight Should the Solly Wrap Be?
Answer: Solly wraps need to be tight enough to keep your baby pressed against your body at all times. It's okay to have him or her pressed against your chest, but the infant will be able to move its arms, legs, and head as it wants to while exploring. Dads, you should always be able to see your baby's face and be close enough to give a kiss.
Final Thoughts
Solly wraps are an excellent way to support your baby as you do life. The hands-free approach works well for dad while allowing your infant to experience a safe, warm, and comfortable environment.
When shopping for your Solly wrap, you need not look any further than Solly's own site for the best prices and selection. It's easy to locate the wrap you're looking for, read up on how it works, and place an order. As good as the Solly is, I have a feeling you'll be happy you did.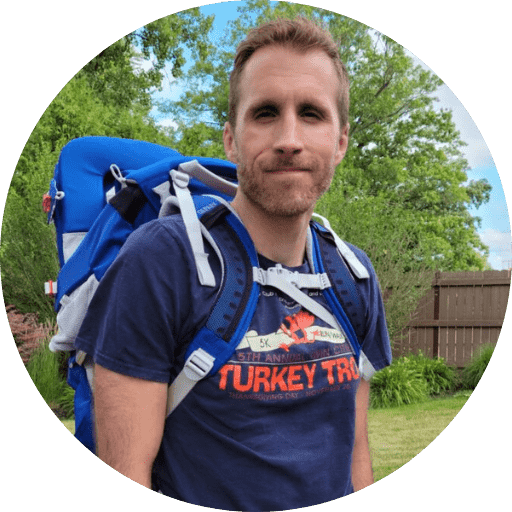 As a new dad, Noah joins Upside Dad as one of our dad product testers, with years of experience in both engineering and the medical space, Noah joins us here on Upside Dad to buy, test, and share his personal insights on new baby gear. He currently lives in Michigan and also loves hiking, and playing video games.