Comparing the Nuna Leaf and the Mamaroo should be easy. The two are different and suit a particular set of needs.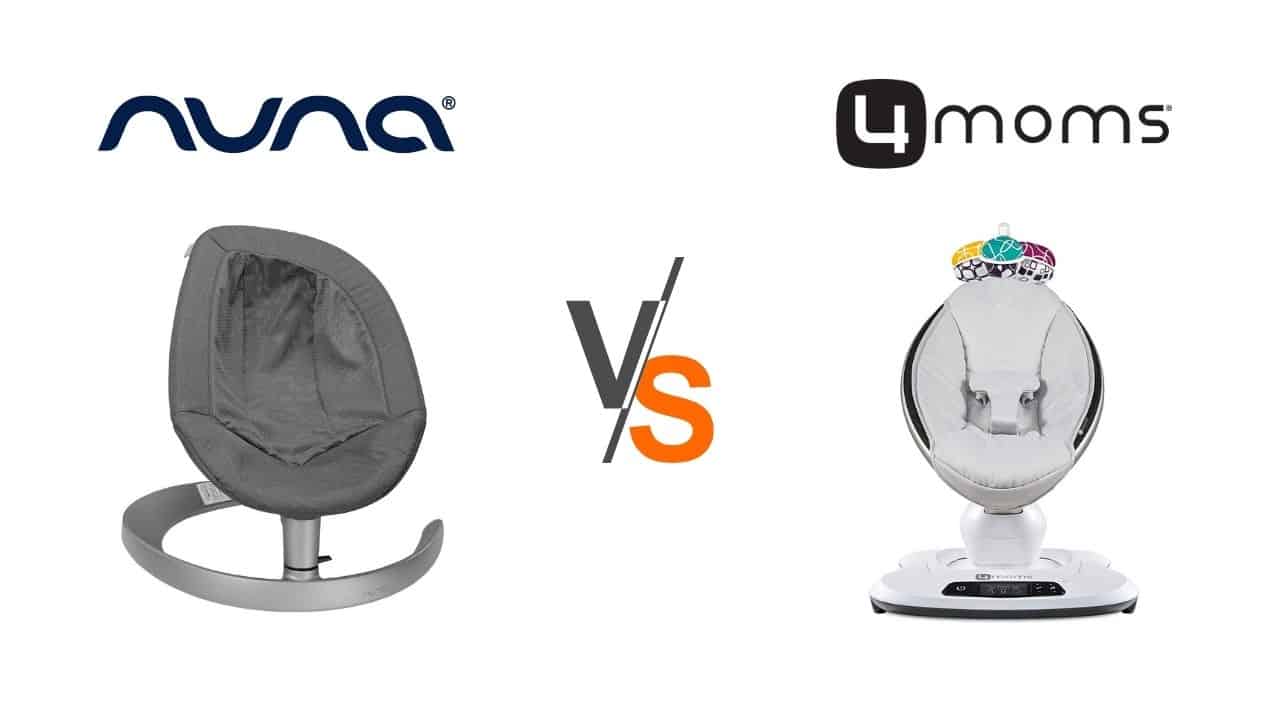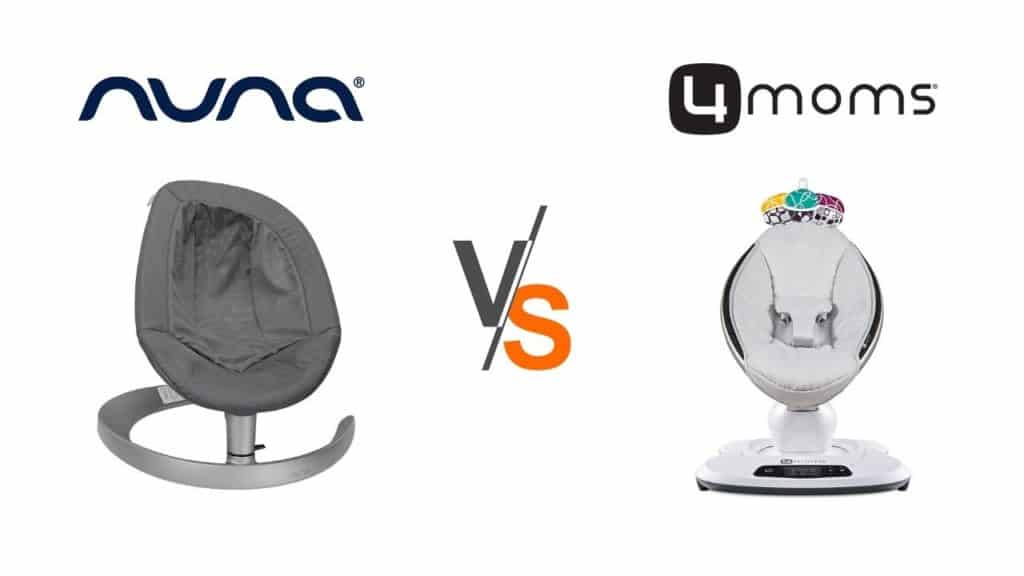 Still, you can easily choose wrong if you don't know what you're looking at.
Today, I'll be your industry insider and make sure that doesn't happen.
We'll look at the three versions of the Nuna Leaf separately, then move on to the Mamaroo and finally, pit them against each other side-by-side.
Let's go.
Editor's Note: As of August 2022, 4moms rockaRoo and Mamaroo have been recalled for strangulation concerns. We would recommend you consider another swing/rocker option. If you have already purchased this rocker, you can contact 4moms for a free strap fastener that will keep the straps off the floor. You can contact 4moms at 877-870-7390 or at [email protected].
About the Nuna Leaf swing – how it works and PROs/CONs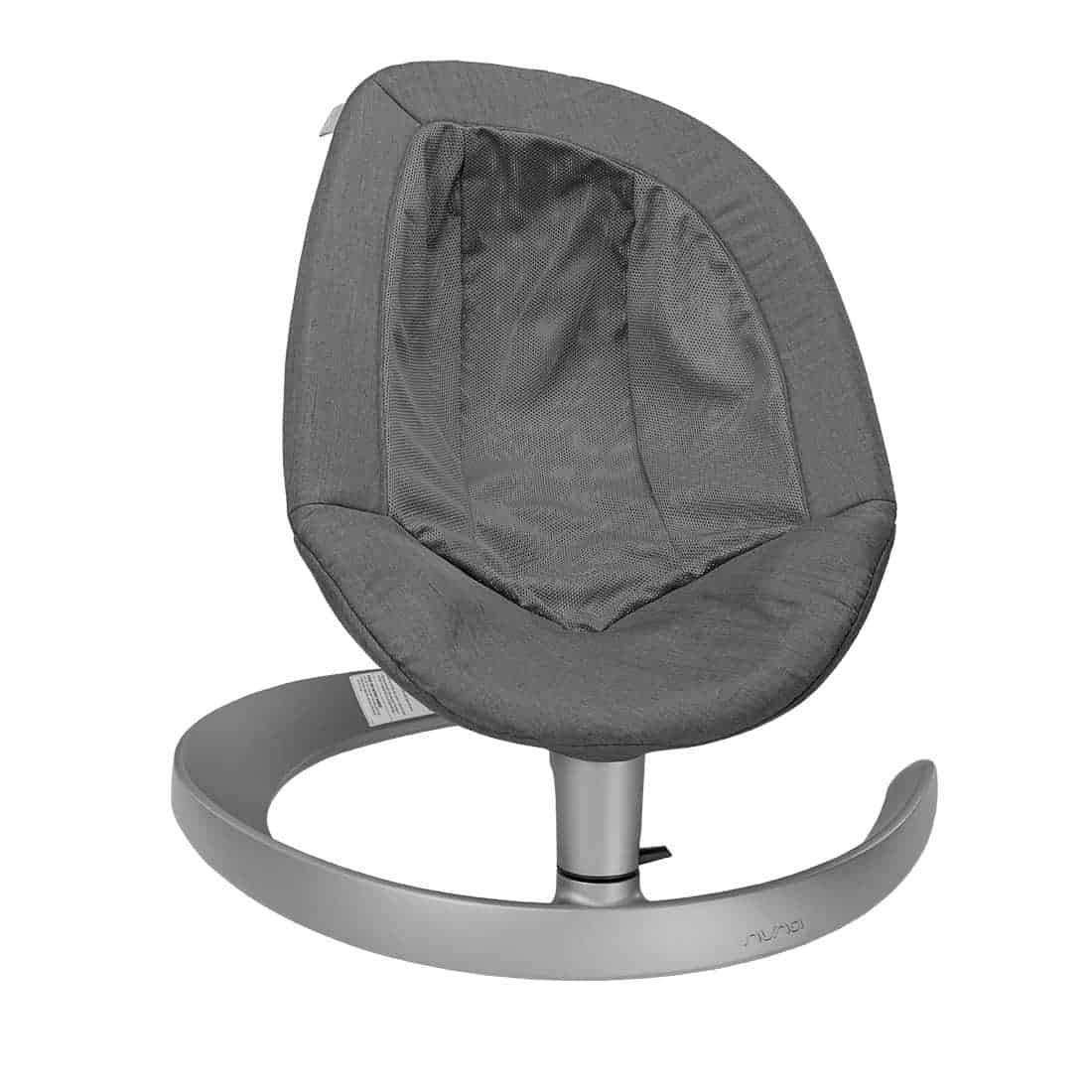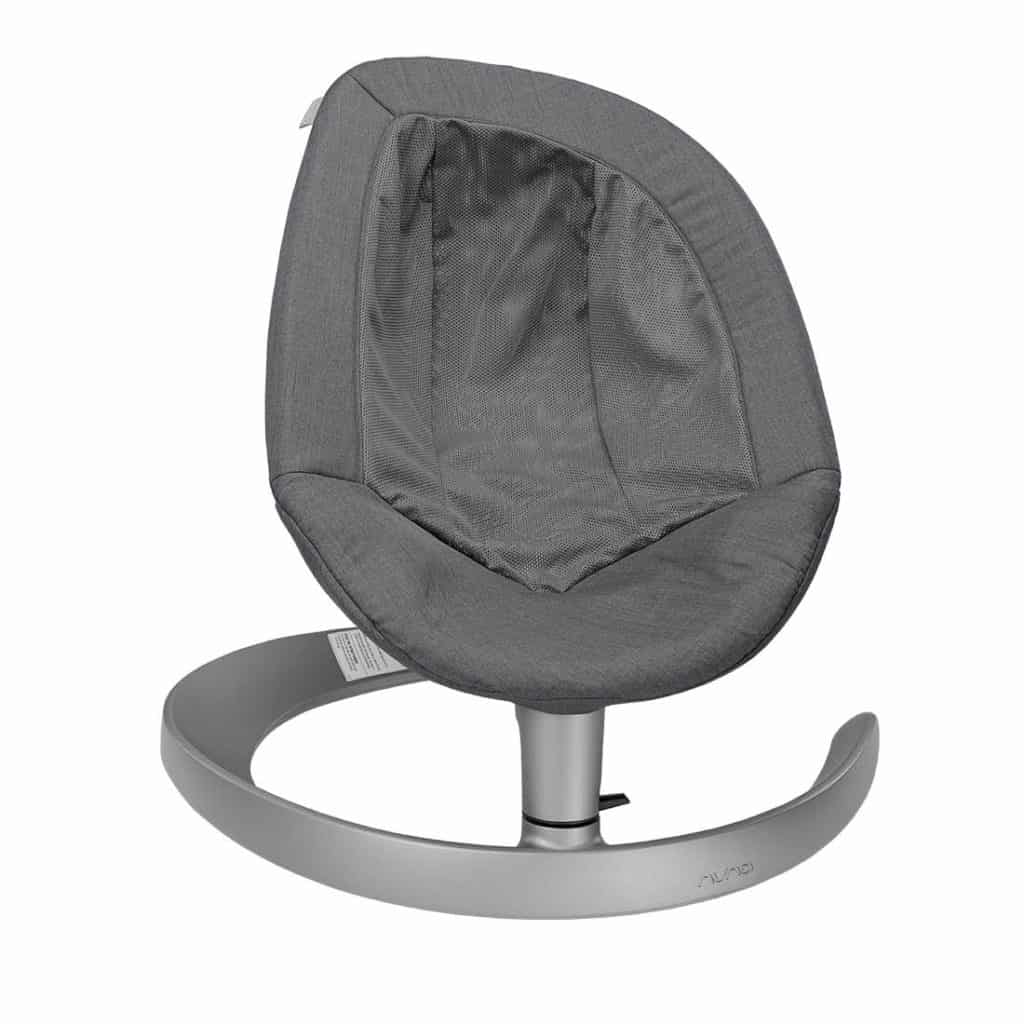 Nuna Leaf is easily in the Top 5 baby swings is the community acclaim is the measuring stick.
It's the winner of over 320 awards, from the International Design Excellence Award in 2014 to the multiple Red Dot awards over the years.
There is a catch here – you have to know the industry's dynamics to understand what the awards mean.
I won't name names, but there are baby products giving awards to themselves by establishing foundations and mock institutions for that purpose only.
I'm looking at the list of Nuna Leaf's awards as I type this, and I can tell you – all of these are the real deal. There's no shady business, and the laurels are legit…at least to the best of my knowledge.
Specs of the Nuna Leaf
| | |
| --- | --- |
| | Nuna Leaf |
| Size (in inches) | 71 x 70 x 40 |
| Weight (in lbs) | 10.5 |
| Weight limit (in lbs) | 20 as swing, 130 as chair |
| Preloaded sounds | no |
| Bluetooth connectivity | no |
| Vibration | no |
| Number of swing speeds | N/A |
Features of the Nuna Leaf at a glance
Dual design – can be used as a baby swing or a toddler chair
Adjustable recline – Nuna Leaf Grow reclines to three positions at a push of a lever (classic Nuna Leaf and Nuna Leaf Curv don't)
Battery and motor-free – maintains the initial kinetic energy (no electricity, cords, or noisy motors
Overhead toy bar included – you won't need to spend extra money on overhead bars as you might with other swings
Premium natural material – all the materials in contact with your baby undergo extra strict safety certification (GOTS*)
The seat is detachable from the base – this allows you to move the carrier around the house easily
The basic version and Curv are compatible with the Nuna Wind motor (the Grow is not)
*Global Organic Textile Standard
Main benefits of the Nuna Leaf baby swing
Value for money – baby swing to toddler chair
Nuna Leaf isn't cheap compared to other baby swings, but the value for money is absolutely there.
Instead of spending money twice (on a baby swing and a toddler chair), investing in the Nuna Leaf means you get both.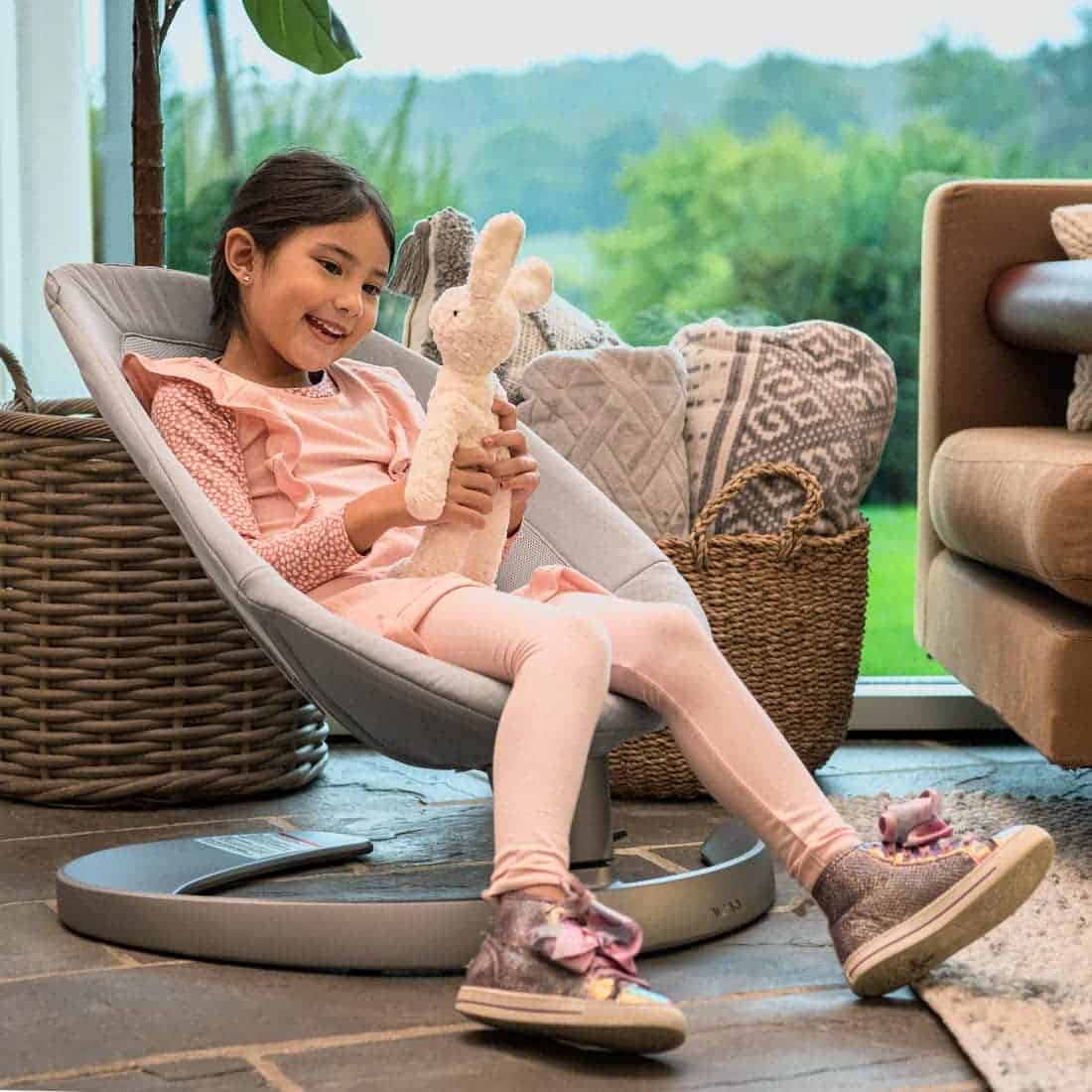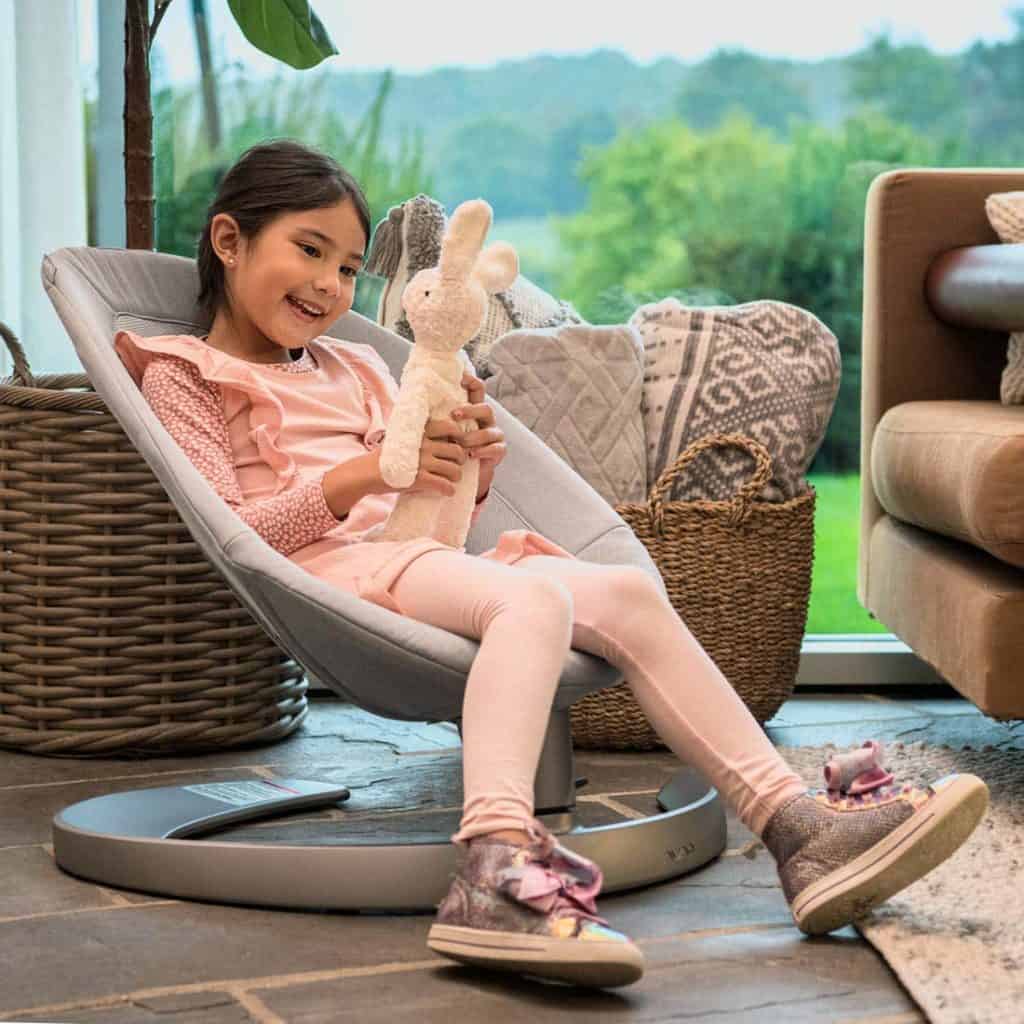 Stage 1 of Nuna Leaf's use lasts from birth until your baby starts pushing up or climbing in the swing, which typically happens at about 5-6 months in.
Stage 2 (or toddler chair) starts as soon as your little one starts walking and lasts through most of the toddlerhood – all the way up to…get this, a whopping 130 pounds.
That's what I call getting the most out of baby gear, and it makes the hefty price tag a moot point.
Adjustable seat recline (of the Grow) is easy to work
Whenever I mention adjustable recline, I'm referring to the Nuna Leaf Grow. The other two versions – the classic and the Curv aren't adjustable.
You can adjust the recline angle of the Nuna Leaf Grow to three positions, and that's not unique on the baby swing market. The way you do it is.
It's as easy as it gets – you just press a lever, choose a position and let go. It looks right into place.
It's the kind of Keep-It-Simple-Stupid design that makes a difference on those hectic days.
Premium materials top-to-bottom
GOTS Is the golden standard when it comes to any fabric that will be touching your baby's skin.
If you dive into the baby market head-first, you'll see a lot of vague terminology – it's all "plush, supersoft, and safe."
But what do those words really mean?
Instead of figuring that out, just look for the GOTS or OEKOTEX stamp. It means that a professional already did the due diligence for you.
Noiseless side-to-side motion
The name "Leaf" describes how the baby swing moves – a gentle side-to-side swaying, much like a leaf.
This was my impression – when you see Nuna Leaf in action for the first time, it's not easy to believe that the thing runs motor-free.
But it does.
You just give it a gentle nudge, and it maintains that kinetic energy. In practical terms, it goes on swaying for up to three minutes after that one touch.
Flame resistant without fire retardants
The materials used for the Nuna Leaf are naturally flame-resistant and contain zero fire-retardant chemicals.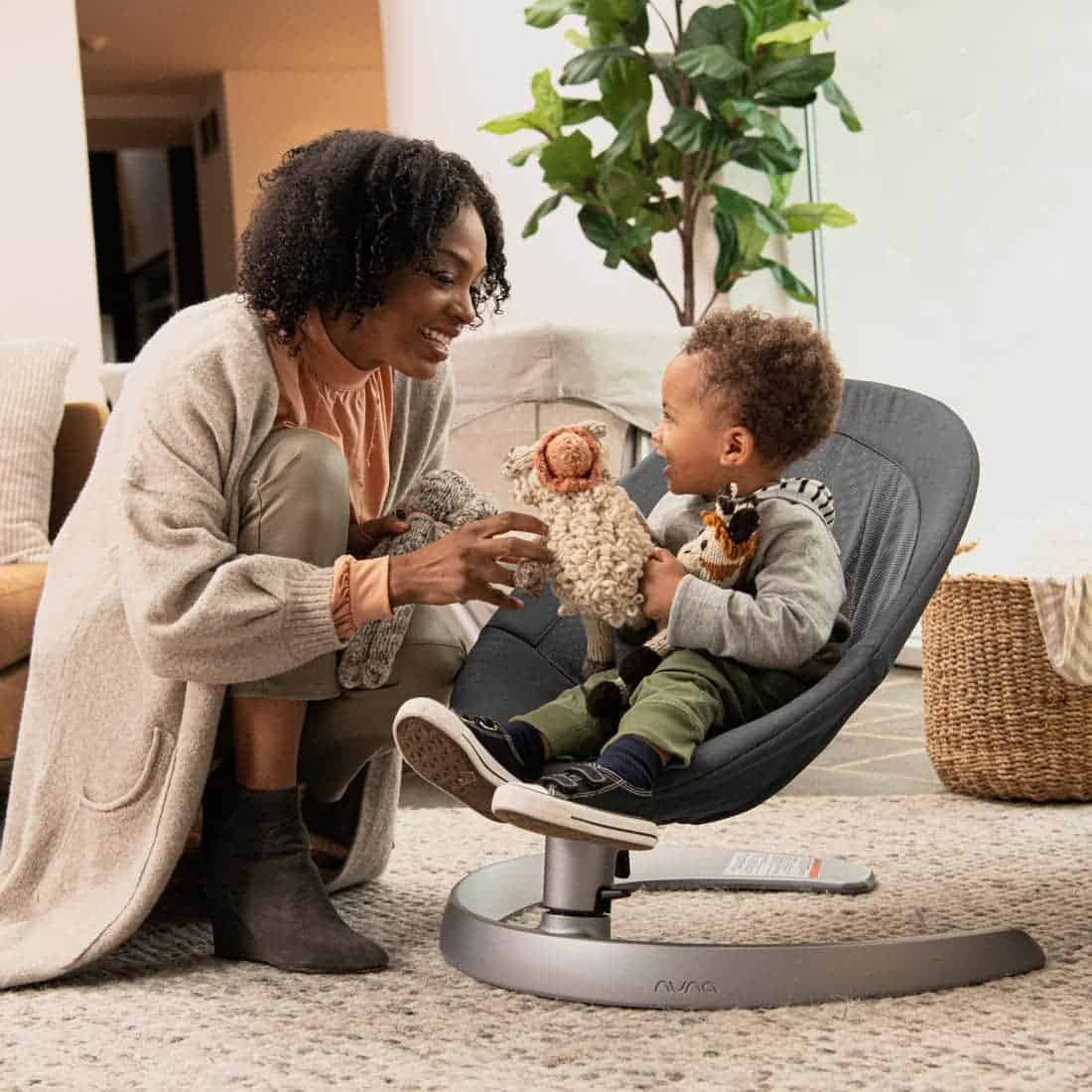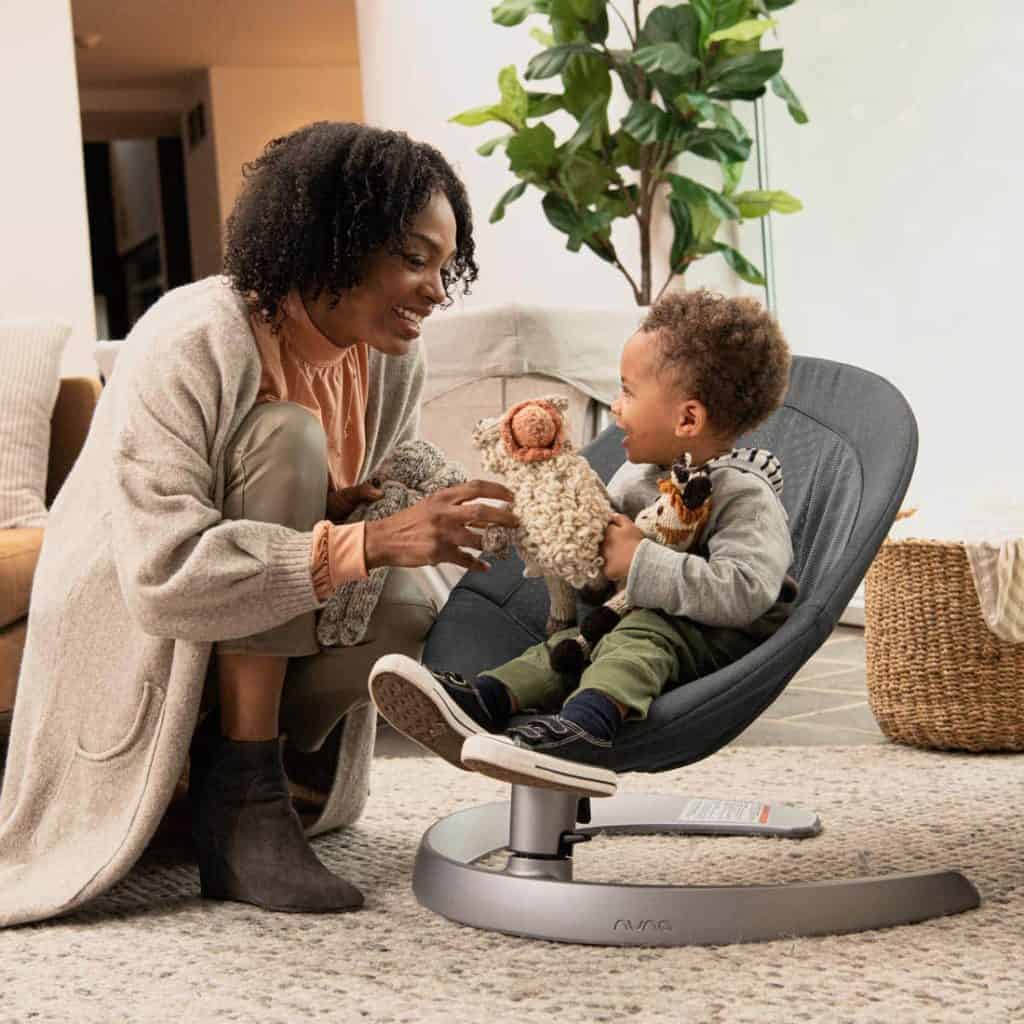 If you're looking at other swings and the maker isn't explicitly disclosing if they're using fire retardants, there is a good chance they are. That's just my two cents.
Does the Nuna leaf swing?
Yes, it does. It's a manual swing that maintains motion for a few minutes but can be upgraded to an electric swing by getting the Nuna Wind motor.
PROs
Great bang for the bucks – doubles as a baby swing and a toddler chair, and the toy bar is included
Meets the strictest fabric safety standards – only organic materials touch your baby's skin
No batteries or motors – this means peace of mind for the parent weary of electromagnetic waves
Zero noise – the leaf-like motion is self-maintained and makes as much noise as a leaf falling – none.
Detachable seat – easily removable from the base, which makes moving the whole thing easier
CONs
Higher initial investment – Nuna Leaf costs more than your average baby swing
Manual operation – it won't give you as much autonomy as electric baby swings
You might also want to read: when to stop using baby swing | can baby sleep in swing | can baby swing cause brain damage
About the 4Moms Mamaroo – specs, features, and PROs/CONs
Specs of the 4Moms Mamaroo
| | |
| --- | --- |
| Size (inches) | 19.5 x 25.5 x 33 |
| Weight (lbs) | 17.9 |
| Weight / age limit | 25 lbs / 6 months |
| Preloaded sounds | 4 |
| Bluetooth connectivity | yes |
| Vibration | no |
| Swing speeds | 5 |
Features of the 4Moms Mamaroo at a glance:
Motion and speed is adjustable at five levels – you can experiment and choose what works for your baby
Connects to your phone via Bluetooth – you can control the settings from an app on your mobile phone
Compatible with an MP3 connection – much more versatile than just built-in sounds because you can play anything from your phone
The AC adapter is included
Unique adjustable recline – you can do the recline angle down to a full recline
The machine-washable seat fabrics are easy to remove and put back on
Overhead toy bar with reversible crinkle balls and a rattle
Main benefits of the 4Moms Mamaroo
Motion and sound versatility are second to none
You can choose one of the five motion modes (kangaroo, wave, rock-a-bye, car ride, tree swing) and speed levels.
In their advertising of the Mamaroo, 4Moms make it a point that parents 'don't vibrate like bouncer seats" or swing back and forth like swings. They gently sway and bounce, which is the base for the Mamaroo's movement.
If one were to split hairs, one could argue that a parent is not a car seat or a kangaroo.
But one would be unfair in saying that.
The names of the motion modes are just that – names.
Plays music or sound from your phone
Mamaroo has four built-in sounds (fan, heartbeat, rain, ocean).
But that's secondary because the MP-3 compatibility sets it apart from the competition. It allows it to play music or sound of your choice.
You'd think that a feature like this would be standard in all the better swings in 2022, but no such luck. There are still expensive swings out there that limit you to the built-in sounds.
With the 4Moms Mamaroo, you can 'go wild.'
This one is crucial for the parents of exceptionally fussy babies because it gives you room to experiment. For example, you can download the sounds of the mother's womb and play on repeat. I've talked to parents who did just that with great success when nothing else worked.
Pair that with one of the five motion modes and you've got an environment that's as close to the mother's womb as it gets.
Fully adjustable recline angles
With most baby swings you're limited by the preset recline angles.
Mamaroo goes all the way down to a full recline, which makes it an excellent option for newborns.
Machine washable fabrics with extra inserts
The seat is easily in the top three I've seen in a baby swing.
It's heavily padded to keep your child comfortable, and you can get extra infant inserts in a range of colors and fabrics.
No batteries required
Mamaroo comes with an AC adapter, which will add a few dollars to the electric bill.
But, when all is said and done, you'll save much more on batteries.
It's also the simpler solution because you don't have to go through the fuss of replacing the batteries every few days.
There is a trade-off, however – the cord is more limiting when you need to move the swing.
Manually or app-controlled
You can control the sound and motion from your phone or other compatible devices, like a tablet.
Even if you don't feel like this is a must right now, there's a good chance you'll change your mind once you start controlling everything from your sofa.
If you prefer a more direct approach, the manual display unit on the base is intuitive and easy to operate.
Controls-wise, there's almost no room for improvement. I say that about baby items once in a blue moon.
PROs
Versatile motion and speed – you can adjust the movement to what keeps your baby comfortable
MP3 compatible – you're not restricted to the preset sounds
Pairs with the Bluetooth devices – you can control the sounds and motions from your phone or tablet
The seat is generously padded and machine washable
CONs
Pricy – in the same price range is the Nuna Leaf but has no toddler chair functionality
Related: Mamaroo vs Graco swing | Mamaroo swing review
Nuna Leaf vs. Mamaroo – side-by-side comparison of the baby swings
This is where the road meets the rubber.
We could analyze the two swings until the cows come home, but it's useless if we don't reach clear conclusions.
That might sound commonplace, but I'm mentioning it because it's often what you get in 'expert comparisons'…way too often.
Choosing your champion in the Nuna-Leaf-vs-Mamaroo duel comes down to these two key points
Mamaroo is the better-rounded soothing solution
If you have a fussy baby on your hands and need to do stuff around the house while taking care of them, go with the 4Moms Mamaroo.
In this scenario, giving the Nuna Leaf a nudge every few minutes will quickly get too much.
Add to that the soothing sounds and the five motion modes, and the Nuna Leaf versus Mamaroo becomes a no-brainer.
You'll squeeze more value out of the Nuna Leaf
If you have a baby that's not especially fussy, Nuna Leaf will keep them entertained long enough for you to catch a breather. You can turn it into a full-blown motorized baby swing by getting the Nuna wind motor.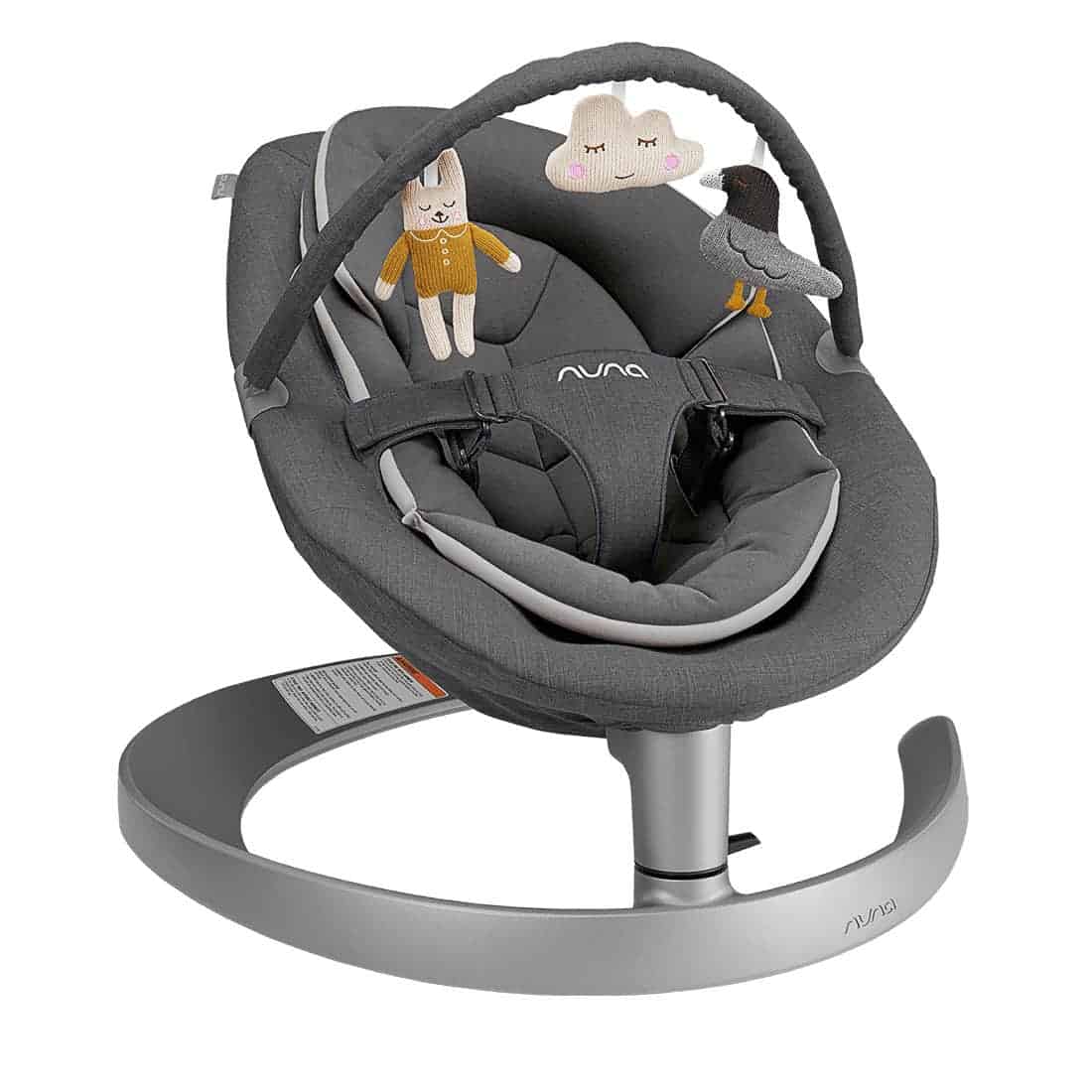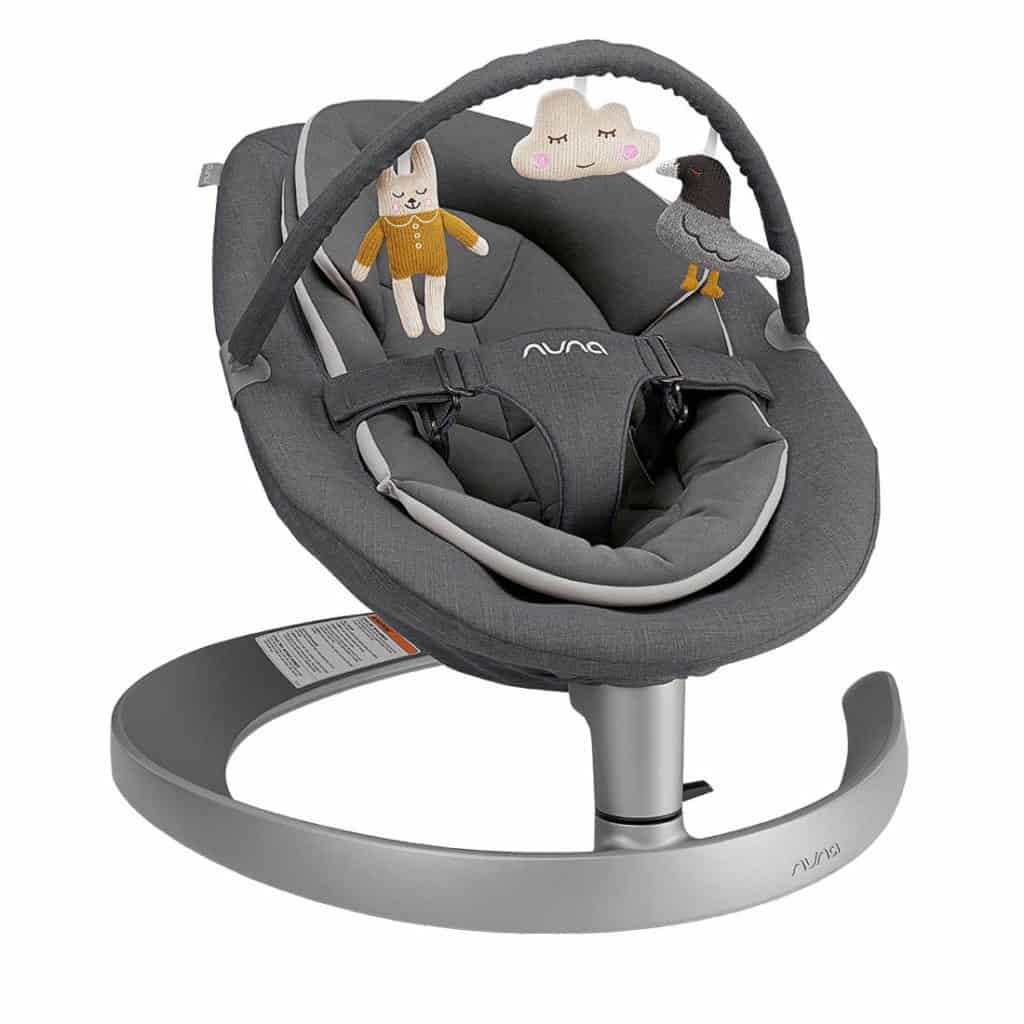 Maxing out the weight limit or crawling out of the Nuna Leaf doesn't mean you're done with it. Set it aside and use it as a toddler chair when they start walking.
The best part, the weight limit of 130 pounds is high even for a standalone chair.
You might also be interested in: baby swing vs bouncer | how long can newborn be in swing
Takeaways from Nuna Leaf and Mamaroo comparison
Nuna Leaf is the better value, and the Mamaroo is the more complete "soother."
To get the value out of the Nuna, you'll have to even out the playing field by getting the Nuna Wind that will transform the Leaf into a swing comparable to the 4moms Mamaroo. If you go down that road, make sure that the Nuna Wind is available for purchase because it's not always the case.
Mamaroo's seat is probably slightly comfier, which isn't a big deal because upgrading to Nuna Leaf Curv add some nice heft to the seat (and you can still use the Nuna Wind).
Without the Wind, the two exist in separate realms – Nuna Leaf Grow is good fun that won't free up much of your time. Mamaroo is a robust tool to keep your baby happy on those hectic days.
Both are well-made, friends with a washing machine, and won't cause buyer's regret…as long as you're clear on the points above, that is.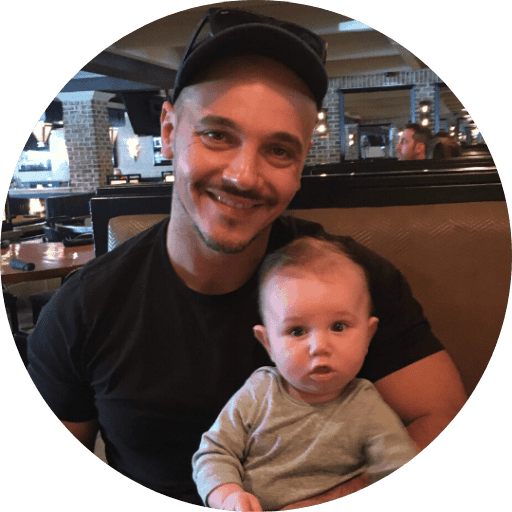 Paul is a passionate dad who founded Upside Dad to share his parenting journey with other new parents. He graduated from Concordia University and worked as a test engineer for over a decade. Paul loves dad jokes and craft beer.
Learn more about Paul and Upside Dad here.