Comparing the Mamaroo swing and the Babybjorn bouncer is a tall task…for more reasons than one: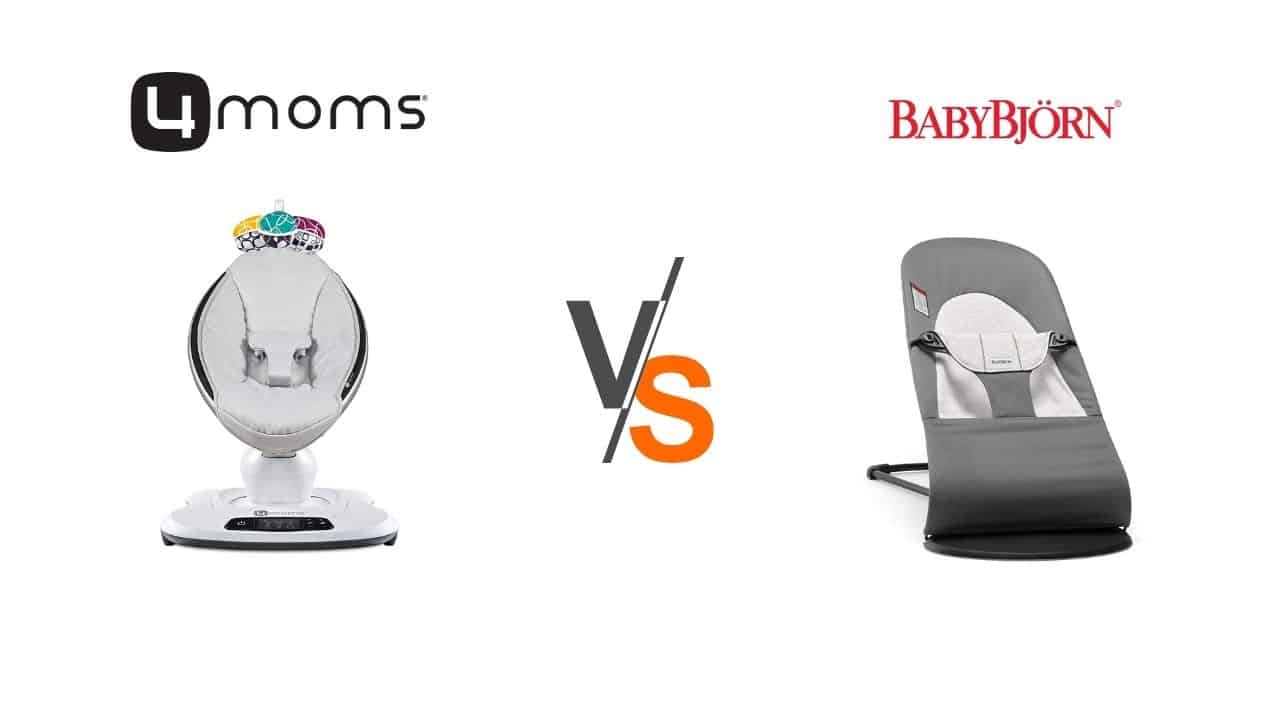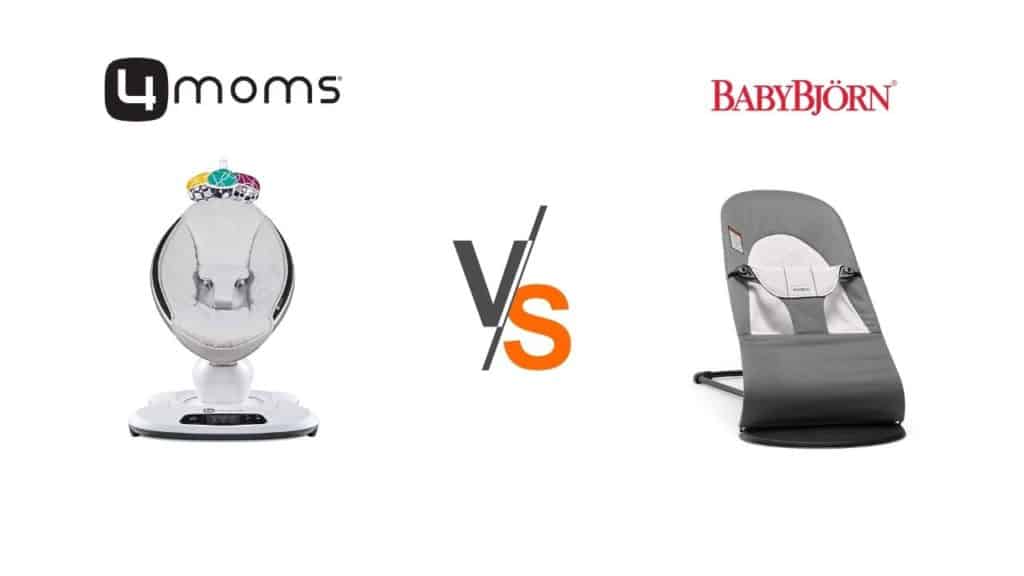 The two have a lot in common and yet are very different
Most of the comparisons out there are superficial and don't answer the big questions
This much I can promise – if you take the time to read the comparison below, you'll have your answers.
Editor's Note: As of August 2022, 4moms rockaRoo and mamaroo have been recalled for strangulation concerns. We would recommend you consider another swing/rocker option. If you have already purchased this rocker, you can contact 4moms for a free strap fastener that will keep the straps off the floor. You can contact 4moms at 877-870-7390 or at [email protected].
We'll go over the main features with a fine comb and then pit the Mamaroo swing and the Babybjorn bouncer against each other in a side-by-side comparison.
I won't be vague, and I'll avoid leaving you with the "it-depends" type of answers…I hate those.
The Mamaroo swing – how it works and PROs/CONs
Specs of the Mamaroo swing
| | |
| --- | --- |
| Dimensions | 33 x 19.5 x 25.5 |
| Weight in lbs | 18.3 |
| Motion modes | 5 |
| Recline angles | fully adjustable |
| Sounds | 4 preloaded and MP3 connectivity |
| App-controlled | yes |
| OK to sleep in | no |
Mamaroo baby swing at a glance
Five motions and speed levels, which means you can customize it to what works for your baby
Bluetooth connectivity – you can control the sound and motions using an app on your phone
Comes with an AC adapter, so you won't need any batteries to use it
Adjustable recline angles allow you to choose a comfortable position (down to a full recline)
Comes with built-in sounds and MP-3 functionality
The seat fabric is removable and machine washable
The entertainment center features a rattle, a crinkle ball, and a mirror
A closer look at the benefits of Mamaroo 4Moms baby swing
Let's take a moment here to go over the main benefits of using the Mamaroo swing. I'll stay away from commonplace benefits that are true for all swings and bouncers and focus on those unique to the Mamaroo.
You can also check out my detailed 4Moms Mamaroo swing review for more information after reading the summary below.
Simple initial setup
The 4Moms Mamaroo swing is a robust unit. At first glance, you might think that it's complicated to set up…you'd be wrong.
Most of the major parts come preassembled, and all you need to do is click them into place. The manual is straightforward and does a good job of clearly explaining how to do it, which means you'll have the swing up and running in no more than 10 minutes.
Wide range of adjustable seat angles
Simple angle adjustment is essential for two reasons:
Not all angles will be comfortable for your baby – in my experience, each baby will find their preferred recline within a few days. On your side, that means experimenting a bit until you find that sweet spot.
You'll need to switch it up during the day – most newborns (70 to 85 %) will experience reflux and regurgitation in the first two months. That's why adjusting the recline angle has to be simple and easy.
Soothing sounds and motion
The swaying motion does a great job of mimicking the movements of a parent. Paired with soothing sounds, the Mamaroo swing can be a life-changer if you have a fussy baby on your hands.
Within a few days, you'll know which of the motion modes works best for your baby, whether it's the car ride, the tree swing, or the kangaroo mode.
It also packs a range of calming white noises like rain, ocean, fan, and heartbeat.
Some of the sounds could be better, though. To be specific – in fan mode, the white noise is a peg too crisp for my taste.
No battery fuss
It might not sound like a big deal, but replacing the batteries all the time is THE most common grievance I heard about swing like this Mamaroo (like some Fisher-Price units).
Swings typically run on massive 4D batteries, and replacing those every week is no fun at all.
Bluetooth connectivity and intuitive controls
Once you have your swing set up, you download and install the Mamaroo app, and you're off to the races. The interface is intuitive and easy to use, even though it's not the simplest.
Connectivity problems and complicated controls are the most common problems in similar bassinets.
I've seen none of that with the Mamaroo – it connects well with little to no dropouts.
Simple manual controls
I've seen simpler apps than this. That's not to say it doesn't work well, but it will take a few days before you intuitively know what's what.
If you prefer to set everything manually, the screen on the base displays all the information you need – from the current motion mode to the intensity level.
The up and down arrows on the base are a simple way to adjust the settings without using the app.
Entertaining, thought-out mobile
The mobile entertainment features are among the top 5 I've seen in bouncers and swings.
What could be good or bad about a bunch of toys?
A lot, actually.
New research suggests that too much color can overstimulate children, and we already know that they aren't as sensitive to color as adults (source; Disruptive Effects of Colorful vs. Non-colorful Play Area)
That's why the design of the Mamaroo overhead mobile makes so much sense – with one-half of the balls being black and white.
As your baby grows, you can experiment with color (or absence of) and control exposure and stimulation.
Related: Click here to see the complete review of the Mamaroo swing | See the Mamaroo compare to Graco swing here
PROs
Automatic – works with less intervention from you compared to a classic bouncer
You control the motion intensity – this makes it more versatile because you can experiment until you find your sweet spot
White noise – works in unison with rocking and swaying, making it the more potent option for calming a fussy baby
App-controlled – gives you more autonomy because you can control everything from your phone
CONs
Bulkier and heavier – much less convenient for moving room to room or taking on a trip
Related reads: Mamaroo vs Graco swing | how long can a newborn be in a swing | when to stop using baby swing
About Babybjorn bouncer – how it works and PROs/CONs
Babybjorn makes two similar bouncers that are equally popular – the Bouncer Balance Soft and Bouncer Bliss.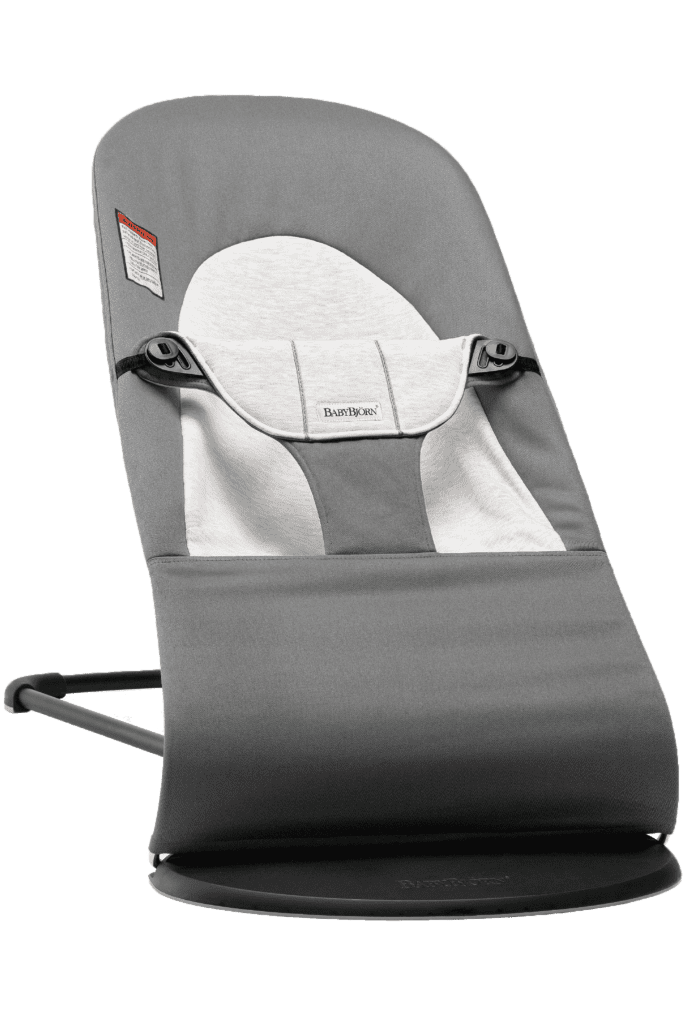 The differences between the two are so nuanced they go beyond this comparison – the analysis below applies to both.
Specs of the Babybjorn bouncer
| | |
| --- | --- |
| Dimensions in inches | 31 x 15.5 x 22 |
| Weight in lbs | 5 to 7 (2.8 for mesh) |
| Motion modes | one, baby-powered natural bouncing |
| Recline angles | 3 |
| Sounds | no |
| App-controlled | no |
| OK to sleep in | no |
Babybjorn – defining features of the baby bouncers:
Light and portable – weighs only 5-7 lbs
Can be used as a swing or a toddler chair
Adjustable seat recline – three angles to choose from
Ergonomic head and back support
No electrics – the motion is "baby-powered"
Removable and machine washable seat cover
Features a removable toy bar
A closer look at the Babybjorn bouncer – three defining features
We'll take a glance at the defining features, move on to the PROs and CONs and finish things off with a side-by-side comparison of the crucial aspects.
Self-generated motion of a baby bouncer
The Babybjorn bouncer is basically a steel frame with a padded seat. You set it in motion with a gentle push, and the kinetic energy of the baby's movement maintains the rocking.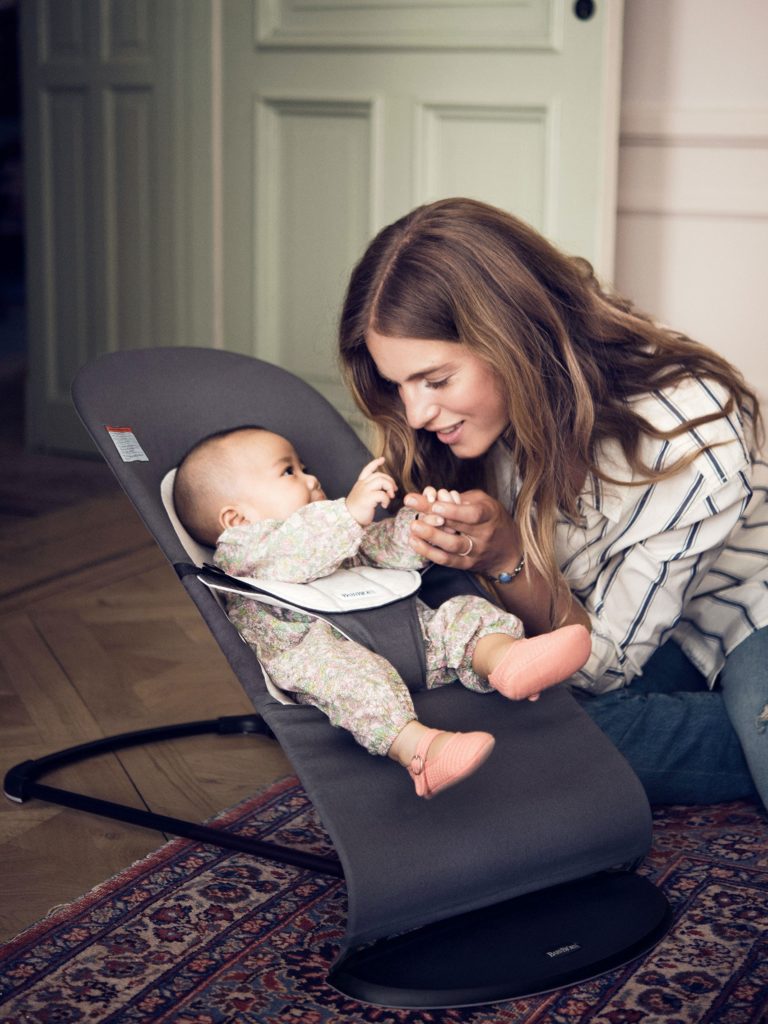 This means no electric parts and no hefty plastic housing.
Versatile – a baby bouncer and a toddler chair
Babybjorn bouncer doubles as a bouncer (up to 20 lbs of weight) and a toddler chair (up to 29 lbs).
You switch between the two simply by reversing the fabrics of the seat.
Adjustable recline angles
You adjust the Babybjorn by pressing the red knob and locking the frame into place. The most-reclined is recommended for newborns, and you move up as the baby's neck muscles grow stronger.
PROs
Simple initial setup – it's up and running out of the box
Natural rocking motion – no wires or electrics
Light and portable – easier to move around the house
Packs down small – easier to store and take on a trip
CONs
Not automatic, which means less autonomy and control for the parent
One motion type – it rocks up and down only
Check out my detailed review of the Babybjorn bouncer here.
Side-by-side comparison of the defining features – Babybjorn vs. Mamaroo
The main difference between the Mamaroo swing and the Babybjorn bouncer is exactly that; one is a swing and the other is a bouncer. There are however a few more subtle differences.
Read below to find out more about the differences between the two top baby swings/bouncers.
Motion and movement compared
There's no external power to speak of in the Babybjorn bouncer, which might be a massive plus if you don't like the idea of electric thingamajigs around your baby.
Mamaroo swing gives your more autonomy
The rocking motion of the Babybjorn doesn't go on for long without giving it a nudge again.
That's especially true for smaller babies since their movement can't generate enough kinetic energy to "feed" the frame.
It's still bouncier and maintains motion better than cheaper bouncers, but the autonomy it gives you doesn't compare to an electric swing like the Mamaroo.
Babybjorn bouncer is the more natural option
A baby-powered bouncer is an obvious choice if you're an old-school parent and prefer the simplicity of a rocker to electric power.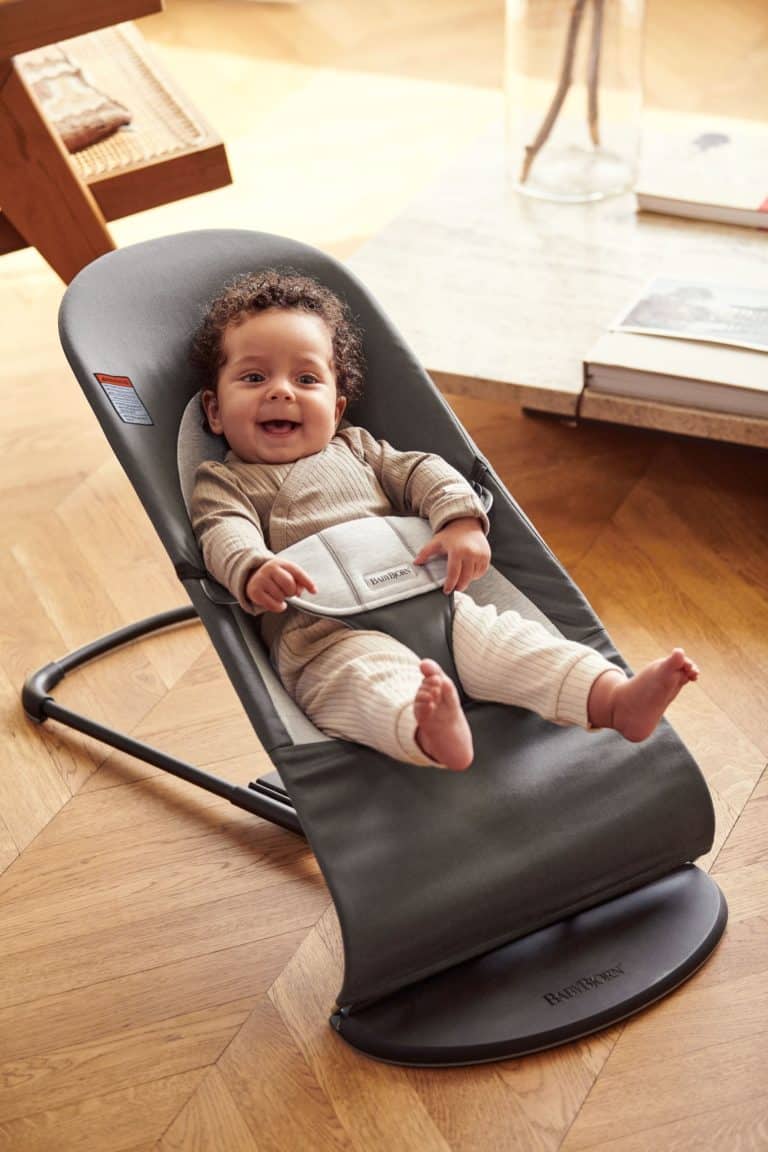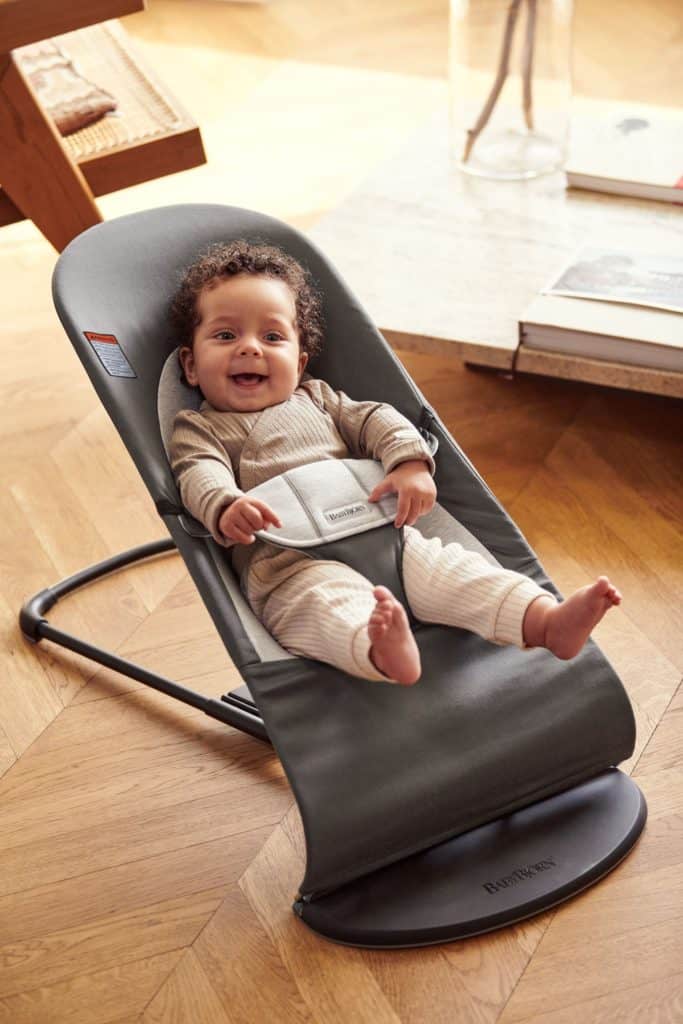 The pivot point of the Babybjorn is well-placed (front of the frame), so it does a solid job of maintaining the rocking motion.
Mamarooo swing is more versatile and gives you more control
The integrated motor of the Mamaroo swing allows it to move side-to-side back-and-forth and up-down, while the Babjorn only moves up and down.
So, there is a chance that a baby who doesn't like a bouncer might like a swing. The opposite rarely happens.
You also have control over the intensity of the motion with an automated swing, which obviously isn't the case with baby bouncers.
Babybjorn is easier to move around
Not only is the Babybjorn much lighter (5 lbs vs. 25 lbs), but it also packs down flat, which makes it the superior option for trips.
Mamaroo also has a broad base, which makes moving it extra pesky.
Mamaroo's seat is comfier
The seat of the Babybjorn bouncer is not uncomfortable by any stretch of the imagination – it's ergonomically designed to minimize the risks of the flat-head syndrome.
However, the padding of the Mamaroo has a bit more heft and padding to it.
Resume and takeaways of the comparison
If we were talking about cheaper products, I'd advise you to get both.
You could use the Mamaroo as a stationary soothing center and the Babybjorn when you need to switch rooms for a chore or take a bath. That would be the ideal scenario.
But these are not cheap, and getting both won't be an option for most parents.
Here's the bottom line
If it's more about soothing and comfort, go with the Mamaroo baby swing. The motions are more versatile, it can play music and white noise, and you control the intensity.
If it's more about keeping an eye on your baby and moving them around the house with you, go with the ultra-light Babybjorn bouncer. It's sleek and weighs only 5 to 7 pounds.
Both are well worth it.
If you're still unsure on which of the two you need, check out this guide on the similarities and differences between a swing and a bouncer.
can baby sleep in swing | can baby swing cause brain damage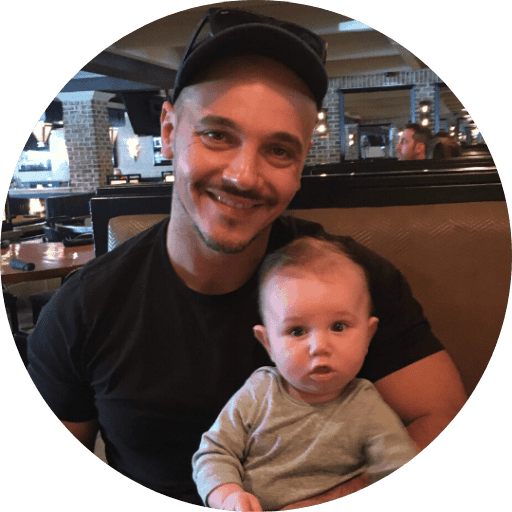 Paul is a passionate dad who founded Upside Dad to share his parenting journey with other new parents. He graduated from Concordia University and worked as a test engineer for over a decade. Paul loves dad jokes and craft beer.
Learn more about Paul and Upside Dad here.