If you've ever had to room-share with your baby in a hotel or away at a family member's home you know it can be a struggle to give your baby the comforts of home while on the road.
Babies need (and love) a dark, cozy space in order to get a good night sleep but as a parent, you may not be ready to go to bed at 7pm. So, what should you do if you need to make your portable playard dark enough for your little one to sleep?
The best way to make you pack n play dark for your baby to sleep in is to use a playpen darkening tent, which is designed to do just that. I do not recommend placing a sheet or curtain over the pack n play while your baby is sleeping in it. There are a number of safe pack n play tent options in the market today that are perfect for taking with you on the go.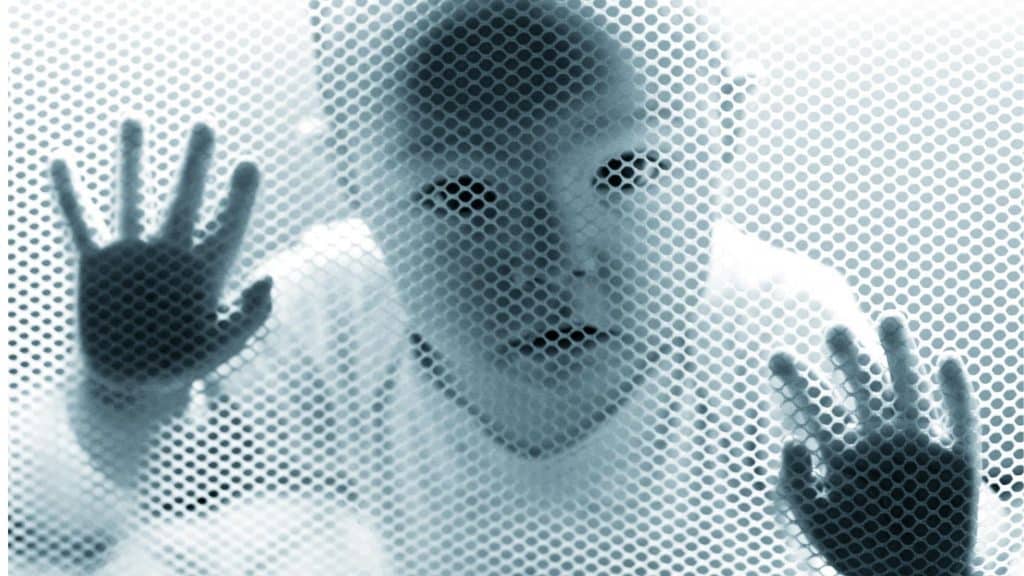 Alternative options to create a dark environment for baby to sleep
Ok so you don't have a pack n play tent and you need a solution to make your baby's portable crib dark enough for sleep NOW!
Worry not, we have some suggestions for you.
We all make questionable parenting decisions from time to time, especially if it involves sleep deprivation and a crying baby. However, when it comes to sleep safety, parents should be really (really) careful.
Your baby is at his most vulnerable state when he is asleep, so it's extremely important to always follow the safe sleep guidelines from the American Academy of Pediatrics whether at home or on the road.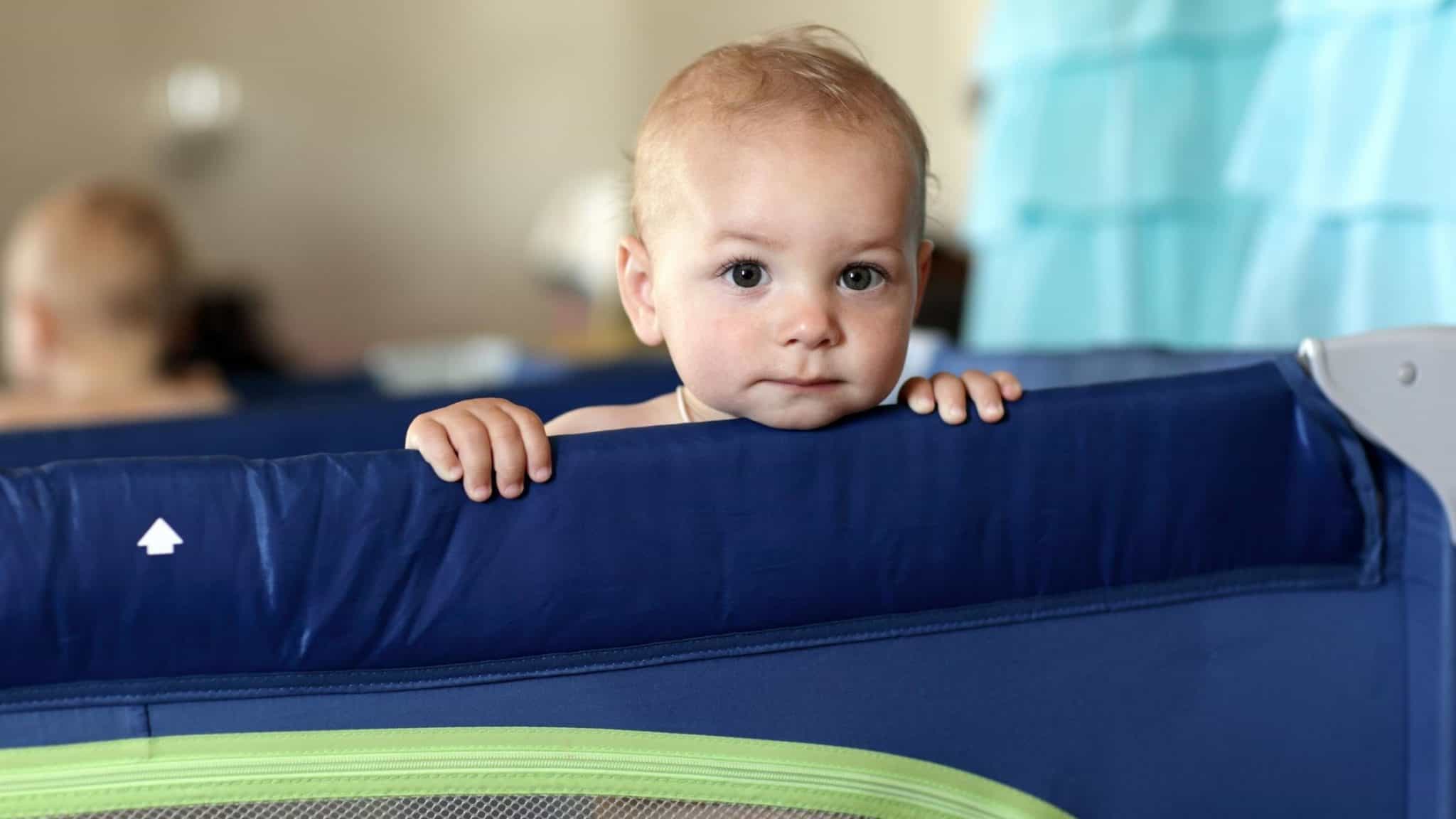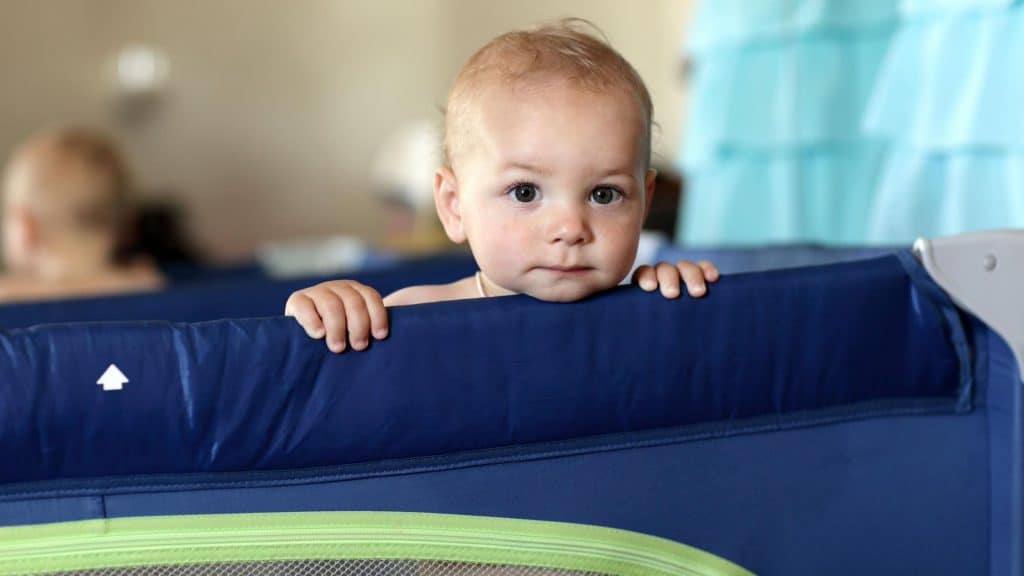 No loose material above or around the sleeping area
The most common idea parents get is to use a sheet or curtain over the pack n play to create some shade. Even though this may sound like a good idea it can be dangerous is some how some way the sheet ends up inside the pack n play while your baby is sleeping.
A fitted sheet over the pack n play attached to each leg seems like a safer alternative but I would urge you to steer away from any loose material above the playard. If your baby is able to stand up he could easily pull the sheet loose and have it end up in the crib with him; not ideal.
Blocking light with the furniture
Some parents try to move a couch or chair around the playard in order to obstruct some light but it doesn't really help much. It may block direct sunlight but it will not make the sleeping area any darker.
Placing your pack n play in a dark closet
This could be a good alternative if you happen to have a large closet available in your room. Make sure there are no clothes hanging above or around the playard when you palace it in the closet.
You should also check the air circulation in the closet before putting the baby to sleep in it. It's probably a good idea to keep the closet door at least a crack open to keep the air moving and avoid a stuffy and stale room. If you have a portable fan, place it in there with your baby.
Placing your pack n play in the bathroom
Putting your baby to sleep in the dark bathroom sounds like a great idea… until you need to go pee in the middle of the night. Yes, I've gone there and regretted it when he woke up mid pee.
Unless you have an option to go use another bathroom or you are certain you won't need it all night I would avoid it.
Pack n Play darkening tents
Pack n play darkening tents are simple yet genius. They are lightweight, breathable, compact and they work; they make the pack n play dark so your little one can sleep whether it's bright outside or if you need to keep the lights on in the room to go about your evening.
Oh and best of all; they are safe!
If you have ever wondered how to black out a pack n play, the playard tents are the way to go and there are a number of great options for all styles and budgets.
Here are my three favorite models, all of which are conveniently available on Amazon.
---
Best pack n play blackout tent
The SlumberPod is my number one choice for pack n play darkening tents because of the impeccable design and build quality. It comes with a number of features including a breathable full blackout material, a camera pocket and windows for breathability.
The SlumberPod is simple and quick to assemble. It works exactly like a simple camping tent with two poles. My video below shows you how to set it up in 2 minutes.
Check out my detailed review of the SlumberPod blackout tent as well as the SlumberPod vs SnoozeShade comparison for more details.
The SlumberPod is very popular these days (especially since their Shark Tank appearance) which means they often sell out on Amazon, so make sure to also check out slumberpod.com for availability and use my code "UPSIDEDAD" for a $20 discount
SlumberPod.com orders are shipped the same day if they are made before 3PM ET.
Exclusive Deal!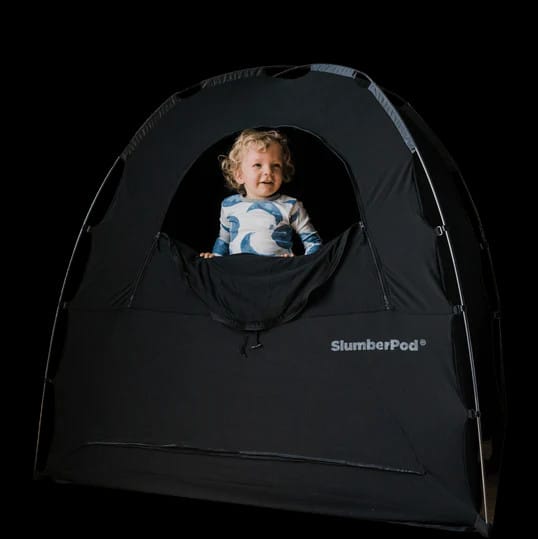 Use the DISCOUNT code "UPSIDEDAD" for $20 OFF or click the button below for your EXCLUSIVE discount!
Best compact pack n play cover
The Snoozeshade is the best option for the parents of a young infant looking for a compact solution to darken a pack n play while on the go.
Young infants are best for this kind of darkening canopy because it sits flat over the playard. This means that if your child is able to stand up he will likely be bothered by the material closing him in, like my son was.
The SnoozeShade is made of a coarse mesh material that does a great job of keeping great air flow throughout the sleeping area. On the other hand, the Snoozeshade is not as dark as the competition but they still block out 94% of the light.
You can also check out my detailed review of the Snoozeshade for more information on this awesome pack n' play cover.
Best budget pack n play sleep tent:
[amazon link="B07TL1TNNL" value="title"]
[amazon fields="B07TL1TNNL" value="thumb" image="1″ image_size="large" image_alt="EasyGoProdcuts EGP ZZZ Play & Crib Canopy Blackout Instant Tent"]
The ZZZ Tent is as simple as they come and it's perfect for small budgets. It pops open like a baby beach tent and fits over a standard Pack n' Play 27" to 32" wide and 36' to 42" long.
Don't expect a full blackout from the ZZZ tent, but you will get a much darker sleeping area for you baby.
The material is not very breathable but the two (2) breathable windows allow for good air circulation.
Folding it down and packing up is not hard, but it may take some practice, just follow the instructions below and you should be fine. The beauty of it is that there is no assembly required at all.
The dimensions of the ZZZ tent is 38"W x 54"L x 57"H.
The ZZZ tent is the best budget option. The regular price is $99 but it is often on sale for $85 or less on Amazon.
---
---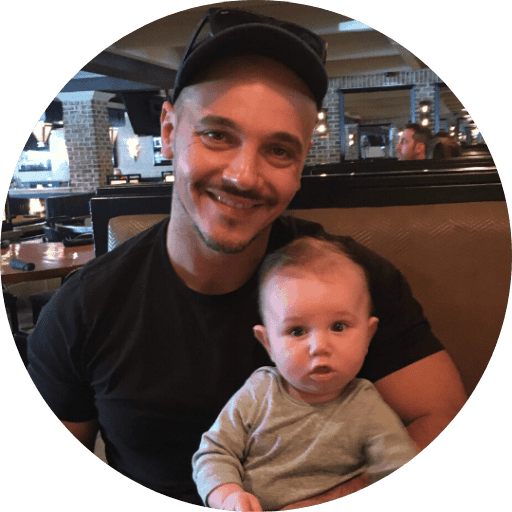 Paul is a passionate dad who founded Upside Dad to share his parenting journey with other new parents. He graduated from Concordia University and worked as a test engineer for over a decade. Paul loves dad jokes and craft beer.
Learn more about Paul and Upside Dad here.