No matter how house proud you are, the arrival of a baby turns any perfect home upside down. The dishes pile up, the laundry mountain keeps getting bigger and dust accumulates everywhere. You must clean the house, but you have no time to do it. That's where having the right baby carrier comes in.
When you have to catch up on some chores around the house, but you also have to take care of a little one, the answer is babywearing!
Baby carriers let you carry your baby on your body instead of holding the baby in your arms. This leaves your hands free to do chores while your baby is safe and secure with you.
Wearing your baby in a baby carrier while you are puttering around the house has another great benefit. The movement of your body and your closeness is soothing for a baby and many times babies will fall asleep while we move around the house with them.
Important features for a baby carrier to be worn around the house
When looking for the best baby carrier to be worn while you are doing housework, look out for the following features:
Lightweight
Easy to put on/take off
Breathable – so you and your baby don't become hot and bothered
Adjustable – so it keeps fitting you and your growing baby
Comfortable for moving around, bending, picking things up
Proper lumbar support
Here are our top picks for the best baby carriers for doing chores around the house
LÍLLÉbaby Pursuit Sport – This adjustable and lightweight baby carrier is perfect for any parent on the go. Whether you're sweeping or doing dishes, this carrier will not get in your way.
Ergobaby OMNI 360 – a sturdy, well-designed carrier that offers exceptional lower back support with a padded waist belt. It's suitable for newborns up to 45 pound toddlers.
Solly Baby Wrap – The solly baby wrap is ideal for newborns and young toddlers. It's very lightweight, supportive and easy to put on and take off.
Best Overall
Personalized fit
Ergonomic -padded waist belt and padded straps
Lightweight
Premium Choice
Fits from week 1 up to toddler
Lumbar support for you back
Crossable shoulder straps
Best Value
Lightweight, soft material
Secure fit for baby
No rings, belts, buckles, or excess fabric
---
personalized fit
ergonomic -padded waist belt and padded straps
lightweight
The LÍLLÉbaby Pursuit Sport is marketed as an innovative carrier specifically designed for active parents. This is a carrier made for parents on the go, whether outdoors on nature walks or indoors doing chores around the house.
The Pursuit Sport is both comfortable and functional. It is super lightweight, weighing only 1.7 lbs., but this sturdy carrier can hold children up to 45 lbs.
The main reason why this carrier made our short list is because of how easy it is to move around with your baby in it. It is compact and doesn't have any buckles, clips or straps in the way on your everyday movements. It's perfect for bending and twisting around the house while getting stuff done.
The carrier also features head and neck support for the baby as well as padded straps so you can tie your baby securely to your body and not worry about whether he is well supported.
Pursuit Sport is made from 100% recycled ripstop fabric, which is a super-strong fabric made with a special reinforcing technique.
Why we like it
Super lightweight
Recycled materials
Very durable
Water-resistant
Mesh lining that wicks away moisture
Wide padded waist belt and comfort straps
Additional lumbar support
Head and neck support for baby
7 pockets
Our verdict
The LÍLLÉbaby Pursuit Sport is the ideal baby carrier for active parents. Made with durable, water- resistant, 100% recycled polyester ripstop fabric, it can take a beating.
This carrier has everything you need to keep on doing what you are used to doing, whether that is doing chores around the house, in the garden or getting back to nature walks. The carrier will keep your baby comfy and supported while you have all the lumbar support you need to keep going for hours.
---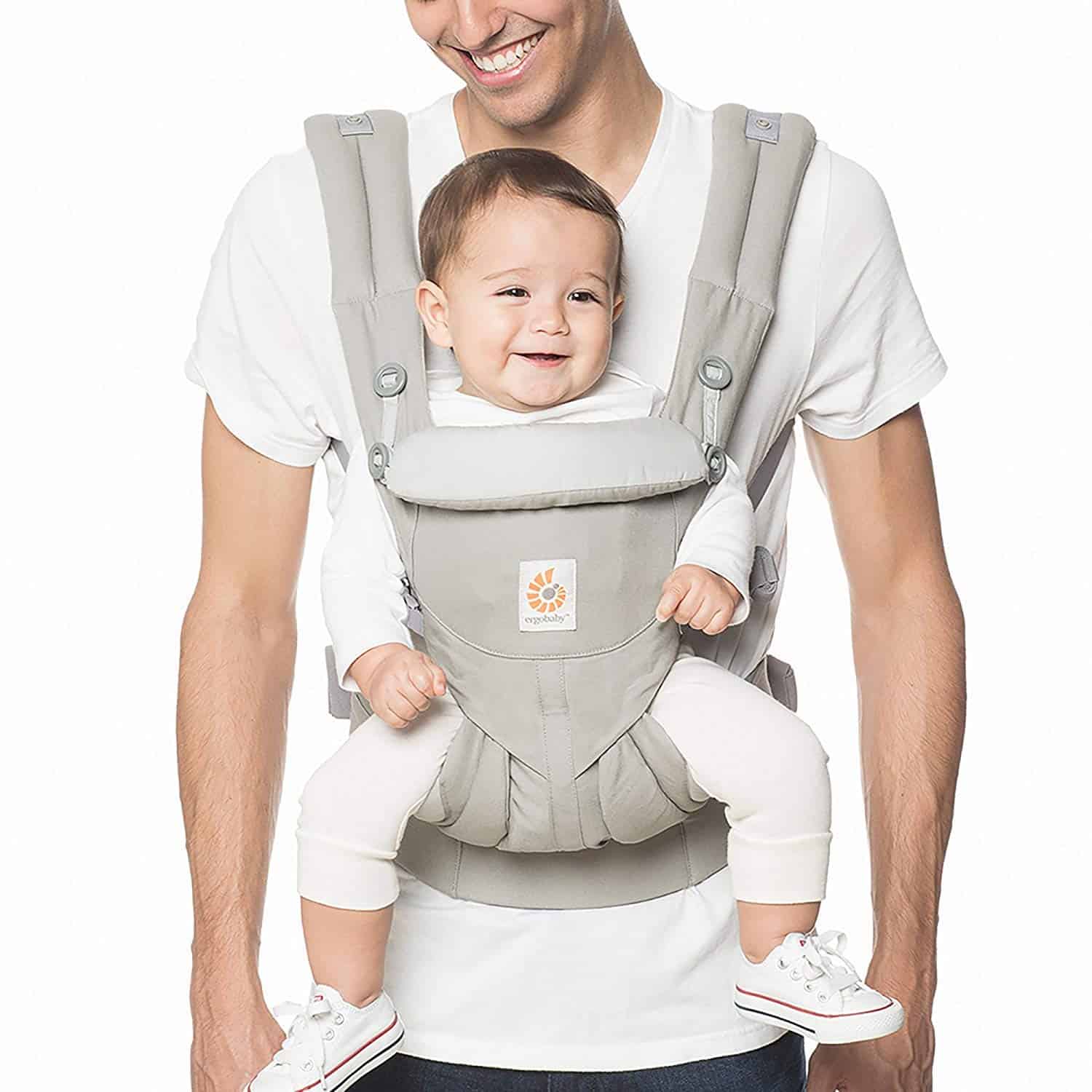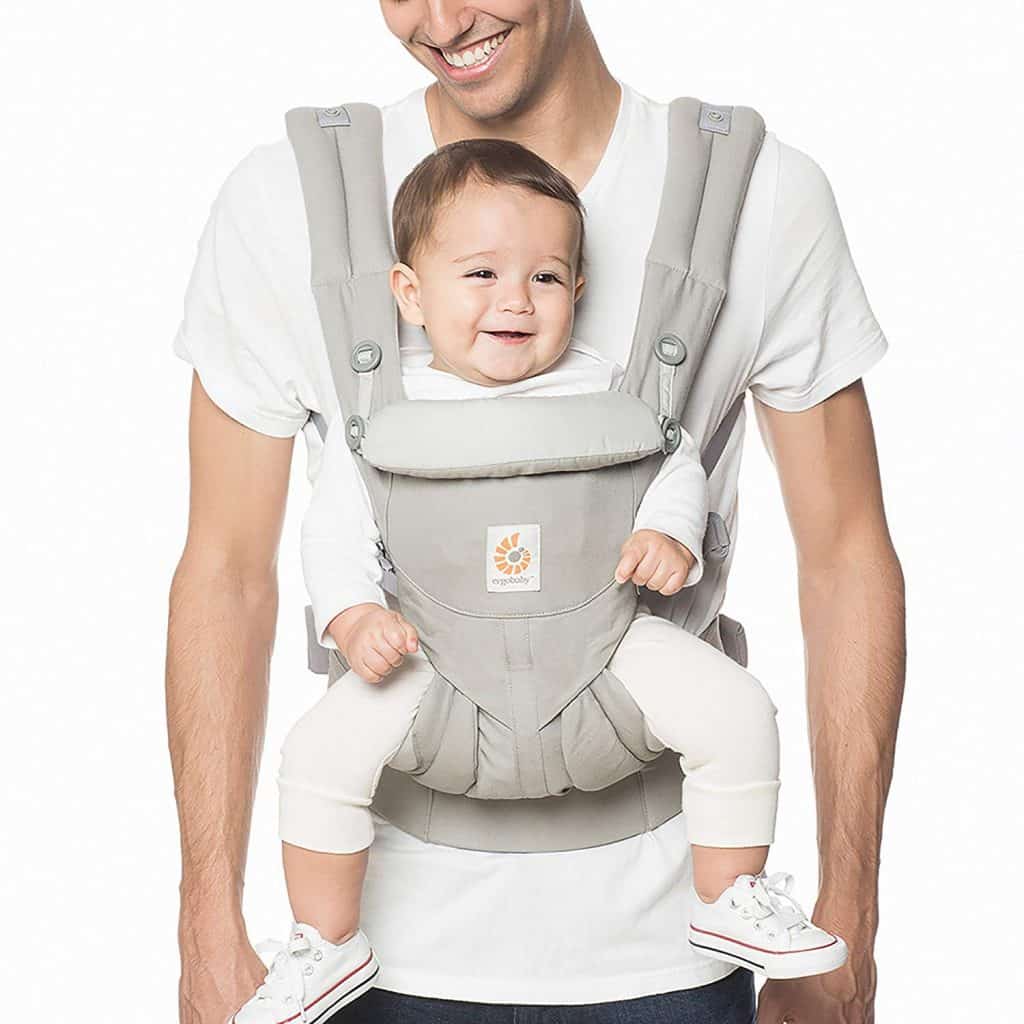 Highlights of the Ergobaby OMNI 360
fits from week 1 up to toddler
lumbar support for you back
crossable shoulder straps
The Ergobaby Omni 360 Carrier is a carrier that is ergonomically designed for the utmost comfort for parent and child. The ergonomic design allows for the carrier to be used for newborns without the need for an insert. The Omni 360 adjusts to hold babies from newborn to the toddler phase (3.2 – 20kgs).
The Omni 360 comes with a unique bucket seat that adjusts as the baby grows. The seat supports your baby to sit naturally in the hip-healthy M-Shape position. It does that for all carry positions: on your front or back, facing in or out.
The Ergobaby Omni 360 is super easy to use. You can quickly get the baby in and out and switch carrying positions all on your own. It also has easy-to-reach buckles at the back that joins the shoulder straps making it even more functional.
For someone who wants to do housework while wearing a baby this carrier offers real comfort and peace of mind. This includes lumbar support and well-padded shoulder straps that can be crossed in an X over the back for better weight distribution over your back. This wearing style ensures that the baby's weight is better distributed and you can go on about your chores for longer.
As a bonus, this carrier has a detachable pouch to keep your keys and phone handy while on the go.
Why we like it
Great lumbar support
Easy to use – easy-to-reach buckles
Ergonomic for parent and child
Four carry positions
Padded shoulder straps that can be crossed in an X over the back
Our verdict
The Ergobaby OMNI 360 is everything you want in a baby carrier. It is easy to use and supports your baby in a healthy, secure position while you are busy with household tasks. The carrier offers ample lumbar support which means your back won't complain after hours of catching up on your chores..
The ergonomic design ensures maximum comfort for you and ultimate safety for your child.
---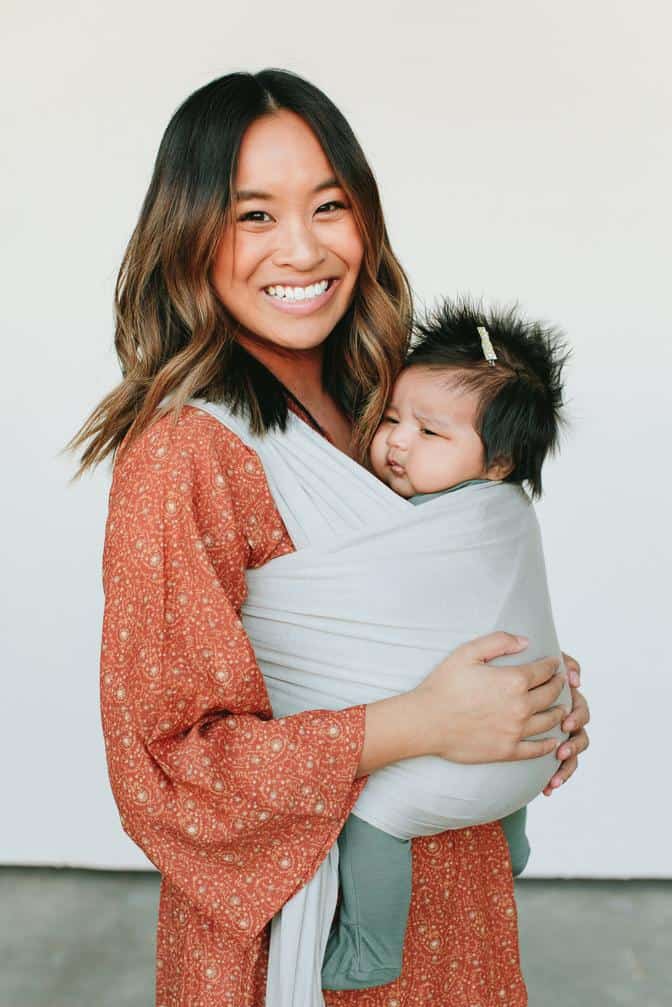 Highlights of the Solly Baby Wrap
lightweight, soft material
secure fit for baby
No rings, belts, buckles, or excess fabric
The Solly Baby Wrap is ideal for active parents. The wrap keeps the baby secure right next to your body and you can carry on with what you have to do. Many parents claim that they can even do exercises with their baby in a Solly wrap, so you can be sure that this wrap is tough enough for carrying your baby while doing chores around the house.
The Solly wrap is super lightweight and made of soft, breathable fabric that parents rave about. This is great if you live in a warm climate and are active.
The Solly comes in a huge range of beautiful colors that are derived from environmentally friendly dyes. The wrap itself is made from sustainably sourced beechwood trees.
The Solly can be used from day one until your baby weighs around 25 pounds. With this wrap you can only carry your child on the front, facing in.
Most wraps can be tricky to master, but the solly baby comes with loads of easy-to-follow videos on their website to help you master it.
Why we like it
Lightweight
Super soft and durable
Soothing for baby
Secure fit
Easy to learn to use
Our verdict
This lightweight and comfortable wrap keeps your baby close and secure while you get on with your busy days. The Solly is made from a lightweight, soft, super-breathable fabric and is designed for comfort. This wrap can be used for new-borns as well as really tiny babies that are born underweight. Also, this is a wrap that is straightforward to put on. You'll quickly learn how to wear your baby in it.
---
How to find the right baby carrier for your everyday chores
The most important thing to look out for when buying a baby carrier to wear while you're doing chores around the house, is a carrier that keeps the baby warm, secure and allows for the weight to be distributed evenly.
Your carrier should also be lightweight and easy to put on and remove.
Here are some features that make doing chores while babywearing much simpler:
Lightweight
The baby carrier should be lightweight. You already have the weight of a baby to contend with, you don't need a baby carrier that adds to the weight while you're working.
Easy to put on and take on and off
Needless to say, a baby carrier that you are going to wear regularly must be easy to put on and take off. You don't want to struggle with buckles and extra lengths of fabric.
Breathable
A baby carrier should preferably be made of breathable fabric so you and your baby don't become hot and bothered when you use it. This is especially important in hot and humid climates and also for active parents that keep busy around the house while carrying their baby in a baby carrier.
Adjustable
An adjustable baby carrier grows with you and your baby. You want a carrier that will hold a small infant and adjust to holding a toddler of 3 years. Also, the waistband and shoulder straps should be adjustable so the carrier fits you perfectly and your baby is safe and snug in it.
Comfortable for moving around in
Cleaning the house requires more movement that we realize, and these awkward positions we put ourselves in are especially noticeable when you have the added weight of a baby on you. If you want to be able to do the dishes, stack the laundry, vacuum the carpet and pick stuff up from the floor your carrier MUST be flexible and comfortable.
Proper lumbar support
It's easy to hurt your back if you are moving around picking up toys and hanging the laundry while carrying a baby. Choose a baby carrier that offers proper lumbar support that will protect your back.
The best types of baby carrier for doing chores
The three types of baby carriers that we believe are suitable for doing chores around the house are: wraps, Mei Tais (Meh Tai), and soft-structured carriers (SSC).
Wraps
Wraps are basically long stretches of fabric that you tie around yourself and your child. This carrier is suitable for infants and toddlers. If you can tie the wrap securely, it makes a very snug nest for the baby.
With a wrap, you can carry your baby on your front or on your back. It's easier to tie a baby on the front, but you have to then take special care that your baby isn't in the way when you do chores. If you tie your baby on your back, the baby is out of harm's way while you are doing the chores.
Mei Tais
The Mei Tai consists of a square of fabric with wide straps attached to the four corners. Sort of a mixture between a soft structured carrier and a wrap.
Two straps go over the wearer's shoulders and two go around the waist. You can adjust the straps to ensure a perfect fit for you and your baby. It also helps that the weight of the baby is distributed evenly. Mei Tai's are designed to hold a baby securely and will be great for doing housework.
Soft-Structured Carriers
Examples of soft-structured carriers are the ErgoBaby OMNI 360 and the LÍLLÉbaby Pursuit Sport that we discussed earlier. SSC's are popular and many parents prefer this design because of how sturdy they are. The straps are adjustable to allow for the best fit for you and your baby and the waistband allows for your baby's weight to be distributed evenly.
Soft structured carriers are excellent baby carriers to be used for chores and everyday tasks.
Chores you can do while babywearing
There are many different tasks you will be able to accomplish while babywearing. These include:
Washing the dishes
Cleaning the windows, walls or any other surfaces
Vacuuming
Sweeping
Doing laundry
Picking up toys
and many others.
All of the tasks above can be accomplished while wearing your baby on the front. As your baby grows you will notice some of these chores get harder due to the added weight and lack of access for movement.
For a chore like cooking, it's best to avoid it altogether for safety concerns. We wouldn't want to risk anything hot spilling or splashing on our little ones. For similar reasons, you should also avoid any harsh cleaning products while babywearing.
Also, avoid mopping the floors while wearing your baby. Wet floors can be slippery, so don't take a chance.
Bending down can be an issue with the baby on the front and on the back. When front wearing, I like to lightly support the baby with one hand while I bend down for something. This simple act gives me confidence that the baby is secure and won't slip out, which is still not likely if the baby is correctly installed in the carrier.
There is no problem bending down while babywearing, just do so slowly and carefully.
Babywear and get more done
Babywearing is a clever way to get things done while also spending time with your child. Most babies love being held snug in a baby carrier especially if the parent moves around constantly. Babywearing while doing chores around the house is the best of two worlds: taking care of a little one and getting things done around the house. Win-win!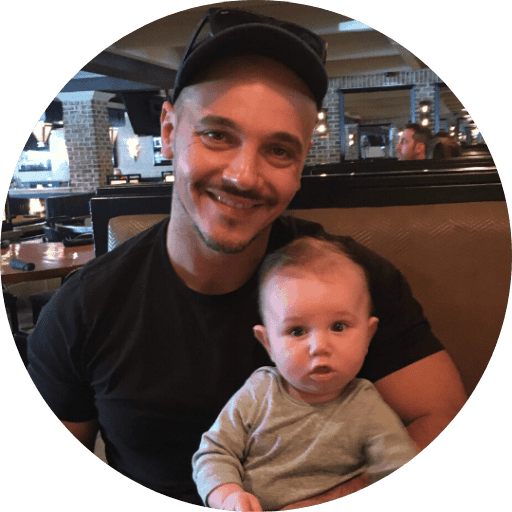 Paul is a passionate dad who founded Upside Dad to share his parenting journey with other new parents. He graduated from Concordia University and worked as a test engineer for over a decade. Paul loves dad jokes and craft beer.
Learn more about Paul and Upside Dad here.