Are you the type of parent that ends up carrying your little one at every opportunity, all day long? I was like that too! The thing is, that joy can come at a price for some parents. Babywearing can get tiring very quickly especially if not done correctly, and that can lead to back pain; so what's a parent to do?
Personalized fit
From newborn to 2 years old
Great lumbar support
Adaptable design for the wearer and baby
Comfortable and ergonomic
Airy, lightweight and soft material
Adjustable seat
4 ways to carry baby
Machine washable
---
Here are our top picks of the best baby carriers for back support:
Ergobaby OMNI 360 – a sturdy, well-designed carrier that offers exceptional lower back support with a padded waist belt. It carries a child of up to 45 pounds.
Baby BABYBJÖRN Baby Carrier One – an ergonomic carrier for newborns up to 36 months. It's made of a unique mesh fabric that is extremely breathable, but also soft for your baby's skin.
Infantino Flip Advanced 4-in-1 Carrier – Lightweight and easy to put on/take off, this carrier is simple yet effective and can be adjusted to keep your baby in the most optimal position.
According to the American Chiropractic Association, "One-half of all working Americans admit to having back pain symptoms each year. Experts estimate that up to 80% of the population will experience back pain at some time in their lives."
These are staggering numbers!
If you have a pre-existing back problem, picking up a growing baby and carrying him around can put extra strain on your already bad back. And, if you don't want the situation to get worse you need to keep a few important pointers in mind. But first you need the right carrier.
When shopping for a baby carrier to be worn day-in and day-out, look out for the following important features to protect your already sensitive back:
Lightweight materials
Easy to put on/take off
Ability to carry your baby high and close to your body
Highly adjustable straps
Multiple carrying positions (front, back, side…)
Ergonomic design for comfort and even weight distribution
A wide waistband for maximum support
The best baby carriers for bad backs
---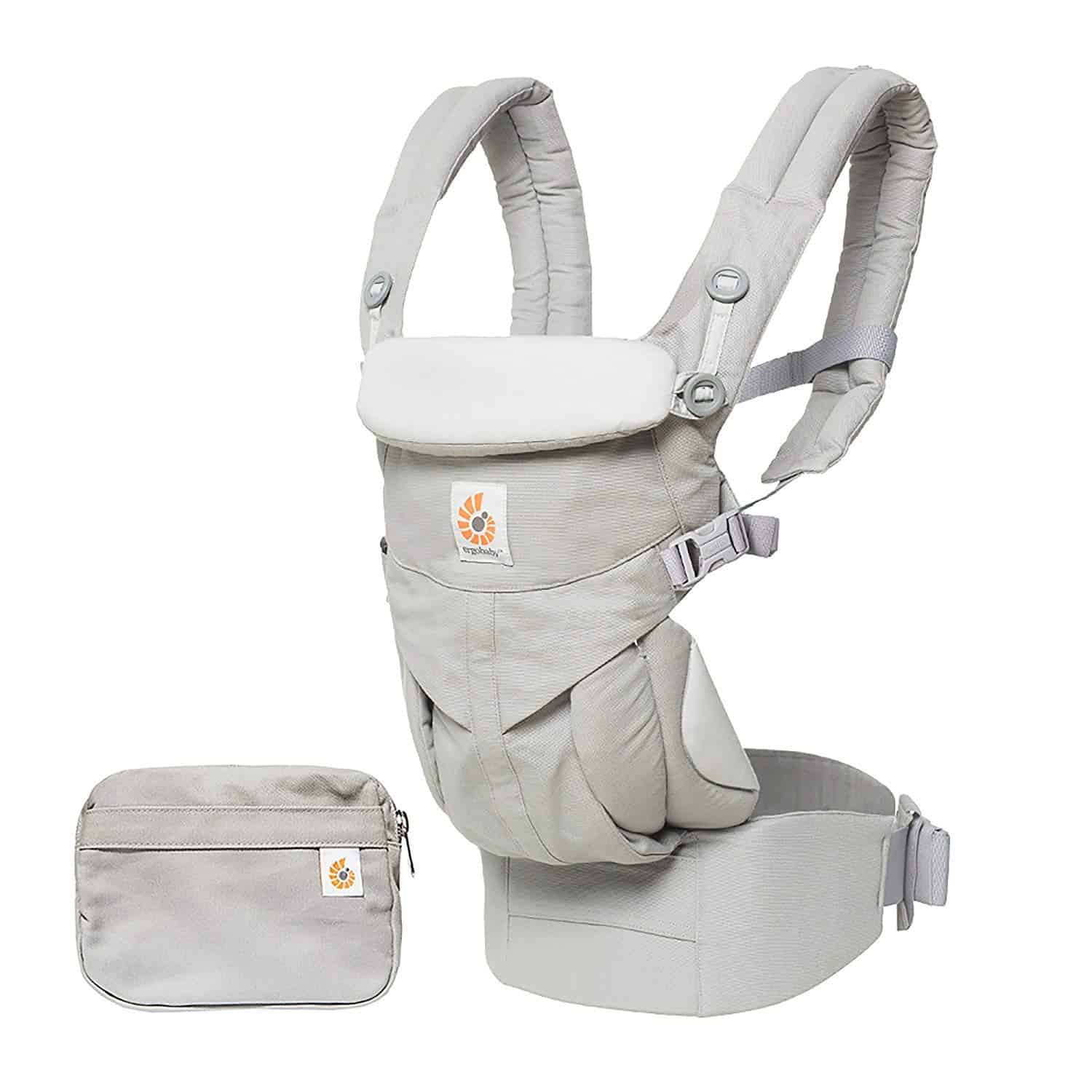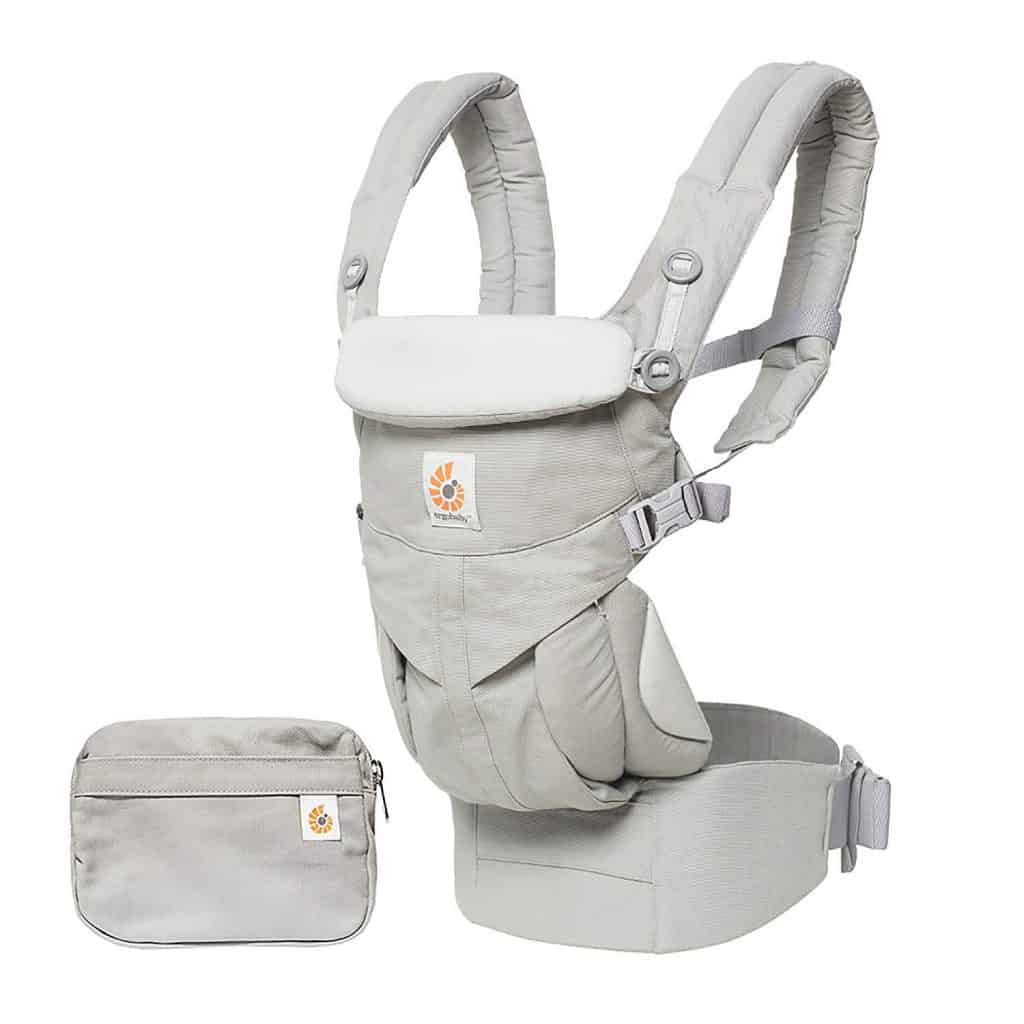 Highlights of the Ergobaby OMNI 360
Personalized fit
From newborn to 2 years old
Great lumbar support
The Ergobaby Omni 360 Carrier is a newborn-ready baby carrier that is ergonomically designed for the utmost comfort for parent and child. It provides amazing back support from the wide, padded waist band.
The waistband on the Omni is fastened with a simple buckle clasp which can be undone using one hand. The waistband offers additional lumbar support, which protects sensitive backs.
Another great feature of the Omni 360 is that you can cross the straps in an X across your back. This offers great support for your back. Be sure to try it if you decide on this carrier. Parents rave about this feature as it eliminates reaching for that back clasp that can be so difficult for many parents.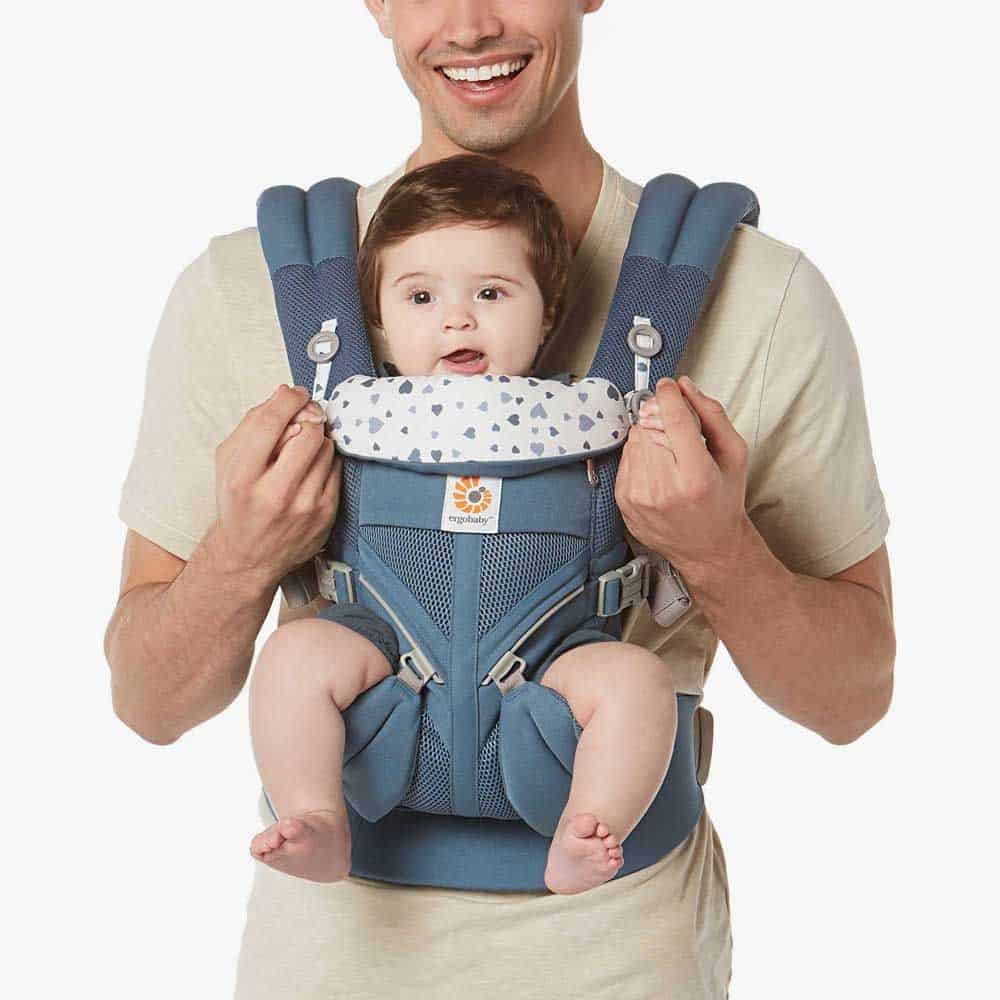 The Ergobaby OMNI 360 is very easy to use. You can carry your child in any carry position, and it adjusts for babies from newborns to toddlers.
The Omni 360 features a seat that supports your child in the recommended hip-healthy M-shape and it does that in all carry positions. This carrier allows you to swap between carry positions, facing baby in or out on your back or your front.
The Omni 360 has a foldable neck and head support for your baby that ensures proper head and neck support for babies of all ages and at all stages of development. The neck and head support is extendable.
Why we like it
Great lumbar support
Easy to use – easy-to-reach buckles
Ergonomic for parent and child
Four carry positions
Detachable pouch for keys, etc.
Our verdict
The Ergobaby OMNI 360 is everything you want in a baby carrier. It is easy to use and supports children from newborns to toddlers. The design of the carrier is thoughtful, with comfort in mind for both parent and child.
The carrier is attractive, comfortable to wear, and practical to use. Best of all, this baby carrier offers superior back support. The ergonomic design also ensures minimum strain on your back and comfort for your child.
---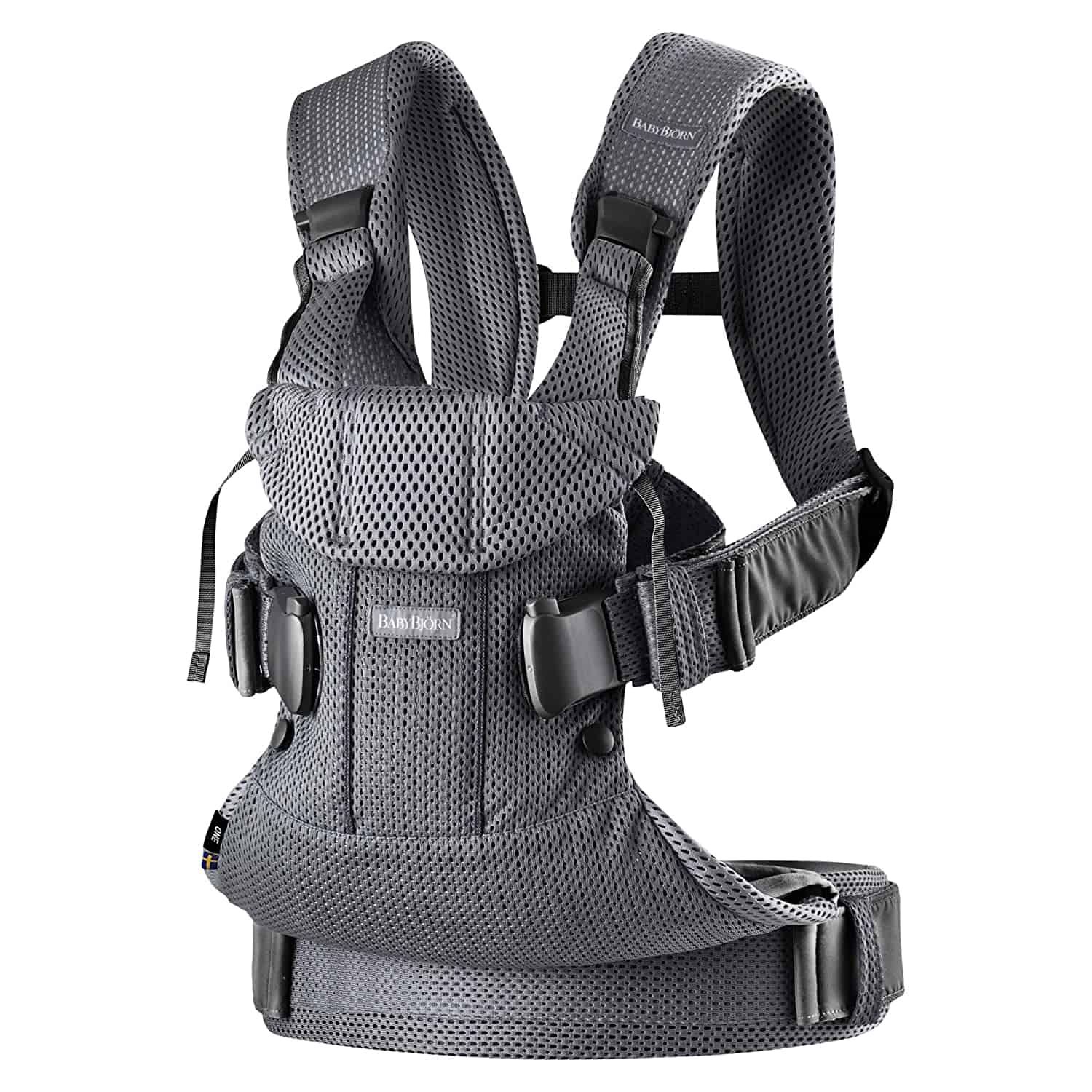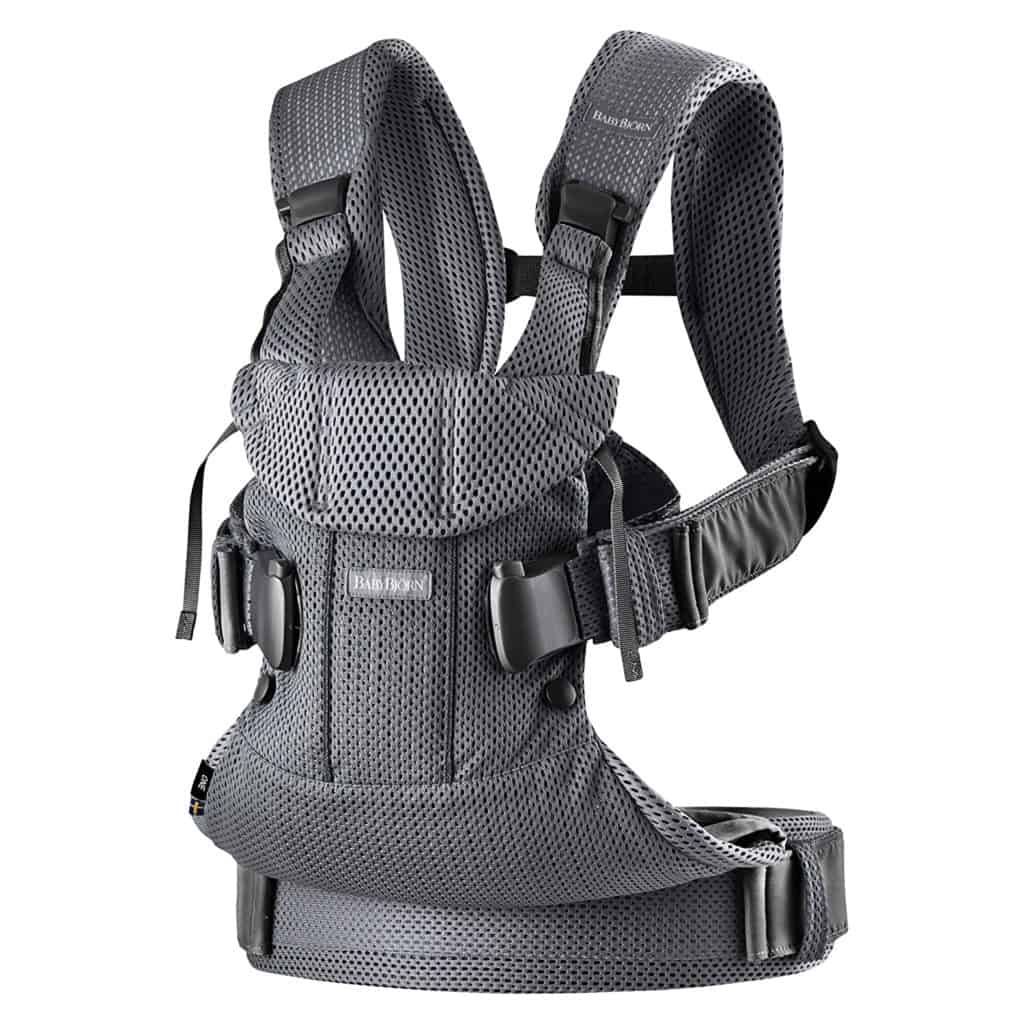 Highlights of the Baby BABYBJÖRN Baby Carrier One
Adaptable design for the wearer and baby
Comfortable and ergonomic
Airy, lightweight and soft material
Some parents describe the BABYBJÖRN One Air as the gold standard in baby care accessories. The reason for this is its superb design and the superior quality of the mesh material used to make it.
The mesh material is super soft against the skin and ideal for babywearing in hot and humid conditions. The fabric is machine washable, so you can just throw it in the wash after a long day outdoors.
Most importantly, for parents with back problems this carrier sits comfortably on the hips, is very well padded and the wide waistband offers excellent stability. You can wear it for hours and not even feel like you have a baby hanging off your body. Extra-padded shoulder straps also help to distribute your baby's weight evenly.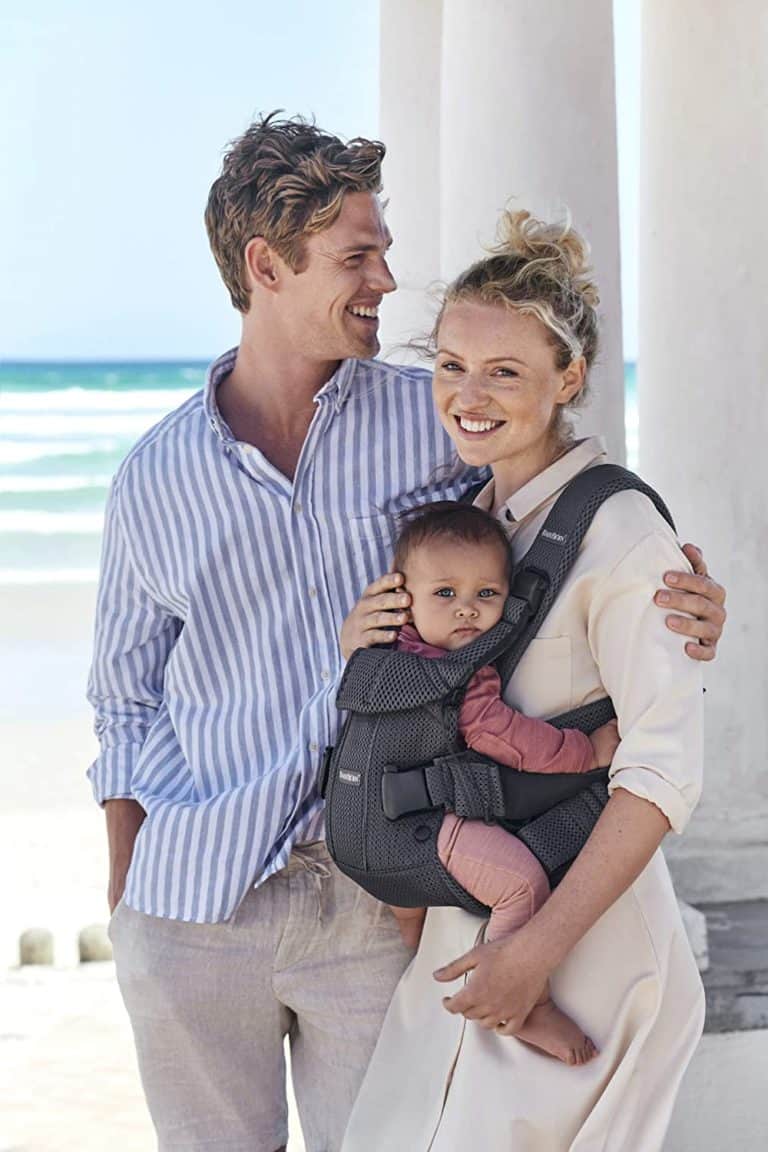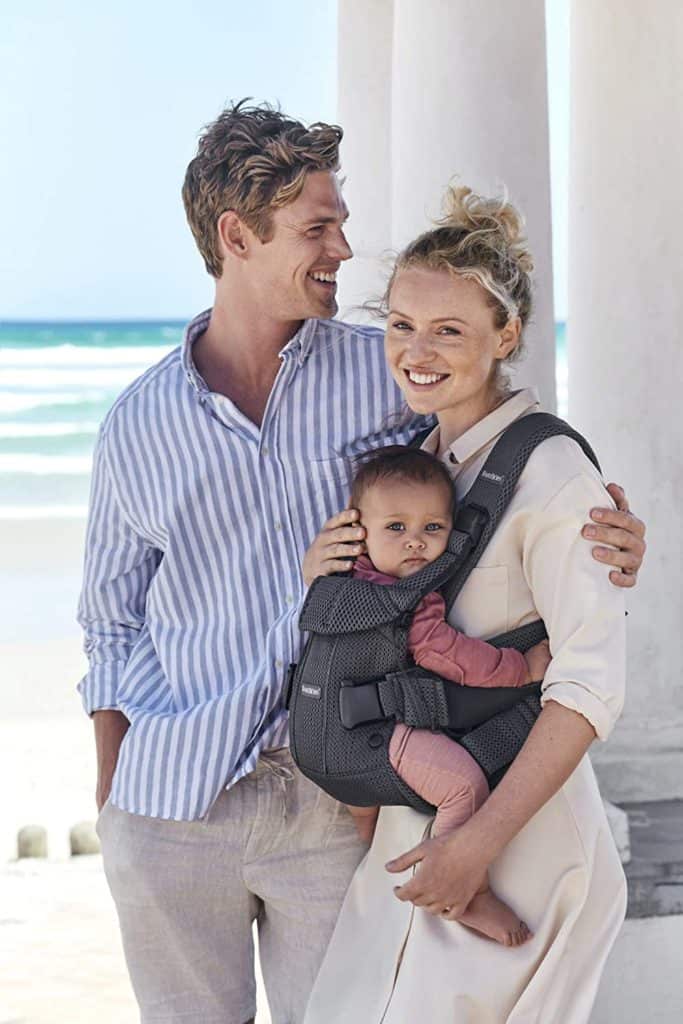 This is a hip-friendly baby carrier. It provides proper support for your child's hips and promotes healthy hip joint development. Your baby will sit in an ergonomic wide-leg position, which is natural and comfortable for little ones.
You can use the BABYBJORN Baby Carrier One Air to carry your child from birth up to the age of three. The carry positions include back or your front, and facing in or out.
Why we like it
Cool premium mesh fabric that breathes
Ergonomic design
Support healthy hip development
Machine washable
Extra padded shoulder straps
Multiple carrying positions
Our verdict
The BABYBJÖRN One Air baby carrier is a comfortable-to-wear carrier made of superior mesh fabric that is soft against the skin, but also durable, breathable and machine washable. It's light-weight and easy to put on. The extra-padded shoulder straps and support in the waistband make this carrier a good choice for parents who are looking for added back support or already have back problems.
---
Highlights
Adjustable seat
4 ways to carry baby
Machine washable
The best way to describe the Infantino Flip 4-in-1 baby carrier is; Best value for your money. It's not fancy with a lot of extras features but it not only does the job, it holds up to carriers that are double the price. Parents swear by this carrier for walks, and doing chores around the house, and even claim to carrying a child in it for up to 3 hours at a time.
Specifically of interest to parents with a bad back, the Infantino Flip carrier boasts a supportive waist belt that transfers the weight of the child to the wearer's hips. It is also highly adjustable and you are able to place your baby close to your body and high so that it reduces the pressure on your lower back.
The Flip 4-in-1 baby carrier features a convertible seat that allows for baby carrying from infancy through toddler years. The narrow seat position and padded head support are designed to safely hold small infants while the wide seat position provides ergonomic support as your child gets bigger.
Another unique feature of the Infantino Flip is the Wonder Cover™ bib that protects your clothing and the carrier.
Why we like it
Convertible seat
Padded head support for infants
4 ways to carry baby
Wonder cover 2-in 1 bib to protect your carrier and clothes
Waistband that distributes weight evenly
Our verdict
The Flip 4-in-1 baby carrier is good value for money. It has a design that adjusts to the child's size, so you can carry your child safely from infancy until he's 3 years old. With this carrier, baby carrying won't mean spilled food that you must spot clean off your clothes or the carrier. The bib will protect your clothes and the carrier itself can be thrown in the washing machine. This is a practical product at a reasonable price that won't hurt your back.
---
The baby carrier guide for parents with back pain
What to look for when buying a baby carrier if you are inclined to suffer from back pain.
The most important thing to look out for when buying a baby carrier for someone who suffers from a sensitive back is a baby carrier that allows for carrying the baby close to the body, high and having the weight distributed evenly on your body. The carrier must be designed in such a way that there are multiple points of contact over large surface areas so that multiple muscle groups are involved in supporting the extra weight of the child.
Important features of baby carriers when dealing with a bad back
Adjustable
The shoulder straps and waistband must be fully adjustable to allow for a comfortable and tight fit . The baby should sit comfortably and snugly against the parent's body. Straps that are too loose, will let the baby hang in the seat instead of sit in it, pulling your back forward and further irritating it.
Ergonomic design
Ergonomically designed baby carriers are comfortable for the parent and for the baby. They are designed to provide the best support for both the parent and the child.
A carrier that is ergonomic, distributes a child's weight evenly and it doesn't put unnecessary pressure on the wearer's back and shoulders. To distribute the weight evenly, the carrier must have wide, padded shoulder straps and a wide waistband that fits tightly to help support the back by engaging the core.
For the baby, an ergonomic baby carrier means that the baby is supported to sit in a healthy M-shaped position that promotes healthy hip and spine development.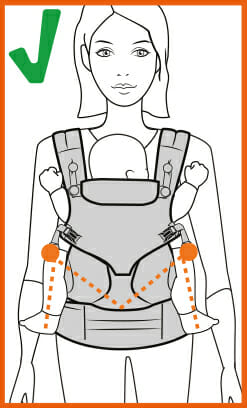 Ease of use
This is an important point where most baby carriers fall short on. If you have to twist and turn to fit your child into a baby carrier, you're looking for back trouble. For the best result, look for a baby carrier that you can put on yourself without any help.
Having a partner to help you put the baby in the carrier is ideal but you will find out soon enough that's not always possible. Each of the carriers we chose are very easy to put on yourself. We know this can be very annoying so we put together a full post on how to put on a baby carrier by yourself which includes slings, wraps and soft structured carriers.
Comfort
Look for a carrier that feels comfortable on you. Look out for properly padded shoulder straps and make sure no buckles dig into your body especially when bending over or squatting to pick something up. Make sure that the straps are not too narrow so they dig into your skin.
Our three favorite baby carriers all have wide straps adjustable straps and comfy pads to help keep your back pain free.
Different carrying positions
Look for a carrier that allows for multiple baby carrying possibilities. This means that if your back gets sore carrying your child in one position, you have the option to try another position that might be kinder to your back.
Try them all and switch positions as often as possible to balance out the weight and reduce back pain.
The best types of baby carriers for back support
There are five main types of baby carriers: wraps, ring slings, Mei Tais, soft-structured carriers, and backpacks.
Wraps
Wraps are long stretches of fabric that you tie around yourself and your child. This is a basic item with no shoulder straps or waistband to support the baby's weight.
Wraps are not suitable for someone with back pain because they do not support the wearer's core and may have uneven weight distribution due to the flexible nature of the wrap material. Every time you you put on a wrap you may end up with the baby in a slightly different position and this could end up bothering your back.
Slings
A sling is also a single piece of fabric but it has two rings at the one end that the other end of the fabric is threaded through. The sling goes over one shoulder and you carry your baby on the opposite hip. Since the weight goes over one shoulder, this design can easily result in shoulder, neck or back pain, so it's not suitable for a parent who suffers from back pain.
Mei Tais
The Mei Tai can be a good choice for someone with backache. It consists of a square of fabric with wide straps attached to the four corners. Two straps go over the wearer's shoulders and two go around the waist. You can adjust all four straps to ensure that the weight of the baby is distributed evenly and feels comfortable on your body.
This type of wrap adds some support and stability to the baby and can help keep you backache at bay.
Baby Backpacks
Baby backpacks are backpacks with a seat that are designed to carry a child in. These products are heavy and consist of a supportive steel or plastic frame with shoulder and waist straps. Baby backpacks are designed to carry bigger babies and toddlers and can be hard on your back and shoulders especially for long walks and hikes, which is what they are designed for.
Soft-Structured Carriers
Examples of soft-structured carriers are the ErgoBaby OMNI 360, the Baby BABYBJÖRN Baby Carrier One Air and the Infantino Flip Advanced 4-in-1 Carrier that we discussed earlier. Soft-structured carriers use buckles or clips for fastening, which make them easy to use. They usually feature a wide waistband and padded shoulder straps, which in combination, distributes the baby's weight evenly. This helps that your hips, rather than your back, carry the weight of your child.
Soft structured carriers are the best choice for parents with back pain or back problems.
Check out our detailed post to learn more about the different types of baby carriers.
---
How to prevent back pain while babywearing
Wear your child as high as possible
You must be able to kiss the top of your baby's head. This position put less strain on your back.
Wear your child close to your body in a snug fit
If your child hangs in the carrier it will put strain on your back and shoulders.
Make sure you tighten the waistband
A tight waistband helps to distribute the baby's weight off your back and onto your hips AND it keeps your core tighter which in turn helps support your back.
Avoid carrying your child in the front facing out (for as long as possible)
When forward facing, the baby's body doesn't hug yours. It sits away from you and that can put strain on your back. There comes an age when forward facing becomes the only way to carry your baby, but until then, keep your baby facing you for the least strain on your back.
Whenever possible, carry your baby on your back
Experts recommend that a child of about 20 pounds or more should be carried on the back.
Final thoughts
The bottom line for babywearing and back pain is that even though you have back problems, you can still babywear safely if you follow some of our guidelines. Start by choosing the right baby carrier for you and make sure you wear your baby correctly, and you will feel the difference.
Babywearing can be life changing for a new parent, so enjoy the ride!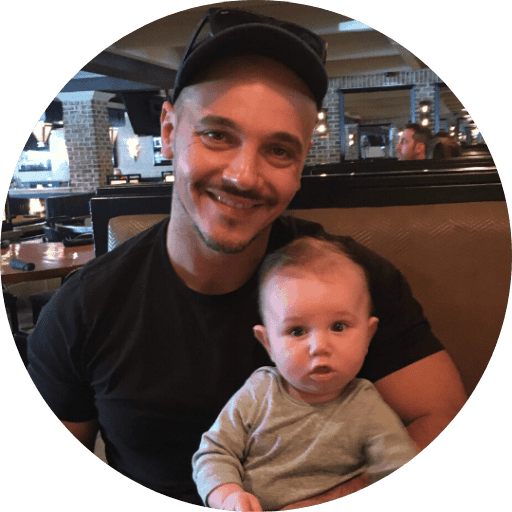 Paul is a passionate dad who founded Upside Dad to share his parenting journey with other new parents. He graduated from Concordia University and worked as a test engineer for over a decade. Paul loves dad jokes and craft beer.
Learn more about Paul and Upside Dad here.