Most advice you can get online on choosing the best baby swing for small spaces is incomplete at best and downright wrong at worst.
In preparation for this piece, I read everything and anything on the topic. I left no stone unturned and looked at advice from both parents and 'experts.'
There are major flaws in how people approach the subject – with size as the only criteria.
If you take that simplistic approach, you'll miss some true gems – from swings designed specifically for small spaces to those with collapsible legs and a fully adjustable recline.
For the people giving advice willy-nilly, it's words on paper. For you, it's money down the drain.
Who am I to speak?
I've been testing, analyzing, and reviewing baby gear for years now, and I know what's substance and what's 'noise.'
That's what I'm setting as my goal for today…be your industry insider, eliminate the noise and pinpoint the substance.
I'll also sprinkle in some tidbits of information that you won't find anywhere else.
If that sounds like it's worth your time, close the other tabs, and let's get to it.
Best baby swings for small spaces – my Top 3 picks
---
Best baby swing for small spaces overall – Munchkin Bluetooth
Specs of the baby swing
| | |
| --- | --- |
| | Munchkin Bluetooth Enabled Lightweight Baby Swing |
| Size (in ") | 25.82 x 6.87 x 28.35 |
| Weight (in pounds) | 10.8 |
| Baby weight range (in pounds) | 5 to 20 |
| Warranty | 1 year |
| Built-in sounds | 12 preset (4 classic tunes and 8 ambient) |
| Bluetooth connectivity | yes |
| Vibration | no |
| Number of swing speeds | 6 |
| Controls | remote or manual (touch screen display) |
Features
Side to side swaying motion – design based on the parents' movement.
Bluetooth connectivity – connect it to your phone and play music or nature sounds.
Generously padded seat and head support – machine washable
Modal construction (two-piece) – for easier assembly, disassembly, and storage
Preloaded sounds – four classical, eight ambient (twelve in total)
Large touch control display on the base
Why I love the Munchkin swing
It does a superior job at mimicking parents' motion
Munchkin is not the only swing that claims its motion to be parent-like. Those are dime a dozen.
It is, however, one of the few that does precisely what it promises.
You can see similar claims from swings that rock and vibrate all over the place, which no parent ever does.
That's not to say that vibration doesn't work in soothing a fussy baby (it does, and we'll talk about it in a hot minute).
But motion-wise, you want gentle swaying with no sudden stops and total control over the motion range.
That's what the Munchkin swing does so well.
Bluetooth connectivity
If you have a restless baby and sound does the trick of soothing them; you'll want the versatility to experiment beyond the preset tunes and white noise.
If none of the built-in ambient and classical stuff works, try nature sounds or a mother's womb.
Finally, Munchkin's pairing is seamless, and I've seen a low incidence of Bluetooth dropout issues – much lower than with other swings in this price range.
Intuitive touchscreen display
In swings with both motion and sound functionality, complicated controls and settings are a common grievance.
It's a deal-breaker if there ever was one.
The flow of the controls (from turning on the swing to finding your sweet spot) on the Munchkin is straightforward – a dedicated button for motion range, duration, sounds, and volume.
What makes it good for small spaces
Munchkin is my pick as the best baby swing for small spaces, not because it's the smallest or narrowest but because it lives on the line between a portable baby swing and a robust soothing unit.
Let me clarify…
Swings as light as Munchkin have very little going for them besides portability, and swings of similar functionality are typically much bigger and heavier.
Munchkin balances the two perfectly without breaking the bank.
What could be better
Fixed incline angles
The incline angle plays a significant role in how newborn-friendly the swing is.
Choosing between three or more incline angles is definitely an advantage. However, in the case of this small swing, it's not a deal-breaker because the included newborn insert is generous enough for proper support.
No toy bar
There is no overhead mobile toy bar to keep the baby entertained.
Moreover, Munchkin goes out of their way to stress that the swing hasn't been tested with toy bars, and they can't recommend any.
Is Munchkin the best swing for small spaces for you?
The Munchkin swing is right for you if space and size are not the only criteria. There are swings with smaller footprints, but none are as well-rounded as the Munchkin.
It might not be right for you if you need something to move from room to room constantly. In that scenario, give the Ingenuity swing (third top-rated) a look.
Best premium baby swing for small spaces – 4Moms Mamaroo
Specs
| | |
| --- | --- |
| | 4moms MamaRoo 4 Multi-Motion |
| Size (in inches) | 19.5 x 25.5 x 33 |
| Weight (in lbs) | 17.9 |
| Weight / age limit | 25 lbs / 6 months |
| Preloaded sounds | 4 |
| Bluetooth connectivity | yes |
| Vibration | no |
| Number of swing speeds | 5 |
Features
Multiple motion modes – all designed to imitate the parent
Adjustable swing speeds – five levels
Bluetooth connection – control the swing from your phone
MP-3 compatible – play any music or sound from your phone or tablet
Full range of recline adjustment – all the way down to a full recline
Removable and machine washable fabrics
Toy bar with a rattle, mirror, and reversible crinkle balls
Why I love the Mamaroo
The best baby swing that's still a space-saver
Mamaroo is the only compact baby swing that can truly compare to the units I'd recommend if space weren't an issue.
You can pit it against any swing out there, and it will hold its own, both in functionality and comfort.
Let me be specific – there is one swing that I often compare to the Mamaroo – the Graco Sense2Soothe.
If you exclude space as a factor, these two swings have a lot in common – from the motion versatility and sound options to the Bluetooth connection…even the price range.
Still, the Mamaroo packs it all into a compact base, making it the superior swing for small spaces.
MP-3 connectivity means no extra devices
Sound does soothe a baby, but that's not true for any baby and any sound.
If you're limited to the built-in sounds, and it turns out that your baby likes something else (like white noise or nature sounds) you'll probably need extra devices.
Adding an extra unit like a white noise machine complicates the space situation further.
MP-3 connectivity solves that potential problem.
Versatile motion modes
To find the swing that can compete with the Mamaroo in terms of motion versatility, you'd have to search far and wide. And when you do find a worthy competitor, it's not going to be as small.
The five motion modes are unique to the Mamaroo. The car ride mode seems to be especially popular among fussy babies.
What makes it a good baby swing for small spaces
Space-wise, the full recline functionality gives Mamaroo a borderline unfair advantage.
Here's why…
There's nothing you can do about the footprint in swings with a fixed recline angle. For most units, the furthermost points go well beyond the footprint of the base.
With Mamaroo, changing the recline angle also changes the footprint, which gives you the option to experiment until you find what works, both for your baby and your space.
What could be better
The price – that's it.
Mamaroo will make a more significant dent in your budget than the Munchkin or (especially) Ingenuity Comfort below.
Is Mamaroo the best swing for small spaces in your case?
Mamaroo is your best bet if your space is limited, but you still have a dedicated spot for the swing.
It is a space-saver, but it still weighs 25 pounds and has a footprint of 19.5 x 25.5.
You might want to keep looking if money is tight and/or you want something lighter, like the Comfort 2 Go or the Nova Swing (below).
You might also be interested in: complete Mamaroo swing review | Mamaroo vs Graco swing
Best compact baby swing for parents on a budget – Ingenuity Comfort 2 Go
Specs
| | |
| --- | --- |
| | Ingenuity Comfort 2 Go |
| Size (in inches) | 28.5 x 22.5 x 23 |
| Weight (in lbs) | 4.11 |
| Weight limit (in lbs) | 44732 |
| Preloaded sounds | 1 – music |
| Bluetooth connectivity | no |
| Vibration | no |
| Number of swing speeds | 6 |
Features
Plays calming music – with volume and timer settings
Adjustable swing speeds – six levels
It folds down flat for easier storage
All the fabrics are machine washable, including the headrest and the pillow
Includes a removable toy bar (jungle themed)
Runs on 4C batteries (not included in the price)
Why I love the portable baby swing
It's great value for money
It's fair to say that all features you can find in a baby swing fall into one of these three groups – must-haves, nice-to-haves, and 'ear-candy.'
Ear candy is a term I coined for features that sounds great on paper but add little to no value.
Ingenuity Comfort 2 Go eliminates the ear candy, keeps all the must-haves, and sprinkles in a few nice-to-haves (like six swing speeds).
It's ultra-light and packs small
At just over four pounds, this Ingenuity swing is one of the lightest units I know. Still, the space and weight savings aren't compromising the weight capacity (6-20 pounds).
The frame is collapsible and compact, which makes this the only truly portable swing in the top three.
Solid battery life
I've reviewed my fair share of swings similar to this Ingenuity.
When you try to go as light (and cheap) as possible, battery life is one of the first things to go. As a result, you end up with a swing that needs new batteries every few days.
I'm not sure what did the trick for this Ingenuity, but the listed battery life is a whopping 240 hours. I can only guess that they found a way to make the motor more efficient.
To be fair, I did see the occasional report of it being a "battery hog," so I had to take extra time looking into that. I found that the issue is not a flaw but an exception that happens in a small percentage of units.
What makes it good for small spaces
Two things – it's the lightest swing here, and it folds down.
When fully assembled, the size difference between the Ingenuity and the Mamaroo or Munchkin isn't substantial.
It's the light frame and the collapsible design that make it my top pick in two categories – top budgets choice for small spaces and most portable baby swing on the list.
What could be better?
A lot…
"What could be better with the price in mind?" is probably the better question.
When you put it like that, you're left with a few on-arrival issues that seem to be a constant in 1-2% of the swings they send out, like faulty buckles or volume control.
I already mentioned that I did see reports of units that drain the battery. If that happens, you might have to go through the hassle of replacing it.
Also great/Honorable mentions – Graco Slim Spaces and Nova baby swing by Jool
Specs of the small baby swing
| | |
| --- | --- |
| | Graco Slim Spaces Compact Baby Swing |
| Size (in inches) | 39 x 23.25 x 35 |
| Weight (in lbs) | 12.68 |
| Weight limit (in lbs) | 25 |
| Preloaded sounds | no |
| Bluetooth connectivity | no |
| Vibration | no |
| Swing speeds | adjustable |
Defining features of the Graco baby swing
Adjustable height – 29 inches in compact mode and 35 in regular
Infant insert with extra head support (removable)
Folds almost flat – between uses or when moving
What makes it a good infant swing for tight (or low) spaces
Graco Slim Spaces is the ONLY swing in the TOP 5 specifically designed to save space.
It's slim (duh, it's in the name), light, folds down almost flat, and features unique legs with adjustable height.
So, if vertical space is an issue, this might be the swing for you.
Nova ticks many of the same boxes as the top-rated Munchkin, falls a peg short in some, and improves on it in others.
Specs
| | |
| --- | --- |
| | Nova Baby Swing |
| Size (in inches) | 25 x 25 x 7 |
| Weight (in lbs) | 10.98 |
| Weight limit (in lbs) | 24 |
| Preloaded sounds | 10 |
| Bluetooth connectivity | yes |
| Vibration | no |
| Swing speed settings | 6 |
Features of the Jool Nova swing
Versatile sound unit – 10 lullabies (built-in), USB and Bluetooth connectivity
Aluminum frame construction with grippy rubber on the contact points
Auto shut-off timer
Five-point safety harness
Collapsible canopy and a mosquito net
Removable toy bar with three stuffed toys – a moon, a cloud, and a star
Touchscreen controls and a remote as an alternative
How it compares to the Munchkin
There's one reason and one reason only I chose the Munchkin over the Jool Nova – it's the more newborn-friendly swing.
The incline angles of both swings are fixed. Without the infant insert, a newborn would sit too high in either.
If that weren't the case – Jool Nova would probably take Munchkin's place at the top – it's smaller and lighter (just barely, but still) and features a canopy, a mosquito net, and a toy bar – none of which are there in the Munchkin.
Bottom line – the choice between the two comes to whether you plan to use the swing for a newborn.
A few swings for tight spaces that didn't make the cut
I'll take a moment here to list a few swings that were close to the top but didn't make the cut this time around: Fisher-Price Space-saver swing, Fisher-Price Deluxe Cradle 'n Swing, Graco Simple Sway, Fisher-Price Deluxe Take-Along.
Choosing a great baby swing for small spaces
The reference section below is for two groups of parents:
Those looking to understand the logic behind my picks
Those who didn't like any of the swings above and want to keep searching (but don't know where to start)
Safety of a compact baby swing
Anything that goes for swings, in general, applies to compact baby swings for small spaces, too…with a few additional caveats.
The good news – you're protected by strict safety standards
As long as you're getting it from a registered supplier in the US, a baby swing HAS to meet the strictly defined CPSC standards.
The swings have to be tested by a recognized lab. These tests and standards mainly focus on structural integrity and the restraints (straps and harness) because, under proper use, most swing accidents can be traced back to structural failure or entrapment.
In plain terms – swings used to break, and babies used to get trapped in the straps.
Safety Improvement Act of 2008
The CPSC set additional requirements in the Consumer Product Safety Improvement Act of 2008, which defined the rules for testing and certification, limits for chemical contents (phthalates, lead, and surface coating), packaging, and labeling.
So, all of the leg work has been done for you and what gets to your door is a safe, tested swing.
DOs and DON'Ts of safe swing use
Once the swing is in your home, it's up to you to use it safely. Below is an overview of the guidelines:
A baby should be supervised while in a swing – don't leave them unattended
A baby should not sleep in a swing – as soon as they get drowsy, move them to a firm, flat surface
The straps and the harness should always be buckled
Keep the weight, height, and age limits in mind at all times. This one is essential for the compact swings because some of them, like Ingenuity, have lower-than-average capacity.
You might also be interested in: when to stop using baby swing | can baby sleep in a swing
Size – footprint (floor space) and height
I already mentioned that my search for the best baby swing for small spaces wasn't just about size.
Instead, I opted for a more comprehensive take and looked for a balance between functionality and space-saving features like fully adjustable recline or height-adjustable legs.
Try as you may, you can't below a specific size.
I'd say that a footprint of around 400 square inches is as low as you can go, while most baby swings occupy around 500 square inches of floor space.
There are exceptions to that rule – go below that range, and you're looking at swings that have one main purpose – save space and be portable.
Such is the Graco Slim Spaces, for example.
With a minuscule footprint of 360 square inches, it's as small as it gets.
But it has no 'ambition' of being your primary swing – there's no sound, intricate motion, or settings.
I leaned towards more complete baby swings that are still good for small spaces…I hope that makes sense.
Weight of a baby swing – crucial for small spaces
If I had to assign gravity to weight and size, I'd say that weight is more critical if you're in a small space and need to move the swing room-to-room as you go about your day.
I say that for two reasons:
An extra inch of length or width won't make as much of a difference as a collapsible design
The weight range is much broader – if you just looked at the swings on this list, the differences go up to 330% (Mamaroo's weight is over three times higher than that of the Ingenuity).
My point here is that you can only go so low with size, but there's more room to trim off weight.
Height, age, and weight limit of baby swings
These are pretty clear-cut and aren't specific for choosing the best baby swing for small spaces.
If you're going ultra-small or light, note how the weight limit is defined. A baby will often outgrow the swing by getting too strong while still being within the weight range.
The problem here is the risk of tipping over.
It's common sense that there's a higher chance of that happening with a 5-pound than 25-pound baby swing.
Again, you're fine as long as you follow the listed guidelines.
Related: how long can a newborn be in a swing
Swing speed and movement modes
The more versatile the movement and the more control you have over it, the better – that's the rule of thumb.
Ideally, you want an intricate, well-rounded motion system like the one in the Mamaroo.
However, to get to a motion unit like that, you need a robust motor, which adds to the bulk and heft.
Related: can baby swing cause brain damage
Swing seat – beyond the comfort
If the recline angle is fixed, you'll need a well-padded infant insert to make the seat welcoming for a newborn.
It's more about safety than comfort.
In those first few weeks, their necks are still not strong enough to support the head's weight, and they might slouch if they're too upright.
Enter the infant insert and recline angles.
Plainly speaking, a swing like Munchkin is newborn-friendly…the Jool Nova, not so much.
Nature sounds, music, and white noise
A swing will typically have to forego intricate sound units to be light enough for portability.
And that's not a problem per se because you don't need a fan to make white noise. You can play it from your phone in swings with Bluetooth, MP3, or USB connectivity.
Vibration – modern baby swing vs. the classics
Vibration is a great feature with a proven track record of soothing and keeping a baby calm.
The vibration unit needs serious power, and that means, you guessed it, added weight and size. None of the small baby swings I looked at vibrate.
Related: baby swing vs bouncer
Space-saver baby swings – resume and future updates
I hope I delivered on the bold promise I made at the beginning – craft the single most complete resource on choosing a good baby swing for small spaces.
I made a special effort to keep my picks versatile.
You have the Munchkin as best overall because it packs all the crucial features into a sleek 10-pound package, and you have the Mamaroo and Ingenuity as top premium and budget picks.
I stay on top of things and update my picks twice a year or quarterly to keep them relevant.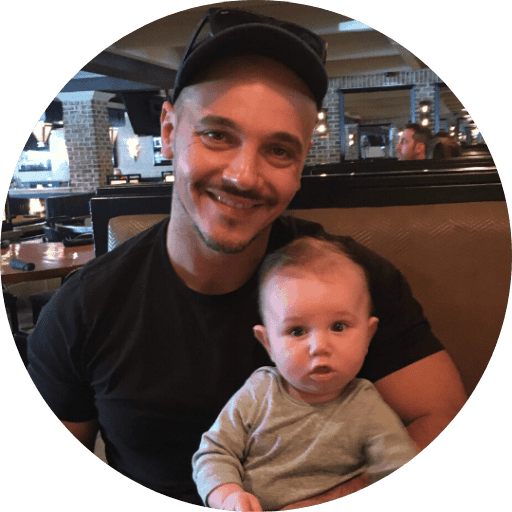 Paul is a passionate dad who founded Upside Dad to share his parenting journey with other new parents. He graduated from Concordia University and worked as a test engineer for over a decade. Paul loves dad jokes and craft beer.
Learn more about Paul and Upside Dad here.