There comes a certain point in every parent's life when your baby outgrows the bassinet and you need to make a decision. Has the time come to move the little one to the crib in his room or should you use the pack n play in our bedroom for sleep?
This is a common dilemma for parents and the main questions we end up asking ourselves are:
What's the difference between a pack n play and a baby crib?
Is a pack n play safe for sleep?
How long can a baby sleep in a pack n play?
A baby crib and a pack n play both serve similar purposes, but they approach it in different ways. So, which one is better for each specific situation?
Let's take a look!
Differences between a pack n play and a baby crib for sleep
For starters a standard crib is different from a travel crib in terms of dimensions, weight, and price. Many parents wind up convincing themselves that they need to buy a Pack 'N Play when they already have a crib but that's not always the case, so don't rush your decision just yet.
Here's a quick rundown of the differences between a Pack 'N Play and a crib that will help to decide which one is best for your baby's sleep in each situation.
Cribs are permanent fixtures in your house. You can't (easily) move them from room to room. If you want to travel with your baby or have a sleep away, a crib is not the solution.
A pack n play is comparatively smaller in size so your child will outgrow them much faster. But, they are very portable. Fold it down in seconds and pop it in the trunk for your next trip.
Pack n plays can safely and easily double up as your child's playing area.
Cribs are more expensive when compared to Pack 'N Plays.
Both pack n plays and baby cribs can be used as a safe sleep option for your baby
Let's dig a little deeper into these differences and find the pros and cons of each of these items.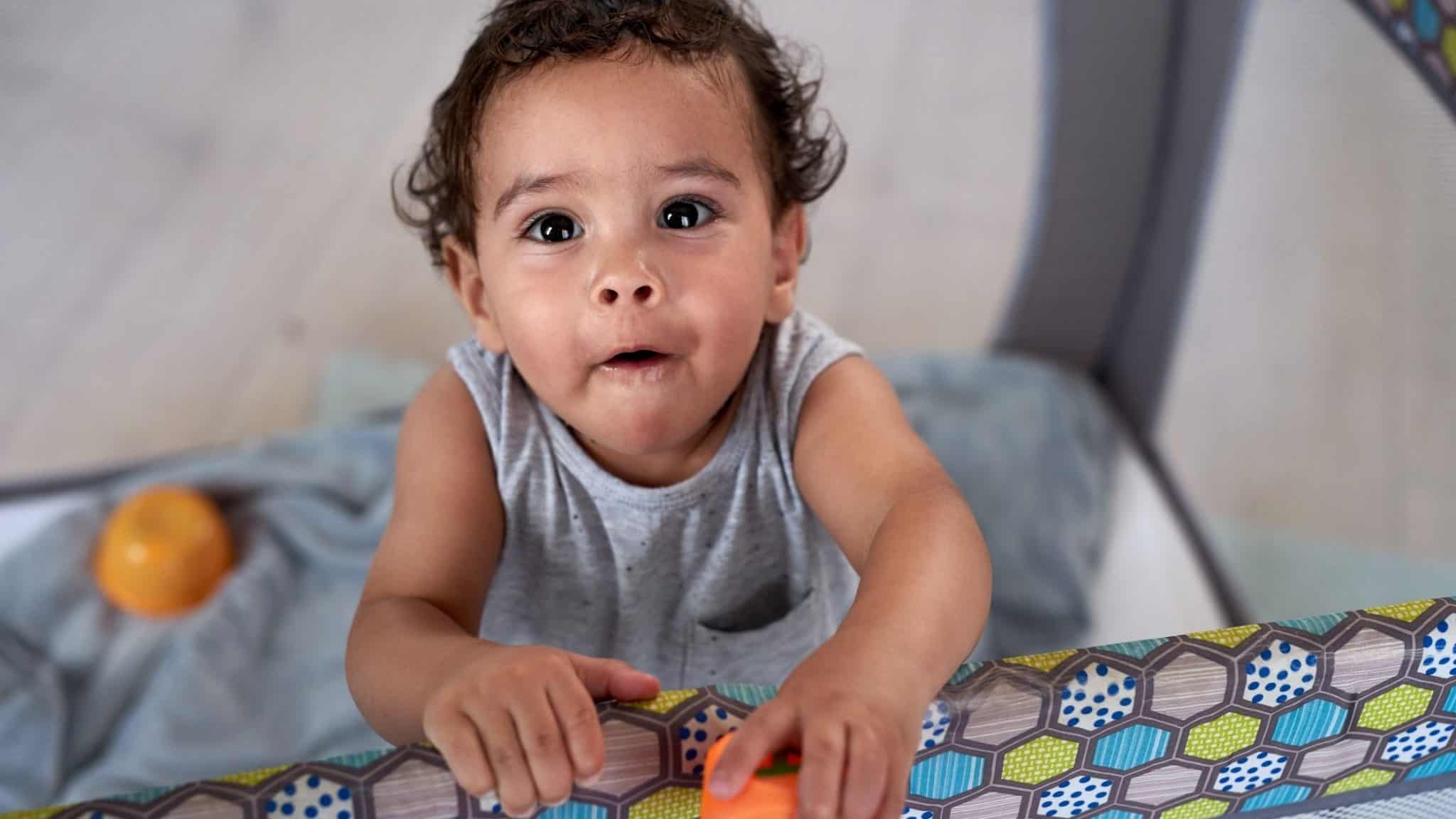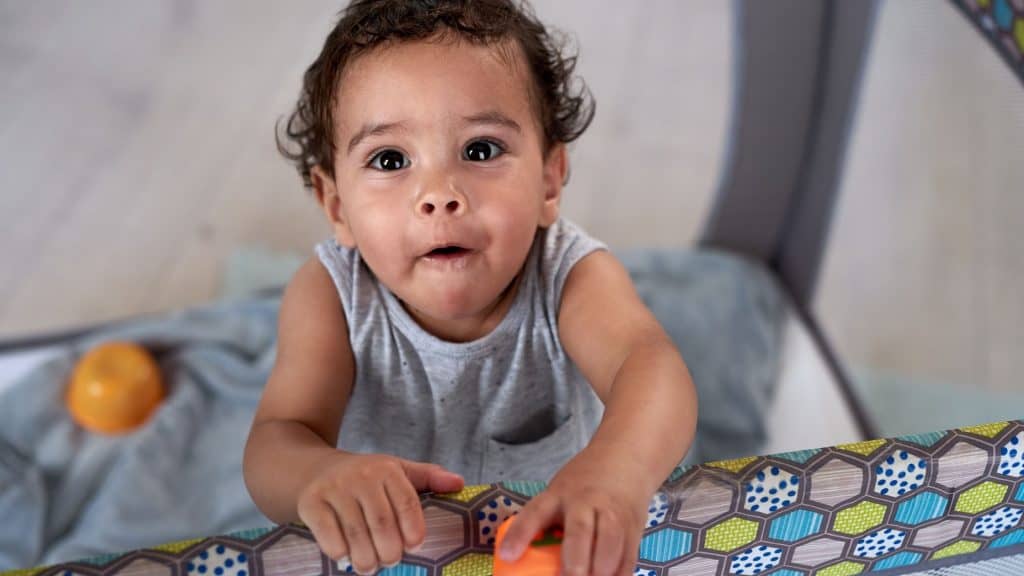 What is a Pack N Play?
The name Pack n' Play is actually a trademarked name by Graco but it is commonly used as a synonym to playard, playpen or a travel crib.A pack n play is a portable crib that can also be used as a playard.
Many models come with wheels on one side so that you can move them around the house with relative ease if needed.
The bottom of the pack n play is slightly elevated from the ground but it remains low enough so that it can not be toppled over, even if your baby is rolling around in it.
The sides of a portable crib consist of a breathable mesh. This is a crucial safety feature as it creates great airflow and it helps prevent Sudden Infant Death Syndrome (SIDS).
Many Pack n plays also come with an optional elevated sleeping area which is really a detachable bassinet. These bassinets are for newborns. You can remove it once your baby surpasses the weight limit of 15lb or so.
Some Pack 'N Plays also come with a removable changing table.
Pack n plays are normally rated for a maximum limit of 30 lbs or 35 inches but that can vary from model to model
The average size of a Pack 'N Play is 40″ long and 28″ wide. Some models come in different shapes with a few that are square for added play space that can handle two babies.
Most playards weigh somewhere between 15 to 30 lbs. The weight varies depending on the number of attachments it comes with and the materials it's made with. A high-quality portable crib should cost less than $150.
Pros of the pack n play
They are less costly than cribs.
You can fold and carry a Pack 'N Play anywhere.
It opens up as your kid's playing area.
They are lightweight and come with wheels at the bottom section. You can take them to any room you want.
Cons of the pack n play
They are smaller than cribs.
Their build quality isn't as strong as cribs.
Our favorite pack n play
Our favorite pack n play is the 4moms Breeze Plus. This model is perfect for easy setup and take down and comes with a detachable change table and bassinets.
Check out our full review of the 4mom Breeze Plus playard.
For more information on pack n plays check out our selection of the best pack n plays.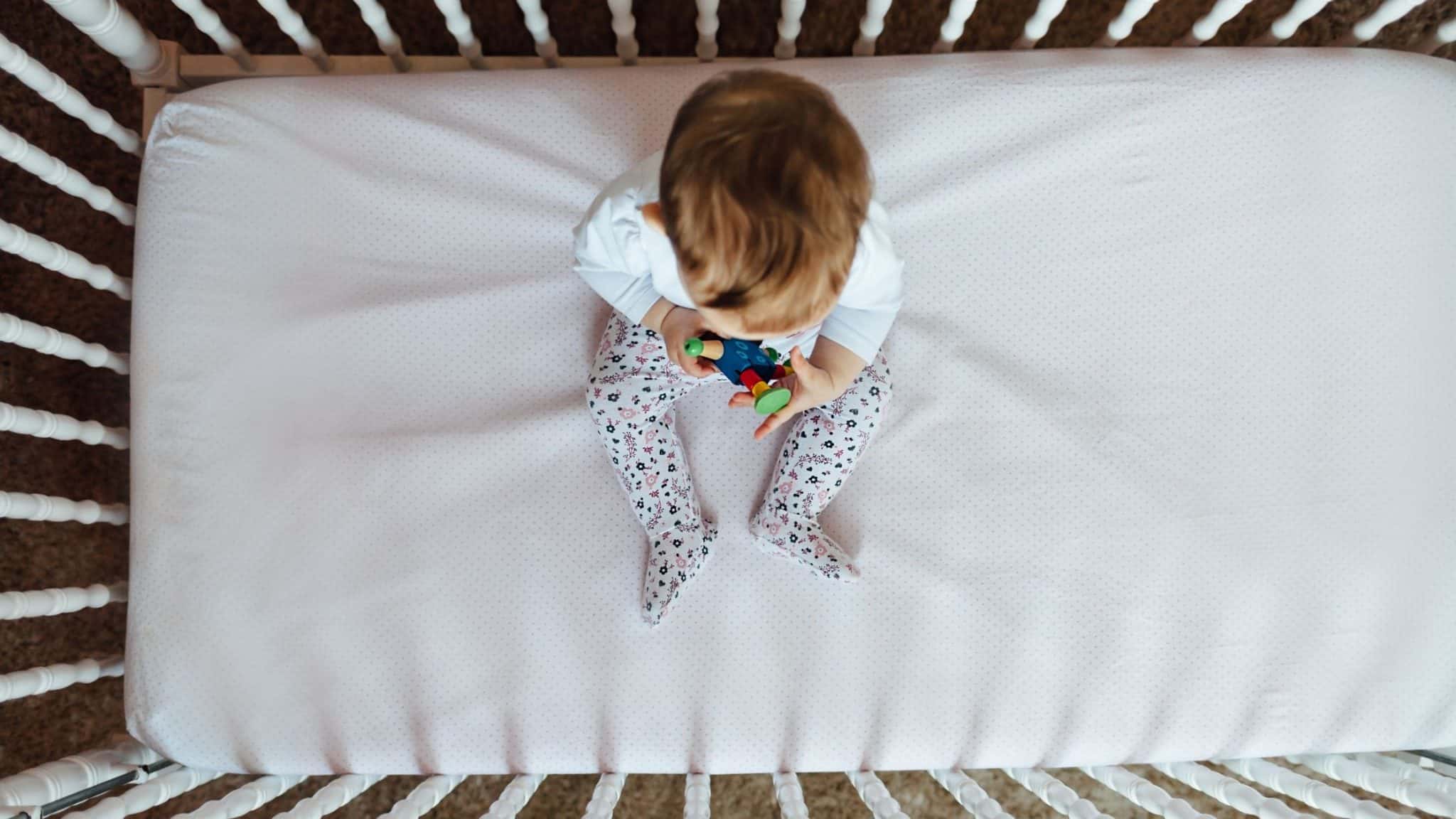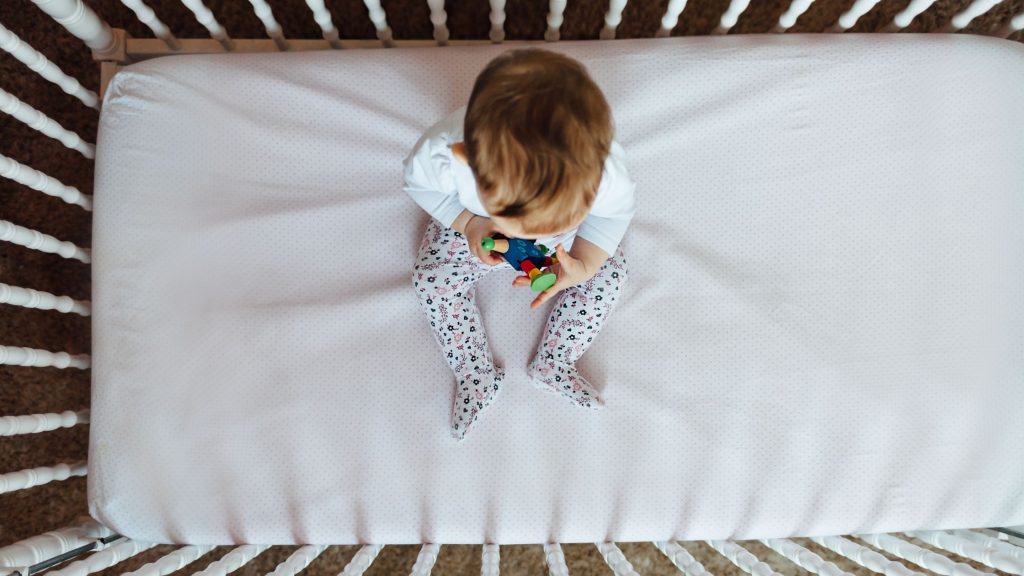 What is a crib?
Cribs are permanent structures in your house where your baby can sleep. They are quite heavy compared to Pack 'N Plays and are normally set up in your baby's nursery. The dimension of the sleeping surface in a standard crib is 28 x 52 inches.
As you can see, cribs are larger than Pack n plays.
But there is also an optional mini crib. Mini cribs are ideal for infants. The minimum weight of a standard crib should be around 30 lbs.
The minimum cost of a crib starts from around $125, but don't forget you will also need a mattress. Cribs come in all types of styles and can sometimes run you a pretty penny.
Pros:
• They are bigger than Pack 'N Plays, allowing your baby to sleep comfortably for longer.
• They are built to last.
• There are hundreds of different styles to choose from.
Cons:
• They are permanent structures. Their bulky nature makes them difficult to move.
• They can be costlier than Pack 'N Plays.
How long can a baby sleep in a Pack n Play?
There's no specific time limit regarding how long a baby can sleep in a Pack n Play. Playards can provide a safe environment for the baby to sleep peacefully for hours as long as they are certified for safe sleep.
If you follow the AAP and CDC's guidelines for safe sleep you do not need to worry about your little one spending the night in a pack n play.
Can a Pack 'N Play be used instead of a crib?
If your pack n play is safe for sleep, you sure can. But remember to always check the pack n play for structural stability and no loose parts. Since a pack n play has many moving parts, it can get wobbly after a few years of use. Make sure your pack n play is still secure and won't collapse.
As already mentioned, Pack 'N Plays are smaller than cribs. It would not be able to support the size and weight of your kid beyond the advertised weight and size limits.
Since Pack 'N Plays open up as your child's playing area, you won't have to keep your baby somewhere else once he wakes up. Just keep his toys inside the portable crib and once he wakes up, open the crib and convert it into his playing zone.
Is a crib safer than a Pack 'N Play?
In general yes, cribs are safer than pack n plays for a few reasons.
Cribs are all made in the same standard size and crib mattresses fit perfectly in without leaving any gaps on the sides. Crib mattresses are breathable and made for babies to sleep on. They even have double sided mattresses that have a firmer newborn side as well as a softer toddler side.
Cribs are also built with no soft materials on the inside. This means there is no chance of a child getting stuck with their face on the side in a position where they can't breathe easily.
Wood=good!
When at home and in doubt, stick with a crib, but for those days and nights on the road, a pack n play will do the job safely and easily.
Should you buy a crib or pack and play?
Pack n plays are more affordable and they are super versatile. You can use a pack n play as a bed or a playpen. Cribs on the other had are more expensive but they are the right long term solution for a nursery or baby room.
Pack n plays are perfect as a temporary baby bed and for portability. If you're planning to use it in your room before moving the little one to his own room or you are looking for a solution to bring around when you go out – a pack in play is the perfect solution.
Cribs are the right choice as a long term sleep solution in a nursery or baby room. They also look much better than a pack n play. Cribs can be expensive but there are many affordable options. When on a budget, take a look at your local classified ads or any garage sale and you will find countless bargains for really great cribs.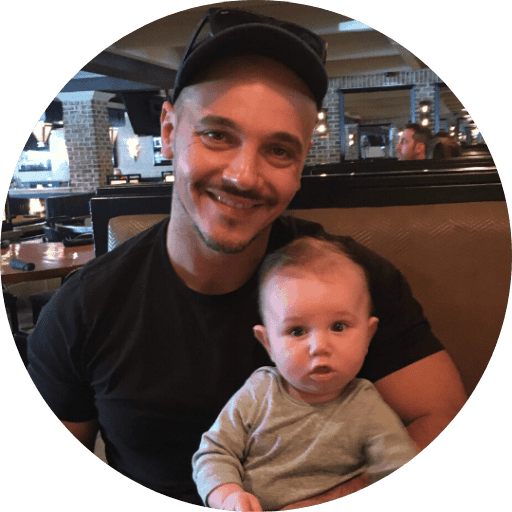 Paul is a passionate dad who founded Upside Dad to share his parenting journey with other new parents. He graduated from Concordia University and worked as a test engineer for over a decade. Paul loves dad jokes and craft beer.
Learn more about Paul and Upside Dad here.