A pack n play is a godsend for parents. It gives them a breather while their baby is happily occupied playing in a safe, restricted environment. To tell you the truth, I can't imagine raising my little one without the help of a play yard.
But you might wonder, what exactly is a pack n play, do you need it and is it safe for your baby?
I'm here to tell you that you need it and it certainly is safe up to a certain age. Let's look into the specifics.
What is a pack n play?
A pack n play is a small, enclosed area fitted with a mattress where your child can sleep and play. Some have a wooden frame and others have a metal frame with mesh walls.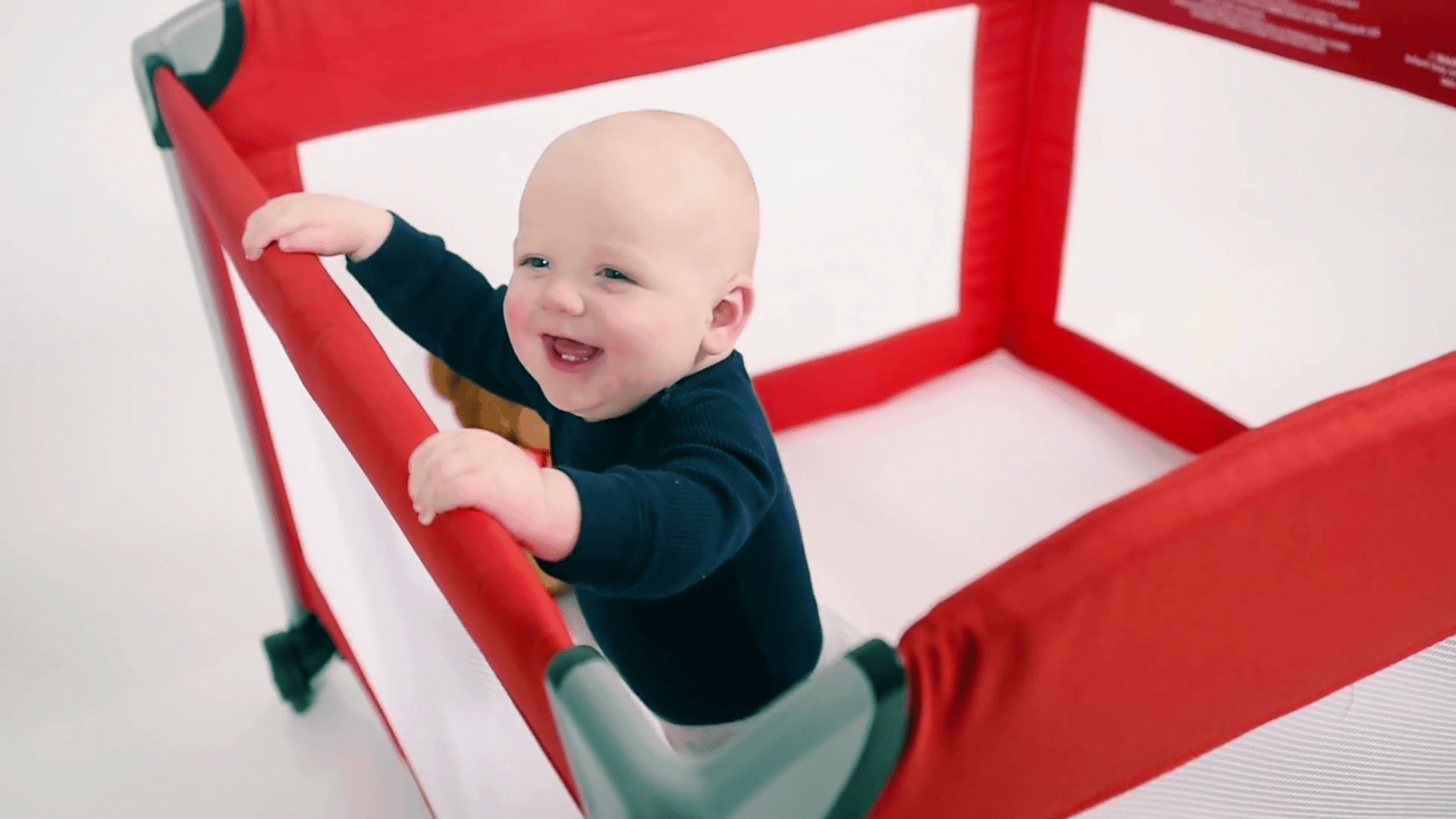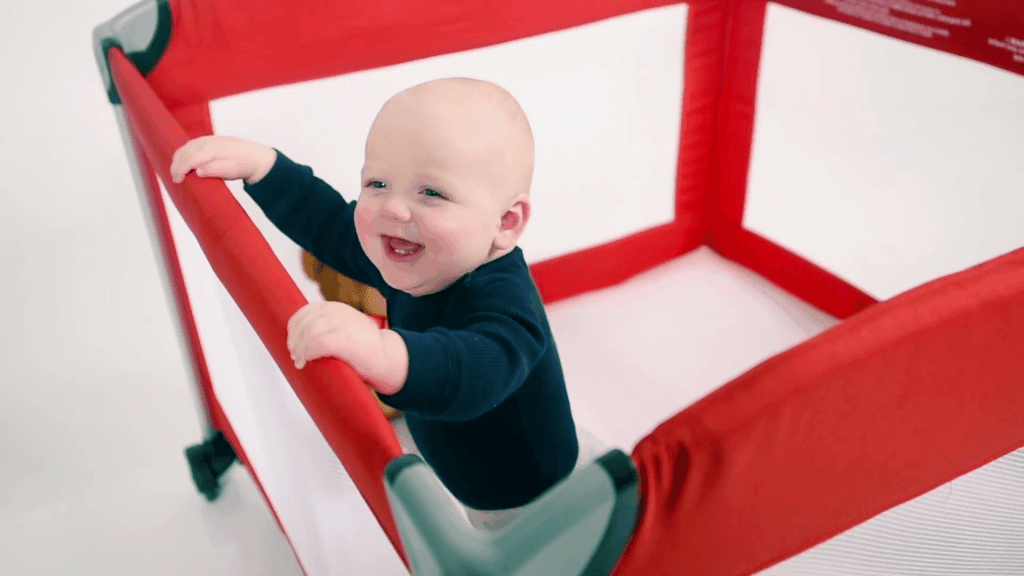 This enclosed environment is not the same as a playpen. Playpens don't usually come with a mattress; it's just a fence that's put directly on the floor.
It is also not the same as a bassinet. Bassinets are small beds especially for newborns and babies up to 3 – 4 months.
Pack n plays can be folded and taken with you easily when travelling. Pack n plays are perfect for babies and toddlers.
Most pack n plays have a weight limit of 30 lbs but it will vary from model to model.
Benefits of a pack n play
Some Pack n' plays come with a detachable bassinet and a changing table that clip to the top rail. In this way, when you buy a play yard, you can use it right from the day you bring your newborn home. And continue using the changing table as an alternate place to do your diaper changes.
The bottom line is that a pack n play is a safe and controlled environment to put you baby. The sides are high enough so a young child can't climb out of it. It's a safe space for your baby to sleep and it's also safe space for him to play when you are otherwise occupied.
A play yard is portable. This means your baby can sleep in a familiar environment even when you go to visit grandma or away for the weekend on vacation. Some parents even use the pack n play in their bedroom for the first 6 months and then move it to the baby's room.
When shopping for one, look out for a pack n play that is lightweight and easy to assemble. Some makes can be a bit heavy and bulky.
Are pack n plays safe for sleep?
The short answer is, yes. Keep in mind that there are two different places you could technically put your baby to sleep for daytime naps or night sleep in; the newborn napper (bassinet) or the main pack n play area. We will address both cases in the next sections.
There are however some caveats to remember when it comes to general play yard sleep safety.
In accordance with the safe sleep guidelines provided by the American Academy of Pediatrics (AAP), parents must make sure that the mattress their baby will be sleeping on is firm. It has been found that soft or loose bedding is not safe for babies.
Also, remove all crib bumpers, blankets, pillows, and soft toys if you are going to leave your child unattended for any amount of time. Leave the sleeping area bare and use only fitted sheets specifically made for your pack n play make and model.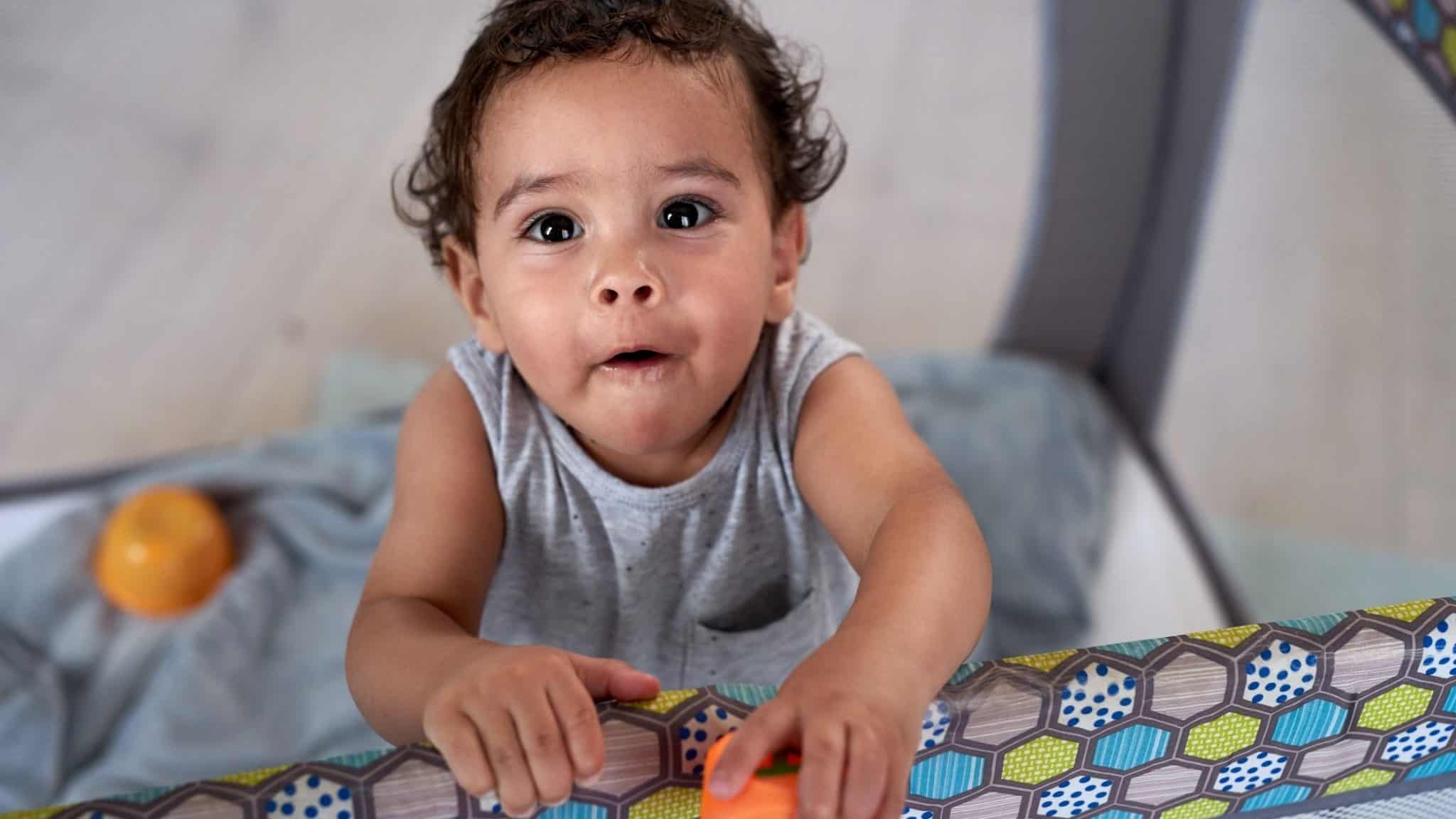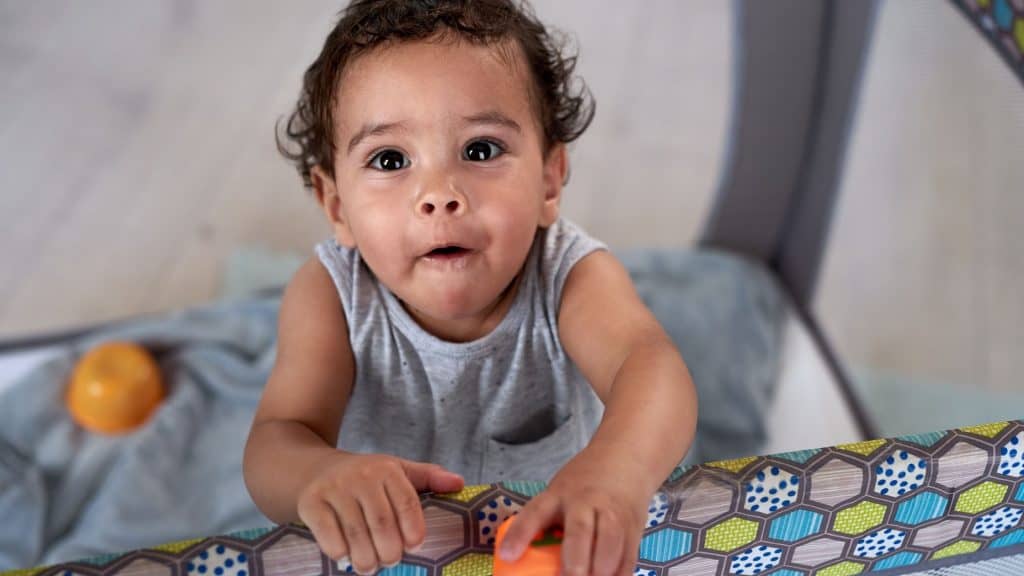 Third party sheets that don't fit the exact size of your playard may come loose or bunch up causing a suffocation hazard.
Make sure the mattress you are using is thin and firm. I have a great post on everything you need to know about pack n play mattress pads.
The sides of the pack n play should allow ample air to come in. The pack n play should preferably have breathable mesh sides which nowadays is pretty standard for most manufacturers.
Always put your baby to sleep on his back. According to the AAP, this strategy is the best way to avoid SIDS (Sleep-Related Infant Deaths).
When setting up the pack n play, make sure you assemble it properly and that the sides are locked in correctly. Some playards are very easy to assemble but some require multiple steps. Make sure each piece is locked into place correctly before putting baby in it to play or sleep.
Can a baby sleep in a pack n play?
Yes, babies can sleep in a pack n play but there are different ways to approach it depending on his age. It is not recommended that newborns sleep in the bottom of a pack n play, but there are other ways to use your pack n play with your infant baby. Most pack n plays come with a newborn bassinet attachment s that is made specifically for newborns under 15 lbs.
The newborn bassinet attachment to the pack n play is perfect for putting your little one down for naps during the day where you can still see him.
For older babies that are able to roll over on their own, a pack n play is perfectly safe for sleep. For more on babies sleeping in pack n plays check out my other post where I discuss babies sleeping in the bottom of a pack n play in detail.
This video helps clear up any additional questions about whether or not babies can sleep in a pack n play.
Is it safe for a baby to sleep in a pack n play every night?
Pack n play are safe for sleep as long as all other safety guidelines are being followed – period. Whether you use it once in a while or every night does not matter as long as you are following all other sleep safety guidelines already mentioned here.
You should however keep in mind that pack n plays are not meant to be used every single night, they are meant for travel and daytime play. With the added usage your pack n play may start showing signs of age quicker than expected. With this in mins, check for the structural integrity of your pack n play regularly to ensure the utmost safety of your baby.
When should a baby stop sleeping in the pack n play bassinet?
Most babies outgrow bassinets by the time they get to 3 or 4 months, or when they can roll over on their own.
It also depends on the weight of the baby. The pack n play bassinet weight limit is 15 lbs. However, it is recommended that babies stop sleeping in the pack n play bassinet as they approach the weight limit and weight about 12 -13 pounds. At around this weight the baby becomes too heavy for a bassinet attached to a pack n play.
You should also avoid bassinets where the bottom and sides are soft or made of a soft material. The bassinet should have a firm base for your baby to sleep on, if you plan to leave him unattended.
When should a baby stop sleeping inside the pack n play?
Babies should stop sleeping in their pack n play once they reach about 30 pounds, 35 inches in height or somewhere between 2 and 3 years of age.
Also, keep in mind that your baby might not weigh 30 pounds, but might be tall for his age. This means he may be able to climb out of his pack n play or maybe even too tall to be comfortable lying down in it.
So, check your baby's height – if he measures close 35 inches, it's time to move him out of his pack n play.
Also, some babies are strong and can become frustrated when their movements are restricted. Make sure, regardless of his weight or length, that your baby is not strong enough to topple the pack n play over. Needless to say, that's also a sign that it's time for a change in sleeping arrangements.
In general, just watch how your baby reacts when inside the pack n play. His behavior will give you all the clues you need.
Conclusion
A pack n play is a safe place for baby sleep and play. With a bassinet attached, it can be used from the first day your newborn baby comes home up to about 3 years old.
When fitted with a firm mattress and a tight-fitting sheet, most pack n' plays meet all safety requirements of the AAP.
The mesh sides help you to easily observe your little one as he sleeps and plays while you are busy with other things that also need to be done.
These portable playpens can be used anywhere in the house and can even go with you on your travels.
Should you get one? Yes! Pack n plays are versatile and come in handy more times that you can imagine.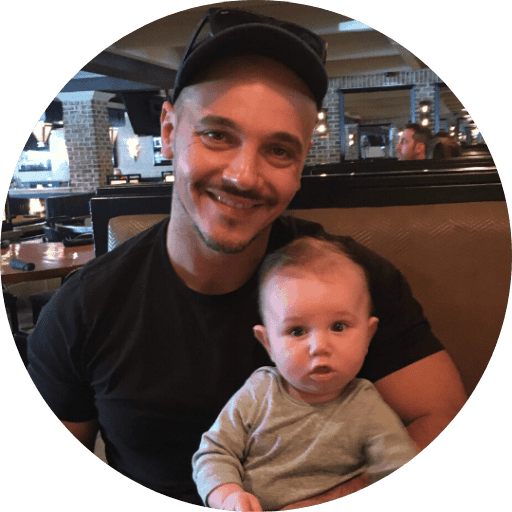 Paul is a passionate dad who founded Upside Dad to share his parenting journey with other new parents. He graduated from Concordia University and worked as a test engineer for over a decade. Paul loves dad jokes and craft beer.
Learn more about Paul and Upside Dad here.