The Diono Carus Complete is a sturdily constructed, and nice looking baby carrier with a backpack and pouch for carrying a newborn or a toddler. The Carus is made from materials that are certified, safe and strong.
Diono Carus Complete Baby Carrier
Versatile 4-in-1 carrying system
Quality construction
Designed to promote hip health
Stylish unisex style
Multiple compartments and pockets
Designed to promote hip health
---
This Diono baby carrier is a really well built, stylish, and versatile solution for busy and energetic parents who are on-the-go and need to be able to do several things at once.
The Diono Carus Complete stands out from the competition in more than one way. It comes packed with accessories and cool features that parents grow to love.
Like most baby carriers, the Diono Carus gives a parent the ability to safely carry a small child with hands free for other activities. But unlike some of the competition, the Caurus Complete does it while combining style and function.
Features at a glance
Versatile carry
Carry an infant in the front carry position in two ways: front-facing or parent-facing
Comfort built
Sturdy, padded panels provide comfort for parent and baby while adding strength.
Hip healthy certified
Wide seat and adjustable leg positions make this carrier approved by the International hip dysplasia institute.
Touch pocket
Lets you make skin to skin contact with your baby for bonding and confidence.
Water Resistant
The polyester and polyethylene materials do a good job of keeping water out.
Pack options
Transform the Carus Complete into a backpack/baby carrier, or simply use it to carry your child with the minimal pouch option in the front or rear carry positions. The detachable pod and detachable backpack give you tons of options.
Style options
Choose from 6 different color combinations, all of which are complementary with men's or women's fashion.
Quality construction
Strong, water resistant materials, robust stitching, and reliable buttons, zippers, and belt fasteners.
Reasonably priced
Just $179.99, a fraction of what you would pay for a comparable and similarly complex, quality-made piece of camping gear or luggage. Diono also offers less expensive comparable items.
Benefits of the Diono Carus Complete
The Diono company has been in the business of creating high quality baby-carrying products for some time now. They produce premium car seats, strollers, baby carriers, and accessories for all of them.
The Carus Complete is their first foray into a multi-role indoor/outdoor baby carrier and backpack.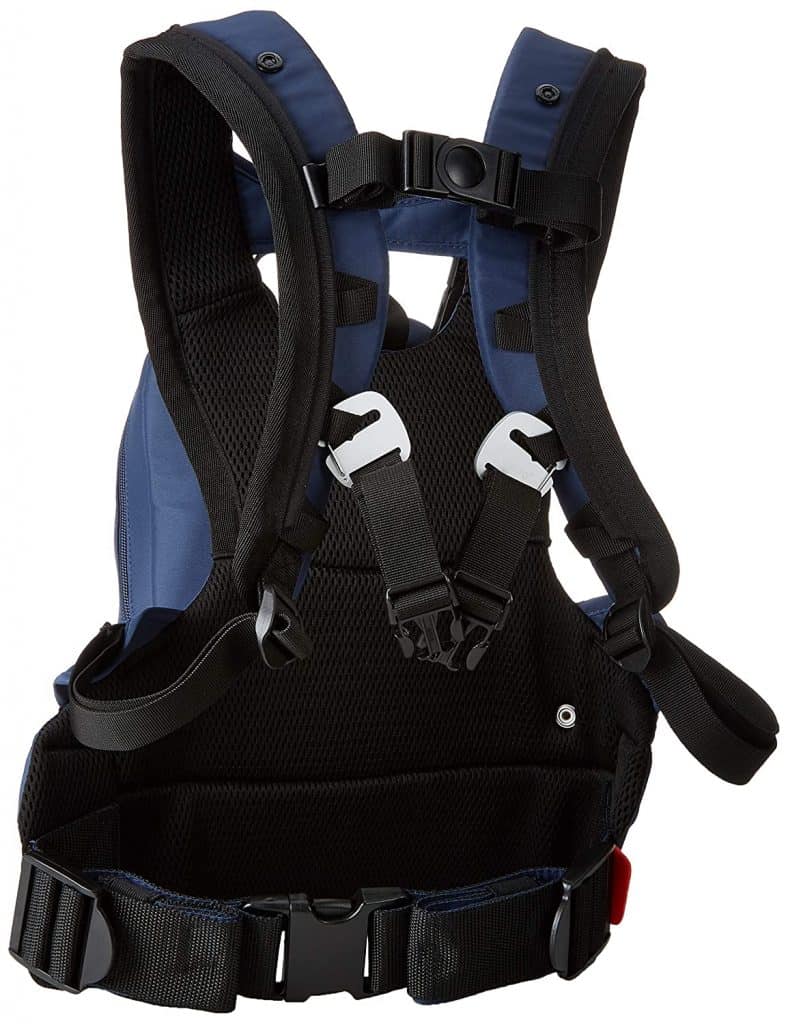 Diono describes the Carus as, "the ultimate 4-in-1 carrying system with detachable backpack, lovingly engineered for urban adventures," and that is pretty much accurate.
The Carus Complete is ideal for parents who must remain active while still attending to a newborn or toddler. Mothers who work from home, fathers who telecommute, and any parent who wants to be mobile while caring for a small child. The secure infant insert lets you start carrying your baby at a very early age, with due care.
While the Carus is designed for "urban adventures," it is also a great way to take your newborn or toddler on a light hiking excursion. The Diono Carus Complete makes it possible and even practical to take your baby for a walk on the beach, through a short stretch of woodland area, or something of that nature.
Diono exudes a feeling of safety with each of their products. The Carus Complete baby carrier brings a sense of confidence that flimsier carriers lack. Wear your Carus with confidence no matter what you are doing.
Check out the video below for more on the Diono Caurus Complete features and benefits.
Who is the Diono baby carrier for?
This Diono baby carrier is for parents looking for a high quality, versatile, sturdy and nice looking baby carrier. If you're a busy mom or dad that wants to get things done while caring for your little one, the Caurus is for you.
The Carus also offers additional flexibility with the removable storage options. This means you can go for a hike and just bring your Carus backpack with all of your baby needs including diapers, wipes, food, etc.
Carus Complete Review
What I like about the Diono Carus
The most important benefit of the Diono Carus Complete can be summed up as "secure, hands-free carry." That is exactly what it delivers, as long as you do not use it for a baby or child that exceeds the weight limits of the carry mode you are using as defined by Diono.
What really stands out to me about the Diono Carus how solid it feels with or without a baby in it.
I also really love the backpack attachment because you don't need to bring an additional bag when going somewhere with baby.
Keep in mind the backpack is the most useful when wearing the baby on your back so that you have access to the items in the backpack right in front of you. If the baby is on the front and the backpack on the back, you will need the help of your partner or a friend to retrieve any items from the bag without taking the baby out.
I also love how easy Diono made it to back carry your child. Check out this video below showing exactly how you can set up your baby for back carry on your own.
The touch pocket is also a nice touch – no pun intended. If your baby gets a bit fussy, you can touch him directly through the open pocket instead of over the thick carrier material.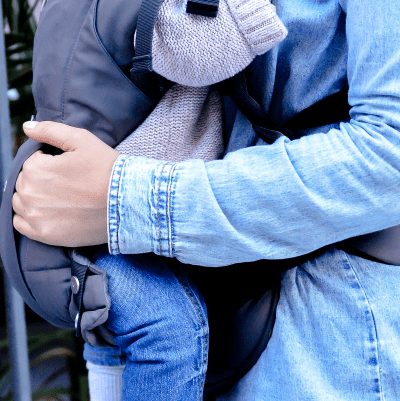 I also love the infant insert and head support for little ones. Other brands will make you pay extra for this feature but Diono included it with the carrier from the get go.
Additionally, the Carus Complete comes in six fun colors: blue, sand, red, black, grey and light grey.
Check out other versatile carriers in our roundup of the best baby carriers for doing chores.
What could have been better
The Diono Carus can start feeling tight for "huskier" babies and toddlers. I would also not recommend this carrier for bigger parents. Most babies can fit easily in the Carus for the first 12 to 18 months but as they get older the carrier starts to feel a bit small.
Conclusion
At the end of the day, the Diono Carus Complete is a high quality product for a fair price. It looks good, it works great, it's strong, and it will carry your child safely and reliably. The extras are an added bonus that make this baby carrier fun and functional.
---
The Diono Carus Complete FAQ
What age can you start carrying your baby forward facing in the Carus Complete?
Most babies can reliably support the weight of their own head by three months. But they cannot reliably endure more inertial stress until 6 to 12 months. You can probably start forward carrying at 6 months, but your activity should be strictly limited. The thing to keep in mind here is that, while the Carus is designed for activity, your baby's neck isn't so ensure the neck is always fully supported.
What are the age and weight limits of the Carus Complete?
The Diono Carus carrier is designed to accommodate babies and toddlers between 7 and 33 pounds. Even though 7 pounds is the lower limit, you will still need to be very careful in the early days or weeks. Make sure to use the infant insert and verify the fit so that the entire body is well supported.
How supportive is the Carus Complete?
The Diono Carus Complete carrier is very supportive. That said, you will need to carry small newborns with great care. Proper fit and operation is really important with infant babies so make sure to check the manual for instructions on how to fit and use the carrier to achieve the best support.
Is the Carus Complete easy to clean?
Yes, it is. This is another area where the device really shines. Made from thick polyester and polyethylene fabric and padding, all of which is thoroughly stitched, you can count on the Carus to wash and dry with a few considerations which are covered in the care section of the manual.
Diono Carus Complete Baby Carrier
Versatile 4-in-1 carrying system
Quality construction
Designed to promote hip health
Stylish unisex style
Multiple compartments and pockets
Designed to promote hip health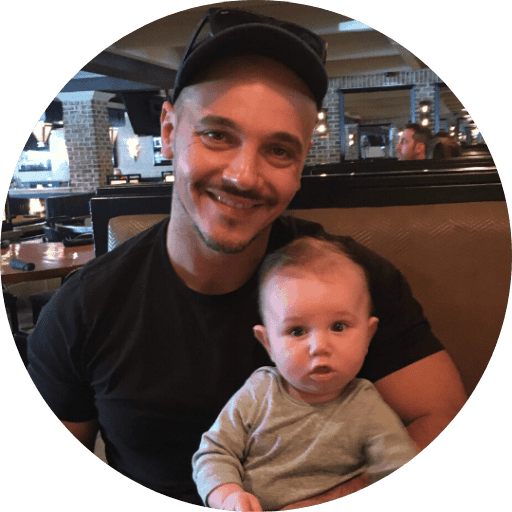 Paul is a passionate dad who founded Upside Dad to share his parenting journey with other new parents. He graduated from Concordia University and worked as a test engineer for over a decade. Paul loves dad jokes and craft beer.
Learn more about Paul and Upside Dad here.