I think you'll agree with me when I say that it's difficult to decide what to take with you to the airport. What would be the best, a baby carrier or a stroller? In which one would baby be the happiest? The answer may surprise you!
We usually suggest packing light for travel with a baby and bringing only whats necessary, but this time we will actually suggest bringing both; the baby carrier and the stroller.
It turns out, both have benefits in different situations at the airport.
Before we dive deeper into the debate about whether to take a baby carrier or a stroller to the airport, let's look at why parents buy either of these items in the first place.
Key benefits of baby carriers
Soft baby carriers like slings, wraps, and Mei Tais are ideal for newborns, babies and young toddlers AND that are not too heavy to bring along with you on any trip. They bring so many advantages that makes them popular with travelling parents.
Baby carriers
help to foster a close bond between parent and child
provide a safe and snug environment for newborns, babies and toddlers
allow for discreet breastfeeding
are soothing for niggly newborns and babies
are easy and comfortable to use
allow you to carry your child up a flight of stairs
make getting through crowds with your child a breeze
For more details on each of the different baby carrier, check out our detailed baby carrier guide.
Key benefits of strollers
Strollers, formerly called prams, have been with us for eons. They are a godsend when you have been carrying your child for a long time or when you have to walk a distance with a small child in tow. They have some benefits that make them indispensable for families.
Strollers
offer a comfortable place for a child to ride and enjoy what's going on around them
are comfortable for a child to sleep in or take a short nap
often become a beloved item that's comforting to a child
take the weight off a parent's arms and give relief to a sore back
have storage space for snacks, diapers and toys
don't affect a parent's back like a baby carrier could
help parents and children not to get tired out
Things to keep in mind when deciding – baby carrier or stroller at the airport
Older toddlers usually like being in a stroller rather than a baby carrier.
A newborn or small infant will most probably more comfortable and less niggly in a baby carrier close to your body than sitting propped up in a pushchair.
If you are going to be at the airport for a long time because of layovers, even a small child can become very heavy in a sling or a wrap. That's when you might want to have a stroller handy to transfer the child and give your back a rest.
Another factor to consider is your child's preference. Some children love slings and will happily be carried in them for many years. Other children, never take to them and will keep on struggling to get out. If you know your child doesn't enjoy being confined, just forget about taking a baby carrier.
Don't bargain on it that you can just put your baby in a baby carrier and walk through the airport holding your other child's hand. Your toddler that usually loves walking with you to the shops or the park can at the airport suddenly decide that he doesn't like walking anymore. And you know how impossible it is to get such a child to start walking. Consider taking a stroller just in case.
Whatever you decide to take, make sure your child likes using it. If you envisage your baby sleeping in the carrier or stroller, try it out on other outings first to see if it will work for you and your baby.
Arrival at the airport: baby carrier or stroller?
On arrival at the airport you have all your luggage with you; suitcases, carry-on bags, purse, diaper bag, snacks and toys. Do you need a stroller as well? It seems overwhelming, doesn't it? Wouldn't a baby carrier be less hassle?
Baby carrier – Your child is safe and secure with you. You don't have to look around to make sure where it is. Your hands are free to handle your luggage. A stroller is an extra item to lug around if your child refuses to sit in it.
Stroller – Your child is safe and secure and most likely happily occupied in the familiarity of his stroller. He can eat, play with toys or take a nap. You can bring toys with to keep your child occupied.
At the check-in counter: baby carrier or stroller?
There can be long waiting lines and check-in counters and they can be especially trying if you have small children with you.
Baby carrier – Having your baby in a baby carrier leaves your hands free to hand over your passport and check your booking on your smartphone.
However, while your hands are technically free to weigh in your luggage, it's can be difficult if you have a heavy child on your body.
Stroller – Here a stroller can save the day. You simply park the stroller next to you with your child safely in it and you have your hands free to deal with documentation and checking in luggage.
Walking through the airport
Getting through the crowds at a busy airport can be a pain, and with a small child or two in tow it can become a nightmare.
And whether to use a baby carrier or a stroller is not an obvious choice. A lot depends on your baby's weight and preferences.
Some babies are used to the freedom to explore and resist being confined in a baby carrier.
Others love being in the comfort of a baby carrier and never adjust to sleeping on-the-go in a stroller. Take your child's preferences into account when you decide what to take to the airport.
To help you decide, here's a list of the benefits and drawbacks of baby carriers and strollers.
Baby carrier – They are great for small babies and toddlers. The child is safe and secure with you and you can quickly navigate the crowds while your hands are free to carry carry-on luggage and diaper bags.
Keep in mind that infants can become overwhelmed in a crowded place where there is a lot of noise and movement. For them, a baby carrier would be better than a stroller.
On the other hand, if you carry your baby on your body for a long time, your back and shoulders might start aching.
Stroller – A stroller won't hurt your back and shoulders. You can push a child around in a stroller for much longer than you can carry it on your body.
Strollers offer much-needed space for baby essentials and toys. And you can hang the diaper bag over the handlebar so you don't have to carry it.
However, a stroller can be difficult to navigate through a crowded airport.
If you have twins a double stroller becomes more practical than two baby carriers.
During a layover
If you have a long layover you'll need to figure out how you're going to keep your child happy. Again, whether you use a baby carrier or a stroller depends largely on your child. If you have a layover of a few hours, it's best to take what your child is used to.
Having said that, no child will be happy to stay in either a baby carrier or a stroller indefinitely no matter how much they enjoy being in it.
Baby carrier – Baby carriers are best for small babies who are still breastfeeding. Wraps and slings let you feed your child in privacy.
A baby carrier gives you a hands-free ability to sooth your baby and takes a load off your tired arms.
On the other hand, prolonged use can be tough on your back and shoulders.
Strollers – Some children will easily fall asleep in their stroller. In a stroller, the child's hands are free to play with toys and stay occupied. If your stroller has a snack tray you can keep your child occupied with snacks during this time.
When your body become sore from carrying your baby, a stroller becomes necessary.
Going through security
As you can imagine, going through security with a baby carrier is a breeze compared to hassling a stroller through security.
Many parents report online that they wear their baby until they get through security. There after they put the child in his stroller. At this stage, the baby carrier is simply folded up and put away.
Baby carriers – Most airports don't require that you take your baby out of his carrier when you go through security, making for a hassle-free security check. Your hands might be screened for harmful substances and you might be subjected to a modified pat-down.
Strollers – A stroller can be cumbersome to get through security, especially if you have to deal with a small child at the same time.
Some strollers are bulky and tricky to fold. Consider getting a light-weight umbrella-style stroller that easily folds up into a compact package.
Check out our full post on getting through airport security with a baby in the carrier.
At the boarding gate
You'll be allowed to wear your baby going through the boarding gate but when you get on the plane you will be asked to remove your baby for take-off, taxiing and landing. You can gate check the stroller.
Conclusion
Taking both a carrier and a stroller offers ultimate flexibility. There are situations for which a baby carrier is ideal as there are situations for which a stroller is ideal.
We suggest that you take both. After all, you can choose a light-weight stroller to take with and a baby carrier doesn't take much additional space.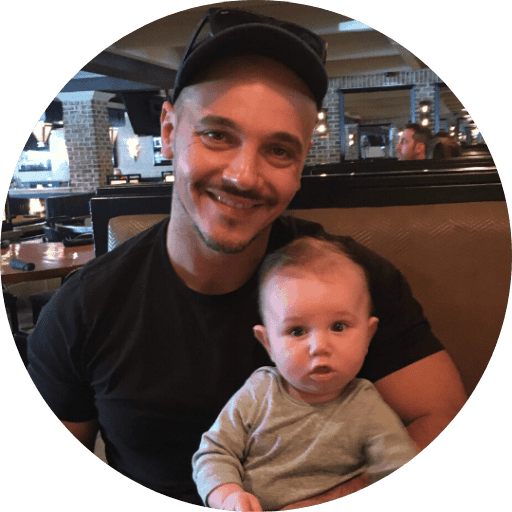 Paul is a passionate dad who founded Upside Dad to share his parenting journey with other new parents. He graduated from Concordia University and worked as a test engineer for over a decade. Paul loves dad jokes and craft beer.
Learn more about Paul and Upside Dad here.