Child carriers can be a lifesaver whether in your local community or on the road, providing an easy method of transporting a small child and their favorite goodies in one convenient place. I recently picked up Osprey's Poco child carrier for my seven-month old and put it through the wringer. Keep on reading this Osprey baby Carrier review to hear a lowdown of its features and my thoughts as we put it to the test!
Initial Thoughts
When looking for a child carrier for my baby, I was happy to discover that Osprey had one that he'd already fit in and could continue to grow into for the next few years. I'd purchased from Osprey before, a backpack that I've now used several times on trips to various locales. I'm a big fan of that backpack and was optimistic this child carrier would perform on the same level.
Osprey has three child carriers in its lineup, ranging from the lighter Poco LT to the bulkier Poco Plus. I split the difference and picked up the Poco, toted as a veritable throne for everything from neighborhood walks to adventures into uncharted territory.
Ordering Process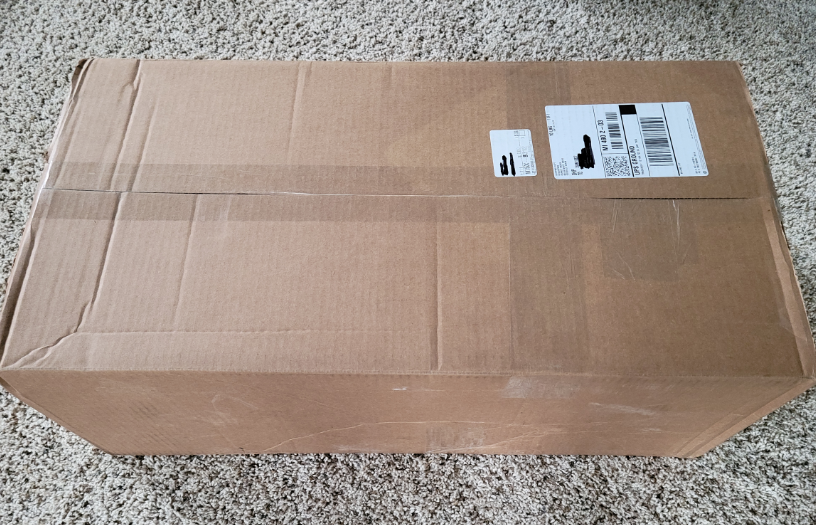 I headed over to Osprey's website to make my purchase, since the price was the same as Amazon and I knew I was getting a legit product. Sorry Amazon, I don't always trust you with your merch!
It was easy to locate the correct size carrier (there were only four to pick from), add it to the cart, and head to the checkout. As I was finalizing my order, I created an account in hopes of tracking the package. I received an email confirmation of the order, but my Osprey account insisted I hadn't made a purchase.
Osprey was quick to charge my credit card for the carrier, mentioning in small print that this means the package is on its way. The information never showed up on Osprey's site, and after waiting a few days I called to see what was up. Apparently everything had processed correctly, but was told "website issues" were the cause of the missing order. The guy on the phone also let me know my order would be arriving that same day.
Sure enough, my package arrived in the evening in a nondescript box on my doorstep as I was returning from a meeting. Other than the initial confirmation, I never received any other updates from Osprey. That was a bit of a bummer.
Unboxing
The good news was that I had my baby carrier before the weekend, meaning I could test it out on some of the trails near my house. First, I had to unbox the thing and see what I was dealing with.
Opening the plain box revealed my blue carrier, wrapped only in a plastic bag to keep it safe during transit. I suppose the carrier had to be robust enough to survive hikes with a baby inside, so what could a little transportation do?
Assembly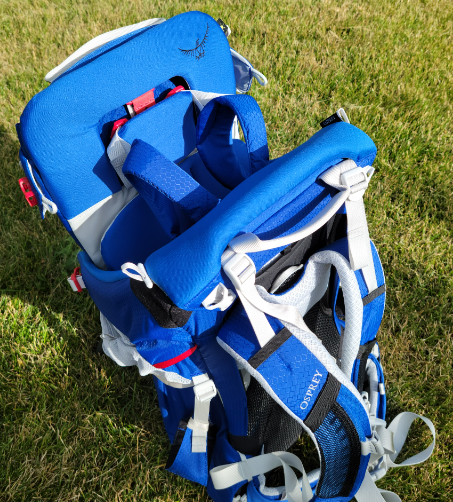 I was expecting some assembly with the carrier, attaching the stand, adding the straps, or something along those lines. It was great to see the pack already intact and ready for the baby. All I had to do was clip off the information booklet and I was more or less good to go.
Features
The Osprey Poco looks cool (at least in this dad's opinion), and it also has a plethora of cool features to make it stand out from the competition.
Deluxe Child Cockpit
I'm super stoked that my kid gets a cockpit, like he's some sort of a space hero in a starfighter looking to take on the enemy. Even cooler is the fact that the thing's adjustable enough to fit him from now at seven months until he's hopefully old enough to get around fine on his own. In addition to movable straps, the carrier itself can hold up to 48.5 pounds (including whatever finds its way into the pockets).
Dad Comfort
The baby has to be comfy, but we dads need to be comfy too, am I right? I can position the mesh back panel to support my body, and there's a hip belt to offset some of the shoulder tension on my hips. It doesn't feel like I am carrying air, but multiple pressure points make for a more comfortable trek.
Woven Sunshade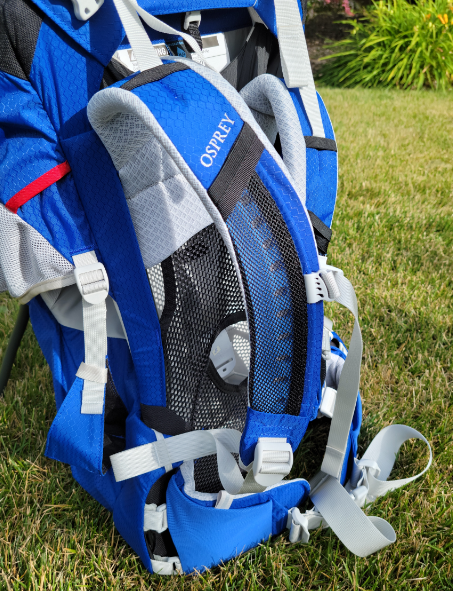 Whenever we're out in the sun, I make sure to set up the built-in sunshade to keep the Sun off my son's face. I love that this piece slides seamlessly away into a zippered pocket when not in use, but I can pull it out quickly when we're heading into the Sun again. It also does a great job of shielding my kiddo without restricting airflow. I was worried he'd overheat, but I haven't had an issue thus far.
I don't like how the sunshade attaches to the carrier's frame, as you have to slide hard pieces of fabric into strategically placed indentations. The fit doesn't seem great, and it looks to me like it's going to come free at any moment. That being said, I haven't had it happen yet. I hope I didn't just jinx myself.
Drool Pad
At this stage of the game, I couldn't imagine walking around without some sort of drool protection. My son produces a nonstop supply of the substance that ends up all over his face, clothes, and hands. The last thing I wanted was for his drool to be all over me while hoofing him around.
The Poco comes with a removable drool pad to keep dads around the world safe from being covered in the sticky slime. Just when the pad looks like it's at its end, I can pop it off and hand clean the surface. I will admit, taking the drool pad off isn't the easiest thing in the world, but I'm still really happy it's there.
Aluminum Frame

I love how lightweight and yet durable aluminum is, making it a perfect fit for this carrier. A baby or toddler can certainly be heavy enough; I don't need metal bars weighing me down further as I hike through the wilderness. Being so robust, I don't have to worry about the carrier bending o breaking with rough handling along the way.
At the bottom of the child carrier is a folding kickstand-like piece of aluminum that keeps it from toppling over whenever I need to set it down. I can leave my son inside the carrier and he can sit upright and ready until it's time to set out again.
Dual Grab Handles
I wanted to mention these dual grab handles because when I put down backpacks, I don't like having to juggle with it to pick it back up. The Osprey Poco has special handles for the express purpose of getting the carrier back off the ground, where it's easy to place back on my shoulders without any help. This is a huge win for me.
Breathable Design
There are few things I hate more than getting that big pool of sweat on my back as I carry around a bag or, in this case, a baby carrier. I picked the Poco because it has a mesh backrest to help vent and circulate air as I walk around. It doesn't keep my back dry by any means, but it does feel less sweaty than with other things I've lugged around over the years.
Pockets
Dads, we know our little critters like to munch and have toys on hand to keep them distracted when trying to locate wildlife or get through a busy pedestrian area without causing a scene. You'll find mesh pockets on either side of the canopy and small pockets on the hip belt for quick access. The hip pockets are unable to hold much, and the mesh pockets are a bit unwieldy but get the job done.
There's even a big enough pocket in the front to store a change of clothes or a few diapers, theoretically eliminating a diaper bag. My wife isn't so sure, but I always have been the more adventurous type.
Quality
I'll admit I haven't used the Osprey Poco for an extended period of time just yet, but my initial feel for the overall design quality is high. I love my Osprey backpack that I've used for years and will continue to do so. You also can't beat Osprey's amazing seven-year guarantee on the Poco, stating they'll fix the carrier or replace it during that timeframe for ANY REASON. How cool is that?
Looking over the nylon fabric from top to bottom, I didn't notice even a single thread out of place anywhere. Every component seems taut, and each adjustability point offers some resistance but I don't find any of them too difficult to move. In that same vein, I haven't had any come loose and have to be tightened while on the trail.
I haven't made a point of running into trees and the like with this child carrier, so I wouldn't say I've entirely put the aluminum frame through its paces. I tend to treat it with kid gloves when the baby's inside, but I've dropped it on the floor sans baby and the aluminum takes it like a champ.
The sunshade slips in and out fairly easily, although it does take a bit of force each way to get it in place. It doesn't offer any more resistance than I'd expect, but it is worth noting.
Comfort and Ergonomics
Cool features and a study design are one thing, but nothing matters to me more than how I feel after transporting his highness the baby around for several hours at a time. To avoid sounding selfish, I also want to make sure he's comfortable too.
Comfort For Me

The hip belt is a life-saver for weight distribution, taking the brunt of baby weight and placing it on my waist. That belt has a decent amount of padding on it, but it could use a little more to protect my bony body. I'm a tall guy who likes to run, and I don't have much padding of my own to help out in that area.
Regarding my shoulder straps, the design is almost identical to what I'm used to with my Osprey travel backpack. There are two adjustable straps to customize the fit and a clip that positions the two straps close to the center of my chest. I'd love to see a little more padding here too, but I can't complain about what I've been given.
I mentioned the ventilated backrest earlier, and I admit it doesn't keep my back sweat-free.  I can't imagine one of these things accomplishing such a task, but Osprey gets an A for effort. All I have to compare it with for long-term wear is my Osprey backpack, which has a similar feature.
Comfort For The Baby
My little guy always drops down into his cockpit somewhat reluctantly, and I have to finagle his legs through smallish holes on either side of where his butt comes to rest. Even with a bulky diaper on, he fits pretty easily into the spot. It is summertime as I write this, but I think I could still get him inside even with bulkier winter clothes. There were a few negative reviews on Osprey's site to this point, though.
Once seated, I have to work flailing arms into each of the shoulder straps to help anchor him in place. The process is no more challenging than putting on a new shirt, and each has an adjustable fastener to keep the boy from bouncing all over the place on the trail. You can actually unhook the fasteners for easier seating, but I've never had a need to.
If I don't want his feet to dangle free, there are stirrups on either side to rest his feet in and take some pressure off his bum. I feel more like a horse when he uses these, and my son tends to kick his way out of them before we've started walking. They are adjustable, but I don't see them serving much of a purpose.
We haven't pushed ourselves on anything more than a two-hour walk to date, as I have a seven-month-old who prioritizes eating over sitting in a carrier. He did get fussy toward the end of the walk, but for a good while he was content looking around and nature and checking out new things. So far he's giving me the silent treatment and hasn't mentioned if he was getting uncomfortable or if it was just nearing meal time.
Pros and Cons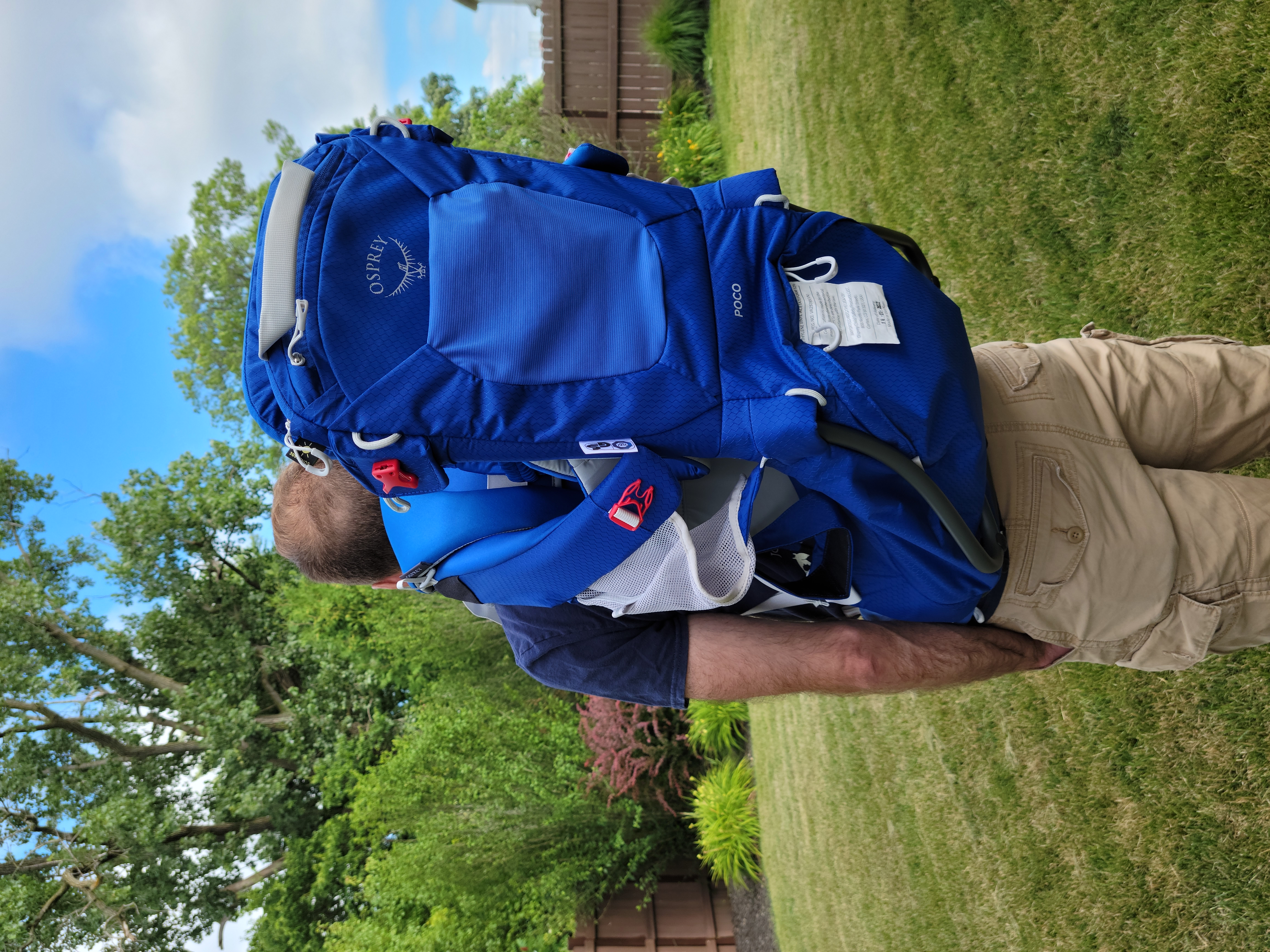 The Osprey Poco has a lot going for it, but its design isn't perfect. Check out its pros and cons below.
Pros
Easy to set up sunshade

Durable aluminum frame

Ventilated back rest for preventing sweat

Dual grab handles for quick placement on the back

Several adjustable straps for dad and baby

Fits a wide range of baby shapes and weights

Hip belt to keep tension off the shoulders

Foldable aluminum stand
Cons
Not enough padding on shoulder and hip strap

Some pockets are on the small size

Sunshade mounts awkwardly to the base
Alternatives to Consider
If the Osprey Poco doesn't float your boat, here are a few other models to consider.
Kelty Journey PerfectFIT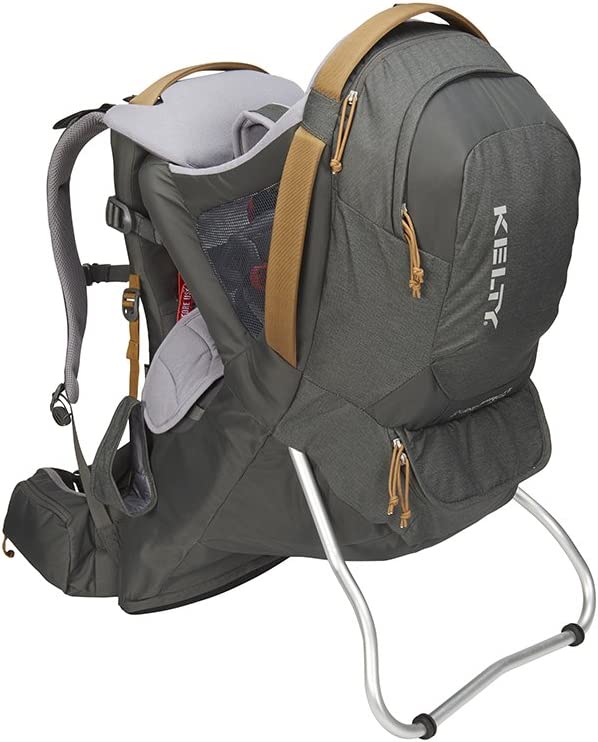 Kelty's Journey PerfectFIT can handle up to 50 pounds of weight between child and supplies, and has ample storage to contain it all. The extra storage leaves the pack feeling bulky, and it can be hard to position it in the right place on your back.
Deuter Comfort Child Carrier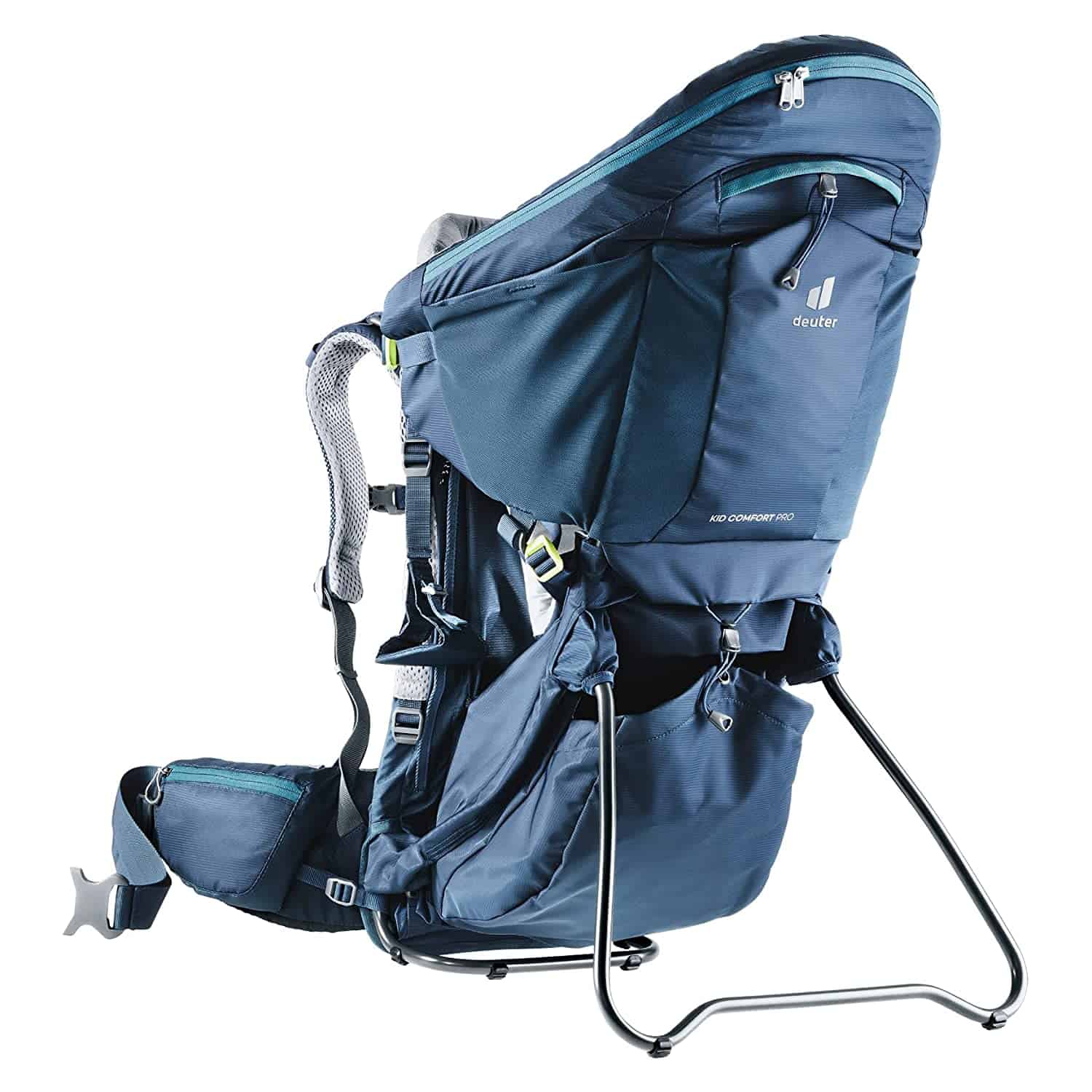 The Deuter Comfort child carrier has many of the same features as the Osprey, with a sturdy aluminum frame, ventilation, and comfort for dad and baby. Its more vertical design adds a bit to bulk, but utilizes the space well for storage. Sunny days may be an issue, as the Deuter's sunshade doesn't protect well on the sides.
Chicco SmartSupport Baby Carrier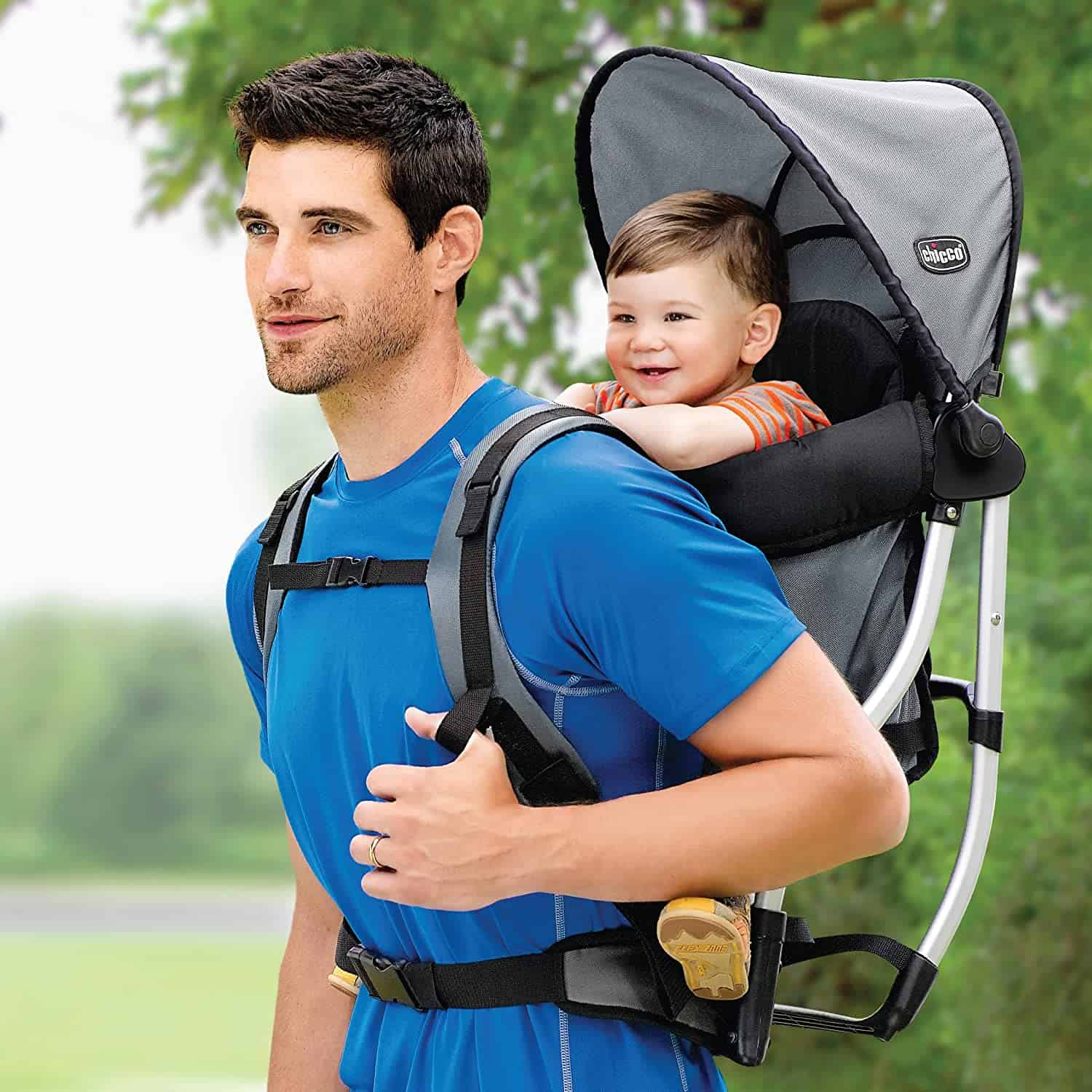 Chicco's SmartSupport carrier is a more bare-bones approach to transporting your little one. Its design doesn't offer much in the way of storage or padding, but comes in at a much more budget-friendly price point. It also folds flat when not in use for easy transport.
Thule Sapling Child Carrier
The Thule Sapling takes the pressure off baby, allowing him or her to sit instead of stand. Such a move frees up space under the unit for additional storage. For a price point even higher than the Osprey, there's very little padding for dad in both the shoulder and hip area.
FAQ
Question: What Age is the Osprey Poco For?
Answer: In most cases, the Poco works best for children in the 6-month to 3-and-a-half-year range.
Question: Can a Baby Sleep in the Osprey Poco?
Answer: This model certainly seems comfortable enough for a baby to lounge in. If the right circumstances arise on a walk, it's certainly possible for the baby to fall asleep.
Question: Can You Hike With a 4-Month-Old?
Answer: Most child carriers have a minimum weight rating for babies to ensure they can handle the stress of the hike. Babies should be around 16 pounds before you consider taking them out.
Question: Is the Osprey Poco Washable?
Answer: You should never place your child carrier in the washing machine. Instead, you'll have to hand wash each component as needed to keep it clean.
Verdict
All things considered, the Osprey Poco is a well-built child carrier with high-quality fabric and a rugged frame. It comes with decent storage options and was constructed with comfort in mind for both me and the kiddo.
I'm a huge fan of how lightweight the carrier is, less than 8 pounds when empty, so adding a baby and some snacks doesn't feel like too much of a burden. I'm not a patient guy by any means, so it's also a treat how quickly I can load the thing up and hit the trail. The sunshade is a nice touch, and I'm able to get it in place with minimal effort.
Some more padding on the hip rest and shoulder straps for dad would be a blessing, but I haven't felt sore after the walks we've done so far. The drool pad is a pain to take off and clean, but I wouldn't want to start a journey without it in place. I do wish the sunshade clipped in place so I knew it was secure, but so far it hasn't come loose while out and about.
My Osprey backpack was under $200 when I bought it, so I had a bit of sticker shock that this child carrier retails for $300. The price doesn't seem too far over the top, but I'd feel more comfortable paying closer to that $200 mark for the carrier as well.
Still, I wouldn't feel bad about recommending the Osprey Poco to a friend who was in the market for a baby carrier. I'd suggest searching for a sale first, but even at MSRP it's worth the investment.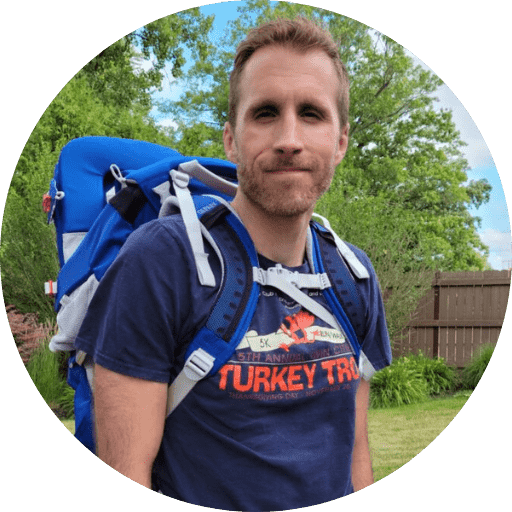 As a new dad, Noah joins Upside Dad as one of our dad product testers, with years of experience in both engineering and the medical space, Noah joins us here on Upside Dad to buy, test, and share his personal insights on new baby gear. He currently lives in Michigan and also loves hiking, and playing video games.