We're approaching fall in the great state of Michigan, and I wanted to pick up something to keep my son warm during his second winter this side of the womb. I jumped at the chance to try out one of Kyte Baby's sleep sacks in a size that should last well into spring. Read on to hear about my experience and thoughts in this Kyte Baby sleep sack review!
Bottom Line Up Front
Kyte Baby's ultra soft and breathable sleep sacks are excellent on all but the hottest of nights, bringing warmth and comfort to your resting little one. Parents can rejoice in how easy it is to put on, change diapers, and clean with a gentle wash cycle.
Ordering Process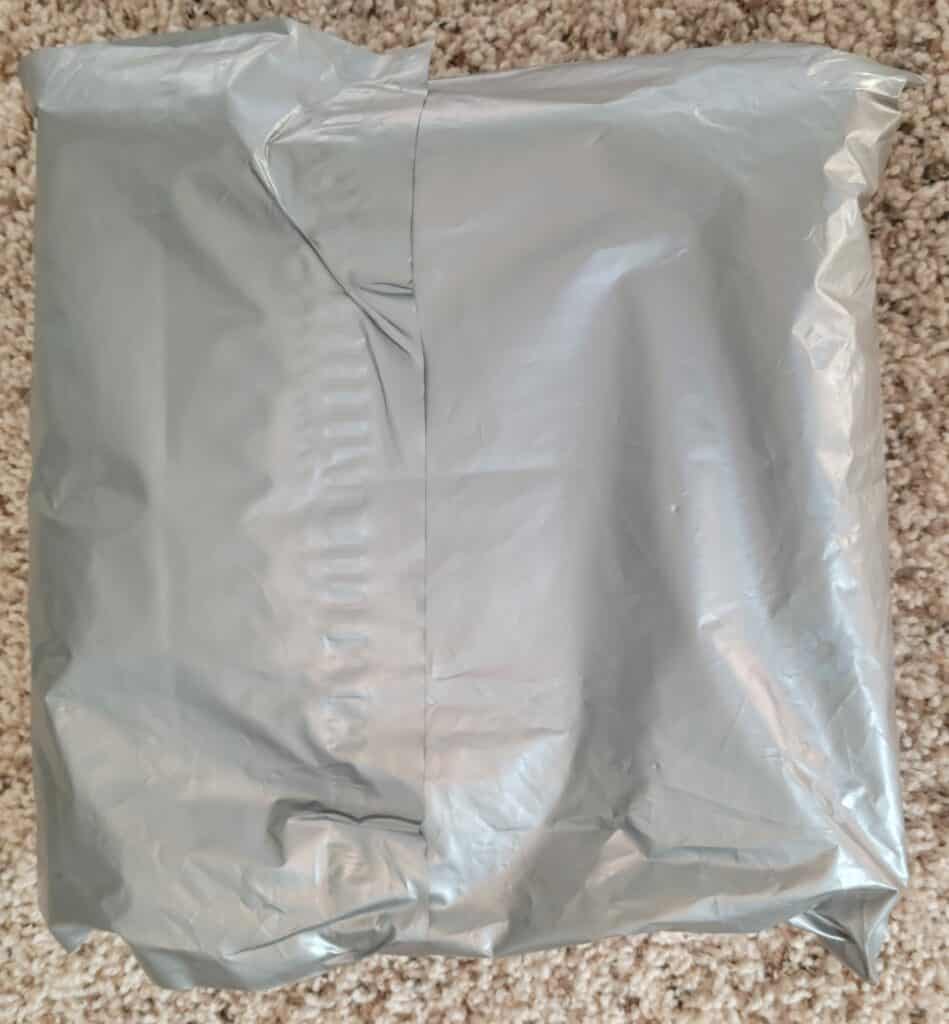 Unless there's some huge incentive to buy from Amazon or some other big box store, I tend to shop right on the company's website to ensure I'm getting what I'm looking at. Kyte Baby's site is well laid out, with sections for babies, toddlers, and even adults!
Kyte Baby embraces the TOG system, which admittedly I hadn't heard of before shopping on its site. TOG, which stands for "Thermal Overall Grade", measures the amount of insulation a fabric provides. It's a cool (pun intended) system for helping ensure your little one doesn't overheat while sleeping.
After figuring out which TOG was best to buy, I had to land the plane on one of 17 styles. Most were a plain color, but a few had cute designs on them. I went with giraffes – after all, who doesn't like giraffes?
There was nothing challenging about placing the item in my cart and finishing the order process. It took exactly one week from purchase to receive my new Kyte Baby sleep sack on my front door.
Unboxing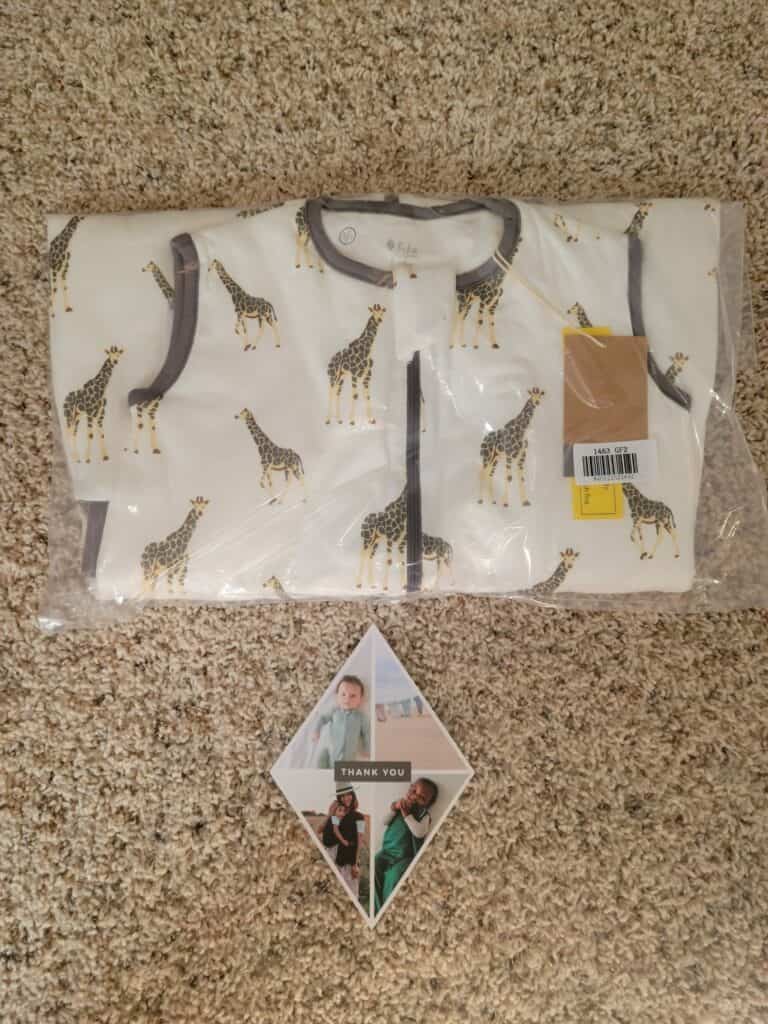 The unboxing, or rather unbagging process, came without pleasantries. The sleep sack was in a dull gray bag with Kyte Baby etched lightly on one side. It was better than a completely plain bag, but I tend to associate a lackluster outside to translate to a poor-quality product. I can understand wanting to save some money, but the packaging should reflect the high price tag on the sack inside.
I didn't expect to see a lot of padding on the inside, and I was not surprised. There was a cute little thank you note that made me feel tingly for placing my order, so I was happy about that.
Using the Kyte Baby Sleep Sack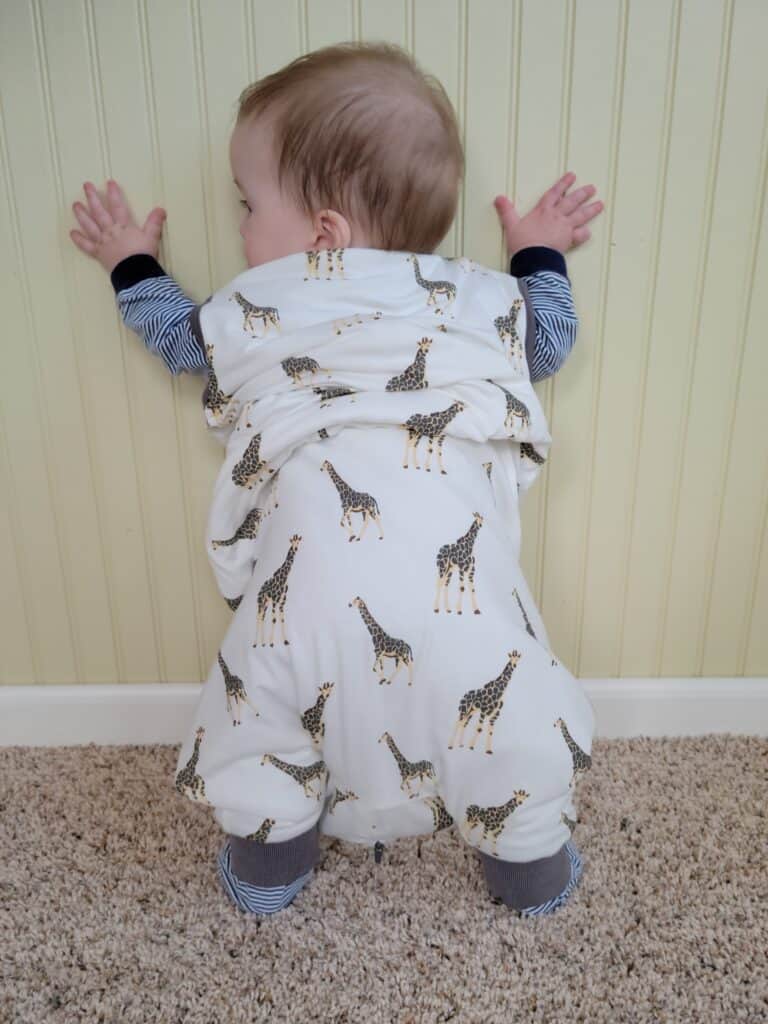 We don't use the Kyte Baby sleep sack every night, as in Michigan it can be 55 degrees one evening and 80 degrees the next. On cooler nights, the walker is a slam dunk for comfort and warmth.
My little guy gets PJs on about an hour before bedtime, after he's had that last bottle and I'm reasonably confident there's no spit-up in the future. I tend to put on a thinner onesie and the sleep bag walker over the top so he doesn't overheat and there's not too much material around his legs. It's nice that I can add more layers underneath the sleep sack as temperatures drop outside.
He has no issue playing in the Kyte Baby, still shaking his toys, bouncing and rolling around, and pulling things off the couch. We're big into sitting right now, and the extra fabric can get in the way, but I'm happy this is something he'll continue to grow into over time.
Standing is a new thing, and my guy enjoys holding onto a nearby piece of furniture and seeing what he can find nearby. He takes very tentative steps at times but is not near the walking stage yet. Even with the sleep sack on the big side, I don't see him tripping over it once he gets more mobile.
Sleeping in his pack 'n play is just what you'd expect. He still has the freedom to roll around as he talks himself to sleep, and the Kyte Baby doesn't inhibit him in any way. After settling on his stomach, he drifts off rather quickly and has not had any trouble staying asleep the entire night. There were no issues with sleeping before, but it's nice to see that trend continue.
Interesting Read: What Should a Baby Wear Under a Sleep Sack?
Features
Let's take a look at some of Kyte Baby's standout features for both sleep bags and sleep walkers.
Bag or Walker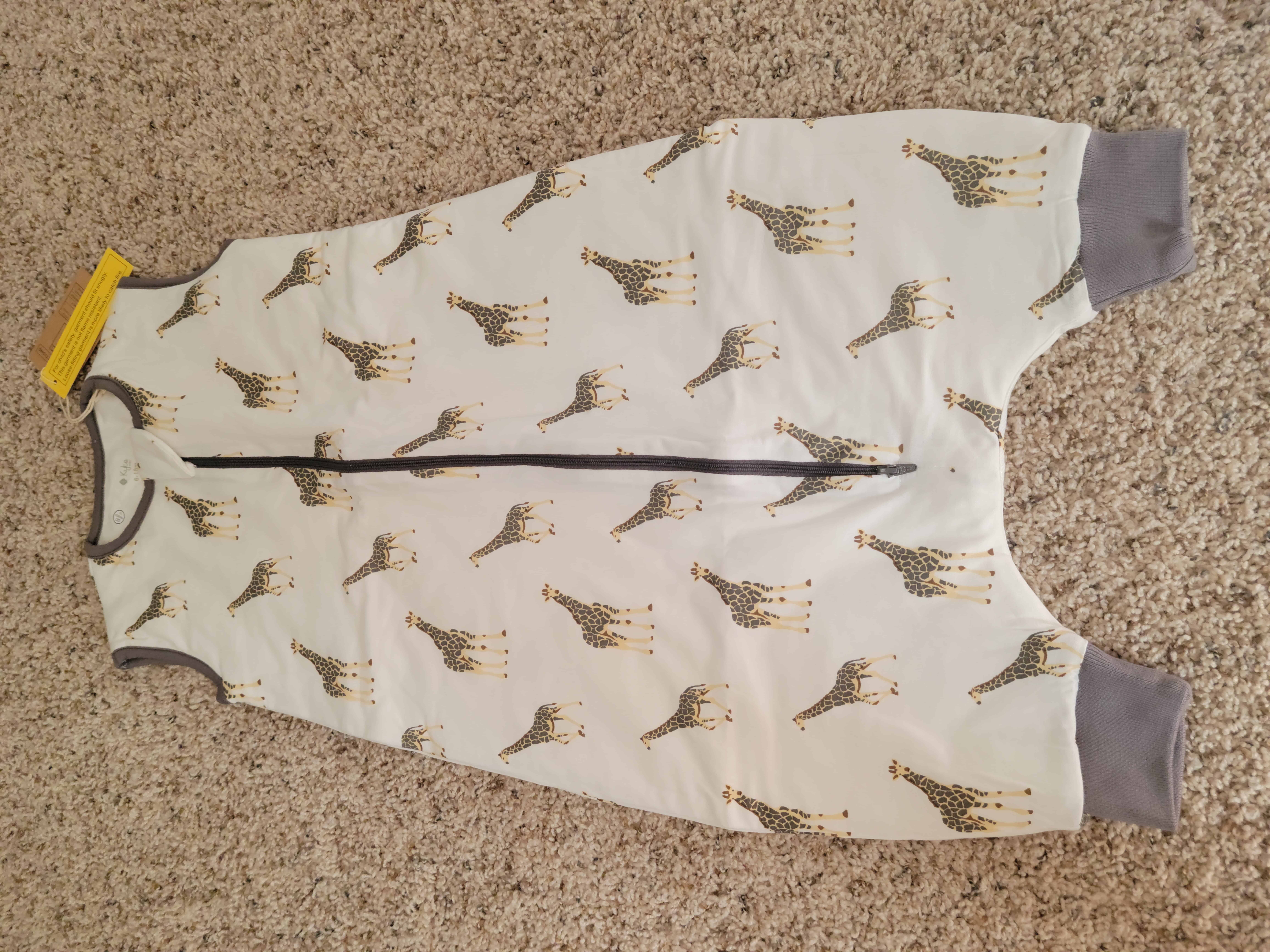 First and foremost, when picking out your sleep sack, you have the option of a bag or a walker. Both are made with the same material and care, but the walker has openings in the bottom for cute feet to stick out of.
Bags are great for lying around but make it challenging for your infant to move around effectively. Sizes range from extra small for newborns to a large that can handle babies up to 42 pounds.
Walkers feature an age range instead of a specific size, starting with kiddos as little as six months. I went this route because my son loves standing, even if we still have to support him at this time. It should fit all the way until he's 18 months, meaning he can use it to walk around on his own when he's a little bigger.
TOG System
I'd never heard of the TOG system before looking at Kyte's offerings, but I wish more companies would embrace it. Essentially, a TOG rating demonstrates how warm or cool an article of clothing will feel for your baby. Kyte shares its rating for each item and provides a chart to let you know what the temperature of the room should be for your little one to wear it.
The system itself takes into consideration fabric type, thickness, and how breathable the material is going to be. My kiddo is like a portable heater, so I can rest easier knowing I've got him in the right temperature clothing.
Ultra Soft and Breathable
All Kyte Baby bags and walkers are made from 97% rayon from bamboo with some spandex mixed in for good measure. There's not much flex to the material, but bamboo in clothing is incredibly soft and very breathable on hot days.
Hypoallergenic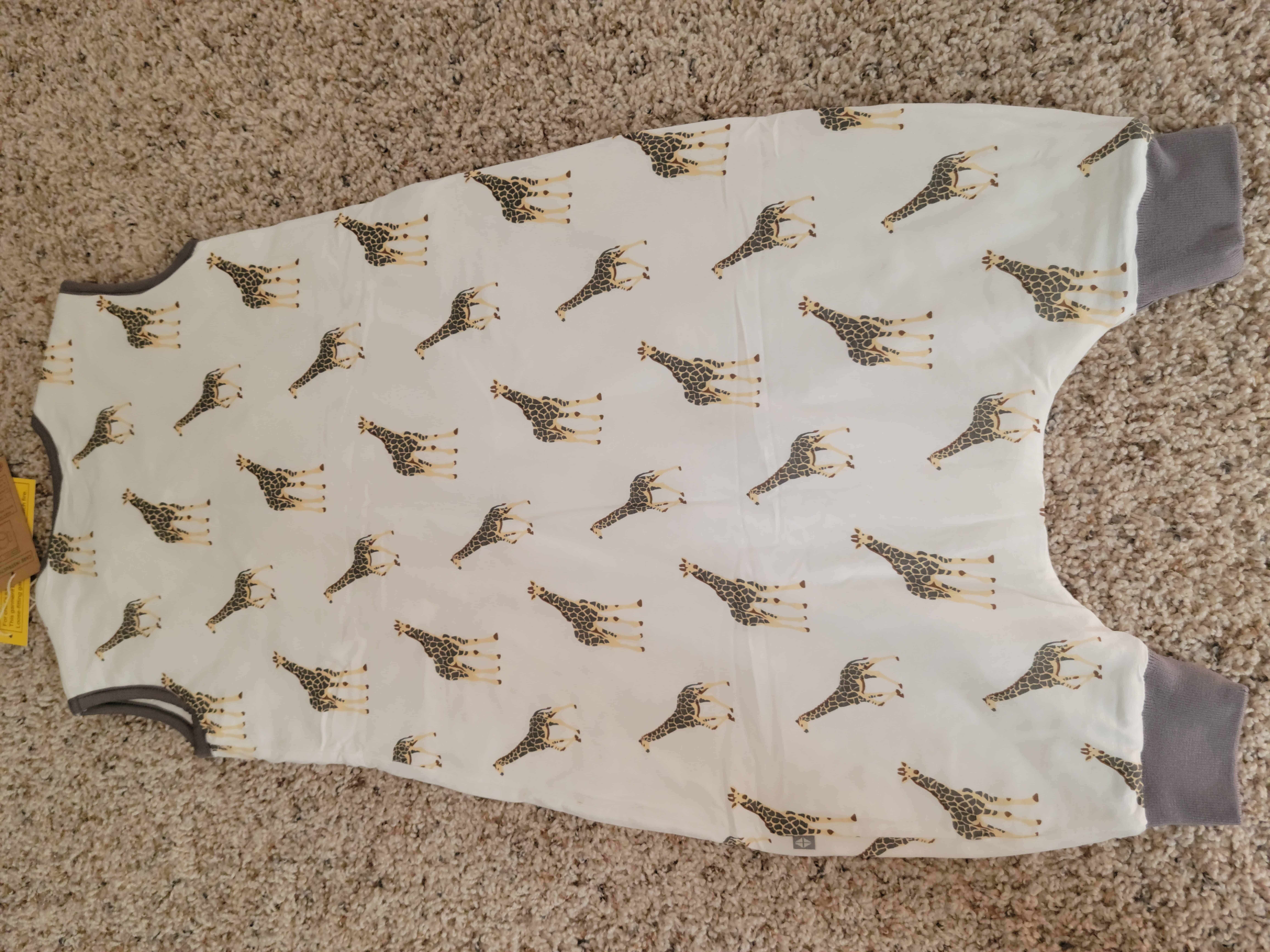 Bamboo rayon fabric is more hypoallergenic than similar materials, meaning a low chance of irritation on your baby's skin. It tends to work well even with infants suffering from Eczema.
Machine Washable
I'm not a fan of hand-washing clothes, so I was thrilled to hear you can throw these Kyte Baby bags and walkers in the washing machine. For best results, zip the sack completely closed and use cold water in a gentle cycle. Washing with like fabrics and turning off the agitator further helps with longevity.
Dryers aren't quite as friendly. You'll still want to air dry the sack by hanging or laying it on a flat surface. To expedite the process, open it completely and use a fan.
Double Zipper Design
Every Kyte Baby sleep sack comes with dual zippers for super easy access. When it's time for a diaper change, just unzip from the bottom and you can get your hands right in there without having to take the whole thing off.
Ankle Cuffs
The walker has cute little ankle cuffs on the bottom that keep feet outside of the fabric to promote mobility. My son looks like he's wearing parachute pants, but he doesn't trip over himself when trying to get around. He's admittedly not walking on his own yet, but we've had no spills so far. The tight cuffs also trap warm air inside the walker on cold nights, and we just keep socks on his feet if he needs them.
Pros and Cons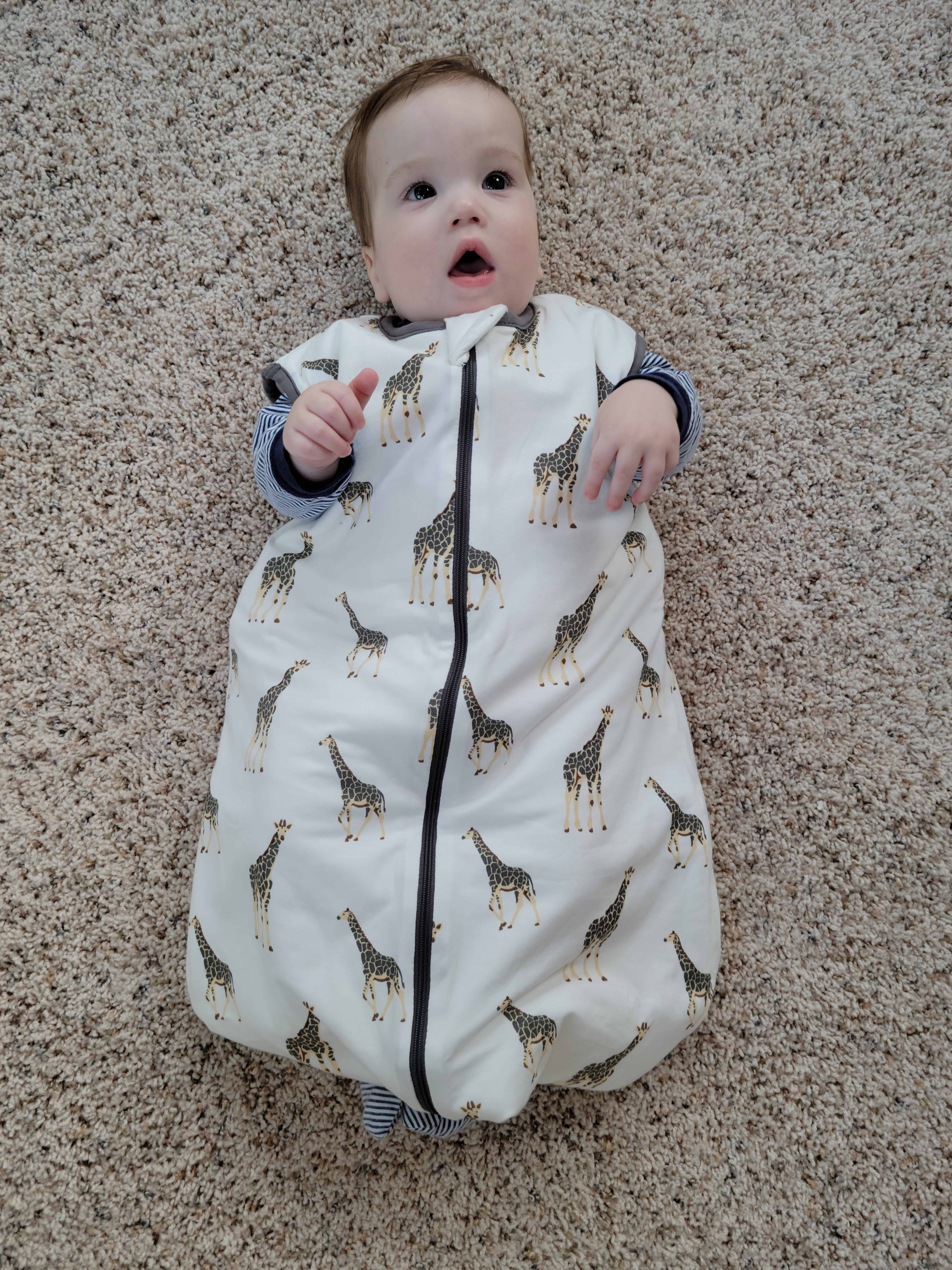 Kyte Baby makes an impressive product, but it's not perfect. Here are some pros and cons to consider before making your purchase.
Pros
Sleep bag sack and sleep bag walker design

Ultra soft and comfortable

Machine washable

Comes in different temperature grades

Several styles to choose from

Breathable bamboo material

Double zipper for easy access

Sleeveless

Walker allows for mobility
Cons
Can't tumble dry

On the expensive side

Can be too warm in summer months

May feel a bit bulky on baby
Alternatives to Consider
If the Kyte Baby sleep sack doesn't tickle your fancy, check out these alternative sleep sack options.
Halo Sleep Sack Wearable Blanket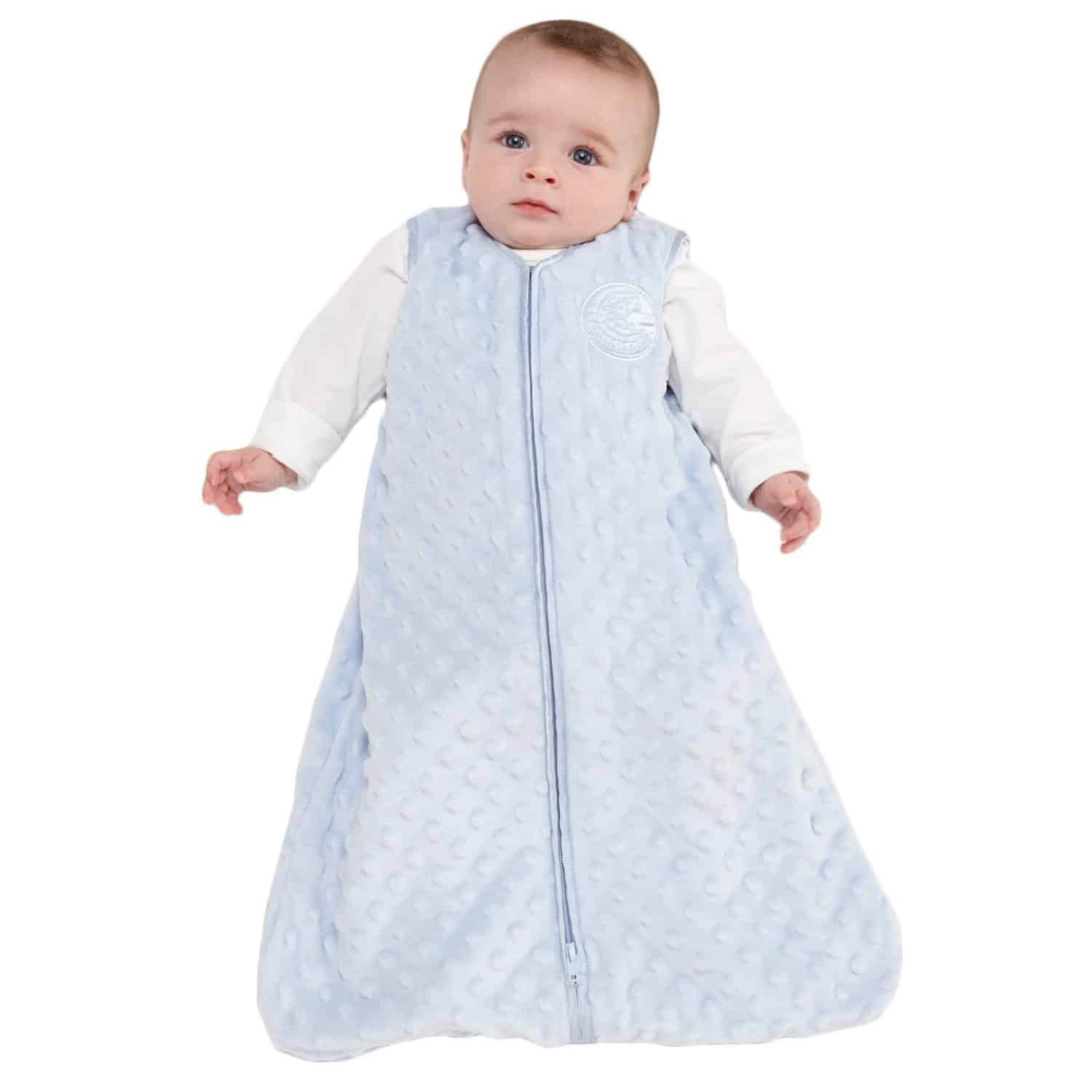 Halo's line of wearable blankets come in either 100% cotton or a micro-fleece material to wrap baby in. A somewhat flimsy single zipper keeps the product in place, but there are no options with foot holes for mobility.
You'll have your pick of several cute designs, each of which is machine washable. Halo embraces the TOG system, so you know how warm your baby should feel. Although the size chart indicates babies will outgrow Halo sleep sacks faster, they're considerably cheaper in price compared to Kyte Baby.
Little Unicorn Sleep Bags
Little Unicorn sleep bags look so nice, I feel bad confining them to bedtime. Each pattern is bright, colorful, and has cool fruits, flowers, planets, and more. The 2-layer cotton muslin material is known to be breathable and gets softer every time you wash it. It will handle the washing machine just fine, but avoid the dryer.
The size chart follows a six-month cycle, so plan ahead to maximize the amount of use you can get from one sack. All models are 1.1 TOG which may not be ideal for really hot or cold days. There is a double zipper to allow for quick diaper changes.
Burt's Bees Baby Wearable Blanket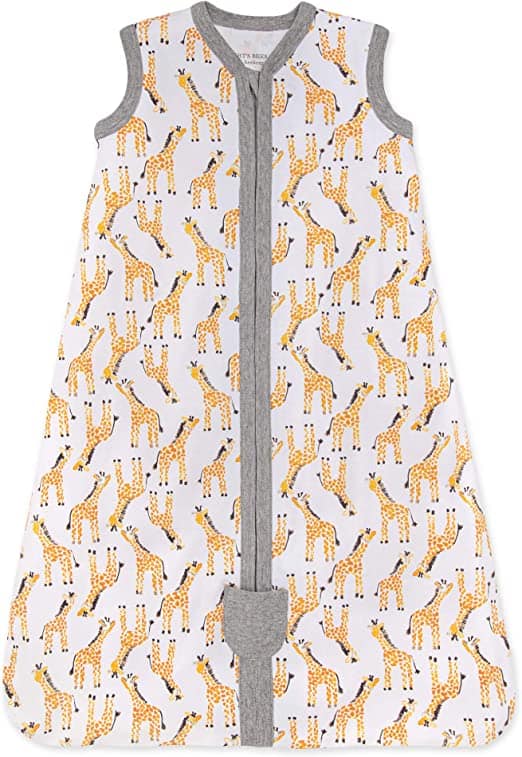 The same Burt's Bees that brings you skincare products has a line of organic baby wearables well worth a look. Sleep sacks are made from 100% organic cotton and come in two different TOGs for year-round comfort or use in cooler months.
It's possible to machine wash the wearable blanket in cold water on a gentle cycle, and you can even tumble dry these sleeping bags on a low setting. The price is nearly half that of Kyte Baby designs but only has sizes for infants up to around 18 months.
Woolino Baby Sleeping Bag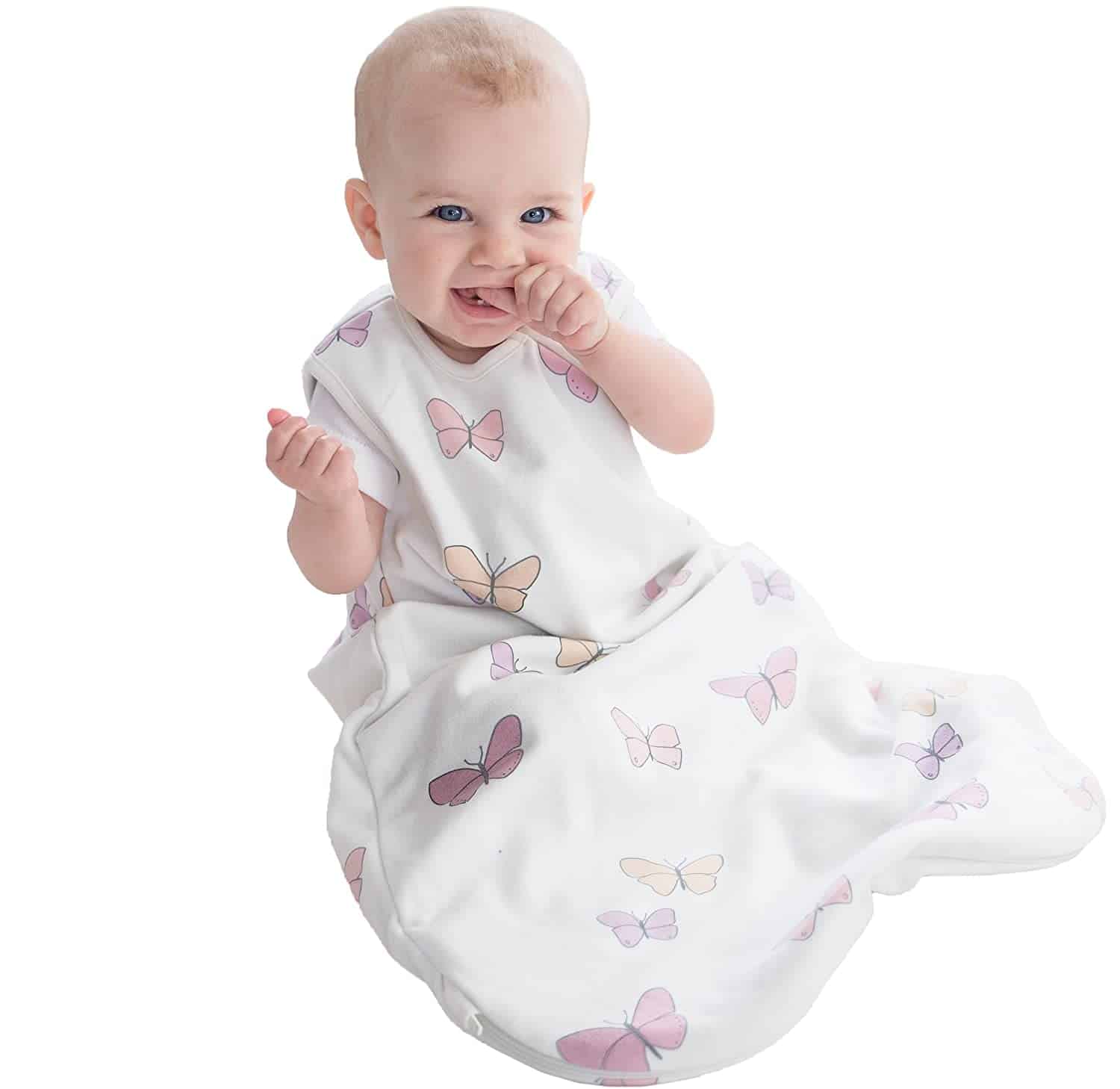 As the name implies, Woolino uses Merino wool in each of its sleep sack creations. You can choose from a sleep sack or a walker with elastic foot cuffs to allow your infant to roam around until it's time to sleep. Wool is very breathable, and Woolino claims a single sleep sack can work in a modest temperature range if you change up what's underneath.
Each sleep sack has an impressive size range and can often accommodate a child for over a year. The two-way zipper makes way for quick changes, and it's possible to both wash and dry Woolino sleep sacks in the right conditions. These wool sleep sacks are not cheap, so keep that in mind when shopping.
Frequently Asked Questions (FAQ)
Question: What Is So Special About a Kyte Baby Sleep Sack?
Answer: Kyte Baby sleep sacks stand out from similar products due to the bamboo rayon fabric they're made from. It's softer, more breathable, and does a great job of regulating temperature. Bamboo also wicks moisture away from the baby, promoting more comfortable sleep.
Question: Do Kyte Sleep Sacks Help Babies Sleep?
Answer: Each Kyte Baby sleep sack is designed with nothing more than sleep in mind. The right product will keep your little one cool and comfortable all night while not irritating the skin or blocking air passageways.
Question: Can Baby Overheat in Sleep Sack?
Answer: Babies should not feel restricted in a sleep sack, and there should be ample fabric to allow air to flow. Most sacks have a Thermal Overall Grade (TOG) rating that explicitly states the temperature range they should be used in. It is easier for a baby to overheat than be too cold.
Question: Can I Dry My Kyte Sleep Sack?
Answer: Kyte Baby does not recommend putting your sleep sack in the dryer, as bamboo can shrink. Instead, lay the sleep sack on a flat surface or hang it up to dry. If you need to reduce drying time, you can use a fan.
Question: Are Bamboo Baby Clothes Worth It?
Answer: Bamboo is an amazing natural material known for its softness and hypoallergenic qualities. Such fabrics can also have antimicrobial properties while being breathable and moisture-absorbing. 
Verdict
Kyte Baby's sleep sacks are an excellent way to keep your little one warm and comfortable during all but the hottest of nights. I love how I can use the Thermal Overall Grade system to assess when it's best to use and which nights I should stick to nothing but thin pajamas.
It's nice to see that Kyte Baby has both a sleep walker and a sleep bag design, depending on your preference or need. With the walker, I can put my son in it as he's winding down for bed and know he can still do everything he wants to do while playing.
I also really appreciate how Kyte Baby made everything so easy for parents. I don't have to take off the sleep sack when changing a diaper, and dirty items can go right in the washing machine.
We've got a lot of extra fabric to work with right now, giving plenty of room for growth and mobility. With a little luck, we'll be able to use one sleep sack for at least a year. My baby's a roller right now, so I'm not sure if the excess material could become a trip hazard while crawling or running.
The higher price point did surprise me when choosing a Kyte Baby walker. I haven't tested out every sleep sack on the market, so maybe $50 to $65 is worth it for breathable bamboo. Still, Kyte Baby does a great job with its product and I'm glad I picked one out.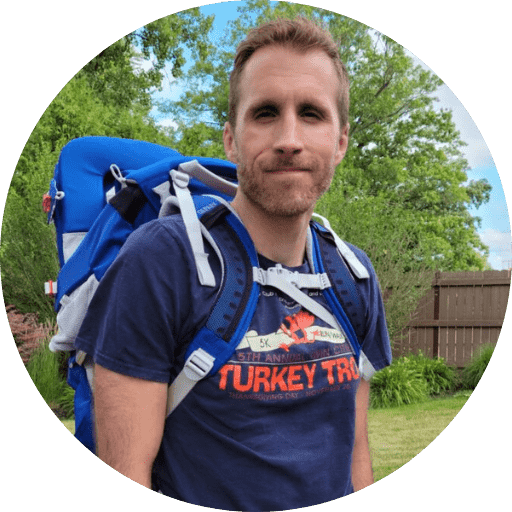 As a new dad, Noah joins Upside Dad as one of our dad product testers, with years of experience in both engineering and the medical space, Noah joins us here on Upside Dad to buy, test, and share his personal insights on new baby gear. He currently lives in Michigan and also loves hiking, and playing video games.