For the past few years, your cat has been your BFF (best feline friend). He is your snugly buddy on the couch, he sleeps on the foot of your bed and follow you all around the house.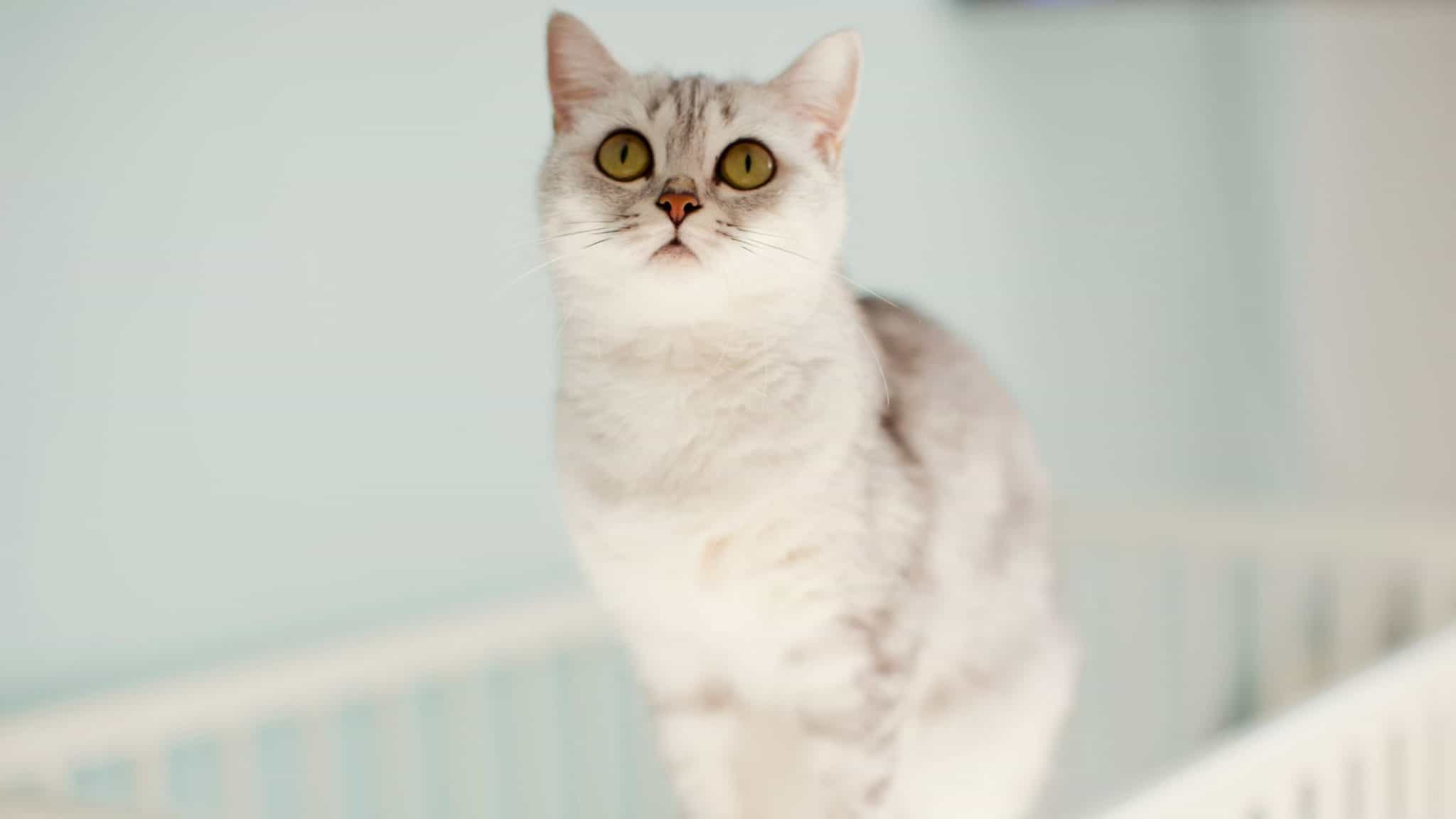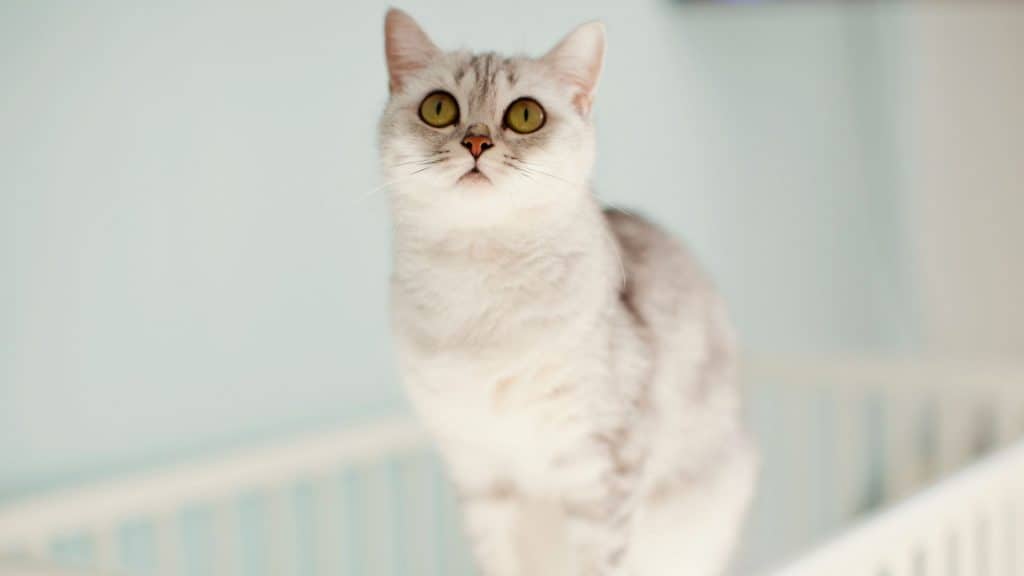 But once you introduce your newborn baby into your household, a few things have to change. More specifically, you should not allow your cat access to the baby's crib or bassinet. Although it might seem harmless that your cat wants to nestle next to your toddler, it's not right.
So, what's the best way to keep your kitty out of the bassinet? You can close the bassinet from the top, install a screen door or shut the door to the nursery altogether.
Why Do Cats Love the Bassinet?
One of the reasons why cats are drawn to bassinets is because they're social animals.
This means that, like us, they have a desire to create meaningful relationships with those around them. Thus, climbing onto the bassinet is their way of interacting with the newest member of the family.
Cats are also very curious creatures, which is why you'll find them smelling, tasting, listening to and observing things in their surroundings. So if you see your cat sneaking into your baby's bassinet, they're simply trying to figure out what is in it.
Why You Should Keep Your Cat Away From The Bassinet
According to the American Academy of Pediatrics (AAP), nearly 3,500 infants die from sleep-related causes annually. These include factors like sudden infant death syndrome (SIDS), ill-defined deaths, and unintended suffocation or strangulation.
The risk of allowing your cat into your baby's nursery is that they may unintentionally fall asleep on them.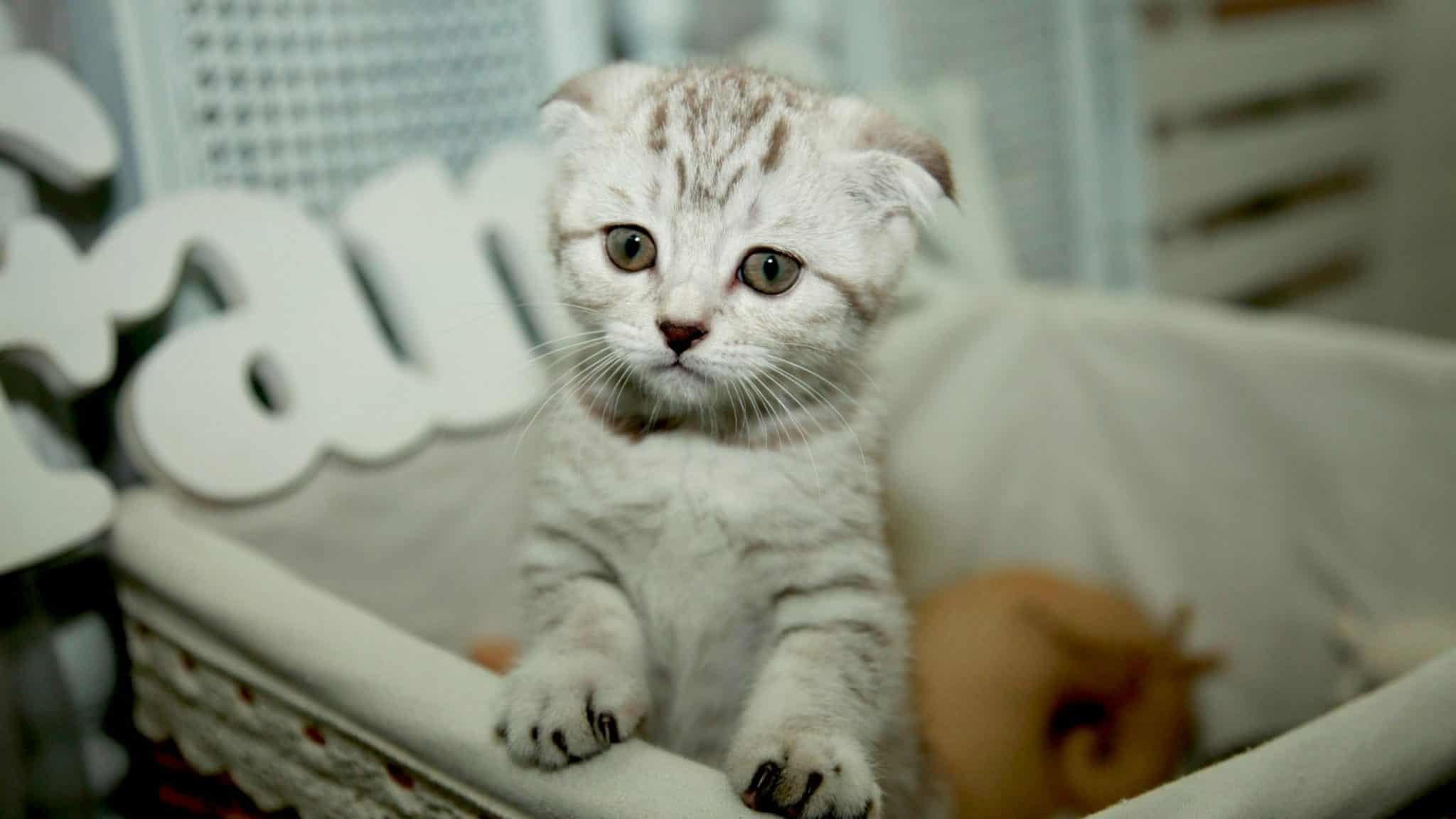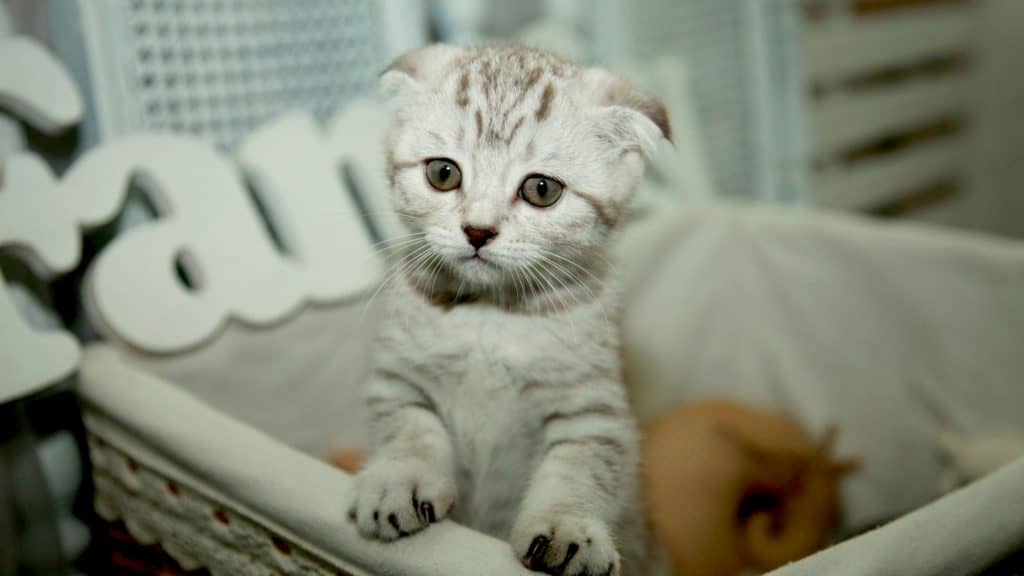 Cats love cozy surfaces and the bassinet is one area where they'll feel very comfortable. However, if they end up cozying up too close to your baby's face, they may suffocate him.
Remember, your baby doesn't have the ability to turn over or move his head much. So to be safe, always keep your cat away from the bassinet. Other sleep guidelines that the AAP recommends for infants are:
Put your baby to sleep on his back, and on a firm surface like a bassinet or crib. Also, this sleeping surface should be lined with a tight-fitting sheet.
Keep the crib/bassinet plain and simple- when it comes to your baby's sleeping area, experts recommend that you go bare-bones. This means no bumpers, pillows or soft toys.
Don't expose your baby to smoke, alcohol or illicit drugs
If you are using a crib, check out my tips for keeping your cat out of the crib.
How to Keep Your Cat Out of the Bassinet
Close the bassinet from the top
For starters, you could invest in a bassinet that has a canopy. This way, your baby won't be exposed to excess light that can make it harder for him to fall asleep.
More importantly, canopy attachments protect your baby from bugs and pets. As long as this canopy remains closed, your inquisitive furry friend won't try to snuggle next to him.
Install a screen door
Another way to keep the kitty out is to install a screen door in your baby's room. Not only will this keep pets out but it will also allow you to get a little glimpse; hence, check on your baby without waking them up.
What's more, a screen door helps to restrict access without impeding proper airflow. This is particularly important during the warmer months when you'll want to ensure adequate airflow into the nursery.
Buy a pet pen
If your cat loves being around your baby, consider setting up a large pet pen in the nursery. It should have a door and covering to control your pet's movements. Still, it should provide a decent amount of space where your cat can play and exercise.
Keep your cat active during the day
Ensuring your kitty is active throughout the day is another trick that will work. So by the time your baby is taking a nap, your cat will be too tired to try and climb onto the bassinet.
Here's are a few ways to keep your cat active:
Buy them cat trees and condos for climbing and perching
Engage them in agility training
Leash walking
Have them hunt for food
Use remote-controlled cat toys
The reward system
The first few times you find the cat in the baby crib, your response will likely be to remove them and take them elsewhere.
For this approach to work though, you have to be consistent. When your cat finally starts resting in the appropriate area, reward them using treats or toys. This way, they'll start associating resting in the right area with rewards.
The Foil Trick
This one works! I've suggested it to a few different friends and they all confirm their cat did not go back in the bassinet or the crib after they tried it.
When you baby is not in the bassinet, or even before baby is born, you can cover the whole mattress area of the bassinet with aluminum foil, and just wait…
The moment your cat jumps in, he will be starttled and jump right out. Let him do it a few times and he will learn. No more cat in the bassinet.
Use alternative measures
If all other techniques fail, you might have to use alternative measures to keep the cat out of the bassinet.
For instance, you can use a scat mat to deter your pet from certain areas. This is a rug, which responds to your cat's touch by sending a mild and brief static pulse.
If you're worried about hurting your kitty, look for one that has adjustable levels of correction. This way, you can configure it to send the mildest electronic pulse. Next, place it strategically outside your baby's room and wait for it to do its magic.
Another step you can take is to use an ultrasonic deterrent. This is a motion-activated gadget that works by sending an ultrasonic sound any time it detects movement. The best thing about this device is that it's not too loud that it will wake your baby up.
Bassinet Cover for Cats
One of the simplest ways to protect your baby and the bassinet is by getting a bassinet cover. It's important that the bassinet cover you get is actually made for your bassinet model. The problem is that most bassinet manufacturer's don't make covers for the bassinets.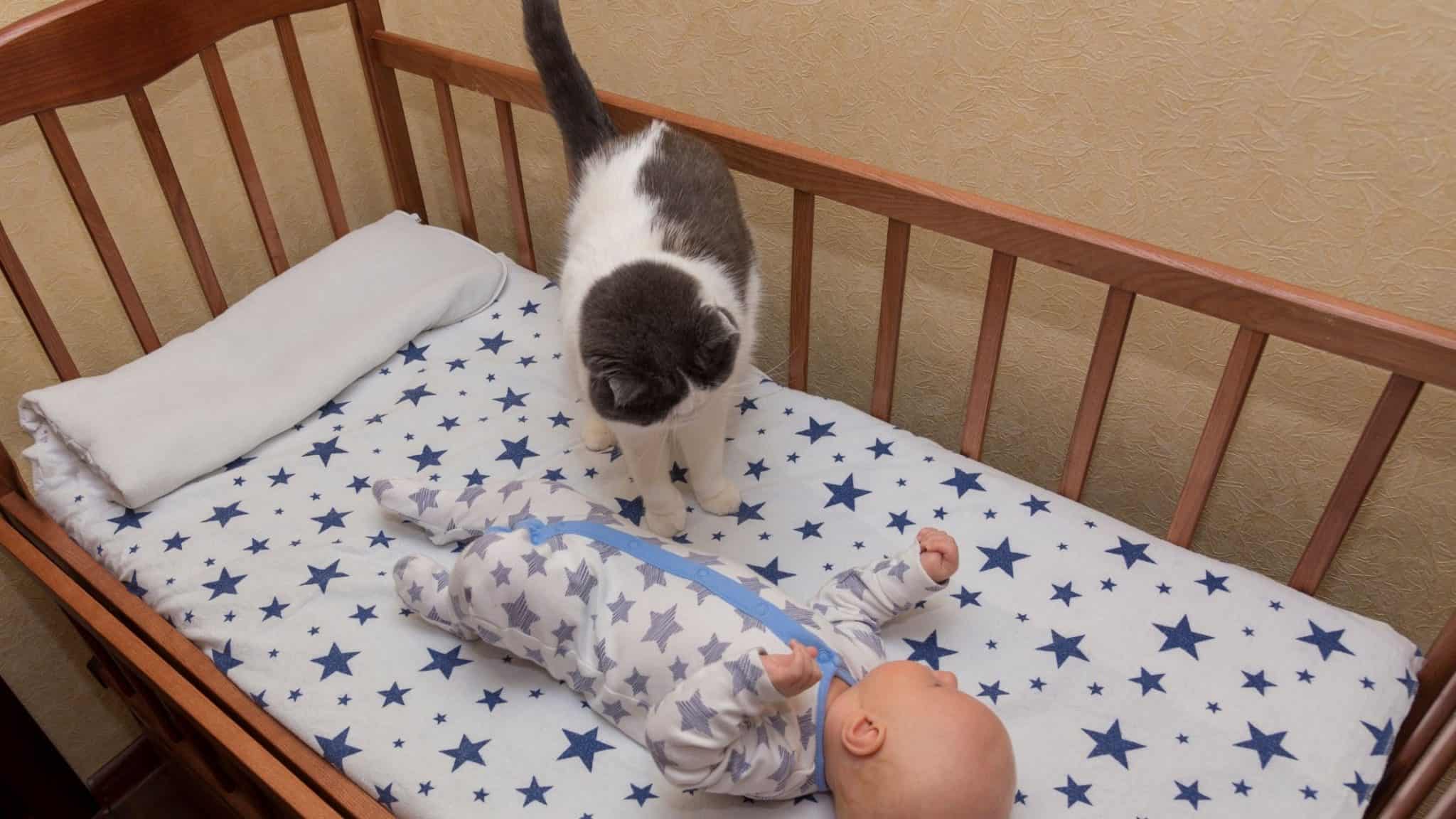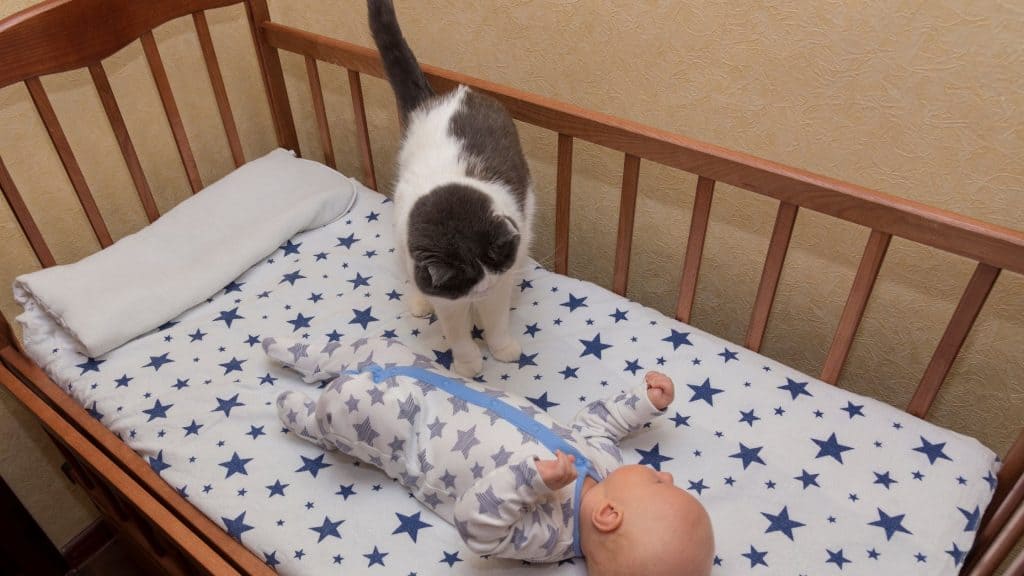 For safety, do NOT install an accessory that was not made for your bassinet on it. Even if the risk that something goes wrong is low, there is always a chance that you don't want to take with a newborn baby.
In this case your best solution is actually getting a bassinet that comes with a removable cover built in.
Bassinets with covers
There are a few bassinets out there that fit the bill for parents looking to keep a cat out of the bassinet. Here are my top three bassinets with covers:
In Conclusion
If you've just brought your newborn home, it's vital that you establish a boundary to keep cats and other pets away from him. This ensures that your toddler is completely safe, especially when he sleeps.
Now, keeping your cat out of the bassinet doesn't have to be an arduous task. You can achieve this using different means such as buying a bassinet with a canopy, installing a screen door or keeping your cat caged in a play pen. Ultrasonic devices and scat mats are also excellent deterrents for restricting your cat's access.
For more detailed information on bassinets, check out our full bedside bassinet guide here.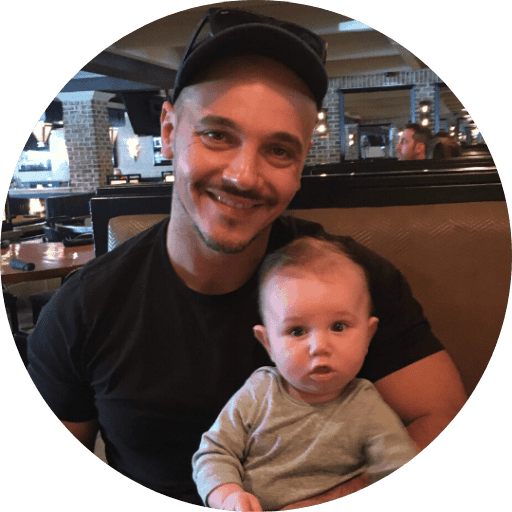 Paul is a passionate dad who founded Upside Dad to share his parenting journey with other new parents. He graduated from Concordia University and worked as a test engineer for over a decade. Paul loves dad jokes and craft beer.
Learn more about Paul and Upside Dad here.