Summary
Make: Fisher Price
Model: On-The-Go Baby Dome
Two modes
Indoor and outdoor use
Includes canopy
Removable hanging toys
Folds flat
Built-in carry handles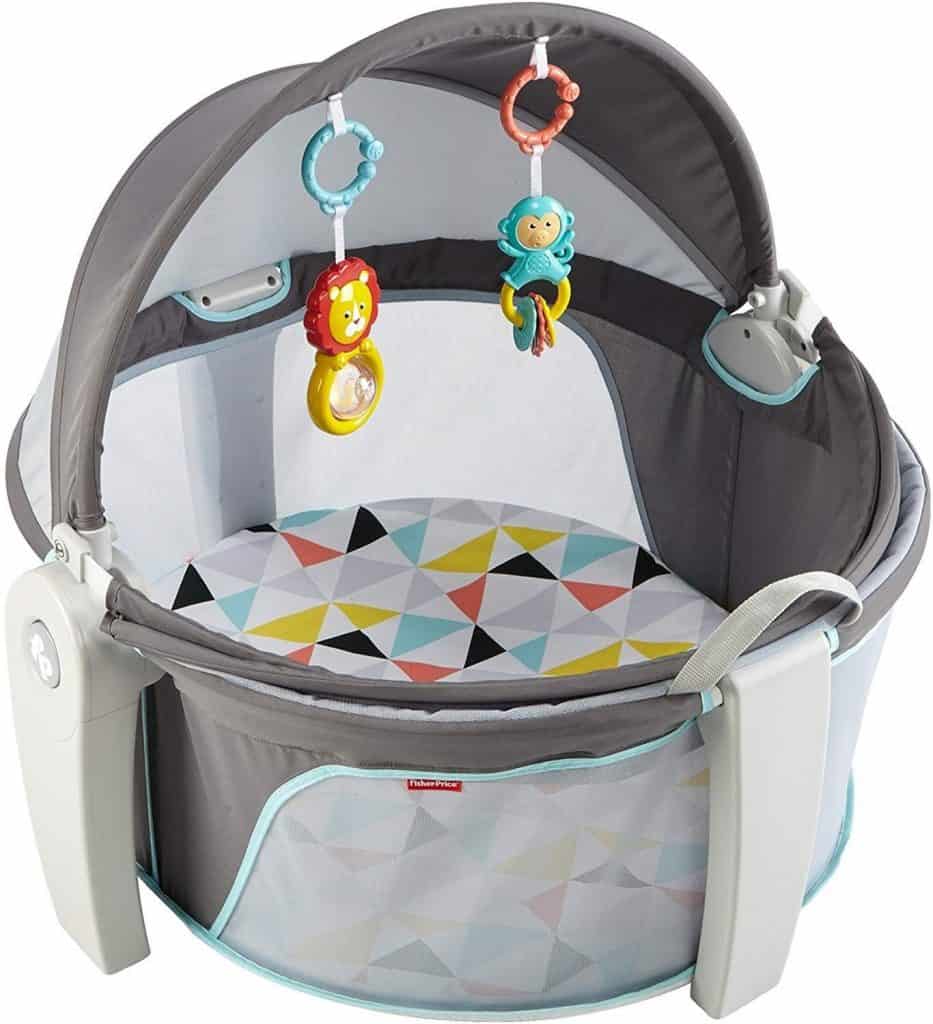 The Fisher Price On-The-Go Baby Dome is a circular sleep space as well as a play space for your young baby that is perfect to be taken with you no matter where you go. It's designed to be comfortable enough to sleep in and spacious enough to let your baby move around in at the same time.
The On-the-go baby dome comes with removable toys that hang from the canopy to amuse your baby. He can either play with them while lying down or you can remove them and give them to your baby to play with.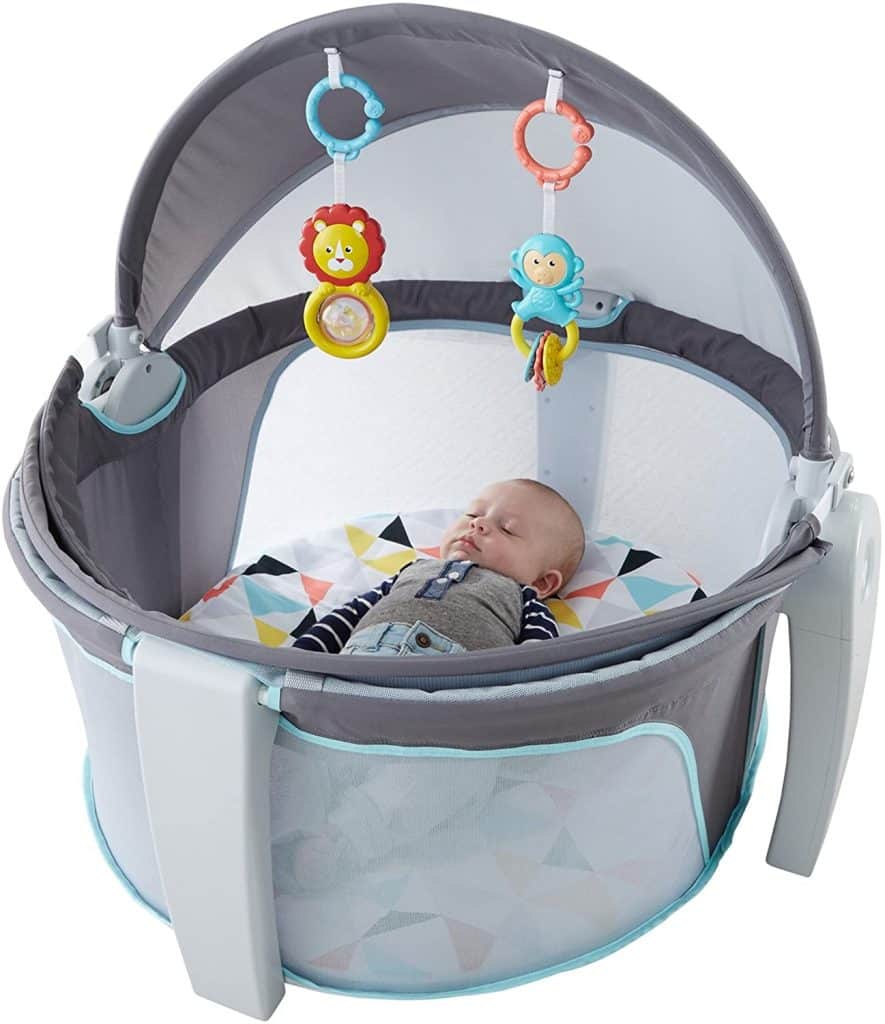 This portable baby bed can be used indoors and outdoors.
Check out our other favorite portable bassinets here.
Features
Dual function: sleep space and play space
Versatile: indoor and outdoor use
Canopy for protection against the sun and other elements
Comes with 2 removable toys
Folds flat in seconds
Comes with handles for easy portability
Removable, washable pad
Compact – takes up minimal space when stored
Fisher-Price On-The-Go Baby Dome, Gray & White specifications
| | |
| --- | --- |
| Dimensions | 31.5 x 30 x 28 inches |
| Weight | 13.57 pounds |
| Type | Portable and stationary |
| Warranty | 1 year |
| Weight limit | N/A |
| Age limit | 5 – 6 months |
Why we like it
The Fisher-Price On The Go Baby Dome is a hit with parents because it's extremely practical. The size and unique shape of the baby dome make this portable baby bed so versatile.
It's compact enough to provide a cozy sleeping space, but big enough to also serve as space for a restless or curious baby to move around in. Picture it looking like a mini-play yard but in a round shape.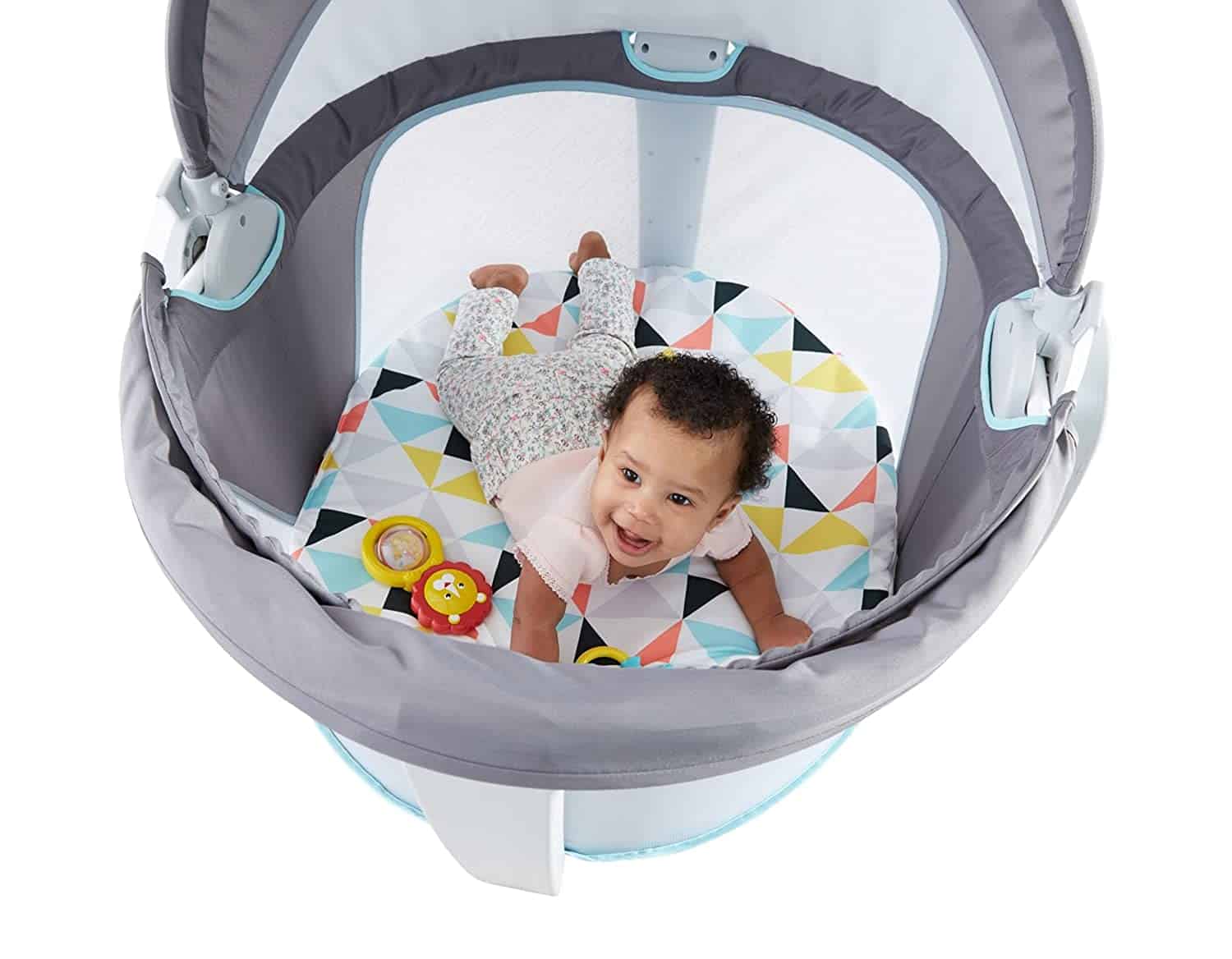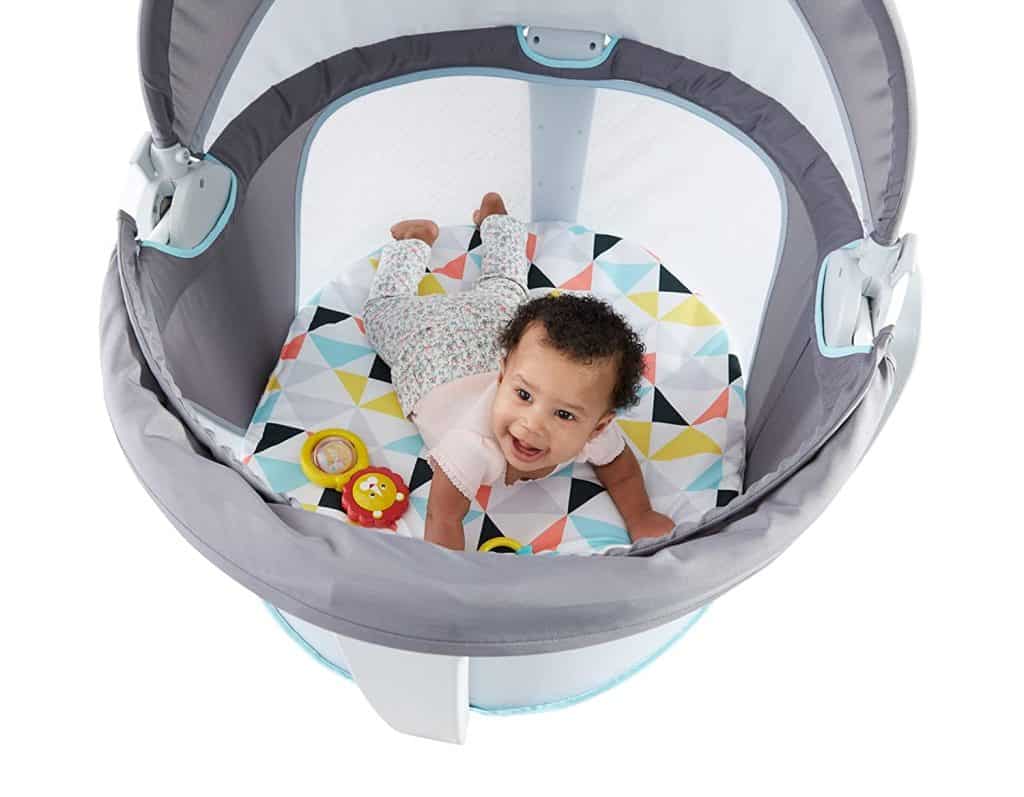 The Baby Dome is a comfortable nap and play area for your baby that you can use in your home or outdoors in your garden, park, or the beach. And it's the most compact and portable baby bed ever.
Assembly
The Fisher-Price ON-The-Go Baby Dome comes complete with minimal setup requirements. All you need to do is move the two levers on each side of the unit up. Then you push the button on one of the legs and the whole thing unfolds. You don't need any tools. It takes less than a minute to put up.
Folding it up is really neat, It's just amazing how compactly this thing folds up. Have a look at the video below and you'll understand why parents love this Fisher Price baby dome.
Cozy little home to nap and play in
The Fisher Price Baby Dome is a circular pad that acts like a bed as well as a play area. It is ideal for indoor and outdoor use. The baby tent folds up in a compact unit and comes with its own handles so you can easily carry it outside to let your baby nap in the garden.
This spacious outdoor bed for babies comes with two linked toys. Your baby can try to reach for them and practice his eye-hand coordination, or you can give the toys to him and he can explore their textures. You can also simply leave the toys within reach of your baby.
Protective canopy
The canopy for this outdoor baby bed can cover the dome completely. The canopy material is treated so it offers UPF 20 protection against the sun. You can leave the one side open or close both sides when you want your baby to sleep and want him not to be bothered by flying insects.
One side of the canopy stays up permanently, but you can open or close the other side as needed.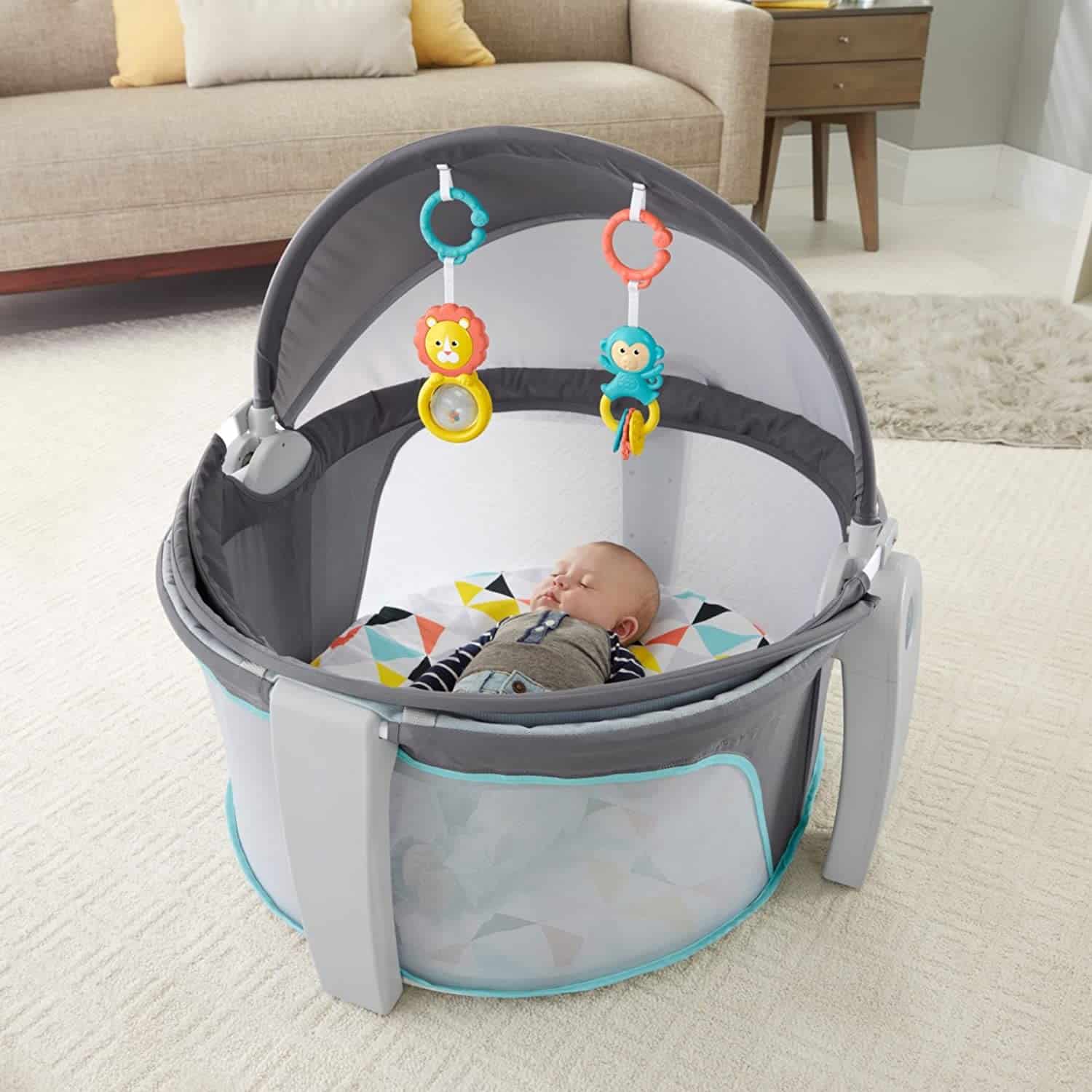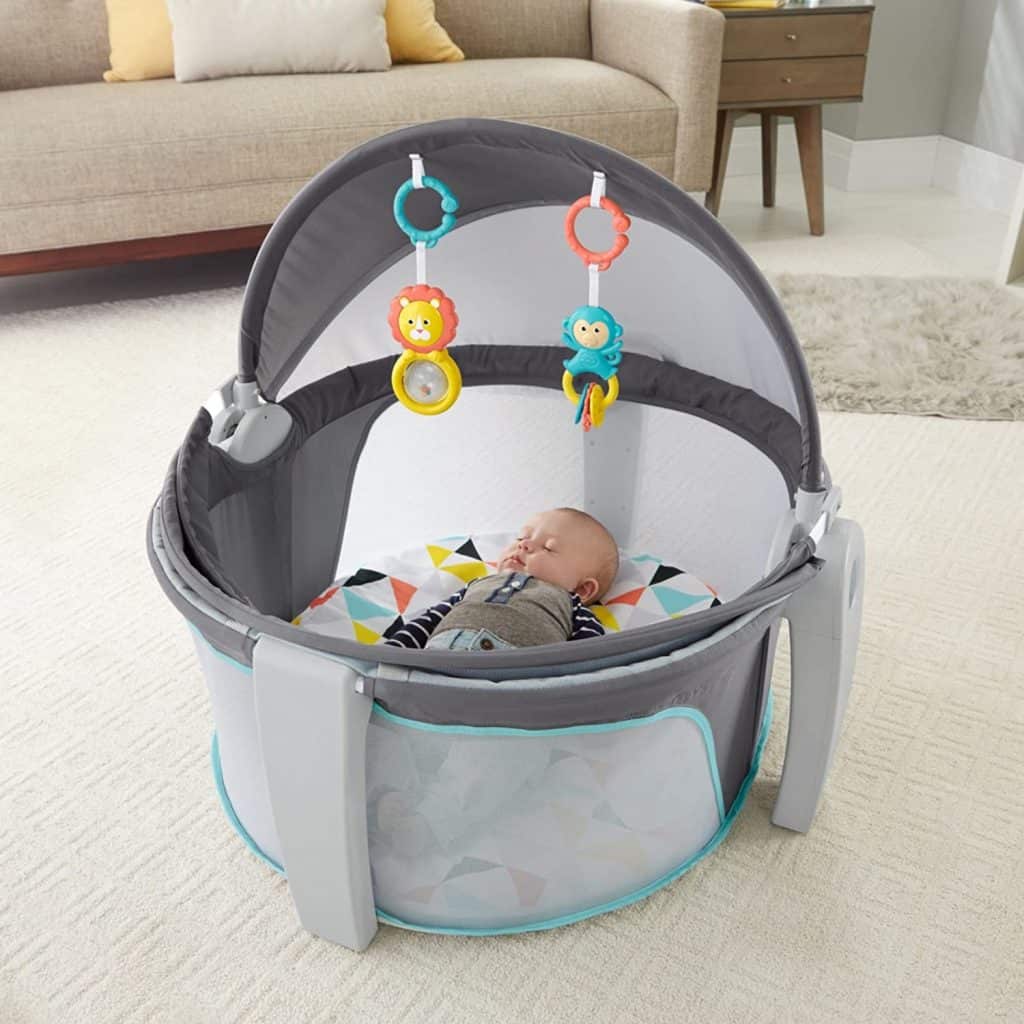 Several parents have commented that when the canopy is closed it provides a safe environment for their baby, keeping siblings and furry friends away from the baby leaving him in peace to enjoy his own space. If you have dogs or cats and you don't want them to get too close to your baby, the Baby Dome is perfect for that.
Cool and breezy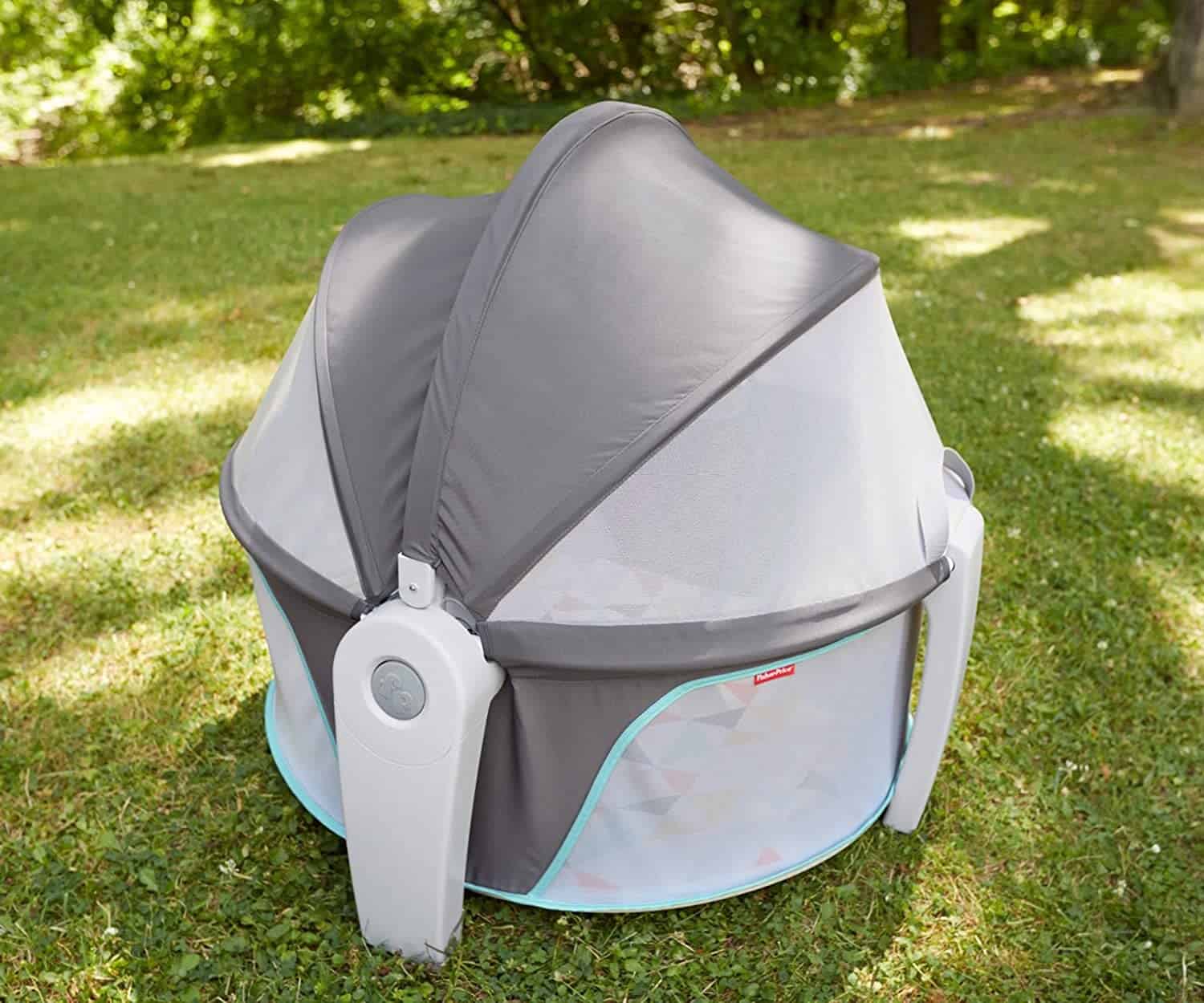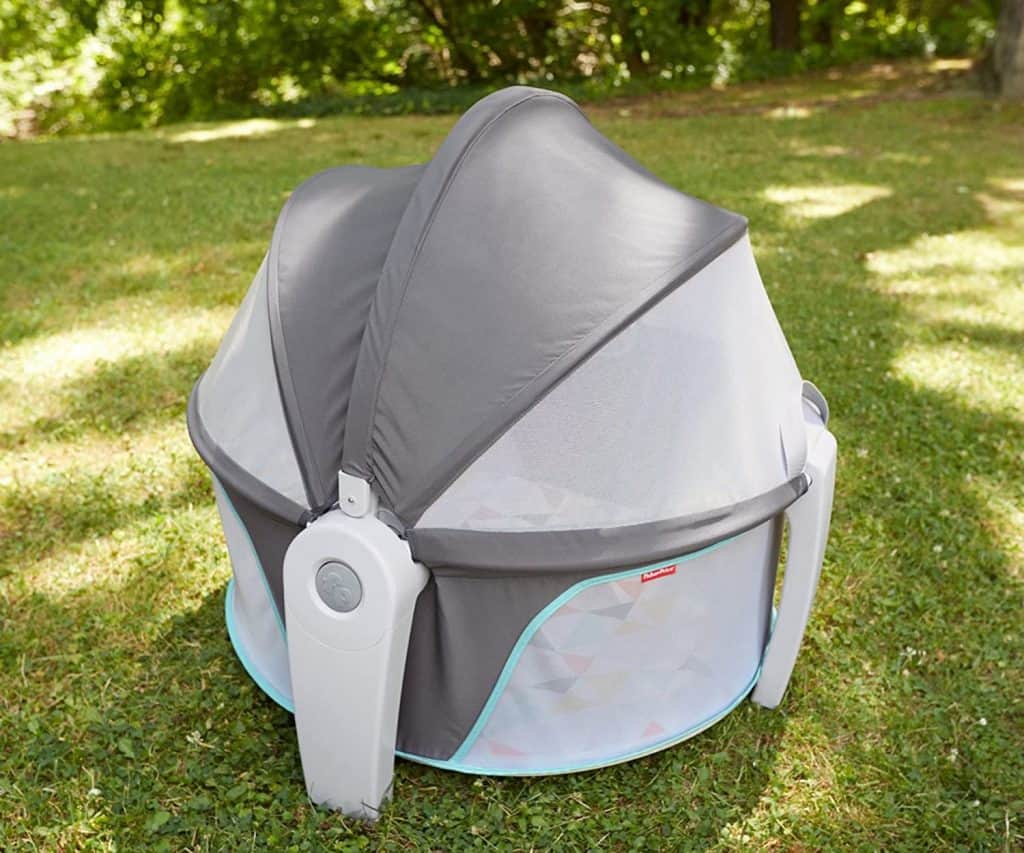 The sides are made of mesh, which allows the air to flow through and keep your baby's play and nap area cool and comfortable. You can also close the dome completely which will create more shade inside the dome when your baby is sleeping.
What is the best feature of the Fisher-Price Baby Dome?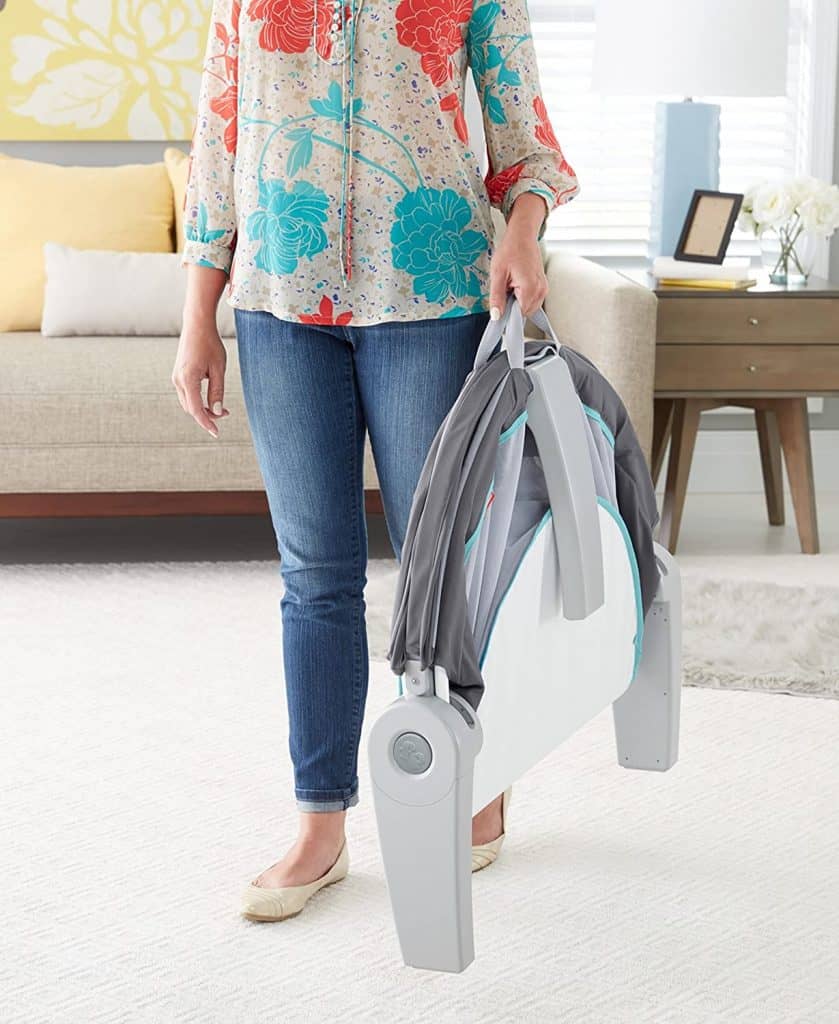 The best feature of this product is how compact it folds up and how easy it is to carry around. There aren't many products on the market that can compare with this. The dome folds up in a compact unit and comes with its own handles for easy portability. It takes up minimal space when folded up.
What kind of parents should buy the Baby Dome?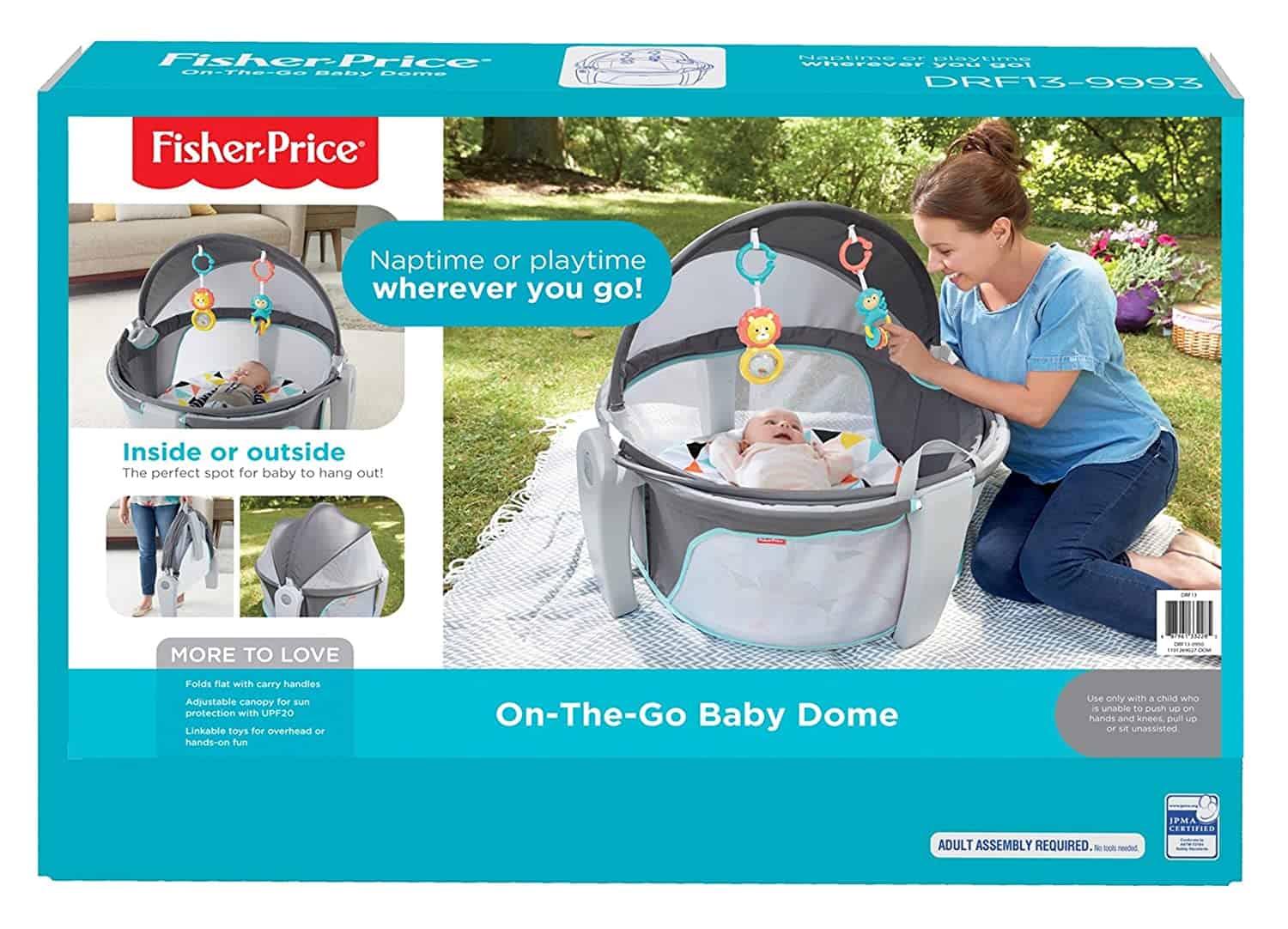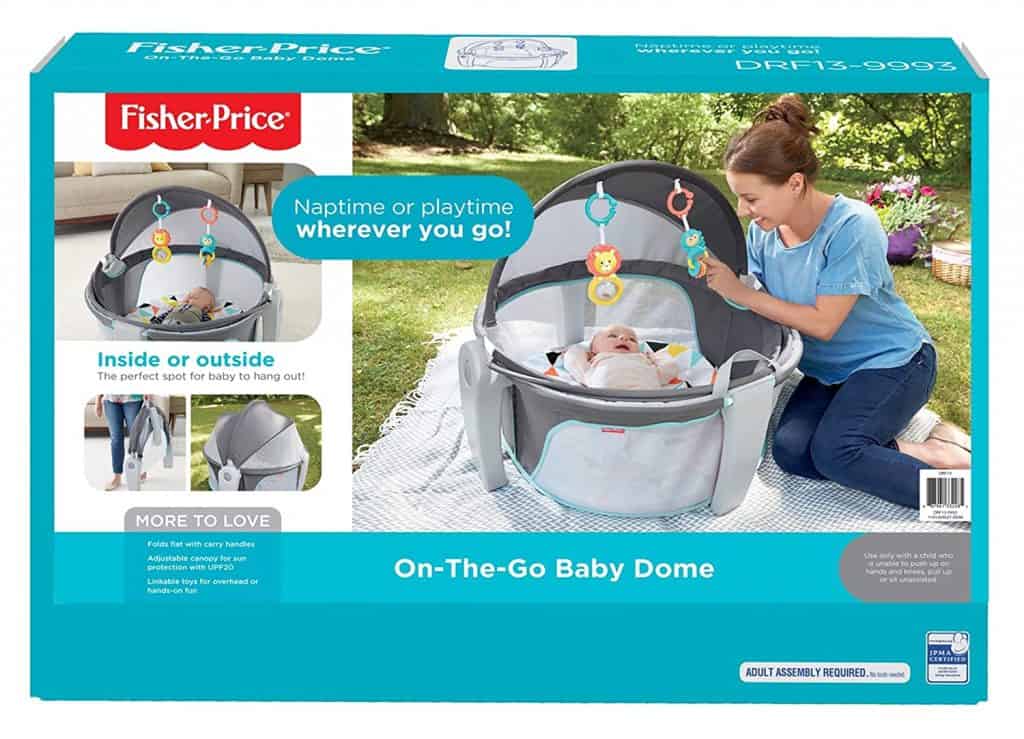 Parents who love the outdoors and want their baby to join them on picnics and at the beach love this product. The On-the-Go Baby Dome provides a secure and cozy home for babies whether they're indoors or outdoors. And it offers effective protection against nosy furry friends.
Conclusion
The Fisher-Price On-the-Go Baby Dome is a versatile baby bed and playpen that can be used anywhere. With two toys, it offers an entertaining play area, and it doubles up as a cozy bed as well.
While you're outside, the canopy protects your baby against the sun and flying insects and when you're done, the baby dome is super easy to fold up and carry with you.
The Fisher-Price On-the-Go Baby Dome is a great product for parents who like to spend time outdoors with their baby.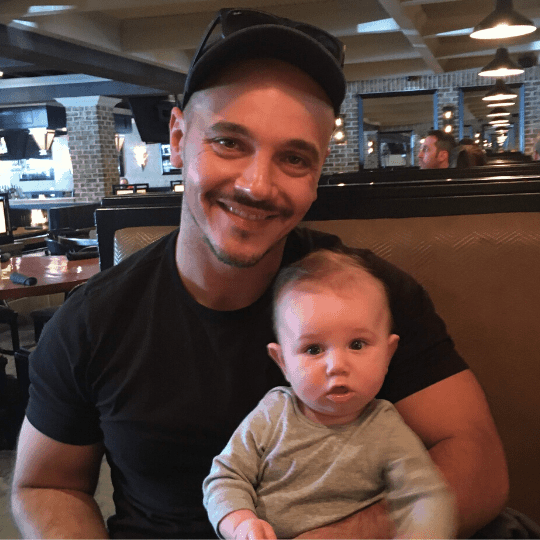 Paulo is a passionate dad who founded Upside Dad to share his parenting journey with other new parents. He graduated from Concordia University and worked as a test engineer for over a decade. Paulo loves dad jokes and craft beer.
Learn more about Paulo and Upside Dad here.